Hey guys! I'm Lindsay with Frenchie and I love Christmas and crafting! I remember being a little girl and making mini ornaments, these cinnamon applesauce ornaments were my favorite. Nothing is more fun than being a kid at Christmas and being able to participate in the festive arts and crafts. I started by using these snowflake cookie cutters I grabbed from Michaels and they were just what I needed.
Supplies:
Applesauce
Cinnamon
Twine
Floral Wire
Cookie Cutters
Recipe:
3/4 Cup Applesauce
2 2.45 oz bottles of Cinnamon
Preheat your oven to 200 degrees. Start by mixing the applesauce and cinnamon in a separate bowl. You'll want to use a spatula at first and then get your hands in there to really press it all together. Next lay out a piece of saran wrap and place about half of the dough on it. Place another piece of saran wrap on top and begin to roll out the dough until it's about a 1/4 of an inch thick.Next, cut out the dough with the cookie cutters.
I used some round biscuit cutters and then used the smallest snowflake for one. I used the large and then the small in the middle for another, then the medium for the next. I saved the centers for the smallest ones. I used a straw so that I could put some string through the smaller hole. Place on a piece of parchment or foil, just something so they don't stick to your pan, and place in the oven for 2.5 hours. Let them cool on a drying rack.
I used some fabulous twine I found at paper source to make the bows. It's pretty much the greatest twine I've every used. It's thin and has a ton on this roll and it cost me only $7.99! It's just so dainty and sweet. The small and jumbo ones, I tied a bow on and then placed a 4 inch piece of floral wire so that I can just twist it onto my garland. The others I just made a loop and tied it at the top so I could hang it like a traditional ornament.
With the garland decorations, I found the snowflakes at Family Dollar and spray painted them white, they were originally silver an $1 for 4. The floral picks are from Michaels as well. I like to cut mine so that they aren't so long and prominent on a small garland like this. I used the fuller ones in the middle and the sparsely covered ones towards the outer edges.
I like using faux garland because of the wires. You're able to get grips on things you normally wouldn't be able to. I like to take a piece and twist it around the picks so that it doesn't fall or lose its place.
I took these two ribbons from Michaels and created a double bow. It's similar to the one I created with my Easy Christmas Wreath. I just laid it back and forth and tied it in the middle with some floral wire or you can use some small ribbon. When both bows were complete, I just placed them on top of each other and hooked them together with the wire. I again attached it to the garland with the wire. It's a lot easier to do it this way in my opinion and experiences.
I hope that you love it, I think it looks so festive above our sink and next to my little faux deer ;). I love how each and every decoration has a meaning and reason that it needs to be there!
XOXO, Lindsay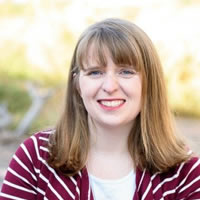 Katie is a Colorado-native, BYU graduated, and most importantly, wife to one and mother to three beautiful boys. She is passionate about sharing her experiences with others – especially about pregnancy, breastfeeding, cooking, and crafts. She is an International Board Certified Lactation Consultant. She loves spending time with her family and helping others find joy in family life.