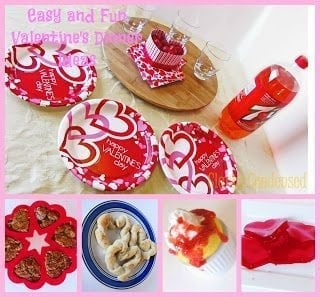 My mom likes to tell a story about Valentine's Day from when I was just a few years old. I came down the stairs to see a table full of fun surprises — obviously, I don't remember what they were, but having four other siblings at the time, the table must have looked overflowing to my two or three year old eyes. When I saw the table, I exclaimed to my mom, "Claus came!" (Obviously, referring to Santa Claus, who had come just a few months before.)
Every Valentine's Day, my parents would put out a few items for each of us — usually a box of Russel Stovers chocolate mints, a rose, and maybe one or two other small things. It wasn't a lot, but it always meant  so much to me. All holidays celebrated at our house were full of memorable traditions that all of us kids looked forward to. Even though most of us are grown, we still look forward to the holidays we celebrate together, because those traditions we had as children still live on.
Because I have such fond memories of those traditions growing up, I've wanted to start some of our own, so Baby J (and any other children we may have someday) can have those memories as well. I know a lot of people don't like Valentine's Day, but I think it's a fun holiday to celebrate. For the past several years, I've seen my sister, Cindy, have the sweetest "Heart Dinner" for her family on the first day of February, and I always thought when I had kids, I would do something similar. The first day of February came and went though, and I decided I would have a Valentine's Dinner on the first Sunday of February! We invited Forrest's sister, Doris, over for it, and I think it turned out rather nice.
We dined on mini heart meat loafs (dairy free!), heart shaped breadsticks, a green salad, strawberry shortcake — with homemade strawberry sauce, and heart shaped jello jigglers. I also picked up a bottle of cherry 7-up, just to complete the whole red theme.
The Valentine's section at Smith's Grocery store had lots of cute decorations, and I was able to snag the Valentine's plates pictured above, as well as some cups that I forgot to put out in this picture, for just a dollar! And of course, no Valentine's Dinner would be complete without JuJu hearts, so I put those in a little heart as a centerpiece.
All of the food was really easy to make, and everyone liked it — including Baby J, who couldn't get enough of the meat loaf! I was a little nervous about it, because I just made it up as I went, but it was super moist and had all sorts of yummy flavors in it.
NEVER Miss Another Recipe!
Sign up for our food and recipe newsletter today
Free eRecipeBook upon signup
Free Meal Planning Bundle
Easy and Family Friendly Recipes EVERYONE Will Love!
I hope this will be a tradition that sticks throughout the years. Forrest likes to tease me, and say that I love to drag out holidays for as long as possible…and I admit, I probably do. But I think that traditions like these are things our children we grow up looking forward to — even when they are grumpy teenagers who won't admit it.
Mini Meatloafs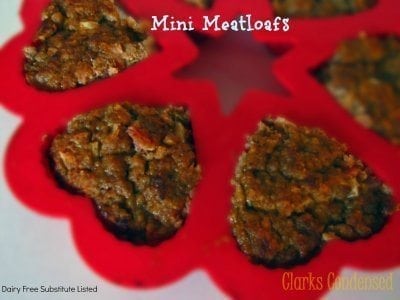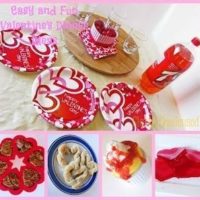 Easy Valentine's Dinner
Ingredients
1 container Pillsbury breadstick dough
3 tbsp butter
Garlic Powder
Italian Seasoning
Parmesan Cheese
Instructions
Preheat oven to 375.
Take dough out of container and separate from each other. Each heart takes two pieces of dough. Twist dough and shape into heart.
Melt butter, Italian seasoning, and garlic powder (a couple shakes of each seasoning). Brush on tops of breadstick dough, and sprinkle with parmesan cheese.
Bake 10-13 minutes, or until brown on top.
Shortcake with Homemade Strawberry Sauce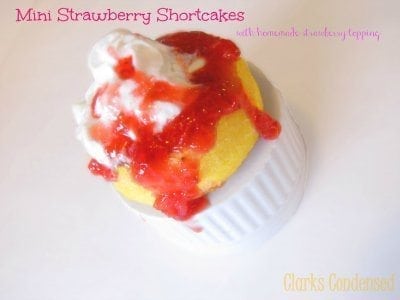 Ingredients
16 ounce container strawberries
1/2 cup sugar
1 tbsp lime juice
Mini Pound cakes
Instructions
Wash strawberries and slice stems off. Chop into medium pieces. Put strawberries, sugar, and lime juice in a pot and bring to a boil. Cook until strawberries are soft.
Let mixture cool, and then put in a blender to make the sauce finer (unless you want thick chunks of strawberry.) Serve on a mini pound cake (or any desired desired.)
7.8.1.2
44
https://www.clarkscondensed.com/holiday/valentines-day/easy-valentines-dinner/
This recipe was created on ClarksCondensed.com. Feel free to distribute as needed, but if you post it on your own site, please link to back to ClarksCondensed.com
COMMENT POLICY:
All we ask is that you be kind. We welcome differing opinions, but any comments containing personal attacks, sarcasm, etc. will be removed immediately. Keyboard warriors aren't welcome 🙂 All comments are moderated and may take time to be approved. Anything not pertaining specifically to the content of a post will be removed (including comments about ads).