Play dates are more fun when the whole family is involved! Here are 5 tips for throwing a successful family play date or get together, as well as a fun giveaway!
This is a sponsored post written by me on behalf of Quaker Oats for IZEA. All opinions are 100% mine.
I'll be the first to admit that I'm not a huge fan of play groups. My mom is always telling me that I need to get together with other moms, for both my benefit and for Jack's…but unless I already know and am friends with someone, it's hard for me to get out of my shell. Don't get me wrong – Jack plays with other kids plenty, but when it comes to play group or something like that, it takes a lot to get me there! However, I do like planning little get togethers with family and friends where my little family can all be together. I just think it's more fun to do things as a family! Forrest's birthday was this last week, and it happened to coincide with my brother's graduation. As such, we had a lot of family coming into town, so I thought it would be fun to throw a birthday party and family play date. The weather had been so horrible the past few weeks, so I was grateful that it only sprinkled a little bit – because we planned it to be outside! It was so much fun, and everyone (from adult down to baby) really enjoyed themselves. I thought I'd share a few of my tips for having a successful family play date, in case you are wanting to throw one this summer!
1. Variety of Activities
I think it's good not to just put all your eggs in one basket and plan just one activity – you never know if the weather will make it not happen, We set out this basket with a variety of different outdoor activities – everything from Bocce Ball, to Badminton, to sidewalk chalk, and even a puzzle. I figured it was nice to have a bunch of different activities so everyone could decide what they wanted to do. We finally are able to enjoy having our own backyard where we can do fun activities outside, so it was nice to be able to offer that to our guests. I also made sure we had some games ready to go indoors (both for kids and adults) just in case it was raining!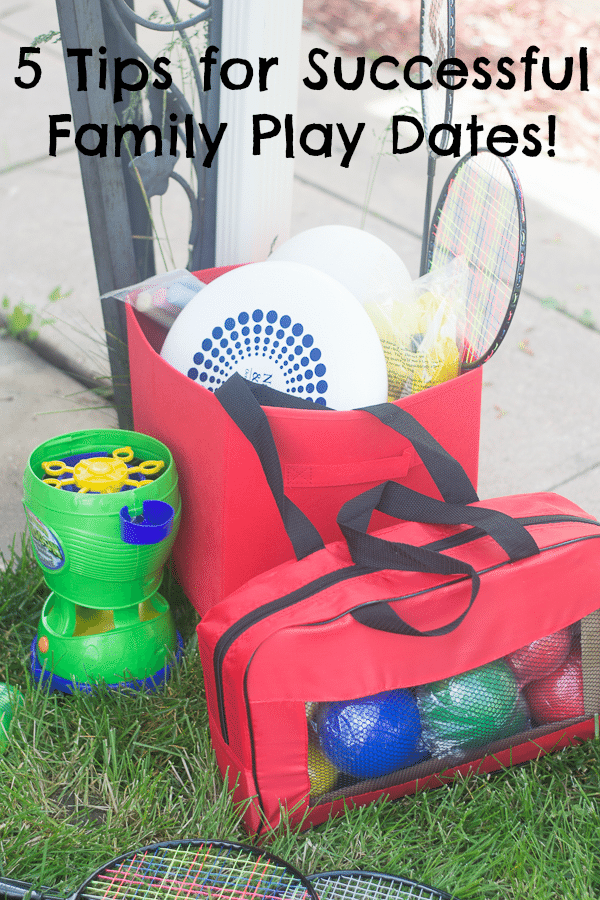 2. Buffet Style Meals
Okay, family play dates and get togethers don't always need a meal…but it's fun when you can do that every now and then. But when it comes to serving groups, I've found the simpler – the better! Buffet style with paper plates always works great, especially when you have lots of options. We made slow cooker Hawaiian Haystacks, and it was a big hit with everyone!
3. Tasty snacks
Even if you don't serve a meal, make sure to have some yummy snacks on hand – fruit, crackers, and granola bars are always a big hit. We had a nice supply for Quaker® Chewy® Granola Bars, and it was a good thing we had a lot, because I think everyone had seconds. I absolutely loved the salted caramel chocolate variety. They are easy to eat, and they are also easy to clean up. They also have 8 grams of whole grains in every bar and come in delectably fun flavors like Chocolate Chip, S'mores and Oatmeal Raisin, so you can feel good about serving them to your kids.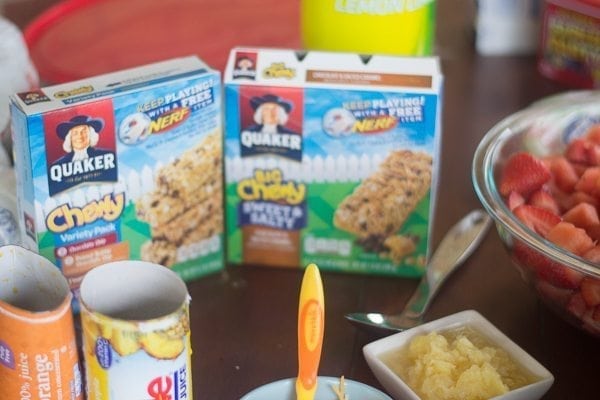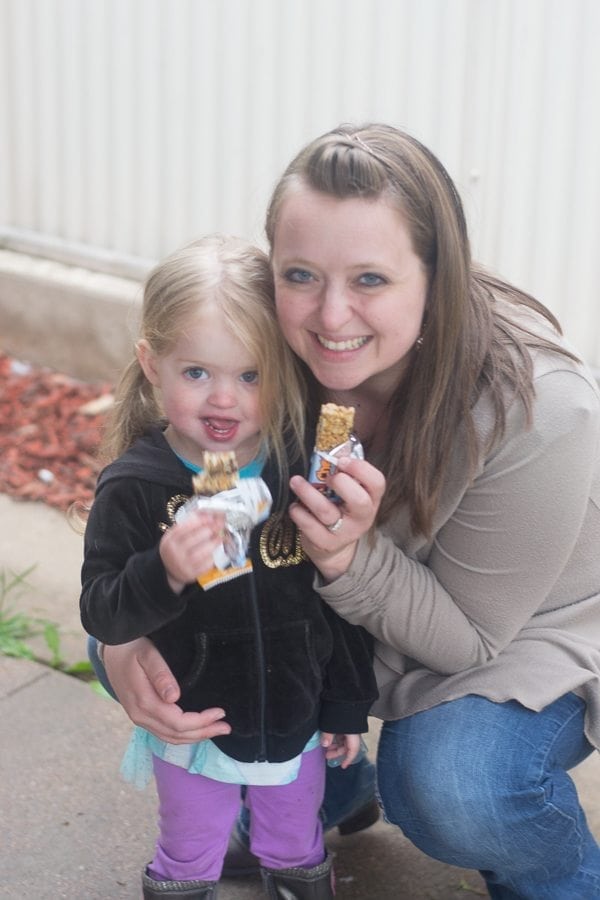 4. Outside
In general, I think gatherings with a lot of people are best done outside. It might be because we have never really had an area in our home that's good for hosting large numbers of people (and honestly, when there are more than five kids in a room at a time, I start to go a little crazy with all the noise), but being outside is always a must for our get togethers with our family and friends. This is obviously weather-pending, but it's definitely our favorite way to play. Before we had a backyard, we would host a lot of get togethers at a local park, which is a great location for outdoor activities.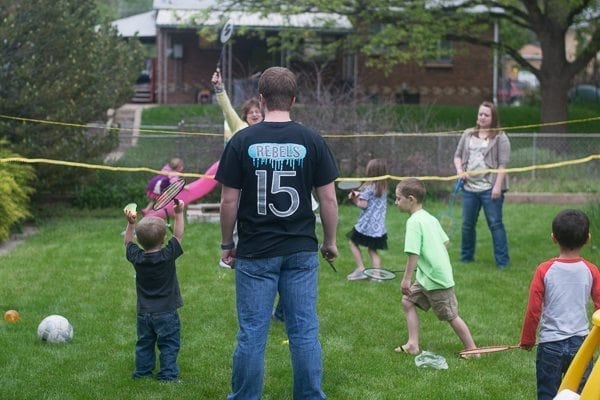 5. Invite People Who Get Along
So, I'm not saying you always have to invite people that know each other – it's fun to get to know new people as well! However, I think it's important to think about who you are inviting and their personalities. You can't always know who is going to get along, but sometimes it's nice to think about how well you think people will get along before you invite them to a small get together!
6. Bubbles
Okay, maybe this isn't an essential, but I think bubbles liven up everything. Some people may think they are just good for kids, but this last weekend, I witnessed a lot of adults enjoying them a lot as well.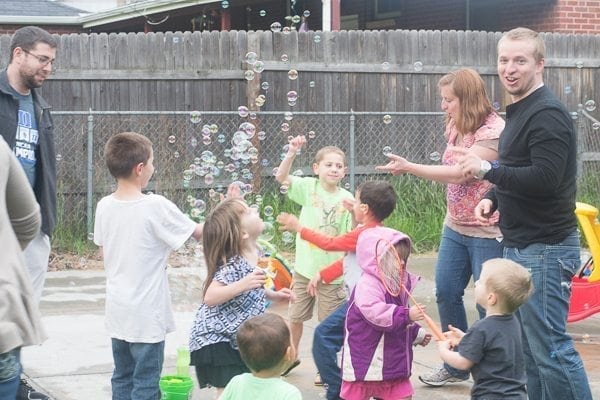 We loved having our family playdate, so we are giving away a fun Quaker Chewy Playdate Kit so you can host one for yourself! This pack includes:
A Chewy Playdate invitation pack to plan your next playdate
A classic Bocce Ball set for endless hours of outdoor summer play
A Gazillion Bubble Monsoon bubble machine for the whole family to enjoy
Sidewalk chalk set to get creative outdoors
A puzzle perfect for indoor or outdoor play
A red storage bin for storing your family's favorite toys
A NERF Bash Ball for easy family fun
A variety of Chewy Granola Bars to help fuel family play, including, Big Chewy Sweet & Salty Bars and Chewy Granola Bars Variety Pack
Total giveaway value is approximately$100
Enter here! Good luck!
Quaker is providing the prizes for this program at no cost to me. This program is not administered or sponsored by Quaker or its affiliates, but solely by Clarks Condensed
Learn more about family fun at www.ChewyKeepPlaying.com!