Are you ready for Halloween? Here is a great 15% off coupon for 2018 for Halloweencostumes.com!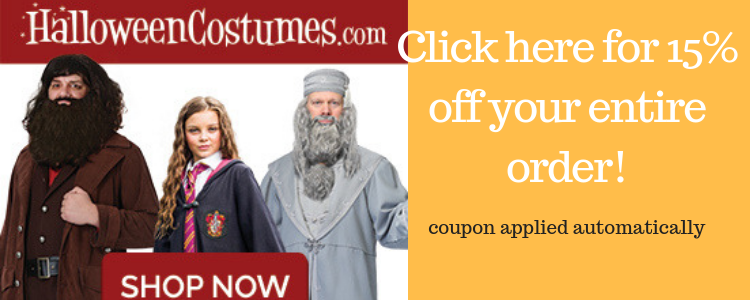 HalloweenCostumes.com Promo Code
Halloween is coming up fast – and unless you want to end up with a costume that was at the bottom of the reject pile….you probably want to buy one now!
Especially if you are like us and have little kids that are rather particular about what they are going to be for Halloween!
While you can easily run to Costco or Party City to grab a Halloween costume, sometimes purchasing them online is just simpler.
Our favorite place to get Halloween costumes online is none other than HalloweenCostumes.com. We just ordered our family's Star Wars themed Halloween costumes, and I can hardly wait for them to arrive.
They have something for everyone – matching family costumes, popular character costumes, traditional scary or spooky costumes, and much more!
I have arranged an exclusive 15% off coupon code for the readers of Clarks Condensed. Costumes can get rather pricey (especially if you are buying for more than one person), so I'm hoping that this will be helpful to you! All you have to do is click on the link below, and the coupon code will automatically be applied at checkout.
CLICK HERE FOR 15% OFF HALLOWEENCOSTUMES.COM
code expires October 31st, 2018. 
This coupon will work if you are a NEW or EXISTING customer. However, if you are a new customer, I would recommend clicking here, scrolling to the bottom of the page, and signing up for the email newsletter. You'll get a one time 20% off coupon.
One big tip I have to give about ordering from HalloweenCostumes.com – make sure that you follow their measurement charts. They definitely don't go by traditional sizes, so if you order what would be your normal size, you will probably be disappointed!
Here are some other Halloween costume posts you may enjoy:
COMMENT POLICY:
All we ask is that you be kind. We welcome differing opinions, but any comments containing personal attacks, sarcasm, etc. will be removed immediately. Keyboard warriors aren't welcome 🙂 All comments are moderated and may take time to be approved. Anything not pertaining specifically to the content of a post will be removed (including comments about ads).