Looking for gift ideas for moms? This is the ultimate Mommy Gift Guide – gift ideas for moms that she will LOVE!
I think moms often focus so much on making sure everyone else has a great Christmas, that they often forget about themselves!
I don't know about you, but I often even have a hard time coming up with ideas of what I would like. I'm at a point in my life where I feel like I have enough "stuff"! So a lot of these gift ideas are things that I think are pretty useful and fun.
ChatBook Gift Card or Subscription:
I love ChatBooks! It is literally the best way to print your Instagram photos. It's so nice for people like me who are not very good about printing photos off. You can get your first book free using the code KATIE492. This humorous video explains why this is a great gift for moms. Through November 28th, if you use that code (KATIE492) you can actually get 20% off EVERYTHING from the Chatbooks website (series, custom books, prints, etc.).
Not convinced? This video will do the trick.
Okay, when I first heard about Dressing Your Truth, I was a total skeptic. However, I recently took the course, and it is wonderful. It really helped me to learn about what clothes and colors I should be wearing to feel more confident.
I think that when you purchase it right now, you get all the courses, so you can share it with your daughters, mom, etc. I found it to be really inspiring….and I think as a mom, it can be easy to lose yourself. This really makes you think about who you are and how to be more confident and regain your sense of self.
If you're skeptical, you can sign up for (or send this to the mom you are buying for) this FREE energy profiling course!
I recently bought this water bottle so I could make myself water a little more, and I love it! It's leak proof and yuck proof (their words, not mine). Oliver is obsessed with my water bottles, and it's nice not to have to worry about it spilling everywhere. It carries about 32 ounces, so you just need to fill these up like 2-3 times a day! I got the one with the straw.
I can't be the only person who can't remember (or have the time) to write lengthy journal entries. There's just not enough time in the day.
However, I do think journaling is important, and I think these one line a day journals are genius. I just put it on my wishlist.
I will be the first to admit that I'm NOT a big makeup person. It's a good day if I can even get some mascara on. However, I think LipSense is brilliant – it's a kind of lipstick that bonds to your lips so it's kiss-proof, smudge proof, etc. It comes in all sorts of colors, and it's just amazing. I recently started selling it and am offering some holiday discounts – feel free to join my group if you are interested in buying some for mom. She will love it – guaranteed (and if she doesn't, you can get your money back!).
This is the most genius diaper bag I've ever used. It's perfect for those times when you don't want to take a big bag out with you.
I love how it easily stores diapers, wipes, your phone, wallet, pacifiers, etc., and that it turns into a changing pad. There's nothing worse than going into a bathroom with a stinky baby only to find out there is no changing table anywhere! You can buy these directly from their website, but the indiegogo campaign right now will get you an even better price! They will arrive before Christmas!
Obviously, this is only a good present if the mom has an iPhone…but I love mine! Forrest got me it for Christmas (refurbished is the way to go), and I love it. It makes a lot of things simpler in my life, and it has so many great features. I especially love all the details for health and fitness that it gives.
I love my Cricut! It's such a versatile and fun product to use, and I think just about any mom would enjoy it. It's quite easy to use, and it's a great Christmas presents. You can read more about my thoughts on it here.
I'll be the first to admit that I am not a big paper planner person. However, I know others rave about them! I do have one of the planners from this website. They have ones for LDS moms, but then moms of any faith as well. However, Amazon has an awesome selection, too.
Leggings
I practically live in leggings. They are just so comfortable! I know that Lularoe is all the rage, and I do love them. However, my favorite brand comes from the VIV Collection on Amazon. They are SO soft, and they are only about $12, which is more affordable than Lularoe. I think they are more comfortable, too.
Defy Creations – See Your Sound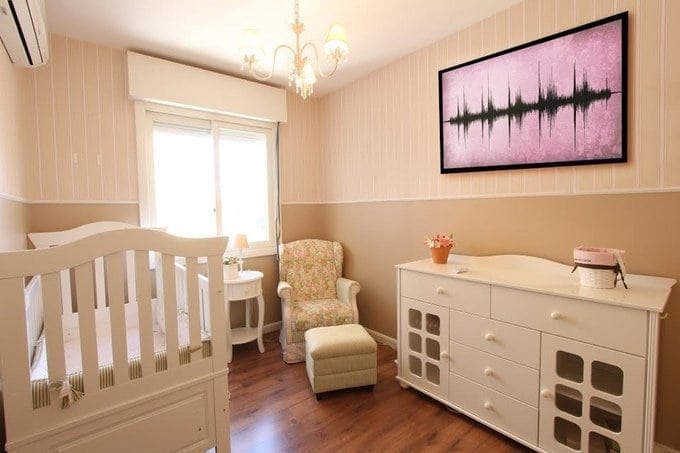 This is such a cool product! Our cousin is helping launch it, and while it's not available yet, I think it would be totally worth backing so you can buy it for the mom in your life. I love the idea of being able to have a picture of the sound waves of my child's voice. This would be a great piece to have in the house!
I just started this book, but so far, I love it. It has a lot of good insight into children, and their different personality types. It's really fascinating to me that the way you parent one child may not be as effective with the next. My kids are still young, but I'm excited to try some of these ideas as I raise them. I've heard only rave reviews about this book, and everyone I know that has read it says that they wish they had read it when their children were babies.
Love Stitch Fix – I would be THRILLED to get a Stitch Fix gift card for Christmas. When I asked in my breastfeeding support group on Facebook, someone said they just wanted clothes that fit! I know how that feels. I also hate trying on clothes in the store, so StitchFix is perfect. You can read more about how it works here. But all of my favorite clothes have come from this service.
New Camera (or Portrait Lens):
I think most moms love taking pictures of their cute kids – I know I do! Any mom would be thrilled to get a new camera. Or, if they already have a nice DSLR, then why not get them a nice portrait lens? The 50 mm lens is always a great one for taking shots of people – just make sure you get the right brand!
Art Deco Dry Erase Board
I went to a conference recently, and one of the presenters was from Art Deco Dry Erase. These are seriously some of the coolest dry erase boards out there. They come in tons of sizes, colors, and frame types.
Best of all? They don't stain! I see SO many dry erase boards that just look dingy and gross after awhile, but these have been designed to not to do that (so long as you use the Expo Bright Sticks). We just got ours, and it truly is beautiful!
I just love Willow Tree! Their figurines are just so timeless and full of emotion. I have a few, but I certainly don't mind when my collection grows. I've personally been eyeing this mother and sons one – perfect for our house!
Weekly Meal Plan
I can't be the only mom who has trouble planning meals each week (anyone…anyone?!). I personally have been using the Six Sisters' Stuff Weekly Meal plan, and it is AMAZING. It's only $5 a month, and each week, you get an email with six dinner recipes, two sides, and two desserts, as well as an itemized list of ingredients you'll need to buy. I think any busy mom would love this (especially if you include a gift card to Walmart so they can use Walmart Grocery – life changing!).
I think most people appreciate the wonderful-ness that is a slow cooker…however, it's made much better when it has a timer on it that will automatically set it to warm once the timer is over. I got one of these a few years ago, and it is seriously life changing. LIFE CHANGING. It's so nice not to have to make my schedule around when the slow cooker is going to be done.
Throw in some slow cooker liners, Real Food Slow Cooker Suppers (best cookbook ever!), and a cute slow cooker carrier, and you will have yourself a really special gift!
This is a genius way to keep track of the fun and cute things your kids say, as well as have prompts on topics to write about. You get texts from it, asking you questions, and you respond with your answers. You can also text it anytime (including pictures) with whatever you want. Then, you can print of beautiful hardbound copies.
They have a "lite" version, but I love having their deluxe one. I think this is a really unique and fun gift that most moms wouldn't expect.
New Mattress
Another mom jokingly said she would love to sleep more than four hours at a time – totally understand that! I think one of the keys to a better night's sleep (even when you are constantly being woken up), is having a good mattress.
I've heard rave reviews about eve mattress. They even have a 100-day try-out period so you can make sure the person you are buying it for LOVES it! It is the #1 rated mattress on Amazon as well.
Jewelry
I love jewelry – don't you?! I think mom necklaces and bracelets, like the ones offered from Charmed Collections, are one of the best gifts! I have one being made for me right now, and I can hardly wait. Etsy also has tons of options!
For breastfeeding moms, you could look into getting some breast milk jewelery made – necklaces, rings, etc. There's lot of options!
Here are a few suggestions from other moms:
Car Detailing
Massage
Pedicure
Manicure