Gift Ideas for the 12 Days of Christmas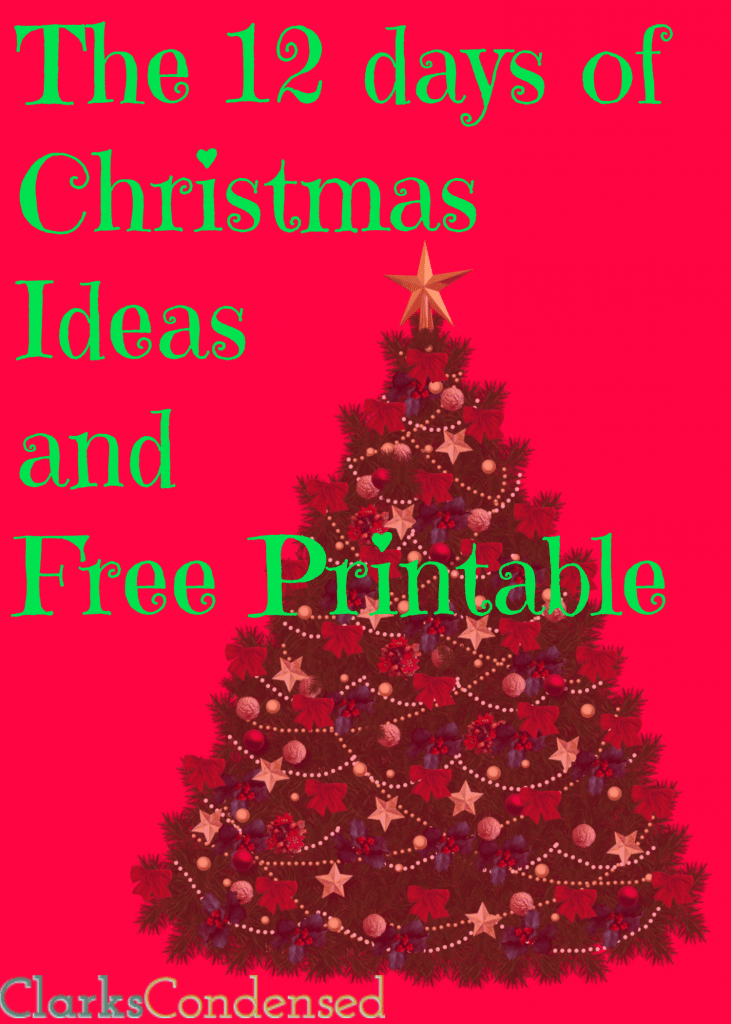 You know what Christmas song I really don't like — I don't care to listen to it, and I especially don't like singing — is?

The 12 Days of Christmas. I know, bah-humbug. But it's such a long song, and it's really not that exciting. I mean, half the song is about birds…and I don't really love birds.

However, I do love doing the 12 Days of Christmas to people, and even being the recipient. A few times growing up, our ward at church would organize a 12 Days of Christmas — anyone that wanted to participate would sign up and get matched with another family and anonymously leave small gifts or treats for 12 days. It was always so fun to try and catch the people, or to go drop off treats and get away before the other family caught us!

It's also always such a great experience to do the 12 Days of Christmas to a family in need. While we aren't the position to be able to do that right now, I look forward to doing it in the future. I know of several people who have been the recipients of the 12 Days of Christmas, who may not have had much of a Christmas otherwise, and have been so grateful.

You can sign up on the form below to get printable versions of these cards. You will also get some other really fun Christmas printables (all for free!)

[thrive_leads id='33998′]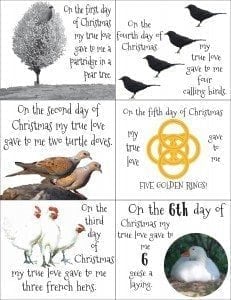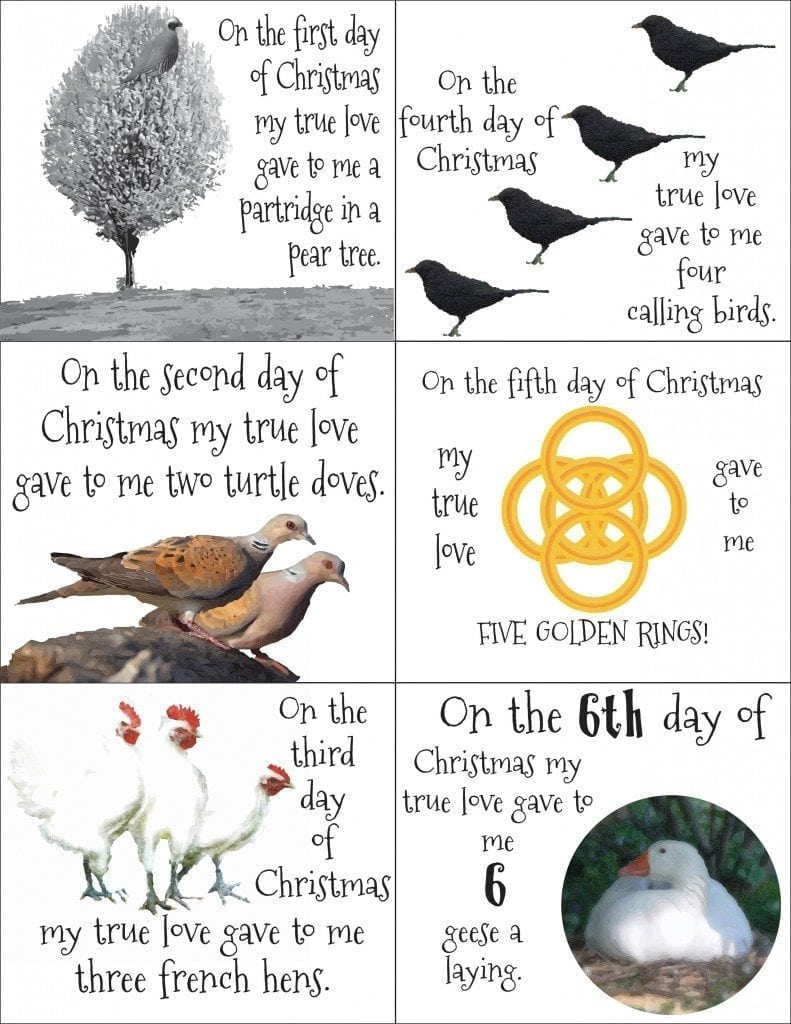 Day One Ideas (A partridge in a pear tree)
Day Two Ideas (two turtle doves)
Day Three Ideas (three french hens)
French macarons (because, you know, you have to use eggs to make these!)
Gift certificate to Chick-fil-a or KFC
Day Four Ideas (Four Calling Birds)
Day Five Ideas (Five Golden Rings)
Day Six Ideas (Six Geese a laying)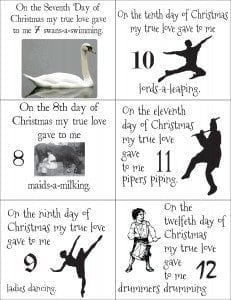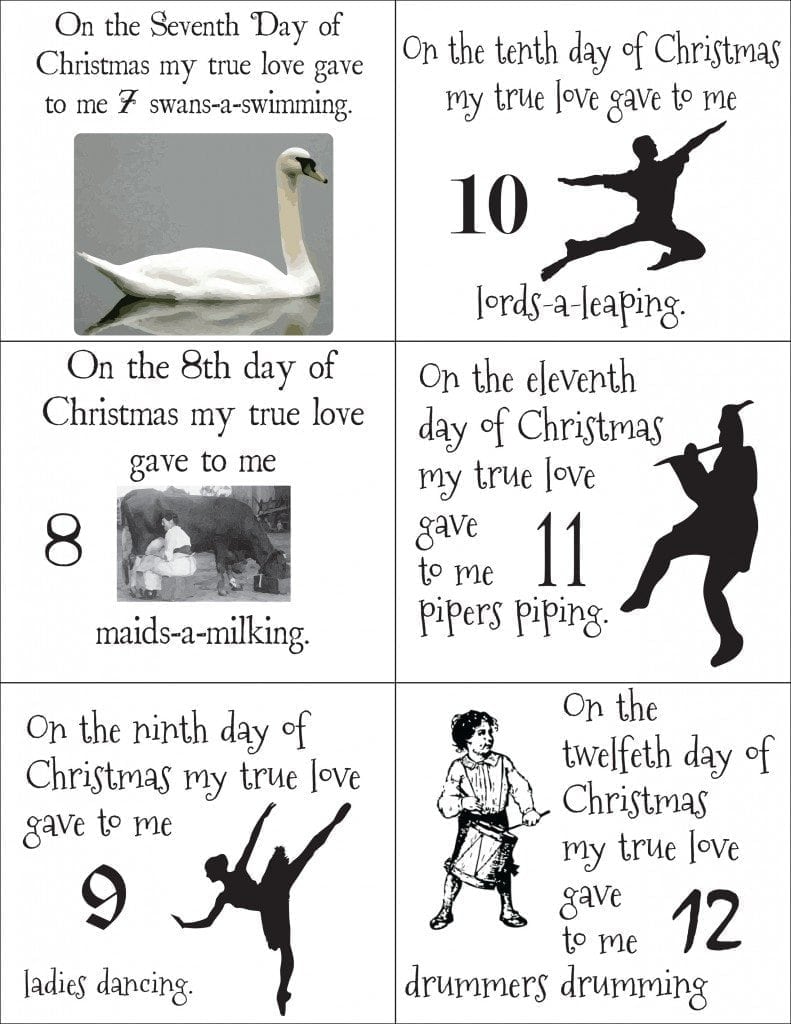 Day Seven Ideas (seven swans a' swimming):
Day Eight Ideas (eight maids a' milking)
Chocolate milk (or plain) and cookies
Day Nine Ideas (nine ladies dancing)
Tickets to a ballet
A CD with great dancing songs (or maybe one of the bazillion versions of Kidz Bop.)
Day Ten Ideas (ten lords a leaping)
Day Eleven Ideas (eleven pipers piping)
Day Twelve Ideas (12 drummers drumming)
Alternatively, you could just go with the number of the day, instead of the theme, and give a certain number of items on that day!
Looking for ways to keep Christ in Christmas? 
COMMENT POLICY:
All we ask is that you be kind. We welcome differing opinions, but any comments containing personal attacks, sarcasm, etc. will be removed immediately. Keyboard warriors aren't welcome 🙂 All comments are moderated and may take time to be approved. Anything not pertaining specifically to the content of a post will be removed (including comments about ads).