My daughter started first grade this past school year. Not only does that mean she is in school all-day but it also means that she eats lunch at school, too!
This post was sponsored by DOLE® as part of an Influencer Activation for Influence Central. All opinions expressed in my post are my own.
I have nothing against having her eat "school lunch" every once in a while but for the most part I enjoy packing her a home lunch to take to school every day.
I remember having home lunch (except back then we called it "cold lunch") when I was a little girl and there is something nostalgic about now making my own daughter's lunch.
I know some people prefer having their kids eat school lunch opposed to having to pack a lunch every night- but for me- packing the lunch has become easy and part of my routine. I haven't been doing it for too long but I have discovered a few tips that make it easier!
Pack food they'll eat
This is the most important part of packing your child's lunch. If they don't eat it at home- chances are they won't eat it at school either. You might be tempted to send them to school with a fancy hummus and veggie wrap (that you know they hate) but trust me- stick with what you know they'll eat. If you want to try out something new- do it on the weekend. If they end up loving it then pack it in their lunch.
Some go-to foods in our house is PB & J, turkey roll-ups, cheese sticks, whole grain crackers, raisins, and baby oranges. Because we eat them at home- I know she will eat them at school! I also recently discovered DOLE Mixations® and my kids love them! I had them try it out one Saturday and they both gave it two thumbs up.
DOLE Mixations are fruit fusions with delicious combinations of smooth fruit sauces mixed with juicy chunks of real fruit. The fruit pieces are my girl's favorite.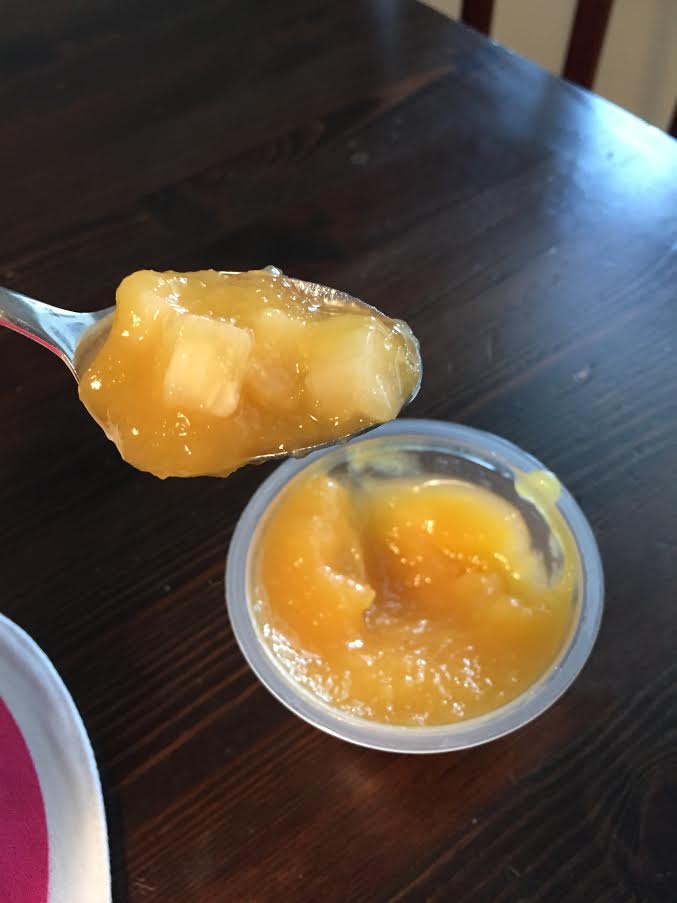 The come in four imaginative flavors: Apple-Strawberry Sauce with Dices of Apple, Pineapple-Mango Sauce with Pineapple Pieces, Peach-Apple Sauce with Pineapple Pieces and Apple-Raspberry Sauce with Dices of Apple.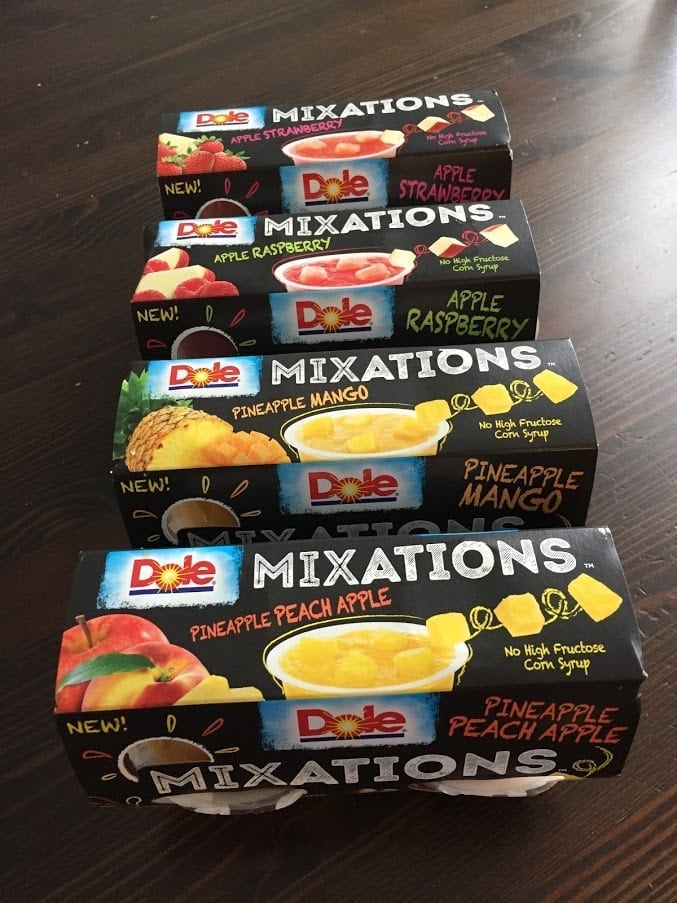 I feel good about giving them to my children, especially during the school day because they are non-GMO*, contain no high fructose corn syrup, no artificial flavors, are gluten free and rich in Vitamin C! They are the perfect addition to packing a healthy lunch for my kids and they are so easy to toss into a lunchbox. And because the fruit is in sauce, not syrup it's virtually mess and spill free which is so important knowing I won't be there to help her open it.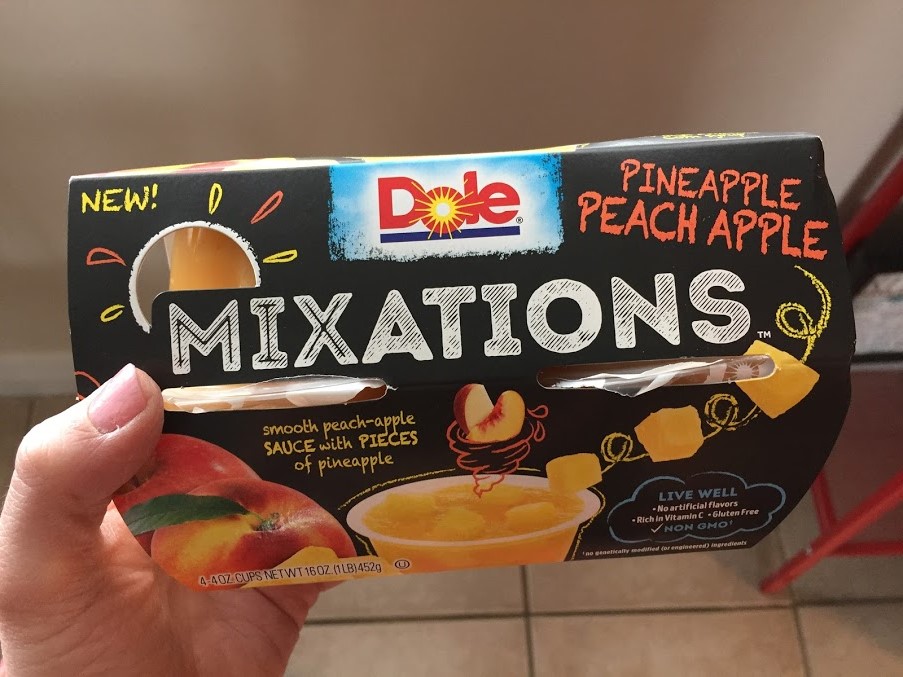 Visit https://dolesunshine.com/products/mixations and save $1.00 on any one (1) package of DOLE Mixations.
Find a fun lunchbox
I spent hours online trying to find the perfect lunchbox for my daughter. I was a brown bag girl myself as a child, but reusable bags and boxes are where it's at these days. Do your research and read up on reviews for the boxes you're looking at. It helps to read what other people have to say about them.
I eventually went with a colorful reusable sack that my daughter loves. It is easy to hold, fits in her backpack is and easy to find among all the other kids' lunch boxes at school. Don't forget to write your last name on it!
Use reusable containers
I also spent a considerable amount of time looking at reusable containers on the internet as well. There are so many choices! Make sure whatever you pick is the right size for the lunch box you'll be using! I almost bought a container that would be too big for what we were using. After getting out the measuring tape I discovered I needed to find something smaller- and I'm so glad that I did!
Reusable containers also help with portion control. Kids don't need as much as we think they do and the small compartments are made for the appropriate proportions kids need. It also saves on having to buy plastic bags.
Pack the night before
When possible- pack the lunch the night before. Or better yet- have your child help you! When they help with the lunch packing they will be more inclined to eat it! They can also give input on what they like and what they want to eat.
Make it a before bed-time ritual to pack their lunch. We put whatever needs to be refrigerated back into the fridge after its been packed up, and then leave the non-perishable items on the counter top- ready to be packed in the morning. It is one less thing we are running around doing each morning and it makes lunch packing so much less stressful.
Write love notes
My mom always wrote a love note to me on my napkin and tucked it into my lunch- even when I was high school!
It was something she did to show me she loved me and I like to do the same with my daughter now. I have a drawer filled with colorful markers and use them to write quick, short love notes to her each day. When I pack a DOLE Mixation in her lunch- I use their inventive packaging that is designed to inspire creativity with lids that you can write on with fun designs and personal messages.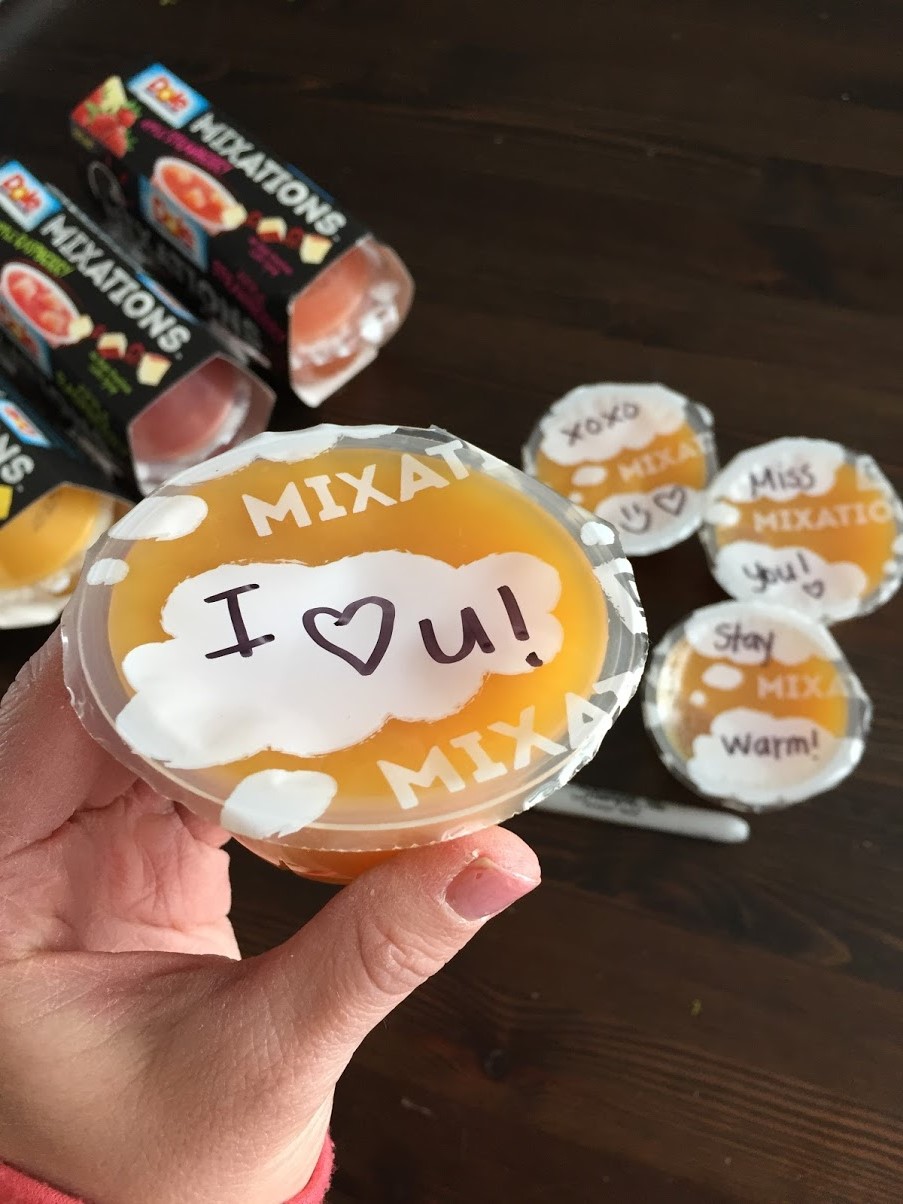 Don't overpack
This goes along with using compartment sized Tupperware- but remember not to over pack your child with food. My daughter is really good about bringing home everything (even her trash) so I can see what she ate or didn't eat. But some children might throw away unopened yogurts, cheese sticks or whole sandwiches. It might take some time to get a good feel for how much your child needs to eat at school, but once you do- use that knowledge when deciding how much food to pack.
Get a thermos
Home lunch doesn't have to equal cold sandwiches every day! We love using a thermos to pack mac 'n cheese, chicken nuggets, and leftovers from dinner.
There are a variety of different hotcold thermoses on the market so you might want to look around to see what works best for you. Having one gives you the ability to give your children a variety of different foods each day.
Be creative
It can become tedious to pack the same things for lunch each day. Have fun with it! Put in small treats every once in a while, splurge on a healthy drink to stick in. I even gave my daughter cereal one day (using her thermos to pack the milk in) and she loved it.
What are some of your favorite tips for packing school lunches?

* No genetically modified (or engineered) ingredients