The BEST Instant Pot Lasagna Recipe
Looking for a delicious pressure cooker lasagna recipe to use in your Instant Pot? This one is SO easy and delicious. Everyone LOVES it! 
It's safe to say the Instant Pot has taken the world my storm.
When I bought mine a little over a year ago, I had NO idea it would become as popular as it is today.
I mean, I hear people in every day conversation talking about how much they love theirs…and it always makes me smile.
A few months ago, I wrote this ultimate Instant Pot Guide, and I've been totally thrilled to see how much people enjoy it. I've even had a few people tell me that it's what tipped them over the edge into buying one!
I had heard that you can make lasagna in an Instant Pot, so a few months ago, I bought the Fat Daddio's springform pan. You definitely need some kind of springform pan to make lasagna in the Instant Pot, and this brand comes highly recommended for all things Instant Pot (just make sure you get one small enough for your Instant Pot!)
Plus, you can use it to make cheesecake later. Win-win!
Anyways, the other day I decided to try and convert our most popular recipe – easy lasagna – into an Instant Pot version.
You see, this is one of my all-time favorite recipes, so I wanted to make sure the Instant Pot did it justice.
You guys – SO good. It was SUPER easy, too. I had used a bag of homemade spaghetti sauce and meat that I had previously frozen, oven ready lasagna noodles, and a variety of cheese, and it was in the Instant Pot and ready to go in just a few minutes.
I do recommend using the oven ready lasagna noodles with this recipe. And yes, you do need to put tin foil on top unless you want it to get watery (which, maybe you do!).
When I first got the springform pan, I was a little worried that it was too small..but you are able to pack a lot into the pan, and we were all full after dinner..with a little left to spare.
Although nothing can quite replace an oven baked lasagna recipe, this one comes pretty darn close!
Special Products Needed for This Recipe:
Looking for another easy lasagna recipe? We have TONS of easy ones!
Pressure Cooker Lasagna Recipe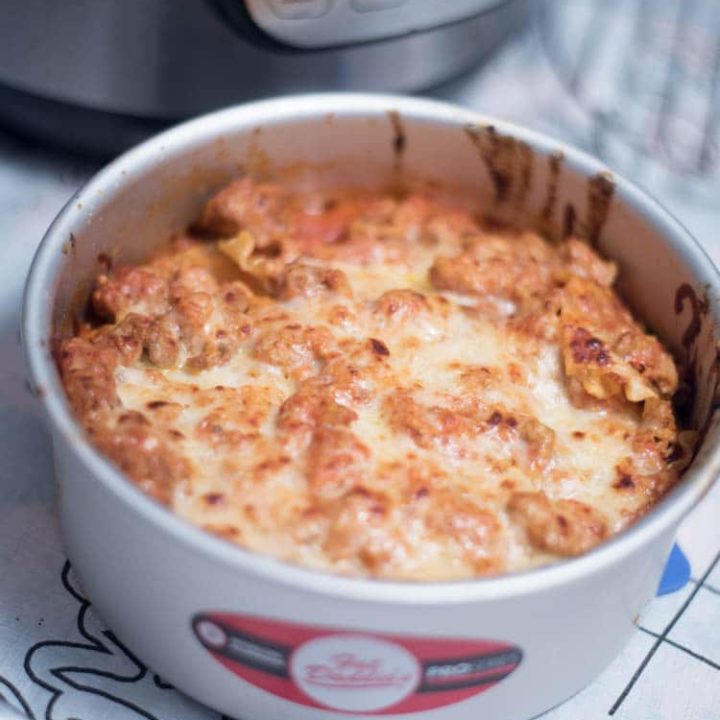 Instant Pot Lasagna
Yield: 5 people

Prep Time: 10 minutes

Cook Time: 20 minutes

Total Time: 30 minutes
Ingredients
1/2 pound ground beef
1/2 pound ground Italian sausage
1 jar spaghetti sauce, (or about 3 cups homemade)
1.5 cups water, divided
1 teaspoon Italian seasoning
1 teaspoon garlic powder
2 cups mozzarella cheese, shredded
1 cup colby jack cheese, shredded
1/2 cup parmesan cheese, grated
8 oven ready lasagna noodles
Instructions
Brown and cook sausage and ground beef. Drain.
Add spaghetti sauce and cook to a simmer. Add 1/2 cup water and seasonings. Let simmer about 10 minutes. 
Spray bottom of an Instant Pot safe springform pan with cooking spray. 
Put a thin layer of spaghetti sauce on bottom of springform pan and sprinkle with parmesan cheese. 
Place 3-4 lasagna noodles (uncooked) on top of sauce. Break into pieces to make them fit. 
Add a layer of sauce, parmesan cheese, colby jack, and mozzarella. 
Repeat layers until you reach the top, and on the last layer of meat, cover with just mozzarella cheese. 
Cover pan with tin foil.
Place 1 cup water in bottom of Instant Pot. Place trivet in water. 
Place springform pan on top of trivet. 
Close the lid, make sure the valve is not set to release pressure, and set IP to cook for 20 minutes on high pressure. 
After the timer reaches twenty minute, let the IP release it's pressure naturally for 10 minutes, and then release the rest. 
Remove from Instant Pot and remove tin foil. Place under broil for 1-2 minutes, or until cheese is browned and crispy. 
Here are some more Instant Pot Recipes you may enjoy:
Check out our most loved products and services in the Clark household! All of these are loved and used on a regular basis.