Hello to Katie's readers. I'm Kim of Cravings of a Lunatic and Kiss My Smoke. I love Katie's blog so I'm super thrilled to be here with you today. 
I always get really nervous when guest posting for other bloggers. It's like showing up to a party where you don't know anyone.
I tend to be shy, although most people are surprised by that after reading my blog. Apparently I am come off quite boisterous on the site, so most bloggers are surprised when we meet in person that I'm actually a bit shy and soft-spoken. Until it's time for high jinks, then all bets are off. 
Recipe high jinks are always a safe bet for me. I love making recipes that just go a little too far. If some chocolate is okay, then tons of chocolate is better. If layering is great then I want to layer it all the live long day, till it topples over. I cannot help myself. I tend to live by the motto of "go big or go home". Gets me in trouble occasionally.
Today I'm sharing a super easy Samoa No Bake Cheesecake Parfait. The first layer is brownies, you can make your own brownies or buy them, whatever works for you. Then I drizzled caramel over top. I piped in some chocolate cheesecake filling, then tossed in some mini chocolate chips, and coconut. Then I decided to top it with coconut flavoured whipped cream. But I still wasn't happy so I drizzled more caramel, then chocolate, then tossed in more chocolate chips and coconut. The result was amazing. 
I make so many no bake desserts in summer. I hate turning on my oven and try to avoid it all costs. Our house gets way too hot and retains the heat all day long. So we grill as much as possible, and all desserts are no bake. It's how we cope with summer. I have to say if eating no bake cheesecakes all summer is a coping mechanism I certainly excel at it.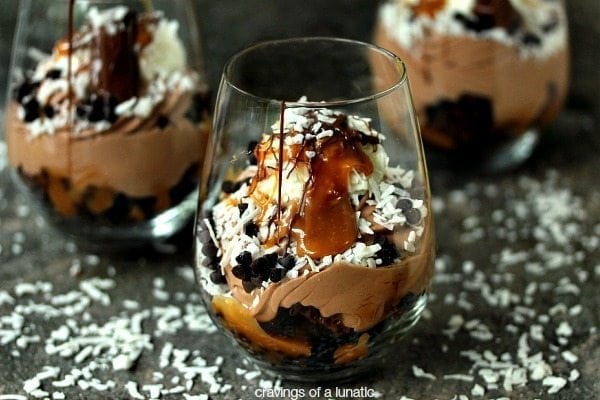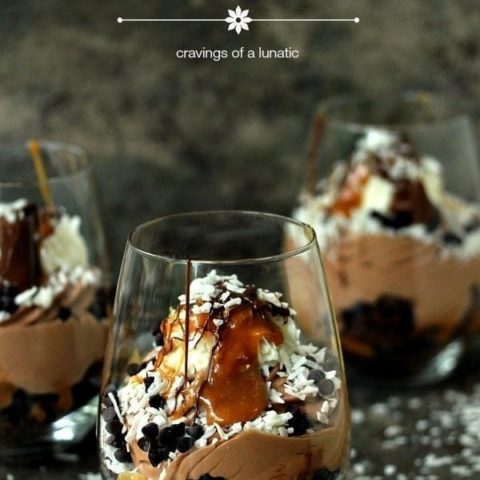 Samoa "No Bake" Cheesecake Parfaits
Ingredients
1 package of store bought brownies, or you can make your own
For the caramel portion:
1 package of caramels
4 tablespoons heavy cream
For the cheesecake portion:
1 package, 8 oz cream cheese
1/3 cup sugar
4 oz semi sweet chocolate, melted
1 cup heavy cream
For the whipped cream portion:
1 cup heavy cream
1 teaspoon coconut extract
For the chocolate drizzle:
4 oz of milk or dark chocolate
Toppings:
1/2 cup mini chocolate chips
1/2 cup shredded coconut
Instructions
Break the brownies into small pieces and toss them into the bottom of each serving dish.
For the caramel portion:
Pour the heavy cream into a microwave safe glass bowl. Add the caramels over top. Melt on high for about 2 to 3 minutes, stopping every 30 seconds to check it. Take out and stir with a spoon, then drizzle about half into the serving dishes. Set aside the other half for later.
For the cheesecake portion:
In a stand mixer combine the cream cheese and sugar, whisk on high until fluffy.
In the microwave melt the chocolate, turn it on for about a 1 to 2 minutes, stopping to check it and stir it every 30 seconds. Once it's smooth it's ready.Allow to cool briefly. Pour the melted chocolate into the cream cheese mixture and whisk on high until combined.
Add the heavy cream and whip on high until it's smooth and creamy. Transfer to a piping bag, or spoon into bowls.
Toss in some mini chocolate chips and coconut.
For the whipped cream portion:
In a stand mixer combine the heavy cream and coconut extract. Whisk on slow until it begins to thicken, then increase to high speed and mix until it's fluffy. Remove and spoon or pipe into serving dishes.
For the chocolate drizzle:
Melt the chocolate in the microwave for about 1 to 2 minutes, stopping to check and stir every 30 seconds. Once it's smooth it's ready.
Finishing it off:
Toss more mini chocolate chips over top, then some more coconut. Drizzle caramel over top. Then melt some chocolate over top of that. Toss more mini chocolate chips and coconut over top.
Serve with a big old Samoa loving smile!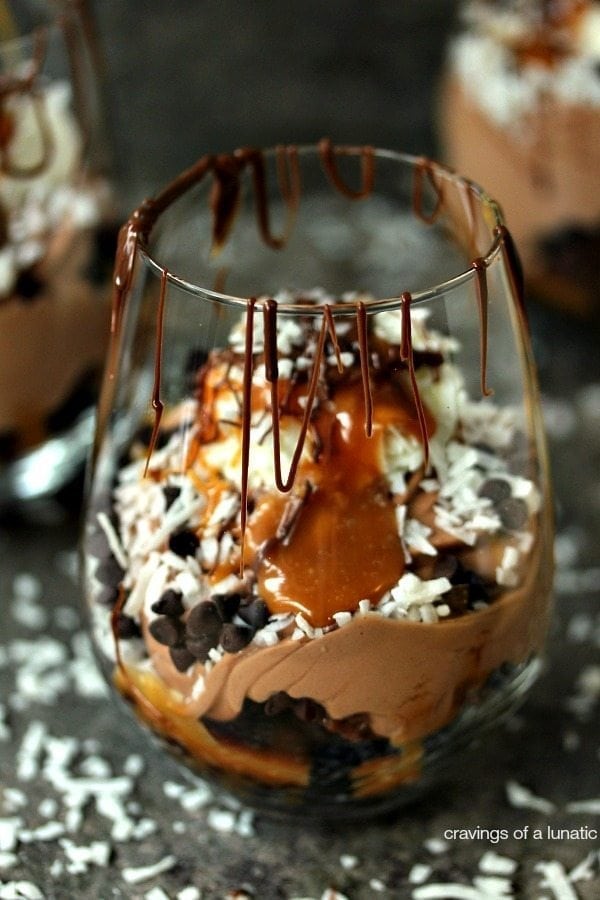 I really hope you enjoy these and get a chance to try these. Simple to make and seriously scrumptious. Not a bad way to beat the heat.
Thanks to Katie for having me today. It was a pleasure to spend some time with everyone today. Now get in the kitchen, ignore the oven, and whip some of these bad boys up. Today.
Toodles and smoochies! xx
COMMENT POLICY:
All we ask is that you be kind. We welcome differing opinions, but any comments containing personal attacks, sarcasm, etc. will be removed immediately. Keyboard warriors aren't welcome 🙂 All comments are moderated and may take time to be approved. Anything not pertaining specifically to the content of a post will be removed (including comments about ads).