A traditional family favorite is made even easier with the use of a slow cooker. This is the BEST slow cooker mac and cheese recipe around. It's so easy to make and absolutely DELICIOUS.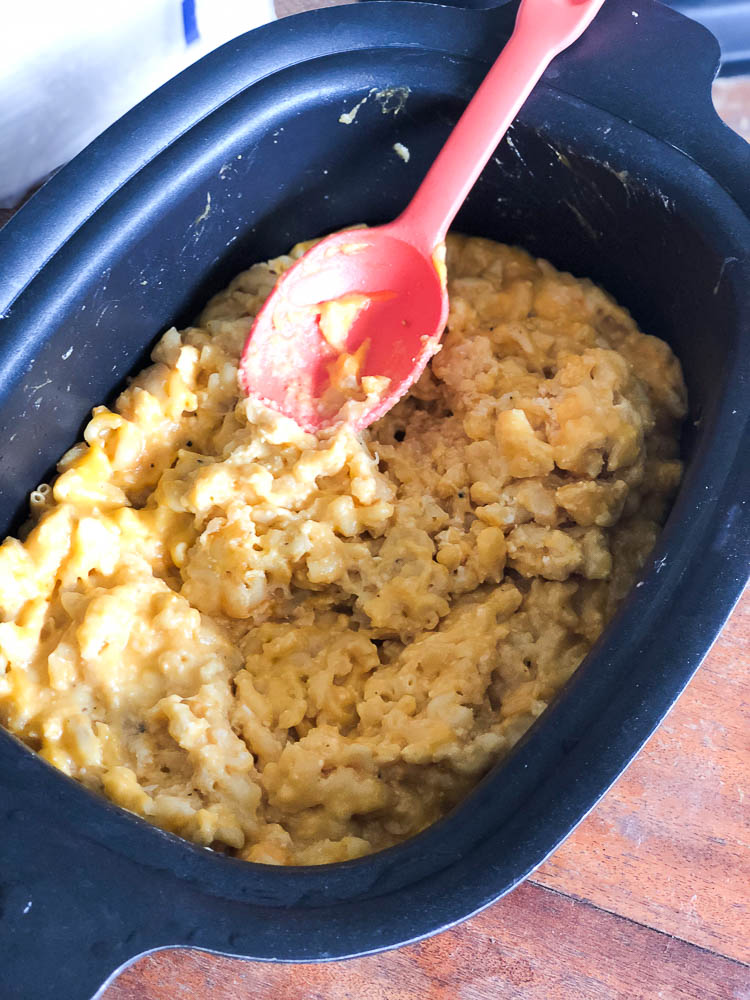 Crockpot Mac and Cheese
I don't like mac and cheese.
Great way to start a post about mac and cheese, right?
I guess I should qualify that – I don't like boxed mac and cheese….which, until a few years ago, is pretty much the only kind of macaroni and cheese I had.
Then I realized that mac and cheese can actually taste quite delicious…when it's made right. I'm still pretty picky about the mac and cheese I eat (I prefer for it to have a variety of cheeses – not just sharp cheddar), and I won't eat boxed mac and cheese (my boys are another story), but when I find a good mac and cheese…you better believe I take more than one helping.
Over the past few months, we've had a lot of BBQs. We've had brisket, ribs, hamburgers…and everything in between. And I wanted to have an easy crockpot mac and cheese recipe that I could turn to.
I looked at a bunch of different recipes and found things that I liked about all of them…and I combined all those things together..and you guys, it is SO good. One thing I don't love about homemade mac and cheese is making it, and this recipe couldn't be easier.
Now, if you are looking for a low-fat mac and cheese recipe…this isn't it 🙂 But if you are looking for a mac and cheese recipe that tastes amazing, is super easy, and that everyone will love, I can almost guarantee that you'll enjoy this one.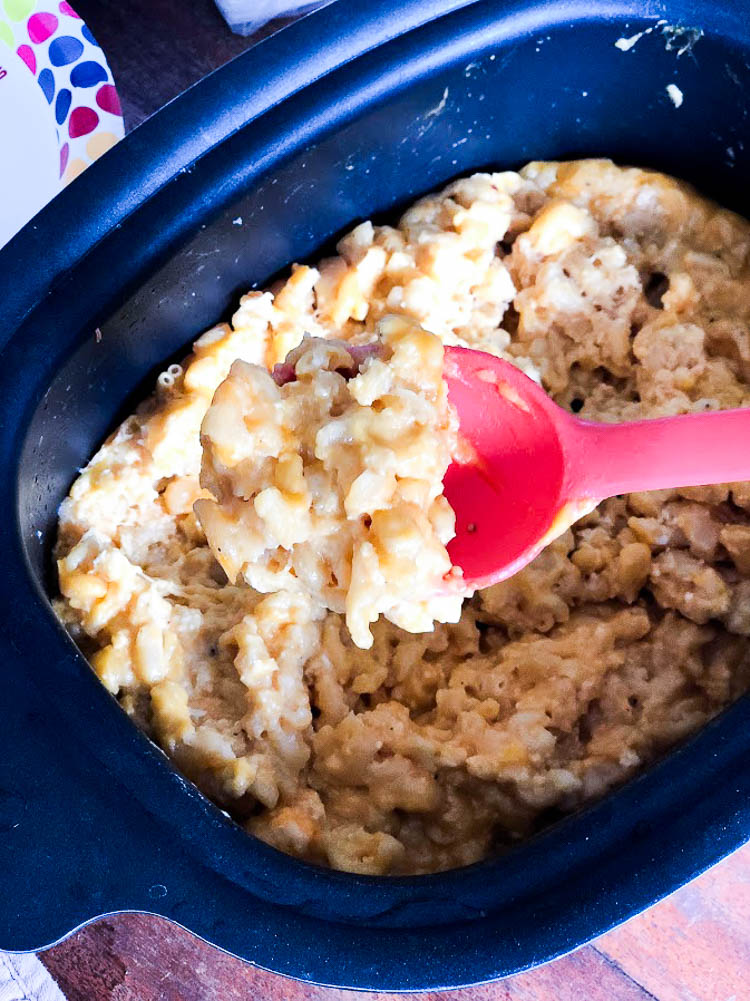 Tools Needed
For this recipe, you will need:
The slow cooker I own is the Ninja Cooking System, which I absolutely LOVE! However, you can use whatever slow cooker you own. I really like any slow cooker that has the feature where it automatically turns to warm after the timer goes off.
I used to use slow cooker liners a lot because they can help with clean up substantially. I haven't used them as much recently, but I think they are pretty awesome.
Ingredients
I researched a lot of different slow cooker macaroni and cheese recipes as I tried to come up with my own. There are many different variations, and honestly, it can be a little bit overwhelming.
Some people say to use eggs, others say it can mess it up. However, I had no issues with using egg – I just made sure I whisked it and added it with all of the rest of the ingredients. You can use flour instead if you'd like.
This is a pretty standard recipe, but here are a few notes on the different ingredients:
Campbell's Cheddar Cheese Soup – I'll admit, I wasn't too keen on adding this at first, but I do think it helps with the creaminess of the meal. It is a tad bit processed, and if you'd like, you can probably get away without adding it. But I think it added a little something special to the dish. You can find this in the soup aisle at most grocery stores.
Half and Half – I've seen recipes that call for heavy cream, others that call for whole milk, or whatever. I decided to try out half and half to see how it went, and I feel like it's a good choice. It's less heavy/caloric than heavy cream, but I think it's a bit creamier than regular milk.
Cheese – I used a triple cheddar shredded blend for this meal. Kraft has one, but I really like the Tilamook brand. You can easily shred the cheeses yourself as well. I think it's wise to use more than just one kind of cheddar or even kind of cheese.
Variations
The wonderful thing about macaroni and cheese is that it's very versatile. You can change up or add ingredients pretty easily, and it will still taste amazing.
Here are a few variations to consider:
Use different cheeses – I always recommend using some kind of cheddar cheese, but it can be delicious to add other kinds as well. I always enjoy Italian Blend shredded cheeses! Gruyere is also a popular cheese for macaroni and cheese.
Bacon! I don't know what it is about macaroni and cheese, but it always seems to be calling for bacon. I always like putting the Kirkland brand of bacon bits on top.
Spinach – we like putting spinach in macaroni and cheese, especially for our boys. It doesn't add a lot of flavor, but it does add some more nutrition.
Breadcrumbs
Spice it up with some hot sauce or chili powder
We have a friend who loves to put Tony Chachere seasoning on top of his mac and cheese. I thought it was weird at first, but it actually tastes quite good on top!
Tips for this Recipe
One thing to keep in mind when cooking with your slow cooker is that it may cooker hotter or cooler than someone else's. I have a Ninja Cooking System, and it almost always cooks faster than other crock pots.
I put this recipe as serving 12 – however, if it's used as a side dish rather than the main dish, it may serve even more.
I didn't find that the noodles got overcooked by being in the slow cooker for the entire two hours. However, if you find that they do, just add them in 1/2 way through.
FAQS
Can I freeze this? Yep! Just make sure it's properly stored in an airtight container.
Can I omit the canned cheese soup? Yes, you can. It just may not be as creamy.
What can I use instead of eggs? You can make a paste of flour and water and whisk that in with the rest of the ingredients.
How many does this serve? 10-12 people
How long will mac and cheese keep for? You can keep this in the refrigerator for about a week.
Can you make this without butter? I haven't tried this, but you probably could omit this.
Can you make this dairy free? Not something I've tried. You could probably use canned coconut milk instead of the milk and dairy free butter instead of regular butter. You would need to omit the cheese soup, unless there is a dairy-free alternative that you know of for a cheese sauce. As far as the cheese goes, I am really not versed on vegan/dairy free cheeses. The last time I tried one, it was about five years ago, and it was Daiya…and I thought it was disgusting. However, I believe I heard recently that they improved their formula, and it melts/tastes much better.
How can I cut the fat down in this recipe? Use less butter/omit it entirely.
Macaroni and Cheese Video
Best Mac and Cheese Recipe
Slow Cooker Mac and Cheese
Yield: 10 people
Prep Time: 10 minutes
Cook Time: 2 hours
Total Time: 2 hours 10 minutes
This slow cooker mac and cheese is the best mac and cheese recipe you will ever eat! It takes minutes to throw in the crockpot, and it's ready in less than two hours
Ingredients
16 ounces dry elbow macaroni
¼ cup butter
16 ounces triple cheddar shredded cheese, I like the way Tillamook looks and tastes better, but if you can't find it, Kraft works too
1 12 ounce can evaporated milk
2 cups half and half
2 eggs
1 can condensed cheddar soup
1 teaspoon Garlic powder
1 teaspoon onion powder
Salt and pepper
Instructions
Rub butter over the slow cooker and then place butter in the middle of the crockpot.
Whisk eggs in a small bowl.
Add evaporated milk, half and half, eggs, and cheddar soup to the pot.
Add macaroni noodles and make sure they are covered by the liquids. Mix in garlic powder and onion powder, plus salt and pepper
Add in ½ the cheese.
Put on low for 1.5 hours.
Mix in the rest of the cheese, and mix around. Cook for about 30 minutes - an hour (if needed) and then keep on low.
Photo Instructions: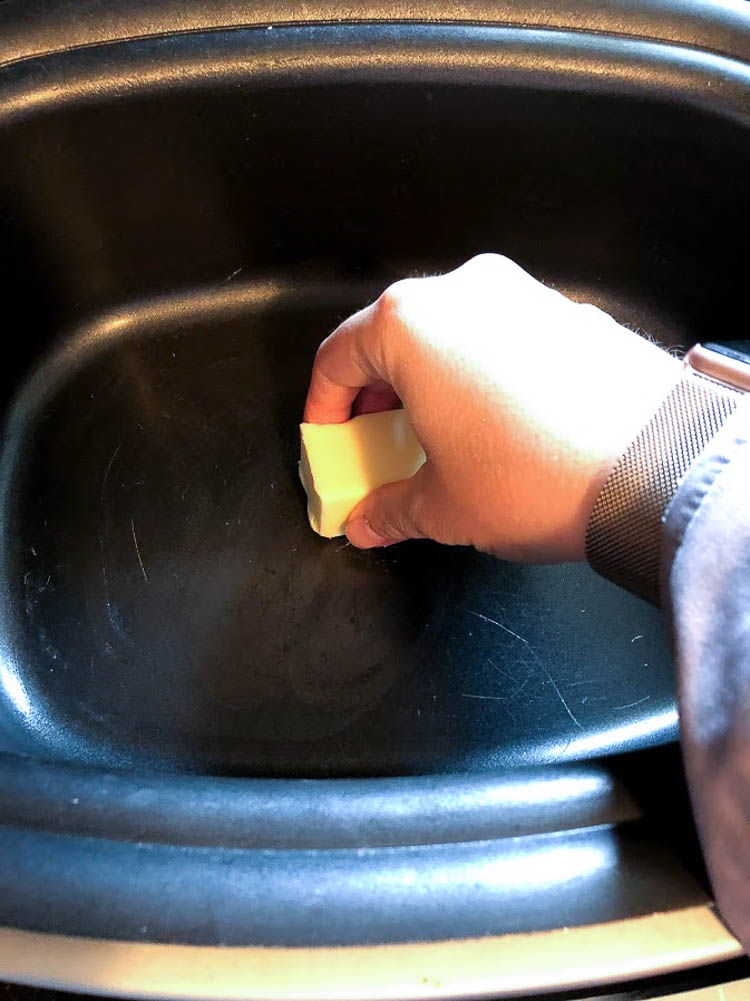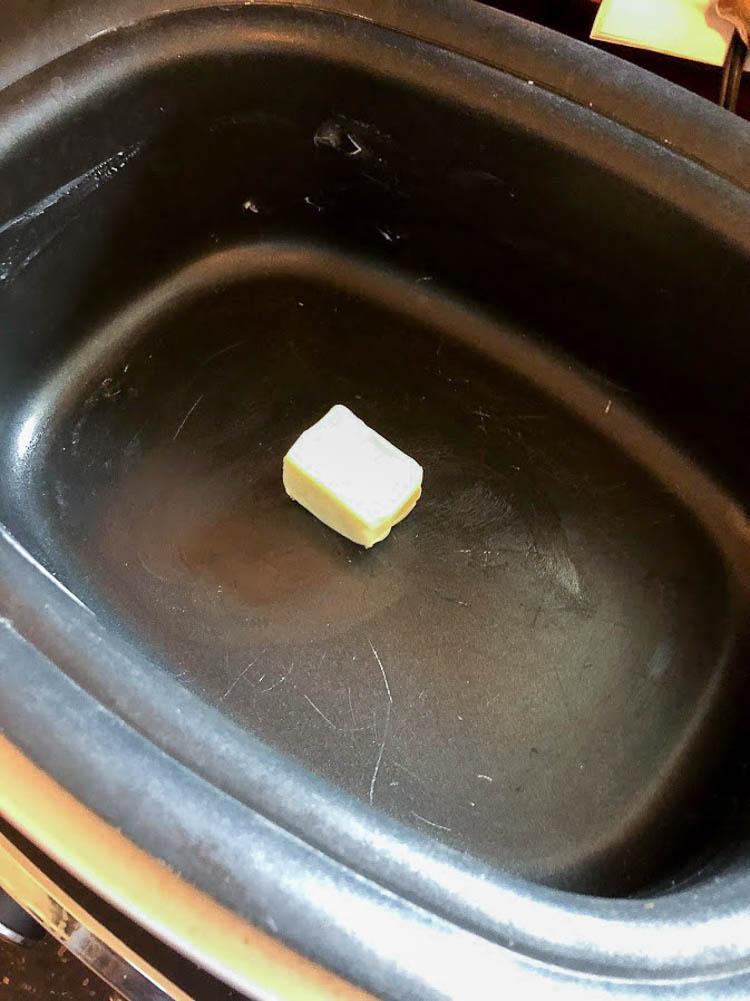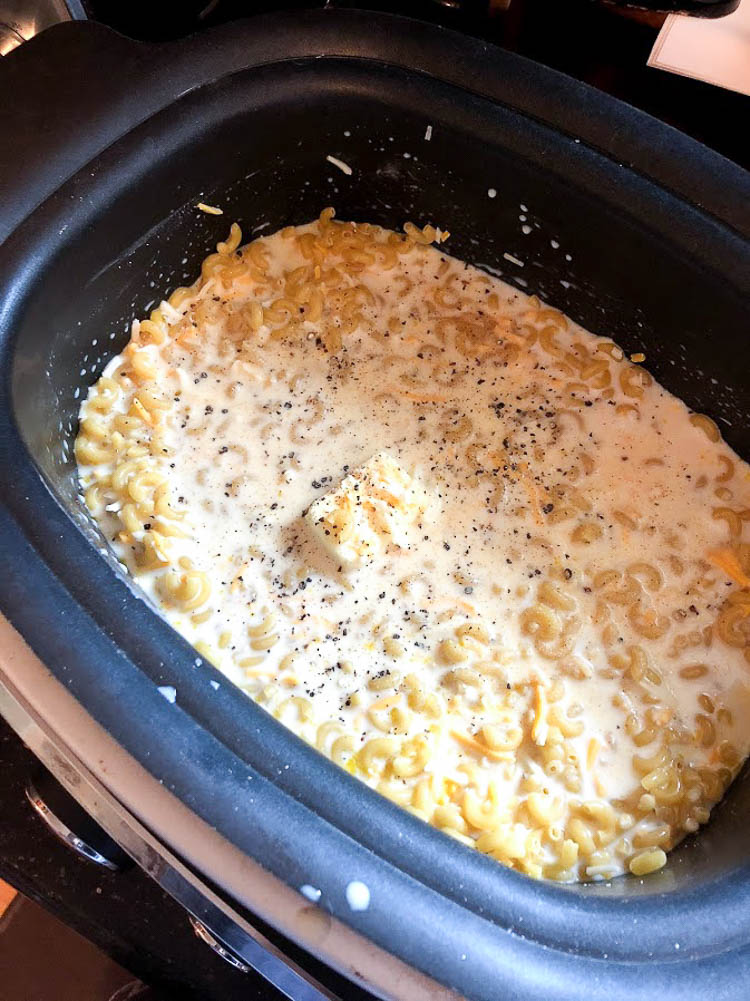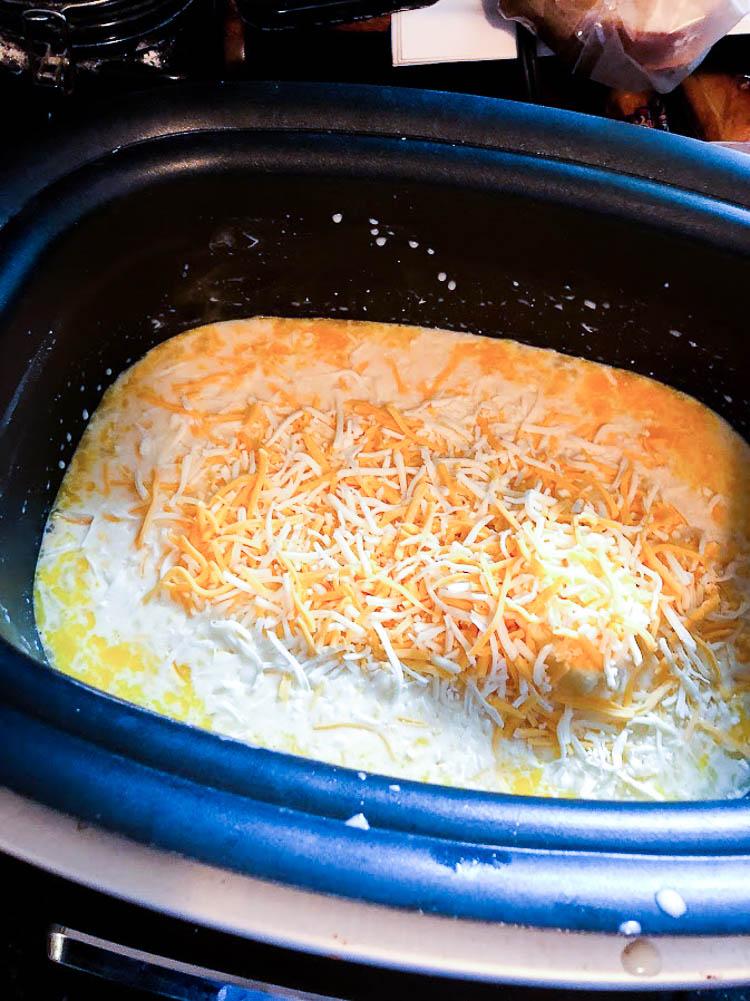 Other Pasta Recipes You May Enjoy
Other Slow Cooker Recipes You May Enjoy