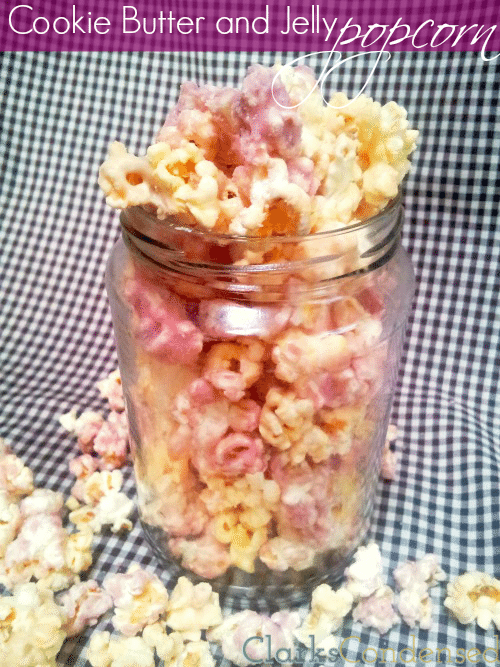 Awhile back, Ashton over at Something Swanky posted this interesting sounding recipe – Peanut Butter and Jelly popcorn. It combined peanut butter and grape jelly with white chocolate. And for someone who loves Peanut Butter and Jelly, it sounds like a brilliant idea.
However, I'm neither a fan of peanut butter, or of grape jelly. Still, the idea of it resonated with me, and I was always curious how it would turn out. I often would pull the recipe up on my browser, where it would sit for a few days as I tried to decide if I actually wanted to make it or not.
I know, it was a huge decision.
Well, finally one day, I decided to do it. And when I went to get peanut butter out of the cupboard, I saw a jar of Speculoos Cookie Butter. And then when I went to the refrigerator to find some grape jelly, I instead stumbled upon my favorite kind of jelly — Welch's Natural Raspberry Spread.
And at that moment, the greatest idea I'd ever had (that day) was born: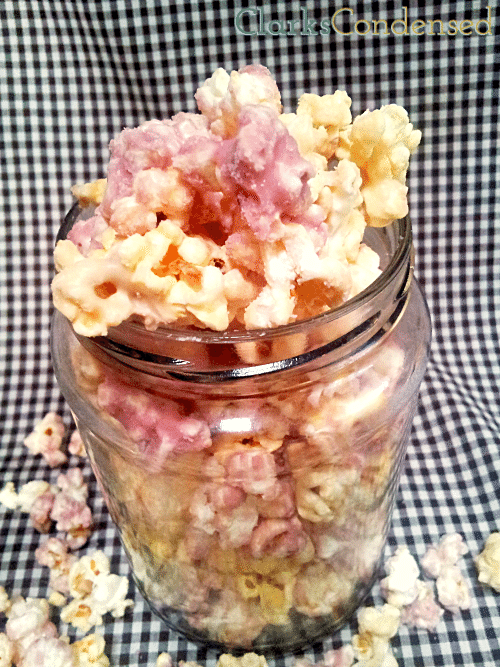 It honestly couldn't have turned out better. I made it for family home evening, and it was a huge hit. After that first time I made it, I think my little brother asked me at least once a week if we would make it again sometime. Sadly, I never actually did (sorry, Michael) but lucky for him, I left our jar of cookie butter in Colorado, so now that I'm posting the recipe, he can make it for himself. And all his friends.
I loved the taste of raspberry and cookie butter together — I've actually combined the two together before, so I knew that it would be a winning combination. We ate this popcorn pretty quickly, and I think it's safe to say, it's the best gourmet popcorn I've ever made.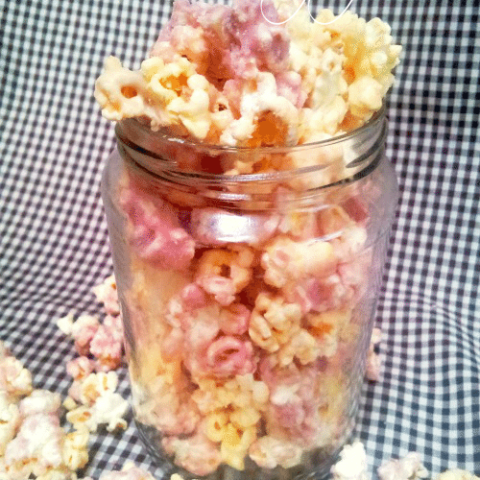 Cookie Butter and Jelly Popcorn
Ingredients
8 cups popped popcorn
1 bag white chocolate chips, 2 cups
2 tablespoon Welch's Raspberry Jam
1 1/4 tablespoon cookie butter
Instructions
Remove kernels from popcorn, and divide in to two bowls.
In a sauce pan, melt cookie butter and 1 cup of white chocolate chips. After melted, pour over one bowl of popcorn and stir with a rubber spatula until all popcorn is covered. Put popcorn on parchment or a silicone baking sheet to cool.
In another sauce pan, melt raspberry and 1 cup chocolate chips. Pour over popcorn, mix with rubber spatula, and pour on another sheet of parchment paper.
After both popcorns have cooled completely, mix together in a large bowl and serve.