If you are looking for the best camping food recipe, look no further! This BBQ Dutch Oven Chicken and Potatoes recipe couldn't be easier, and it will absolutely be a big hit on your next camping trip. Soooo yummy! Don't have a dutch oven? You can easily make this on the stove or in a slow cooker as well!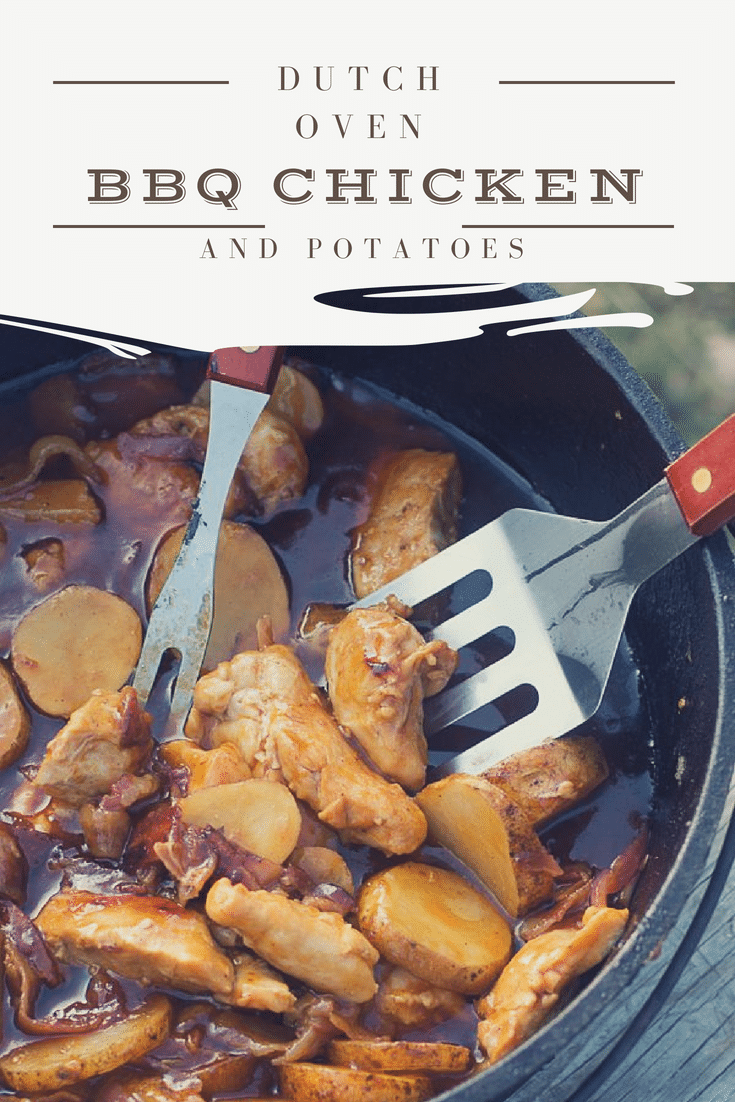 Dutch Oven BBQ Chicken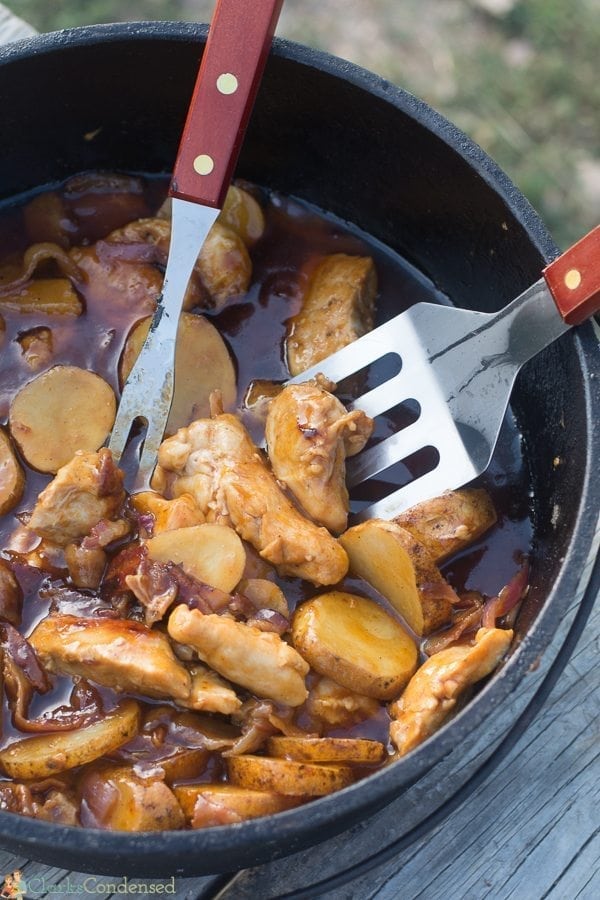 When we went camping a few weeks ago, I was particularly excited about the food we were going to make. My dad always says that everything tastes better in the mountains, and that is a sentiment I agree with wholeheartedly. I knew that I wanted to make a dutch oven meal that my dad is famous (at least, in my family) for making. We only ever had it when we went camping, and it was something I looked forward to every time. It's a very simple meal, but it's full of lots of flavor! This is guaranteed to be one of the best dutch oven chicken recipes out there.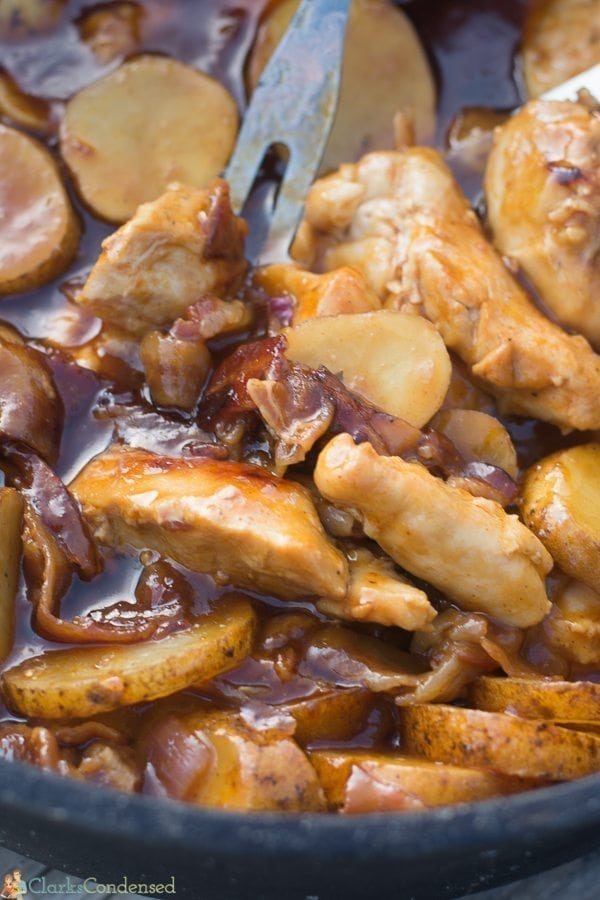 Since we don't have a camping dutch oven (something I hope to change soon), we borrowed one of my dads and picked up some charcoal from the store before we set out. The hardest part about this dish was getting our coals going well enough so we could actually cook the food. And then, of course, waiting the 50-60 minutes it took to cook. It was torture!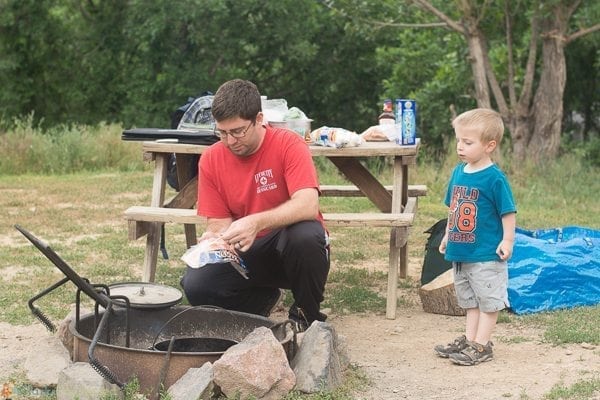 It's basically bacon, chicken breasts, onions, potatoes, and BBQ sauce. Simple, simple, simple! I found out later that my dad actually puts butter in as well, but we didn't (because we didn't know about it), and it still tasted great. It really made me want to do more dutch oven cooking, because it turned out so well. Here's a little photo demonstration!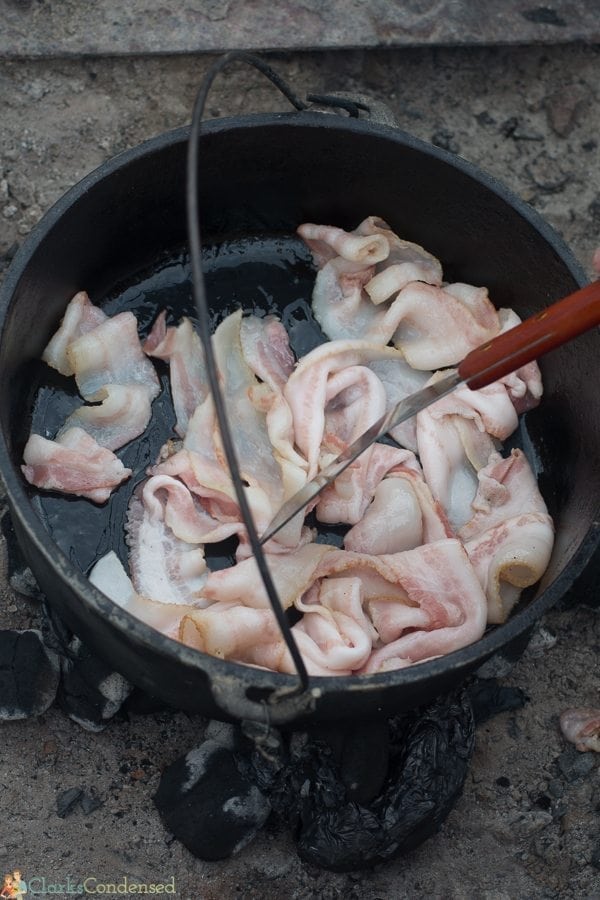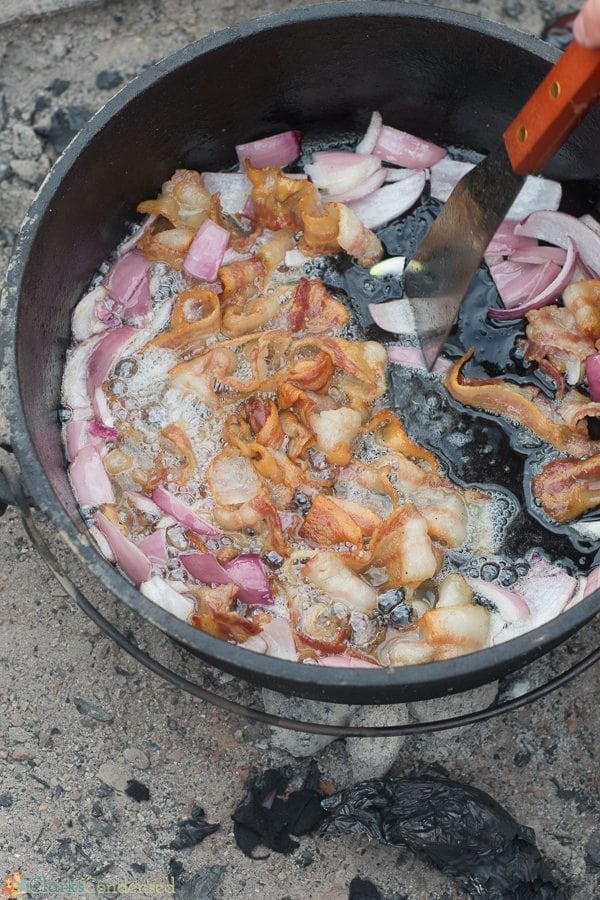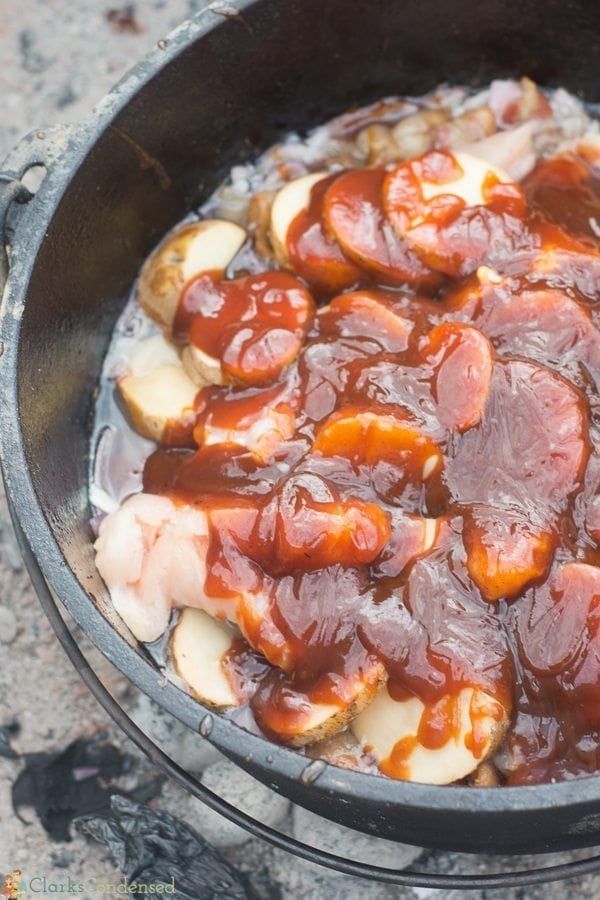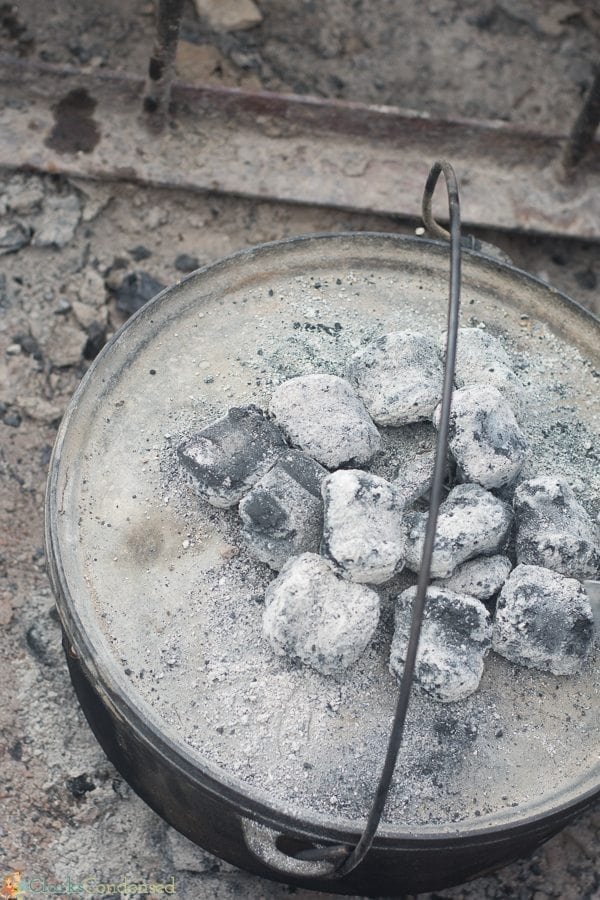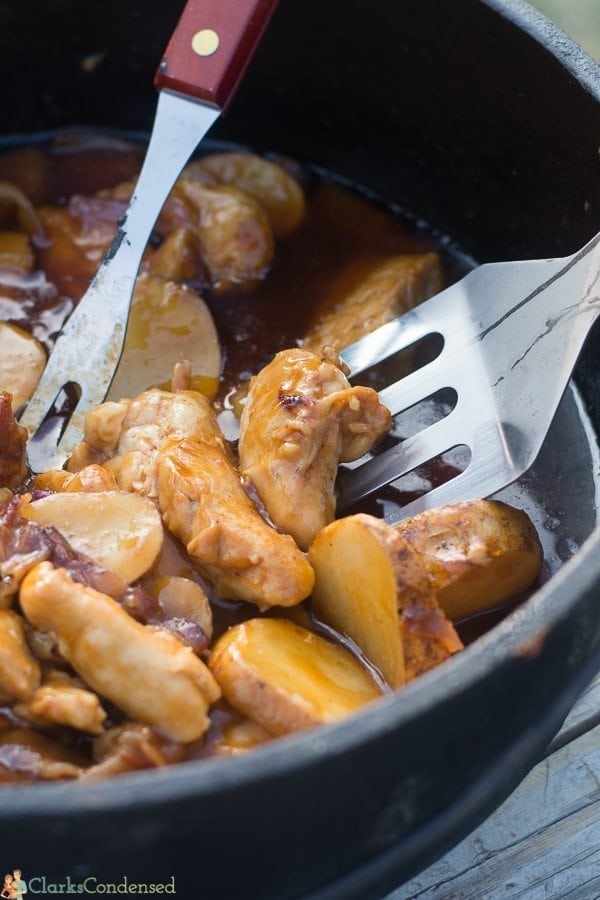 If you are new to dutch oven cooking, here are a couple of must-have products for dutch oven cooking. The
HomeRight electro fire starter
is AMAZING for lighting coals – they'll be lit in a matter of minutes! (if you are on mobile, you won't be able to see the recommendations in the widget – so, I recommend a
Lodge Outdoor Dutch Oven
, a
good dutch oven recipe book
, and
these liners
.)
Ingredients
3-4 large chicken breasts
1 package of bacon
5 small potatoes, sliced into 1/4 – 1/2 inch slices
1 red onion, chopped
1 lb butter, optional
1 bottle of your favorite BBQ sauce
26 coals
Instructions
Make sure your coals are burning nicely. Place dutch oven on top and put bacon in dutch oven.
Cook bacon until cooked. Drain most of the excess grease (you want to keep probably 1/4 cup in the dutch oven)
Add onions, potatoes, chicken breasts, onion, butter, and BBQ sauce into the dutch oven.
Cover with lid and make sure there are 14 coals underneath the the dutch oven and 12 on top.
Cook about 35-50 minutes, or until the chicken is done.
Notes
This can be made in a slow cooker. Just precook the bacon and onions, and then throw everything in the slow cooker until the chicken is done – about 3-4 hours on high, 4-5 on low.
[mv_create key="416" type="recipe" title="BBQ Dutch Oven Chicken and Potatoes Recipe" thumbnail="https://www.clarkscondensed.com/wp-content/uploads/2015/07/dutch-oven-bbq-chicken-8-of-9-1.jpg"]
Here are some other AMAZING Dutch Oven Recipes: