A review of the Samsung Galaxy Note5
I participated in an Ambassador Program on behalf of Influence Central for Sprint. I received product to facilitate my review as well as a promotional item to thank me for my participation.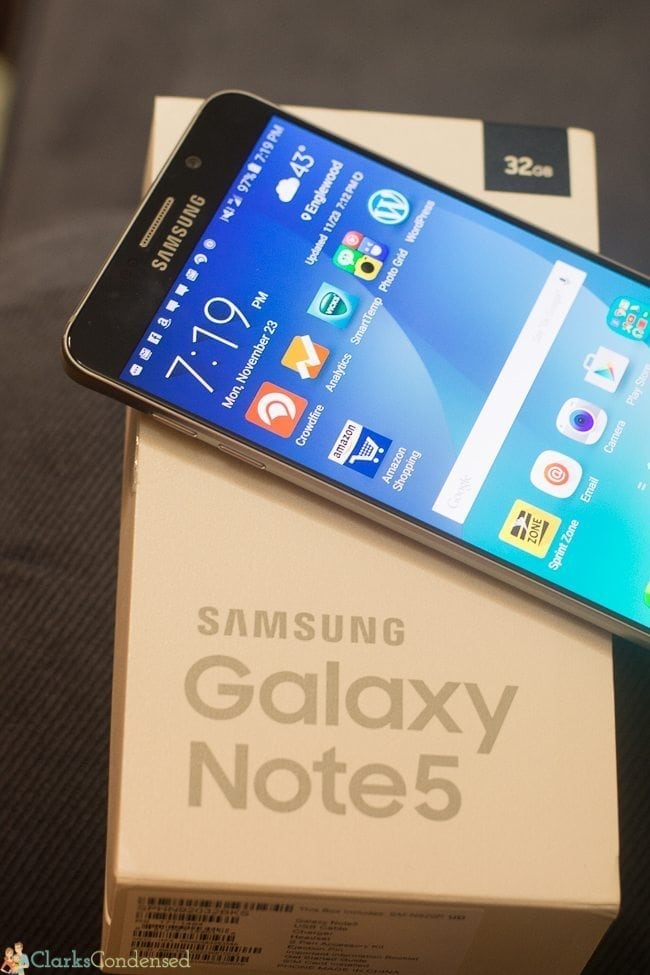 I always enjoy trying out new phones – there are always new features coming out that are fun to check out. So when I was sent the Samsung Galaxy Note5, I couldn't wait to see what great features it had to offer.
My first impression of the Note5 was that it had a very large screen (about 5.7 inches). Personally, I like smaller screens, but if you are someone who likes to watch movies, YouTube videos, etc., a large screen is a must-have. It's a nice compromise between a smartphone and a tablet in my opinion. With that said, I didn't feel like it felt as bulky and cumbersome to hold as some larger screened phones I've used.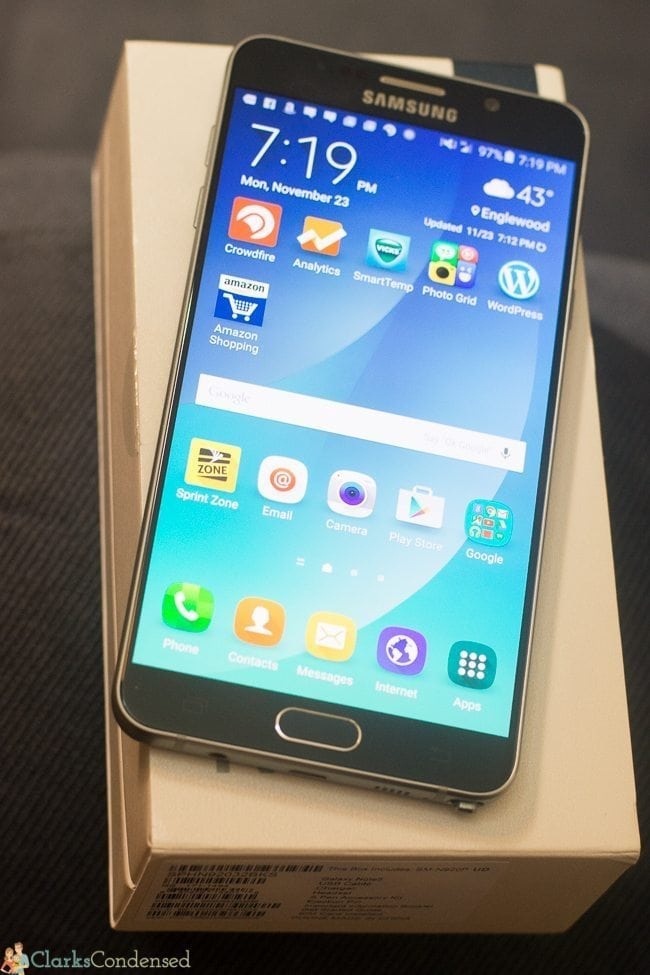 The screen quality was very impressive. It has a Quad HD Super AMOLED® display. The color is very crisp and videos played very well. I felt like the phone was also very fast – I was able to flip from screen to screen very quickly, apps downloaded and opened without any lag time, and I never experienced any freezing. My current phone freezes fairly frequently, and it's annoying, so it's something I definitely play close attention to.
As a blogger and a mom, having a good camera phone is very important to me! I was impressed with the quality of the photos that I was able to capture – it has a 16 megapixel, rear-facing camera along with a 5 megapixel front-facing camera. I loved that you can get the camera to pop up quickly just by double tapping the Home button. This makes it so much easier to capture moments that disappear quickly.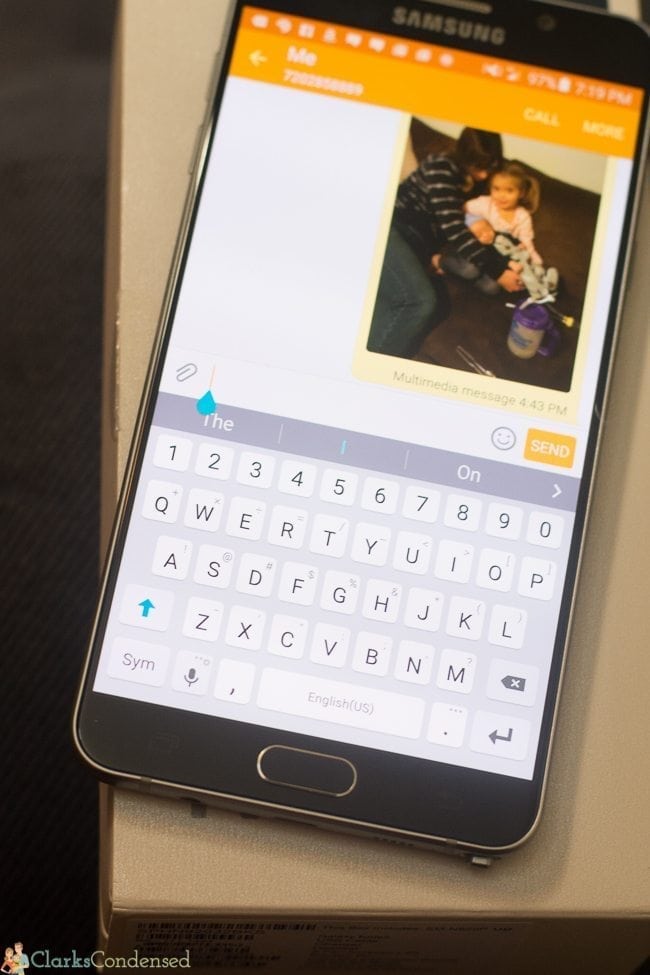 One of the big features of this phone is that it comes with a stylus. – the S Pen. It's located in the bottom right of the phone. I will admit – I could never actually get it out. I had to have Forrest play with it for awhile to get it out, which was somewhat disappointing. However, once I was able to use it, I loved it! It was very responsive on the screen and easy to use. I would have loved to have had this phone in college when I was always having to take notes and didn't always want to bring around my computer. I've never been a big stylus person, but it was helpful when I needed it.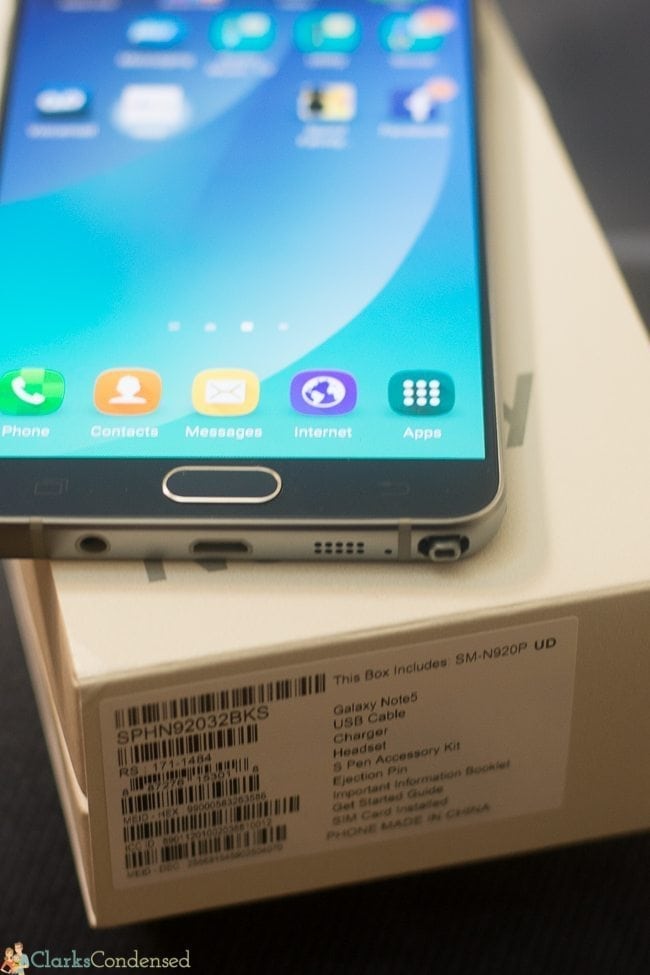 Something that I found was interesting was that the phone came with suggested apps. There were icons for popular apps on the home screens, and if you clicked on them, it gave you the option to download. I like this a lot more than apps coming preloaded – if you didn't want it, you just delete the icon. However, it can save you the time from opening the Google Play Store to search for different apps.
Overall, I was very pleased with the Samsung Galaxy Note5. I felt it's strongest points were the crisp, bright screen and the overall speed of the phone. I wasn't a huge fan of how big it was (just personal preference) or that the stylus was hard to get out of the slot, but those were just minor details. It was a very thin phone, so it didn't feel clunky. If you are looking for a phone where you can do work, respond to emails, and watch movies or TV shows, I think it's an excellent option.
I tried this phone out on the Sprint Network, which I was very impressed with. We drove to Utah while I was testing it out, and it only dropped signal once or twice. Normally when we drive there, I only have signal for a couple hours of the 7-8 hour trip, so this was very impressive. I feel like it's a great network to be on if you are traveling a lot – especially if you travel outside the country because if their Global Roaming Plans.
If you get the Galaxy Note 5 on the Sprint Network, you can get for the following prices:

As an added bonus, if you buy the phone by November 30th on the Spring network, new AND existing customers will get a free year of Amazon Prime. We love Amazon Prime around here – the free two-day shipping alone more than pays for itself! I think this is an excellent deal.
Sprint also has some great family plans – their latest is the Family Share Pack Plan with Starter Unlimited Data. Customers can get 1GB high speed data for $20 a month, and after that 1GB is used up,they get unlimited 2G speeds so there is no concern for unexpected overages.
So if you think you want this phone and want to get it with an affordable rate plan, be sure to go to your nearest Sprint store!