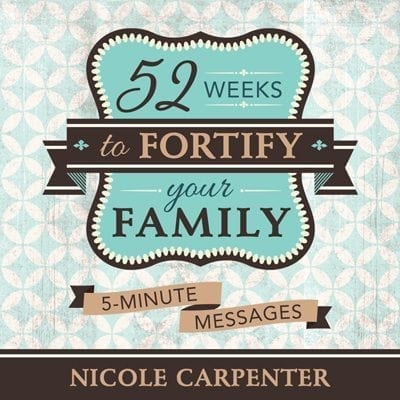 Although Jack is still young, I know he's learning so much every day. I read somewhere the children retain so much in their first five years of life, so that is the best time to start to teach them values – kindness, integrity, honesty. It's amazing to me how much Jack seems to understand and learn each day. Children truly are miracles.
I often wonder about the world he is growing up in – it's kind of a scary one. Not only is there a lot of violence, but there's deceit, theft, anger, and much more. I worry about the people he will interact with, and I just pray that he is strong and can handle anything put in his way. I also hope that he will be a good example to others.
I believe that the home is the best place to teach our children. We are blessed to be able to spend a lot of time together as a family. I've been trying to incorporate Gospel lessons into our everyday, which is why I was so excited to get a copy of a new book called 52 Weeks to Fortify Your Family. This book was created by Nicole Carpenter (from MOMEntity.com) when she realized she wanted to send her children out in the world prepared for Satan's attacks. There are 52 different short, five minute devotionals you can have with your family. They are perfect for breakfast time or for before bed.
Jack is a little too young to understand most of them, but I've enjoyed reading them for myself. These messages are truly inspired. Each message includes scriptures to studies, questions to discuss, and quotes to think about. I believe it's a must-have for every household.
You can purchase it here for just under $10, and if you leave a comment below saying what value you think is most important for your child to learn, you will be entered to win a copy of it. The drawing ends next Monday at midnight.