By Forrest

For some reason I really enjoy random, weird news stories. I try to stay at least somewhat current to the major news stories of today, and sometimes I enjoy a little change of pace in the news. So I decided to share a little taste of what I am talking about. Apparently there are a lot of other people like me out there so there are a few websites dedicated to this topic which I used. Here are five that I found to be the most interesting.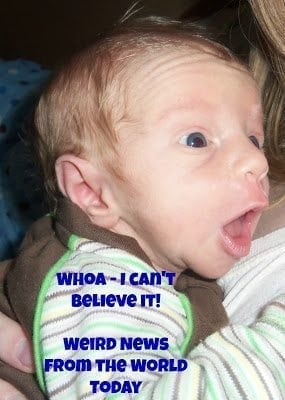 1. A man was caught double texting
I assume double texting is texting with both hands. The man is 19, and he says he has been doing this since he was 15. He uses his knees to control the steering wheel. There is no need for some one to text while driving. I might text a little when stopped at a stop light, but even that rarely. I could not imagine a situation when it is necessary to use two phones to text while driving. I usually have a create imagination for such things, but it is hard to find any possible reason why someone would need to do this. The sad part to this story, other than the man putting himself in danger, was that he was putting a baby and two women in danger as well. Additionally, there were a number of drugs found in the car.
2.Chinese student, Zeng Jia, fakes funeral so she can be there to appreciate it
In a Tom Sawyer style funeral, Zeng Jia pretended to be dead only to reveal that she still belonged to the land of the living. She had a team of cosmetic artists help her look the part. It is not clear whether or not the mourners were aware of the ruse. Either way,  the funeral was conducted as if she was dead, I always thought it would be interesting to be at my own funeral. You learn so much about a person at a funeral, and about their relationships with other people. It always seems to put things in perspective. Don't worry I'm not going to actually try anything.
3. Beer Truck crash and spill causes chaos in the streets
Just imagine your favorite thing covering the street as your driving around town. Well, that happened for a few people who love beer in the Mexican city of Gomez Palacio. Apparently some were more ambitious than others and they began to unload what was still in the truck. I wonder if this would happen in the US. I doubt that it would happen in Provo, but maybe somewhere else.
4. Hovercraft Golf Cart allows for Free Reign of Golf Courses
Golf courses have a lot of rules to protect their grass sometimes, especially when the grass is wet and more sensitive to golf carts. Professional golfer Bubba Watson got creative when he came up with the idea for a hovercraft golf cart. He can go right over sand traps, water hazards, and he doesn't have to worry about messing up the turf when the grass is soft. Plus, it is just awesome to have a hovercraft golf cart.
5. Company specializes in identifying dog DNA to catch negligent residents
Houston has a pooper scooper law which many private apartment complexes imitate in their rules. This has allowed for a business to be created that specializes in banking dog DNA so they can later test dog droppings and identify which dog it belongs. I feel like this process must be somewhat expensive, and I wonder how big of a problem these delinquent droppings are. Apparently enough of a problem to someone. I would never have imagined that a whole company could survive off of identifying which dog some dog droppings belong to.
–> –>