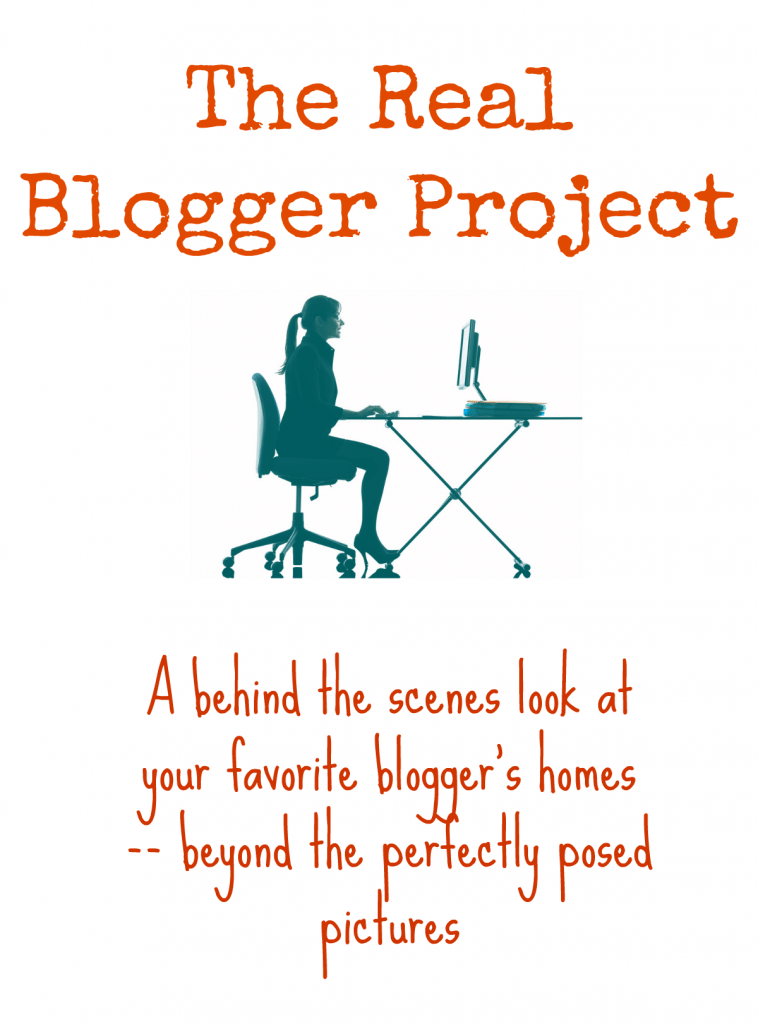 A few weeks ago in one of the Facebook blogging groups I'm in, there was a discussion about comparing ourself to other bloggers, and how that can sometimes make us feel inferior. As I thought about it, I remembered how I've heard many people saying they have a hard time relating to bloggers, because their lives seemed too "perfect." While I don't attempt to portray my life as perfect, and my house as squeaky clean (nor do I think you'd believe me if I did!), I can understand why people might feel this way. I even do from time to time.
From this conversation on Facebook, I decided to challenge other bloggers to do a "behind-the-scenes" post, to show what their houses and lives look like beyond the perfect photo shoots. I thought it would be fun (and perhaps relieving) for all of us to show another side of us that many people don't see. Some of us may actually have perfectly clean houses and kids that never cry…and that's okay! But there are many of us who have dishes piled in the sink more often than not, photo shoots that take place on the ground, and out dated furniture. And you know, that's okay too.
I hope you'll enjoy this "behind-the-scenes" look at our life (though I admit, I'm a little embarrassed at some of these pictures — we do clean, I promise, and I don't wear my pajamas all day…most of the time.)
After my post, you will find links to other bloggers participating. Be sure to go check them out!
Quite often, you can find me looking like this as I am creating recipes, or making breakfast, dinner or lunch:
No, Colman's Mustard did not pay me to wear that shirt. I wish!
And my finished product ends up looking like this: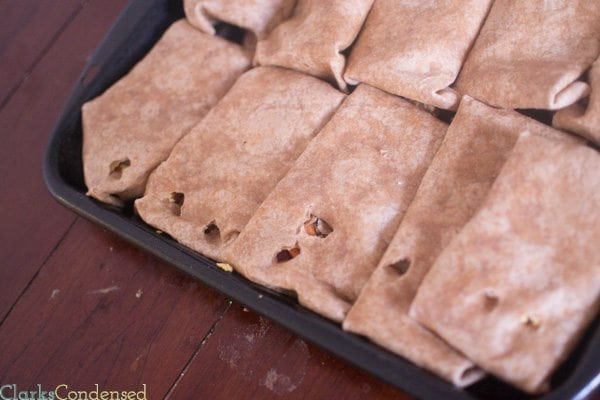 Anyone else have a cute little two-year-old who loves to play with food?
Speaking of the culprit, 99% of the time, I have little hands helping me cook: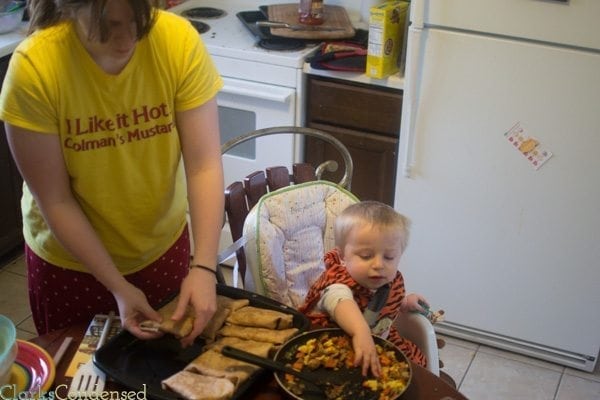 aka, stealing food
And assisting in my photo shoots: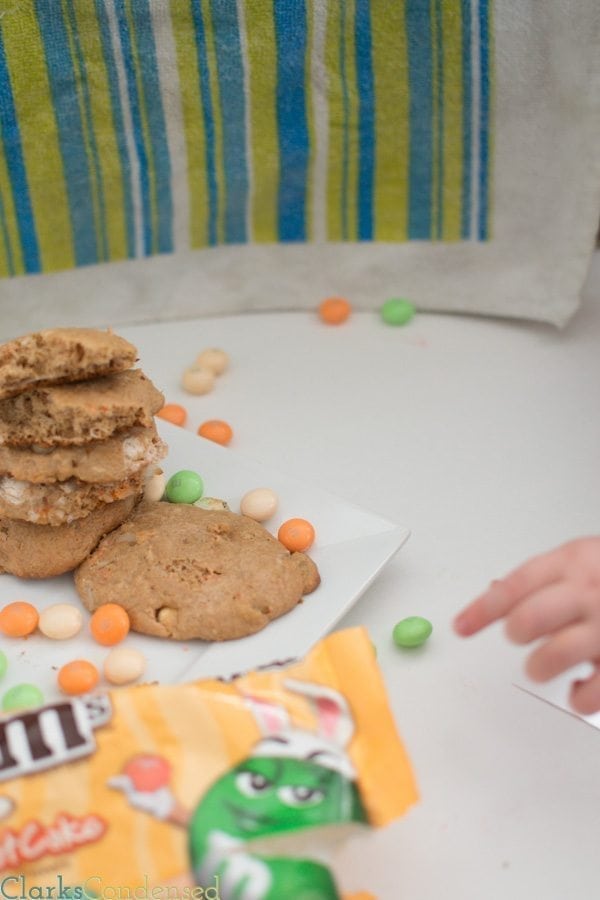 Here's our sink: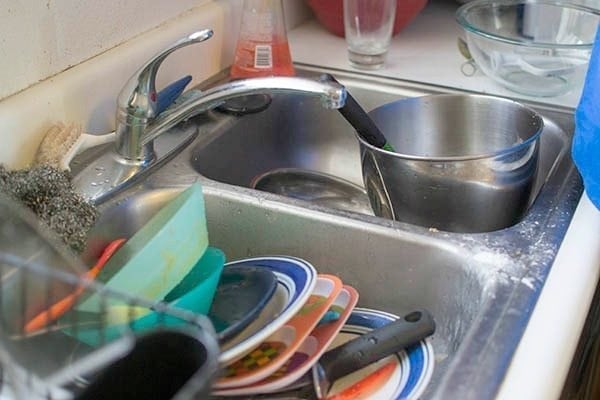 And stove: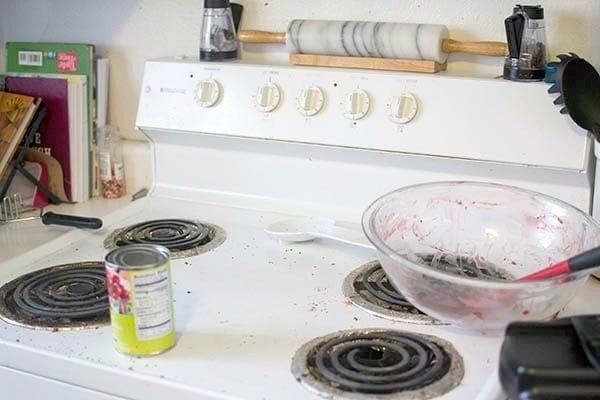 And organization? So not my strong suit. I don't think most people keep a giant can of tomato sauce and potatoes on one of their kitchen table's chairs 🙂 Easy access, right?!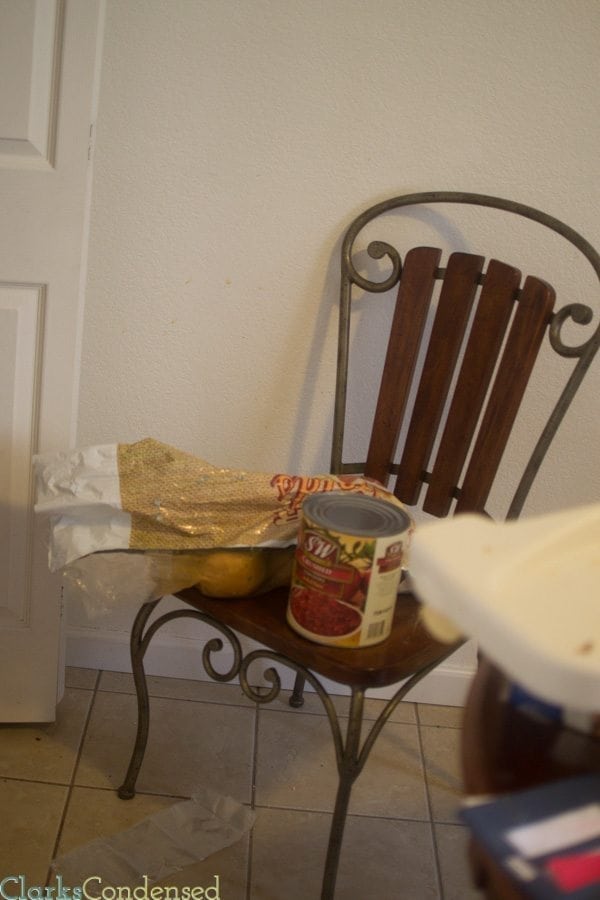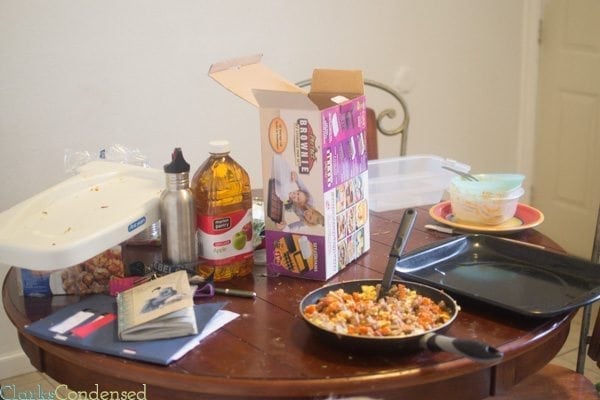 But that's okay, because I also have the cutest little partner always looking to help out (that sometimes wears parts of his Halloween costume around the house. We are very fashionable around here):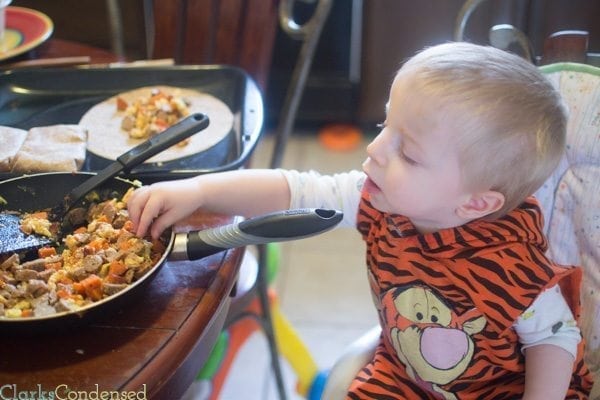 Who needs a taste tester when you have a little boy? 
Our interior design won't be featured in any magazines any time soon (recognize the couch — you may have stayed on a similar one at a Marriot Hotel at some point!) But our house is cozy (crumbs on the couch and all,) and I do love it. I think Jack's little chair goes perfectly where it's at.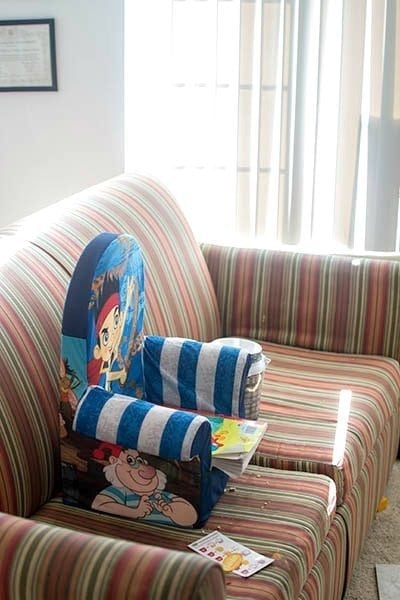 I'm a stay-at-home mom. Who blogs as well. And I can honestly, honestly say that there's nothing else I'd rather be doing. And even though most days are filled with laughter and joy, like this: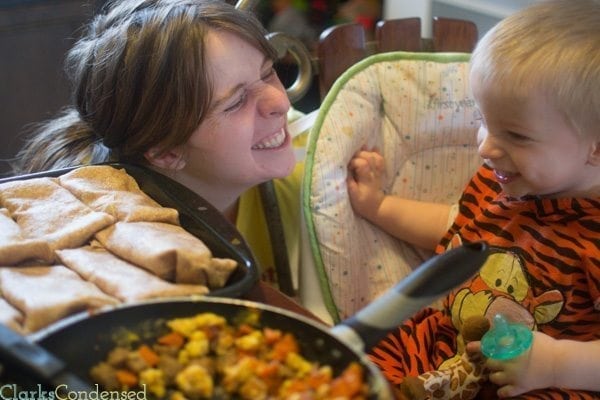 There are many days where all of us feel like this: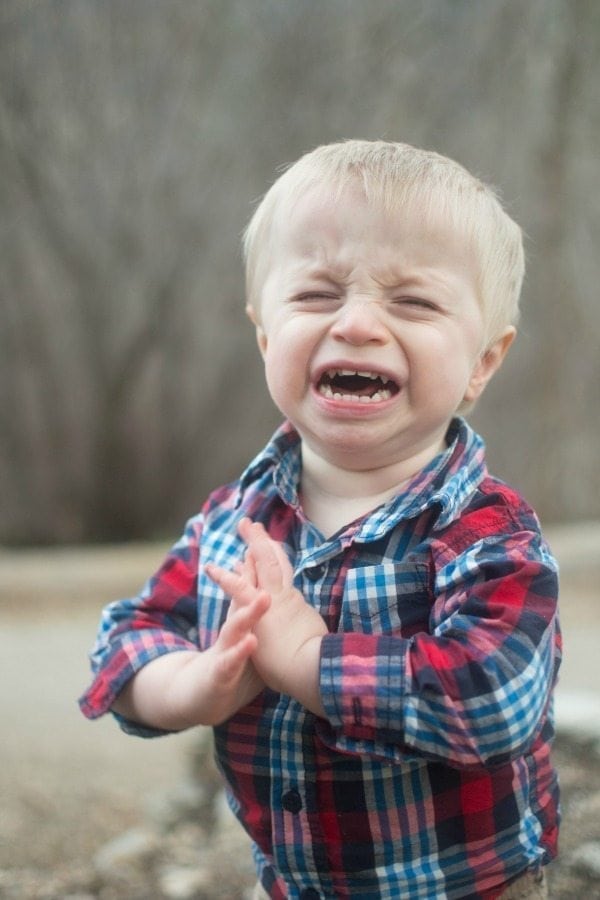 But, it's our life! And I'm finding that the less I compare my life to others, the happier I am. I believe there's always going to be someone smart, wittier, and more talented if you look hard enough, but that really doesn't matter in the long run. 🙂 Remember this quote whenever you start to compare your life to another's — "Comparison is the thief of joy."
(and I don't have a picture for this, but I thought I'd share to show my true nature. I attended a blog conference a few weeks ago, and when I went to go check in, I ended up tripping over Jack and totally falling on the ground in front of at least 75 other people. Any attempt to make myself look awesome flew out the window at that point!)
I hope you enjoyed seeing this little "behind the scenes" look. I try to post more of these little glimpses on my instagram account if you want to follow along!
For more behind the scenes looks at other blogger's lives, browse these links