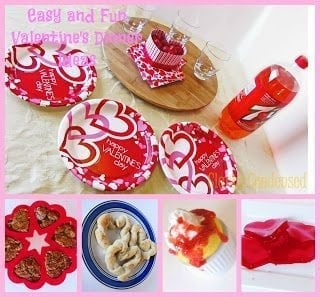 My mom likes to tell a story about Valentine's Day from when I was just a few years old. I came down the stairs to see a table full of fun surprises — obviously, I don't remember what they were, but having four other siblings at the time, the table must have looked overflowing to my two or three year old eyes. When I saw the table, I exclaimed to my mom, "Claus came!" (Obviously, referring to Santa Claus, who had come just a few months before.)
Every Valentine's Day, my parents would put out a few items for each of us — usually a box of Russel Stovers chocolate mints, a rose, and maybe one or two other small things. It wasn't a lot, but it always meant so much to me. All holidays celebrated at our house were full of memorable traditions that all of us kids looked forward to. Even though most of us are grown, we still look forward to the holidays we celebrate together, because those traditions we had as children still live on.
Because I have such fond memories of those traditions growing up, I've wanted to start some of our own, so Baby J (and any other children we may have someday) can have those memories as well. I know a lot of people don't like Valentine's Day, but I think it's a fun holiday to celebrate. For the past several years, I've seen my sister, Cindy, have the sweetest "Heart Dinner" for her family on the first day of February, and I always thought when I had kids, I would do something similar. The first day of February came and went though, and I decided I would have a Valentine's Dinner on the first Sunday of February! We invited Forrest's sister, Doris, over for it, and I think it turned out rather nice.
We dined on mini heart meat loafs (dairy free!), heart shaped breadsticks, a green salad, strawberry shortcake — with homemade strawberry sauce, and heart shaped jello jigglers. I also picked up a bottle of cherry 7-up, just to complete the whole red theme.
The Valentine's section at Smith's Grocery store had lots of cute decorations, and I was able to snag the Valentine's plates pictured above, as well as some cups that I forgot to put out in this picture, for just a dollar! And of course, no Valentine's Dinner would be complete without JuJu hearts, so I put those in a little heart as a centerpiece.
All of the food was really easy to make, and everyone liked it — including Baby J, who couldn't get enough of the meat loaf! I was a little nervous about it, because I just made it up as I went, but it was super moist and had all sorts of yummy flavors in it.
I hope this will be a tradition that sticks throughout the years. Forrest likes to tease me, and say that I love to drag out holidays for as long as possible…and I admit, I probably do. But I think that traditions like these are things our children we grow up looking forward to — even when they are grumpy teenagers who won't admit it.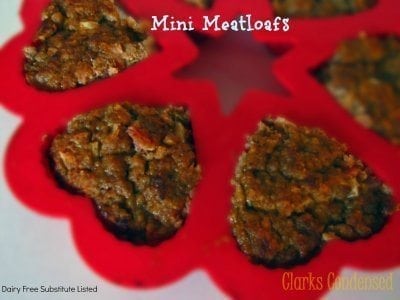 Mini Meatloafs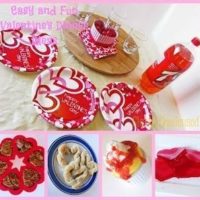 Easy Valentine's Dinner
Ingredients
1 pound ground turkey or beef
3/4 cup Honey BBQ Sauce
1 tsp garlic
1 tsp Spicy Southwest seasoning
1/2 small onion, diced
1 egg
3/4 cup panko
5-6 pieces crumbled bacon
1/2-3/4 cup milk (or almond milk) (depending on how moist you want it)
Instructions
Preheat oven to 350 degrees.
Cook bacon, crumble, and set aside. Place all of the ingredients into a bowl and mix with hands until it is combined well. Spray mini loaf pan with cooking spray and evenly divide the meat mixture into each. Depending on how big the loafs are, you can get between 6-8.
Put in oven and baked 30-40 minutes, or until cooked through.
Nutrition Information:
Serving Size: 1
Amount Per Serving:
Calories: 1512
Total Fat: 94g
Saturated Fat: 30g
Cholesterol: 405mg
Sodium: 1471mg
Carbohydrates: 47g
Sugar: 3g
Protein: 113g
Shortcake with Homemade Strawberry Sauce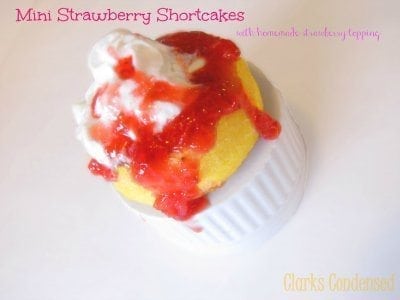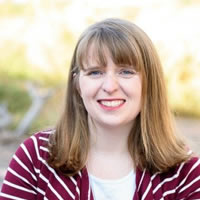 Katie is a Colorado-native, BYU graduated, and most importantly, wife to one and mother to three beautiful boys. She is passionate about sharing her experiences with others – especially about pregnancy, breastfeeding, cooking, and crafts. She is an International Board Certified Lactation Consultant. She loves spending time with her family and helping others find joy in family life.