Easy Dirt and Worm Cupcakes Recipe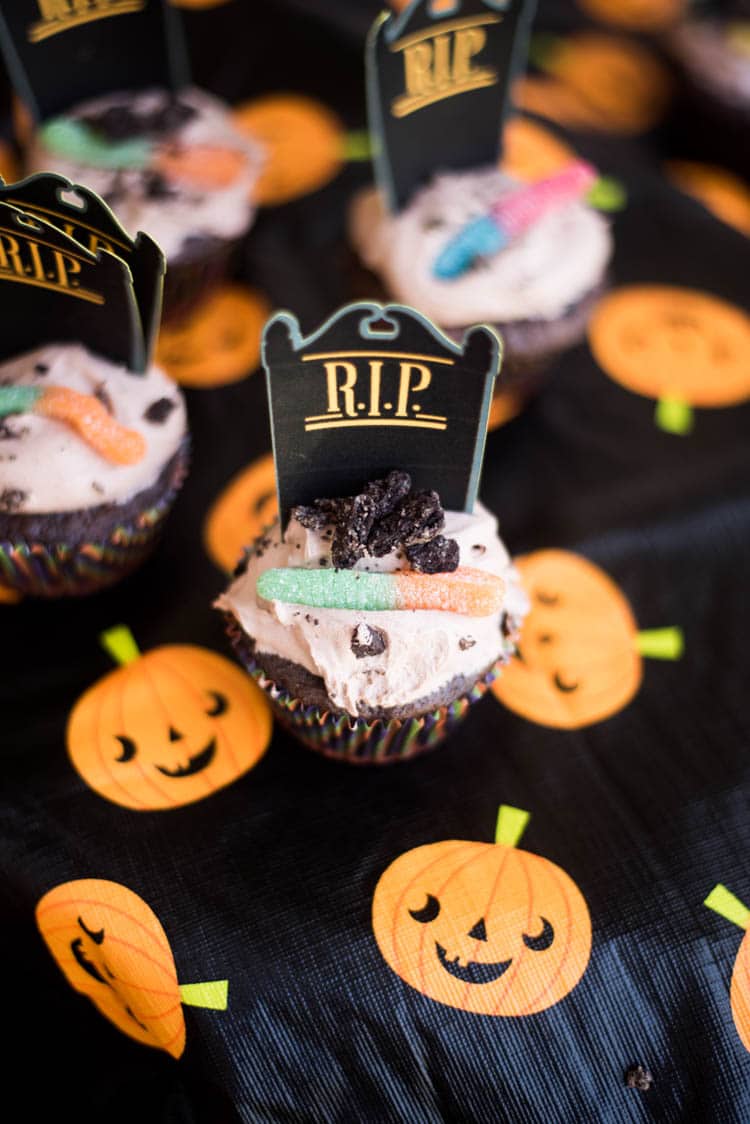 These dirt and worm cupcakes are perfect for Halloween parties and kids at heart. They are topped with a creamy pudding frosting and OREO cookie crumbles
One of my favorite desserts has always been dirt and worms.
My mom would usually make it around Halloween (obviously), and it was something I always looked forward to.
I remember when I went away to college, I was so excited when I saw the university grocery store selling cups of Dirt and Worms – it really made me feel a little less homesick during Halloween.
To this day, it's still one of my favorite treats. I've shared a few different variations on this traditional treat before, such as a Dirt and Worms pie and Dirt and Worms Cookies, so I thought it was about time I came up with another fun rendition:
Dirt and Worms Cupcakes.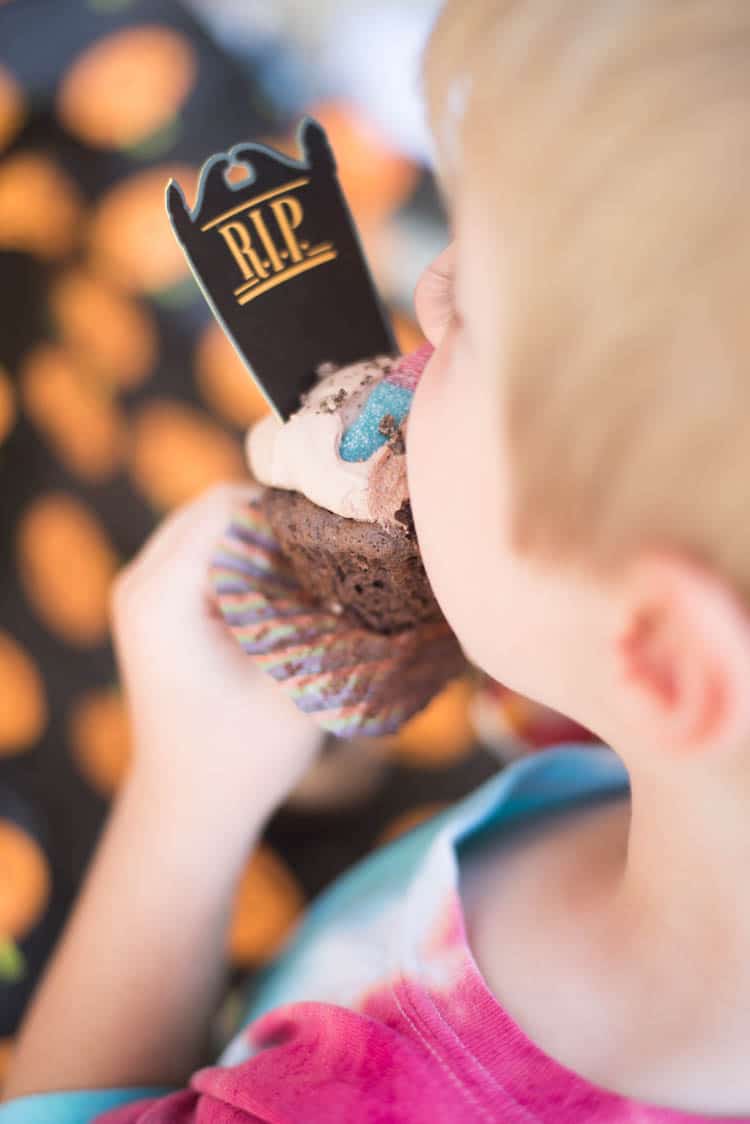 The more I thought about the idea, the better it sounded. I wanted to have a cupcake with oreo pudding in it, a pudding like frosting, topped with gummy worms and crushed oreos.
I also made these little Gravestone markers using my Cricut Machine. I used the print and cut feature, and they turned out so cute! If you have a Cricut, you can get the design for free here. They are sized perfectly for a regular sized cupcakes.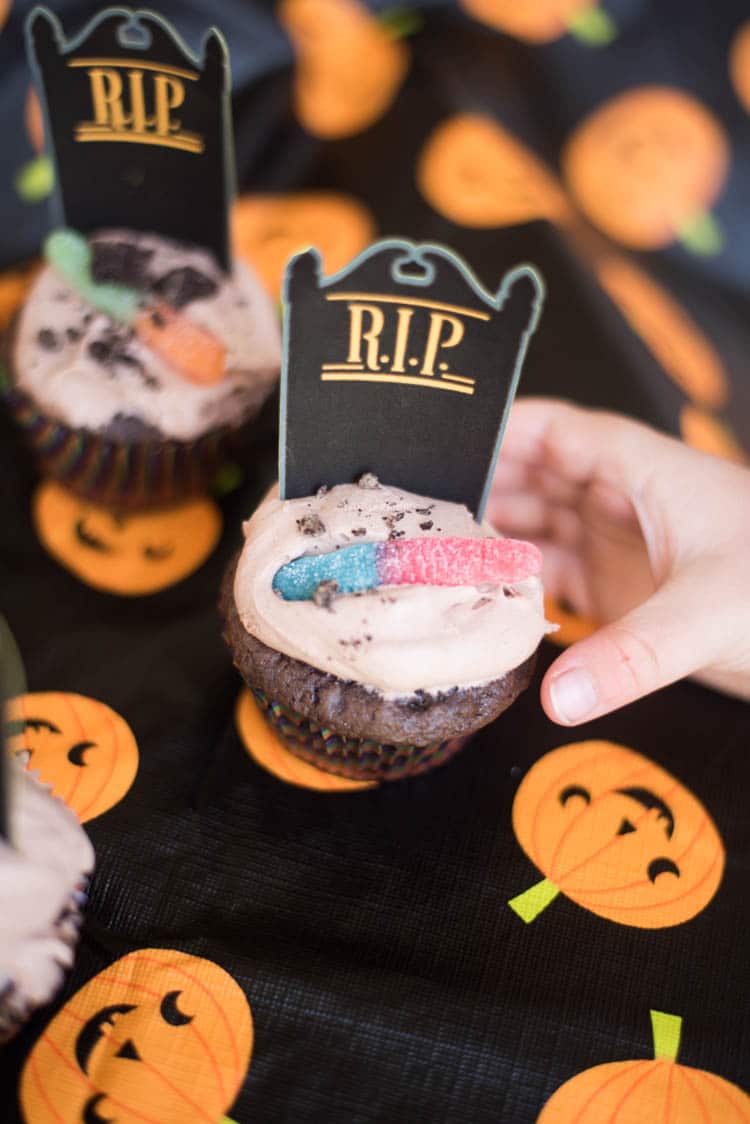 The first time I made this, I went with this homemade pudding-like frosting. It was amazing and delicious…but super time intensive.
The second time I made it, I went with a simpler pudding frosting – which I've included with this recipe. You can use either – I know a lot of people refuse to use pudding mixes and Cool Whip, so if you are one of those…use the recipe I linked to above 🙂
This recipe is really fun – perfect for classroom Halloween parties! I love that it makes the classic treat a little more portable and less messy.
I'm excited to be sharing this recipe as part of the Cupcake Diaries 30 Days of Halloween series! Allison does such a great job of rounding up the best Halloween recipes and ideas each year, and I'm honored to be included this year. Make sure you scroll to the end of the post to see everyone who is participating this year!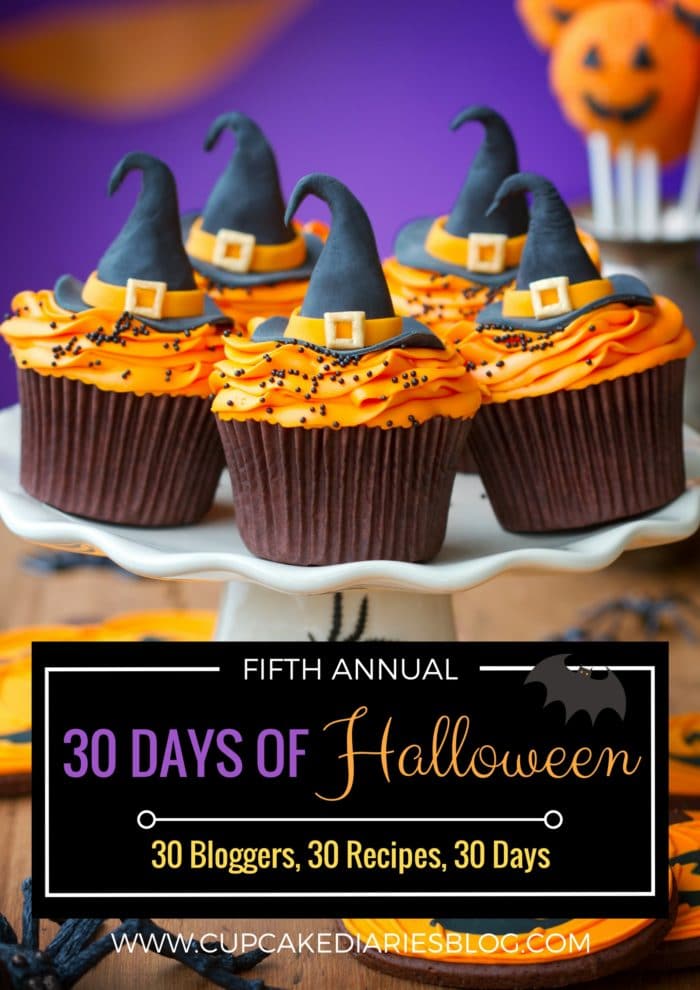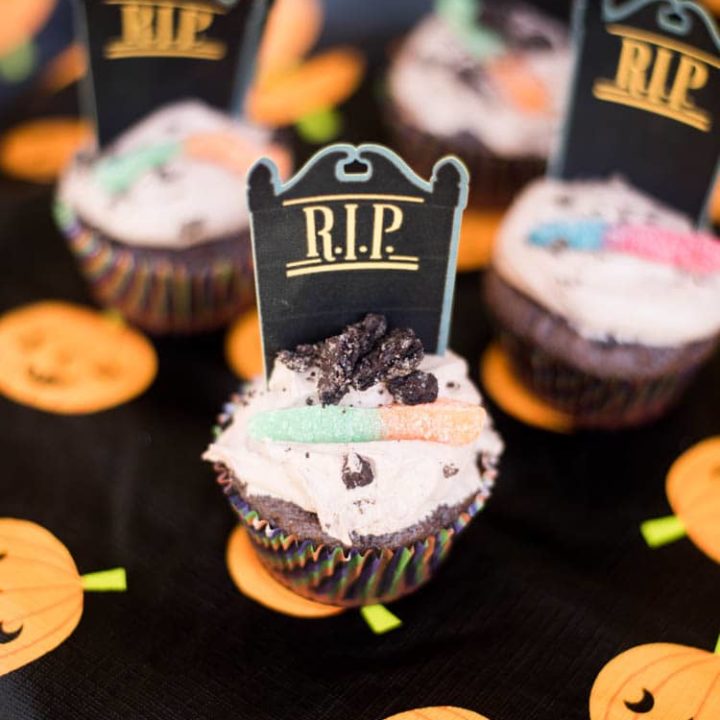 Dirt and Worms Cupcakes
Ingredients
Cupcakes
1 box chocolate cake mix, plus ingredients as dictated on box
1 small box OREO chocolate pudding mix
Pudding Mix Frosting
1 cup milk
1 small box chocolate pudding mix
1 container Cool Whip
1/3 cup powdered sugar
8 crused OREO cookies
24 gummy worms
Instructions
Make cake mix according to directions but add a OREO pudding mix to it. Bake according to cupcake instructions.
After cupcakes are done, move to a cooling rack and let cool.
Make frosting - mix together cool whip, milk, pudding mix, and powdered sugar.
Frost cupcakes and top with gummy worm and crushed OREO cookies. Add tombstone decoration if desired.
An InLinkz Link-up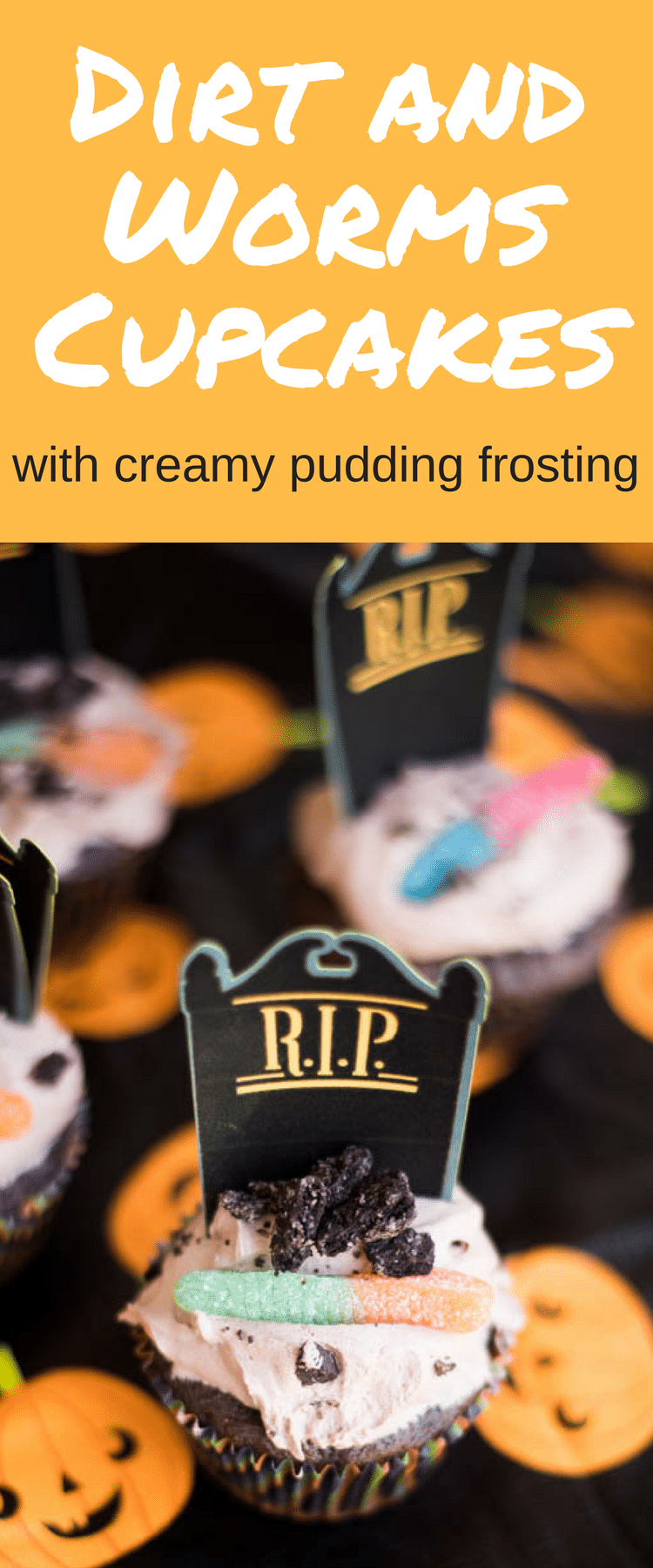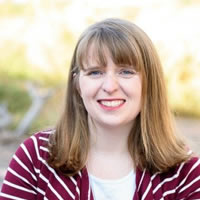 Katie is a Colorado-native, BYU graduated, and most importantly, wife to one and mother to three beautiful boys. She is passionate about sharing her experiences with others – especially about pregnancy, breastfeeding, cooking, and crafts. She is an International Board Certified Lactation Consultant. She loves spending time with her family and helping others find joy in family life.