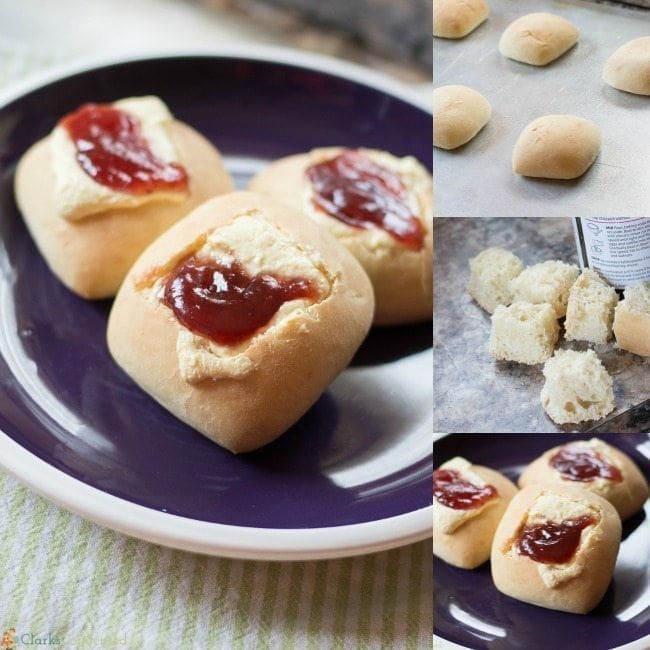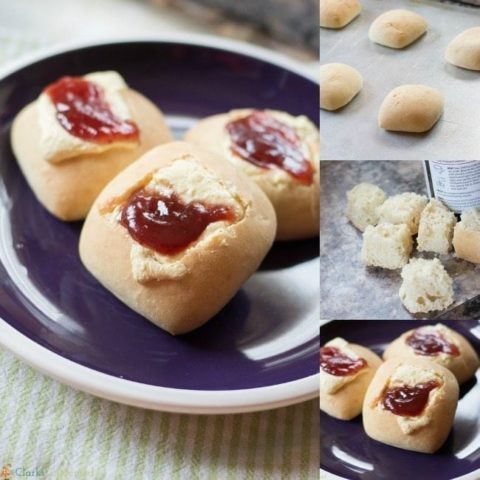 Easy Cream Cheese Kolache Recipe
Ingredients
1 bag Sister Schubert's Dinner Rolls
1 8 oz package cream cheese
1 teaspoon vanilla
1/3 cup white sugar
1 egg yolk
Jam, any flavor
Instructions
Preheat oven to 350.
Place dinner rolls on baking sheet.
Bake for five minutes.
In the mean time, combine cream cheese, vanilla, white sugar, and egg yolk until creamy and no lumps remain.
Remove from oven and cut out a square from the center of each roll (making sure NOT to remove any of the bottom of the roll.
Raise oven temperature to 425 degrees.
Scoop a dollop of the cream cheese mixture into the center of the roll.
Add a teaspoon of jam into the center of the cream cheese.
Bake for an additional 10-12 minutes, or until cream cheese and jam are warm.
This is a sponsored post written by me on behalf of Sister Schubert's®. All opinions are 100% mine.
One thing I miss about living in Provo is all the unique and delicious restaurants. It seems like there's always something new popping up. I'm sure there are a bunch of places here in Denver, but in Provo, there was a wide variety of places in close proximity. I never got bored with the food there.
A few months ago, we went back to Provo, and I met up with some of my friends one morning. Cortney suggested we get some Kolaches – which I had never heard of. But I'm all about trying new foods, so I picked up a few on our way to her house.
Oh man. I was sold on them after the first bite. Kolaches are a pastry (that originated in Central Europe) filled with meats, fruit, or cheese (or a combination of them all.) I have no idea how authentic they were  at the place we went, but they were so good.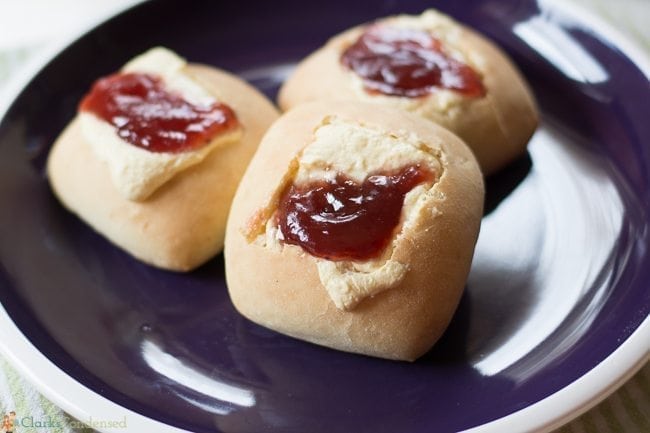 When we got back to Denver, I decided that I needed to make them myself! However, I didn't really feel like going to the effort of making the bread myself. When I saw some of Sister Schubert's® Dinner Yeast Rolls at Walmart, I knew they'd be the perfect way tool to make semi-homemade and easy kolaches.
One of my favorites was a strawberry cream cheese kolache, so I decided to make one similar to that. However, using the recipe above, you can use any jam that you want (or even just cream cheese.) You could also fill it with sausage, potatoes, etc. The sky is the limit!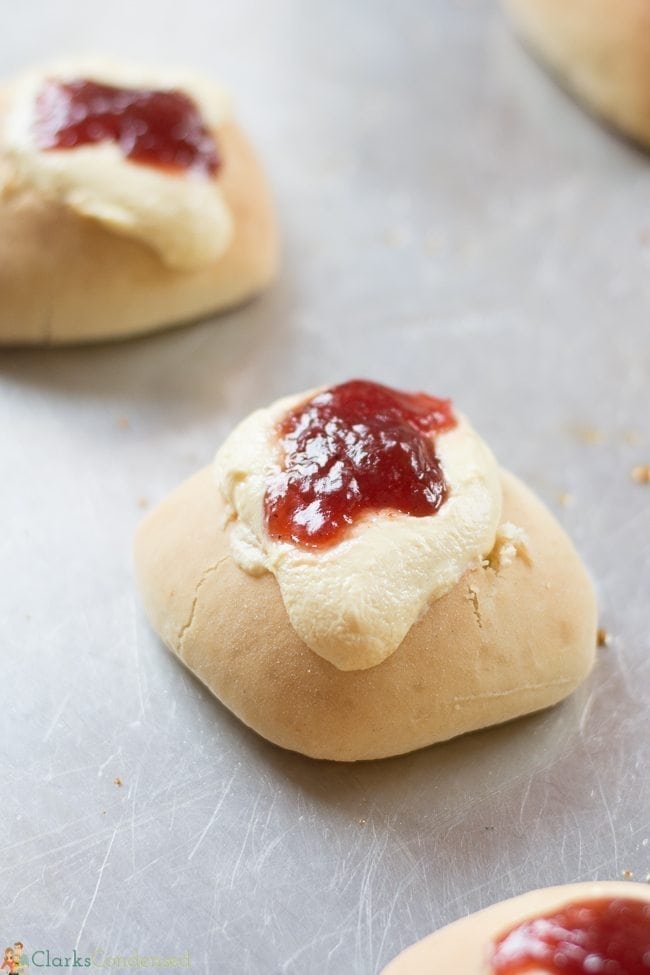 But see how easy these are to make? It really just took 5-10 minutes to get everything prepped and ready!
While these are a great treat any time of day or year, with Easter coming up, I think it would be a fun addition to add to the table. It's a bright, flavorful dessert that would go great with an Easter ham and potatoes. You could even pull double duty and buy a big bag of Sister Schubert's® Dinner Yeast Rolls to go with dinner, and then make these for dessert. They are truly some of the best tasting frozen rolls I've ever had! Be sure to check out Sister Schubert's® Facebook Page for more yummy ways to use them!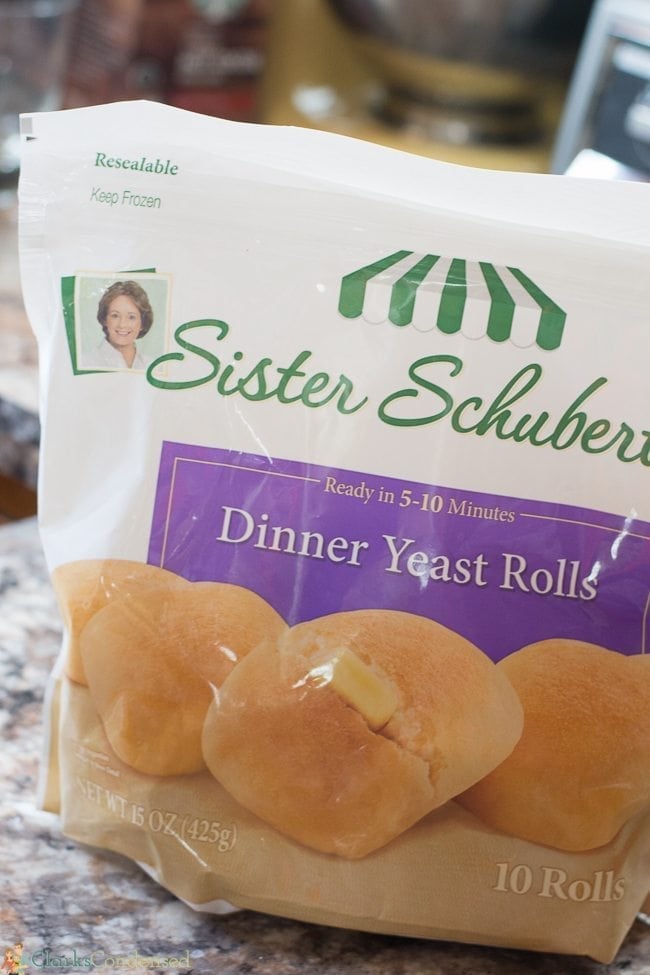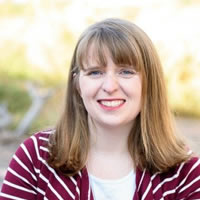 Katie is a Colorado-native, BYU graduated, and most importantly, wife to one and mother to three beautiful boys. She is passionate about sharing her experiences with others – especially about pregnancy, breastfeeding, cooking, and crafts. She is an International Board Certified Lactation Consultant. She loves spending time with her family and helping others find joy in family life.