Is Cricut Access Worth it?
This is a common – and good – question among Cricut users.
Get access to our FREE Cricut Support Group, exclusive deals, tips, project ideas, and more!
I've certainly asked myself this question as well, so I feel like it's a great topic to discuss.
First off, for all your newbies – what is Cricut Access?
It is a subscription service offered by Cricut that gives you access to fonts, images, and other discounts. Until recently, there was only one subscription plan available.
However, as of February 16th, there are THREE options you can choose from: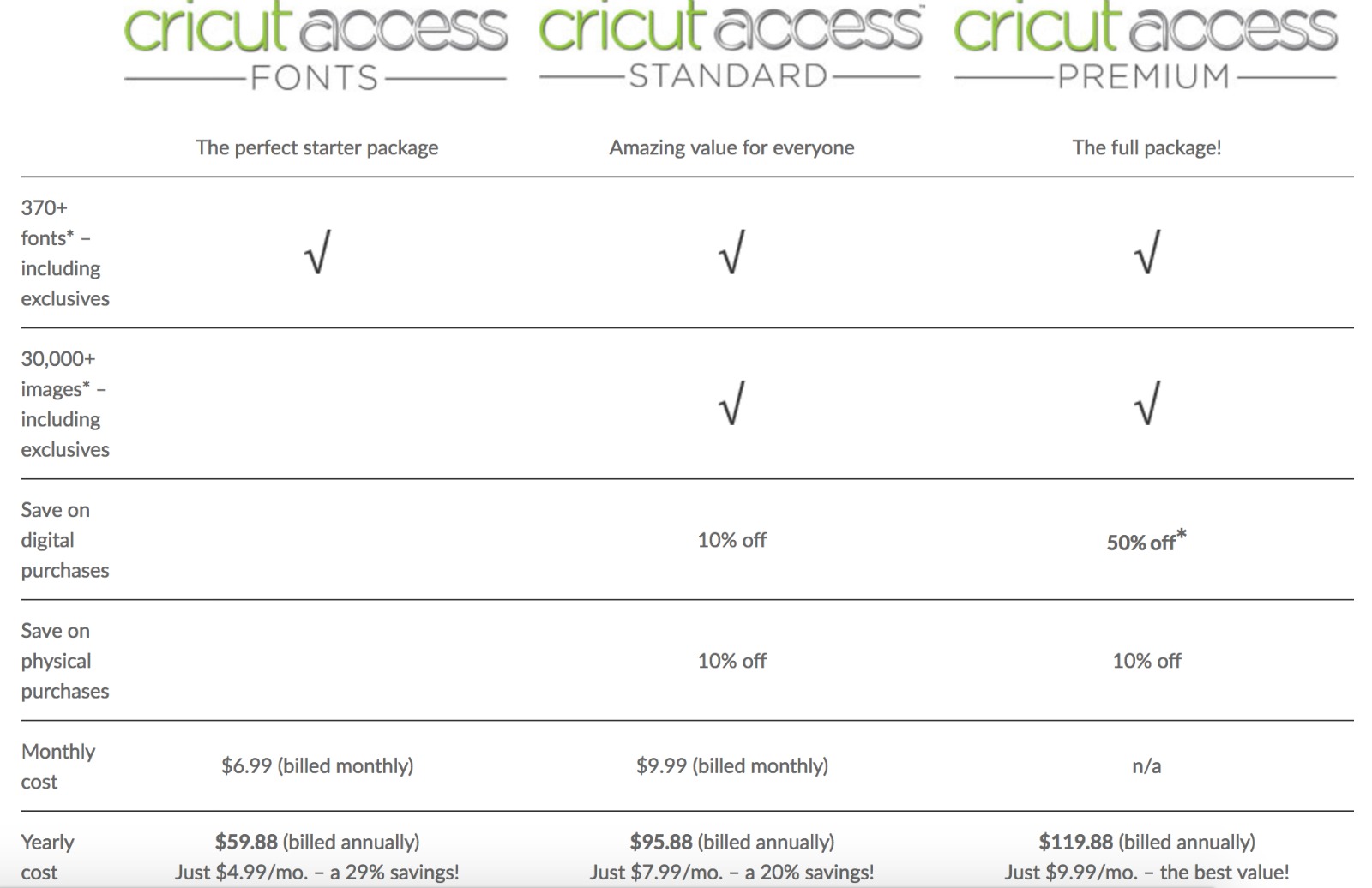 So first off, let's discuss whether or not you should consider getting a Cricut Access subscription. Here are a few questions to ask yourself:
Do you often buy images or fonts from Cricut at-cost? If yes, Cricut Access is a great option. The cost of a couple fonts or images will definitely be paid for in the cost of the subscription. 
How frequently do you use your machine? If you use your machine infrequently (Less than 1-2 times a month), it may not be the best idea – especially if you 
How frequently do you buy physical products from Cricut? With your subscription, you get 10% off physical product purchases. 
What kind of projects do you make? Are the projects you are making font heavy – and do you like them to be more fun/fancy? Do you like to use more complex images (so, ones you couldn't create yourself just using the shape tools?
Do you create your own images? If you are pretty good at creating your own images and don't plan to buy a lot, you probably don't need a subscription.
Do you buy images from elsewhere?  Etsy is a great place to find cut files to use with your Cricut machine. They also offer a different variety. I recommend looking through different categories of images and seeing if you like the styles offered by Cricut. 
Are you comfortable downloading and installing fonts to your computer? You can find great fonts from DaFont and similar websites. If you are comfortable installing the fonts on your computer, this can be a good option. However, you always need to double check the licensing on fonts you download. It's convenient to just have the fonts pre-installed!
How many new fonts will you use? If you only have one or two fonts that you want to use, you probably don't need a monthly subscription for fonts. However, if you like to use a wide variety of fonts, it would probably be worth it to get the font subscription (at least). 
I think that if you plan to use your machine a lot and you want the ease of having images and fonts ready at a moment's notice without much effort on your part, Cricut Access is absolutely worth it. As you saw above, the most expensive plan is $9.99. Most fonts in Cricut Design Space are $4.99, and most images are around $1.99. That can add up quickly!
One thing to keep in mind is that if you cancel your subscription, you will lose access to the images and fonts you have used in the past. So if you want to have access forever to certain images and fonts, it might just be best to buy them right out.
Now, if you've decided that you want to try Cricut Access out, it's time to decide what plan!
This is a pretty easy decision, if you ask me. If you don't use a lot of images, the Cricut Access Fonts is well-worth the cost! If you pay for the year, it comes out to be only $4.99 a month. If you use one new font a month, then it pays for itself – and if you use more than one font a month, it's an even better deal! However, do keep in mind that you don't get the extra discounts included in the other plans.
The downside, again, is that if you cancel your plan, you will use access to those fonts. You'll have to decide if you want to indefinitely pay for a subscription to have access to those fonts, or if you want to pay $4.99 and keep that font forever.
Now, if you use fonts AND images, you will need to decide between the Premium and Standard. There are two main differences between these two:
Premium is only available as a yearly subscription, and it turns out to be $9.99 a month. If you pay the yearly fee for Standard, it's $7.99 a month (as opposed to being $9.99 on a month-by-month basis). If you don't want to commit for a year and you aren't planning to buy extra digital images, then Standard is a great option!
So, just to finish up, I wanted to do a brief recap of the Pros and Cons of Cricut Access:
Pros:
Easy – you have access to thousands of images and hundreds of beautiful fonts at the click of a button. No need to download fonts or images to your computer and mess around with uploading them to Cricut. I know people often have trouble uploading images and making them cut-able!
Low cost – especially when you pay yearly
Great variety – they have options for every occasion!
Extra discounts on digital images and cartridges (that aren't included in the subscription), as well as on physical product
Cons: 
You pay the fee even if you don't use it that month
You lose access to the fonts and images if you cancel
While it has a lot of fonts and images, it doesn't have everything. You may find yourself heading over to Etsy for more complex designs, which would be an added cost.

COMMENT POLICY:
All we ask is that you be kind. We welcome differing opinions, but any comments containing personal attacks, sarcasm, etc. will be removed immediately. Keyboard warriors aren't welcome 🙂 All comments are moderated and may take time to be approved. Anything not pertaining specifically to the content of a post will be removed (including comments about ads).