The Cricut Maker Machine
Introducing the Cricut Maker Machine: Everything  You Need to Know
Have you heard the big announcement? Cricut just announced their AMAZING new machine – the Cricut Maker – and I am here to give you all the details.
Get access to our FREE Cricut Support Group, exclusive deals, tips, project ideas, and more!
First off, I am at the Cricut Mountain Make-a-Thon. I heard whisperings that there would be a big announcement made, so leading up to the conference, I have been waiting on pins and needles.
The CEO of Cricut (who is amazing!) started the presentation saying he would make three product announcements.
First, he started off with the Cricut BrightPad, which was released last month.
Cool, but not mind blowing.
Next, he announced the Cricut EasyPress. I thought this was the big announcement – because it is pretty amazing…and I can't wait to use it!
However, we soon realized that there was something even bigger and better…
Enter the Cricut Maker.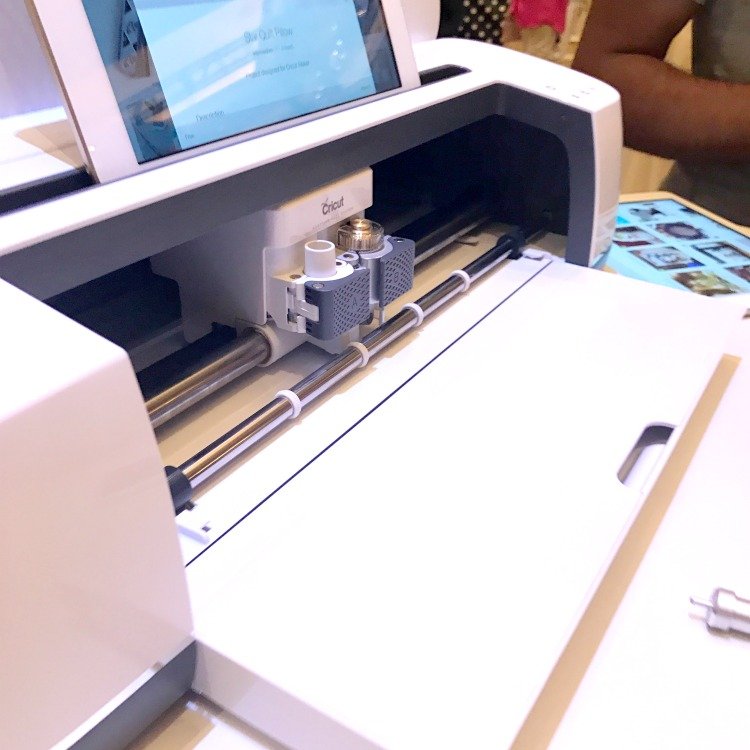 This machine has been in the works for over three years, and it totally blows any other cutting machine out of the water. I was sitting here listening to them talk about it thinking, "More? There's more?" every time they announced something new about it.
You guys – this machine is the ultimate crafting machine. It does SO Much.
I mean, the Cricut Explore line is pretty powerful. I've loved mine. But this Cricut Maker…it's created a whole new level of amazingness.
I've had the opportunity to try out the machine, and it really is wonderful. There is so much attention that has been paid to details, and it opens a whole new world of crafting and sewing.
S0, here is everything you  need to know to get started with the Cricut Maker!
What comes with the Cricut Maker?
Right out of the box, when you purchase the Cricut maker you will get:
Cricut Maker machine
Rotary Blade + Drive Housing
Premium Fine Point Blade + Housing
Fine Point Pen
FabricGrip Mat 12″x12″
LightGrip Mat 12″x12″
Welcome book
USB cable
Power adapter
Cricut Access free trial membership
50 free ready-to-make projects, including 25 sewing patterns
Materials for your first project
You get 50 free projects that come with your Cricut Maker – sewing patterns, quilting, paper projects, iron-on images, vinyl decals, and two complete parties.
How Much does the Cricut Maker cost?
Ah yes, the million dollar question. Fortunately, the Cricut Maker is not a million dollars (though maybe it will help you become a millionaire ;-).
It is a bit expensive though. At $399, it is definitely the most expensive Cricut Machine…but when you hear about what it can do…you'll understand why it's around $400. It's a powerhouse.
What is new with the Cricut Maker?
This is where it gets fun – this machine is especially amazing for sewists – and people who wish they could sew better but get stuck with all the details (the cutting, the pinning, etc.). It's also amazing for anyone who has wanted to cut more with the Cricut Explore – but felt limited by the hundreds of materials it could already cut 🙂 You can read my Cricut Maker versus Cricut Explore Air comparison for more details.
First off, there are a couple of new blades.
The Rotary Blade. My jaw about dropped when I heard this.
It can cut fabric beautifully – and fabric of all kinds. There is a new mat specifically for fabric that works beautifully with it.
And even better…this machine can cut patterns. Cricut Design Space is partnering with Simplicity and Riley Blake Designs to bring us HUNDREDS of amazing, digital designs. I'm obsessed with the designer fabric Cricut is now selling, as well as their quilting kits.
No more cutting patterns (well, within reason – the mat is only 12×12). I know that cutting patterns is something I despise, so being able to use the machine to cut out my patterns with perfection directly into the fabric is mind. blowing.
A traditional pattern can take over an hour to cut – and if you are like me, it's not always cut perfectly.
With the Cricut Maker, you can get your patterns (and mark them) in just about 15 minutes. They have a new washable marking pen, and from what people have said, the ability for the machine to mark your patterns is basically the best thing EVER.
And yes, you can upload your own patterns. The only thing to keep in mind is that you need to make sure the dimensions are correct.
Something else to keep in mind is that patterns are projects – not images. They are locked so you can't change the sizes. There are also PDF instructions that show you exactly how to put the project together.
They are also offering the Cricut sewing kit – it comes with sewing scissors, a pin cushion, tweezers, seam ripper, leather thimble, and a measuring tape. It is priced at $29.99. Love mine!
What I love is that this opens up sewing and the Cricut to so many new people – people who were intimidated by the prep work. People who only sew and didn't find any use for a Cricut machine in the past. People who don't even know where to start with sewing. It's really a machine for everyone.
Next, the knife blade. 
Have you ever wanted to cut something thicker than what your Cricut Explore can do? Then you will be THRILLED to hear about the knife blade.
This blade has been developed to cut through materials as thick as 2.44 mm thick…which is incredible.
So we're talking about thick leather, balsa wood, thick chipboard and more.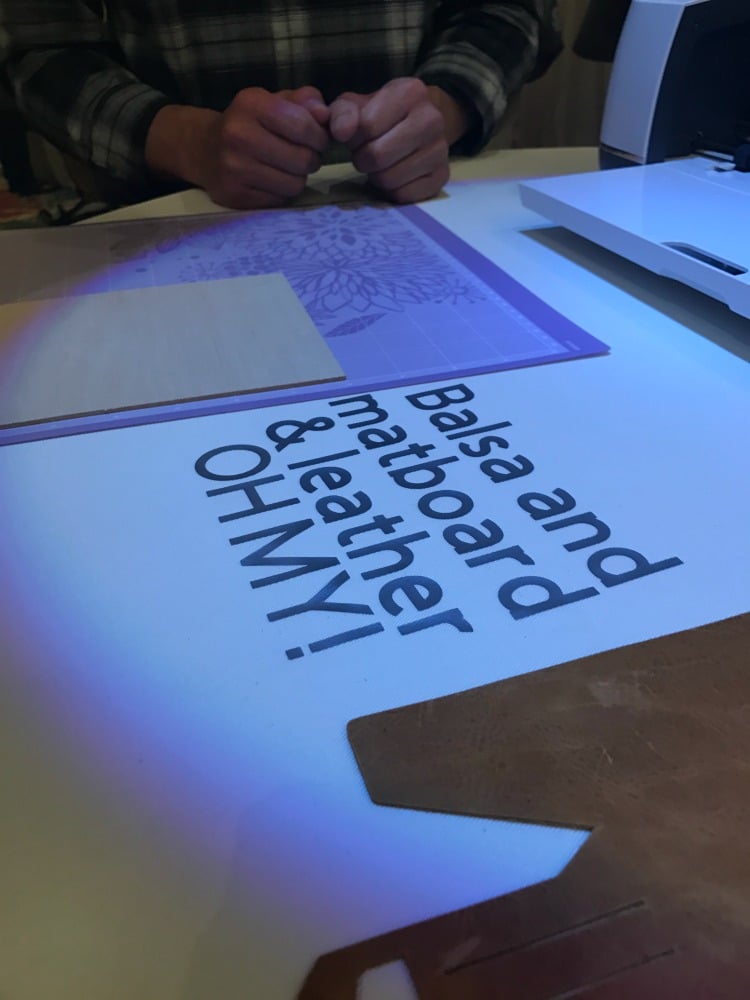 This blade won't be released until December, but it will definitely kick your crafting up a notch!
You will be able to create puzzles, model projects, and so much more.
The knife blade is 10 times more powerful – exerting 4 kilograms of force through materials.
Something that is amazing is that this machine optimizes the blades for each material it cuts – it optimizes the pressure, creates the cleanest cut possible, and in the end, this optimized the life of the blade.
Oh, and Print Then Cut! You can now print on colored and patterned paper. Yay! That opens up all sorts of possibilities with Print then Cut.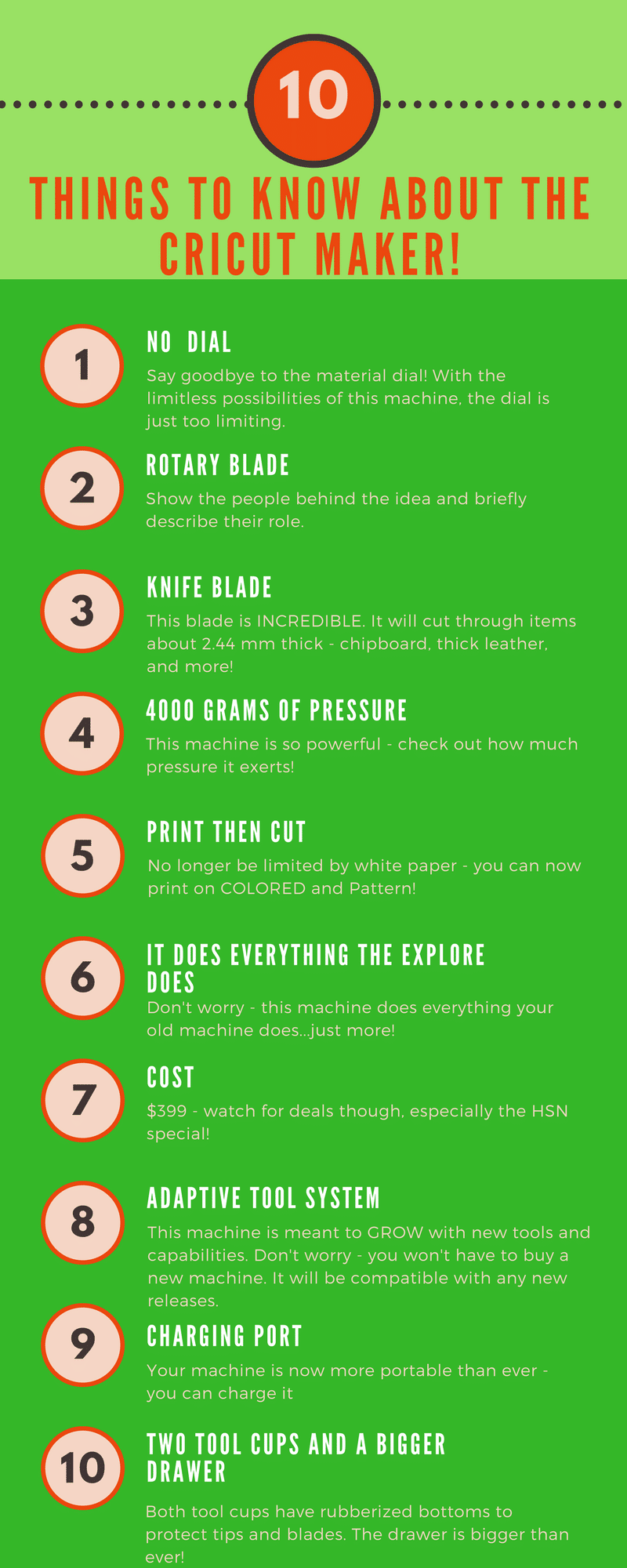 Adaptive Tool System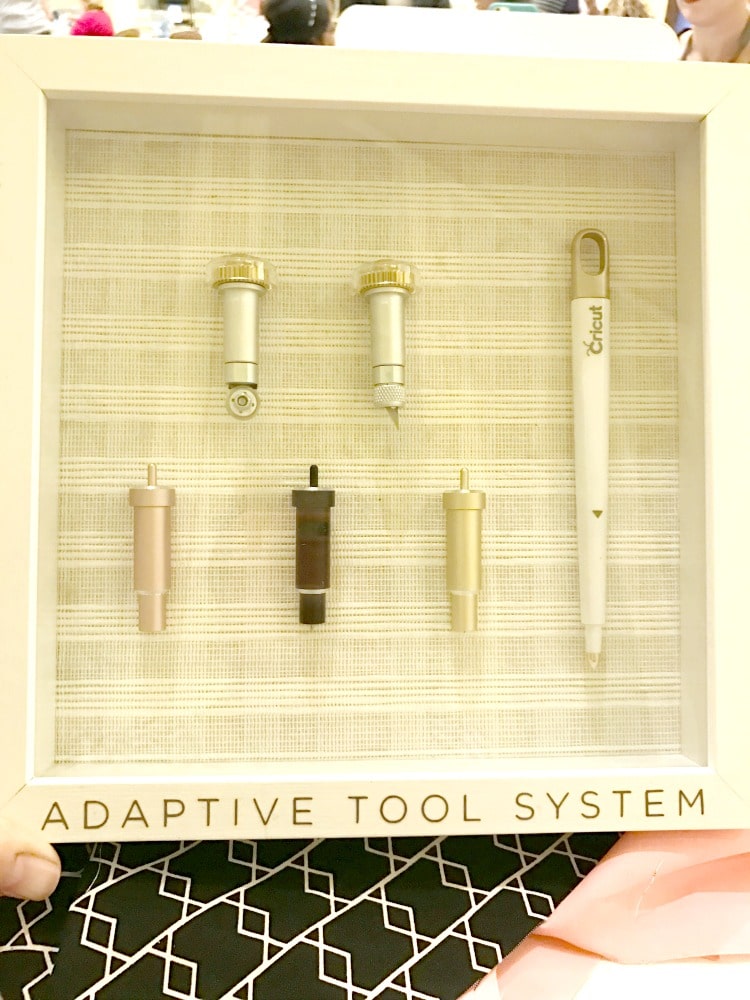 Something about the new machine is that it is an adaptive machine – it grows with you and with Cricut. It works with all the old tools that you've been using with your Cricut Explore, and it will work with any of the future tools that Cricut will release.
I know for me, that's huge. These machines aren't cheap, and it's not something you want to feel like you have to update every year when a new model comes out.
From what the people at Cricut are saying, there are even more incredible things to come in the near future. You can rest assured that if you buy the Cricut Maker, you will be able to take advantage of those new and innovative ideas.
What else is new?
Beyond the addition of the sewing features and deeper cuts, the Cricut Maker has some really great functional and design updates.
First off, there is no open button! I'm kind of excited about this because my sons always go into my office and constantly push the button. Not a huge deal, but it's nice to have that temptation gone 😉
There is a holder where you can put your smart phone or tablet, which is great news for those of you who use these devices.
The dial is gone! I was a little sad about this at first, but I totally understand why they removed it. Because it only had a few items on it, people often get stuck in the mindset that it is all the machine can do. But since it has limitless possibilities now, the dial just didn't keep up with the machine.
A charging port was added – yay! The machine is more portable than ever.
There are now two tool cups. The one in the back is deeper, which is good for pens, weeding tools, etc. The first cup is more shallow for small projects. Both of the cups are lined with a thin sheet of rubber, which prevents damaging tips, blades, etc.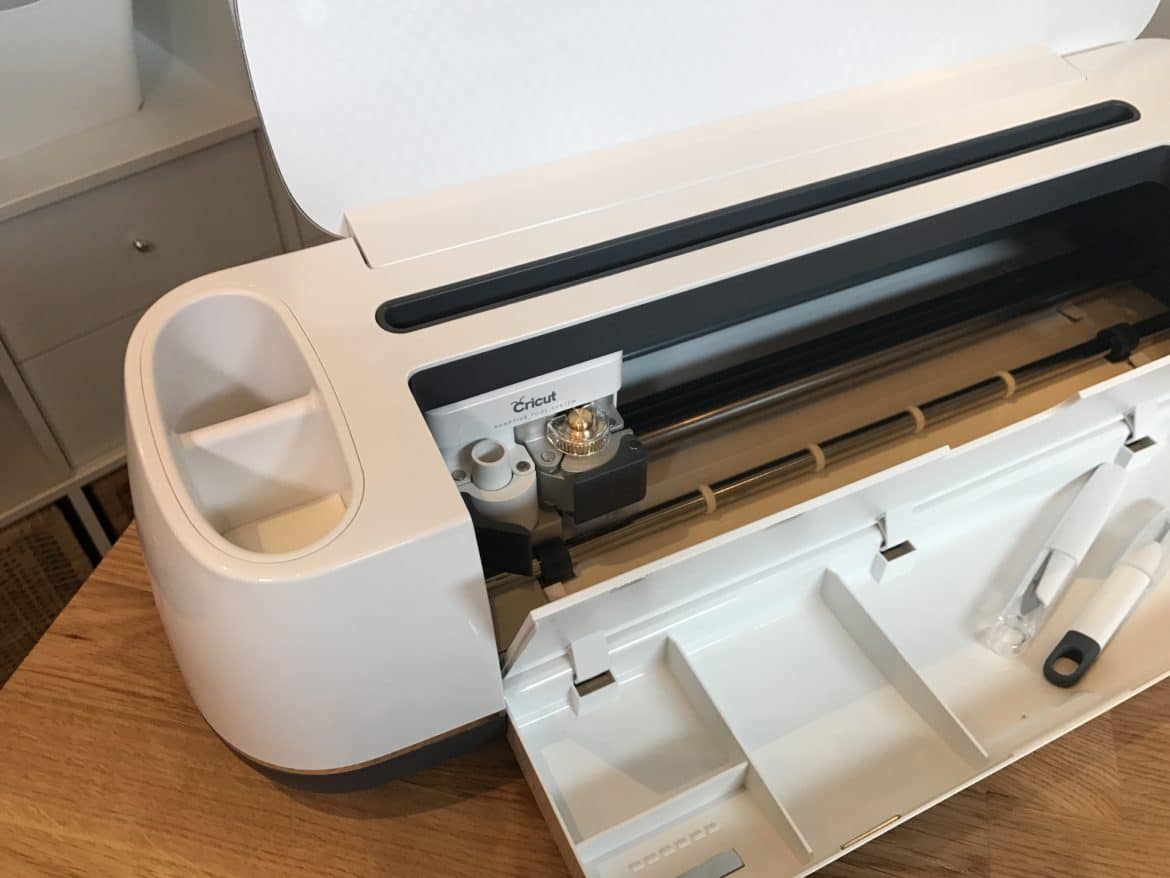 The tool drawer has gotten an upgrade as well. It's much larger and deeper now, so you can fit more in there.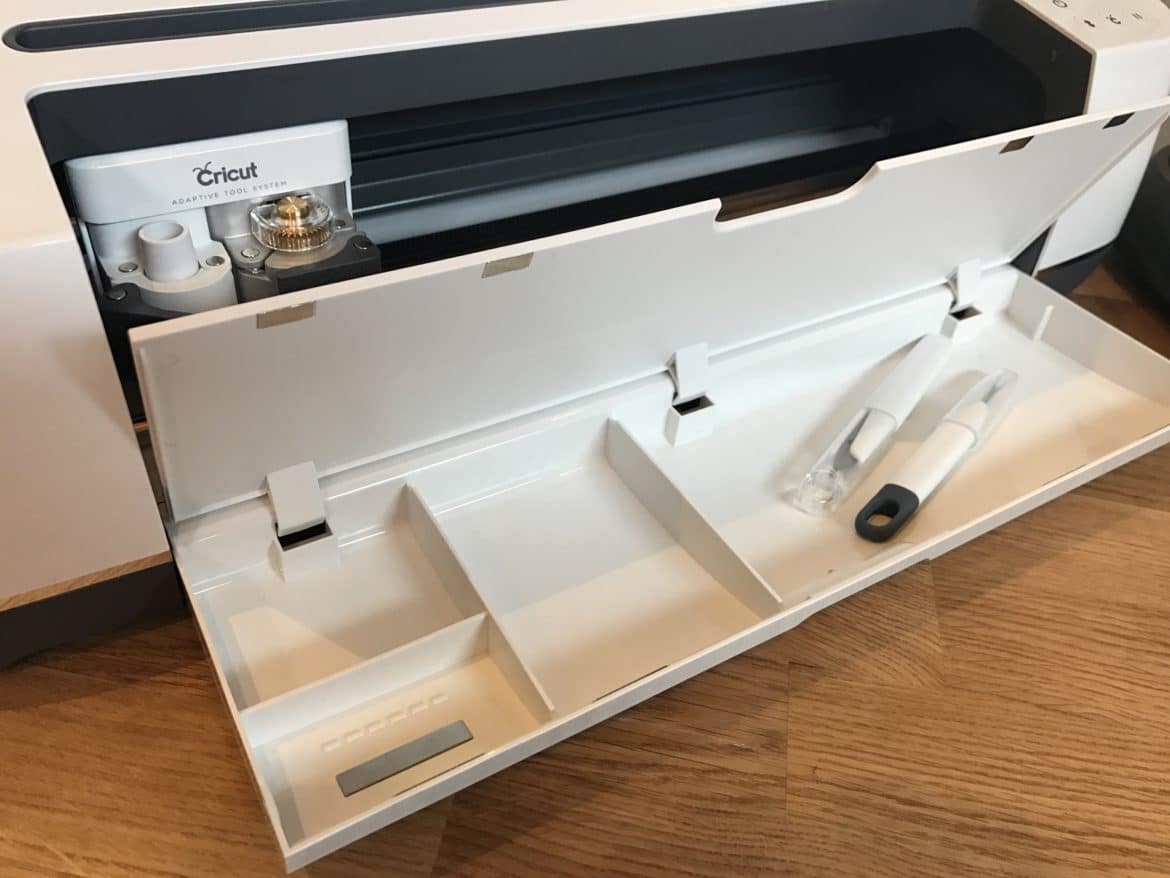 In addition to the functionality, they've made the machine look even sleeker than ever – the inside lining of the drawer is a diamond pattern, and the lid has a real edge metal, and it's diamond polished!
What's Happening to the Explore Line?
After the announcement, I've had a lot of people express concern (and often, frustration) about if the Explore line will still be relevant.
YES. The Explore Line will still be a huge part of the Cricut family. Projects will still be released, tutorials will still be done, and the Explore machines will not be phased out. I know that there is some frustration from people who just bought the Explore Air 2, but please keep in mind that it is still an amazing machine. I would imagine there will be a trade up program (but don't quote me on that :).
Make sure you read my Cricut for Beginners post to help you with all things Cricut!
So there you have it – an introduction to the Cricut Maker. I'm super excited about this machine, and rest assured, I will be sharing plenty of tutorials and Q&As in the future. Please let me know if there's any questions you have that I can answer in the coming future!