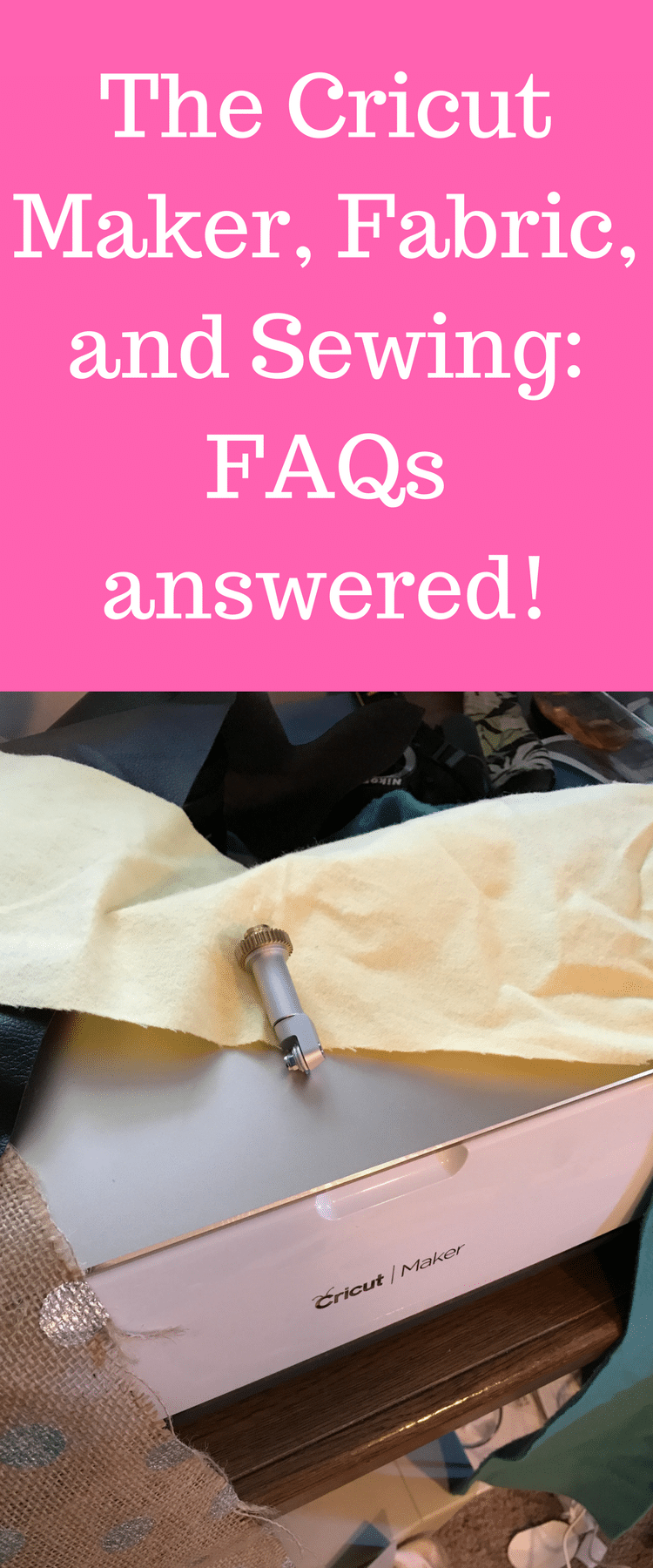 Sewing, Fabric, and the Cricut Maker Machine: What You Need to Know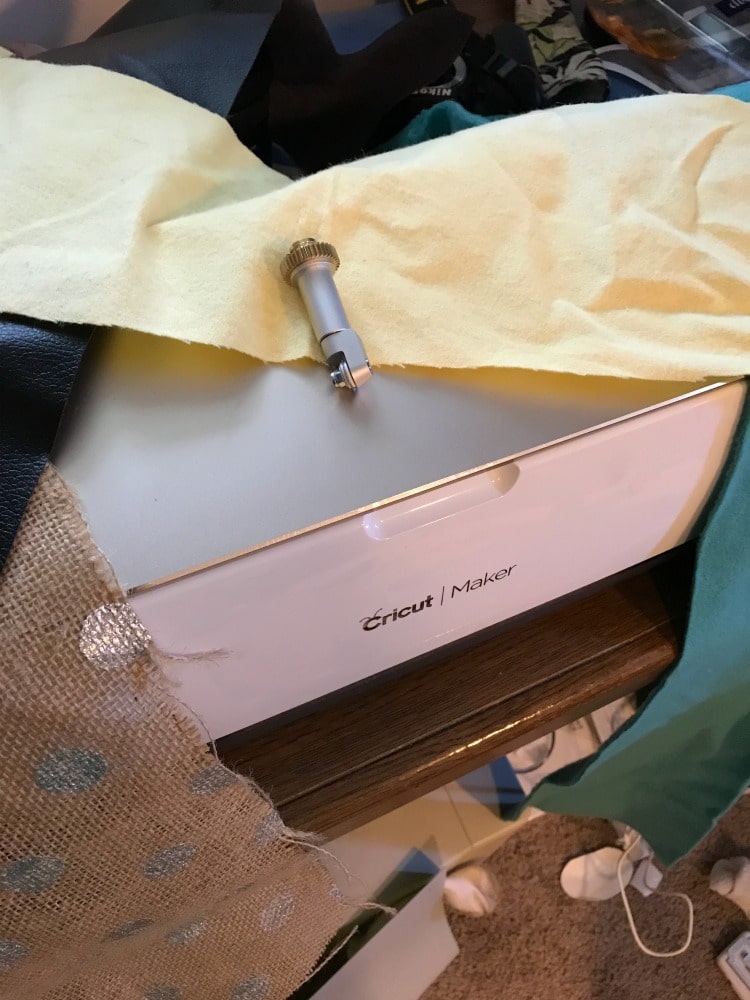 While there are many great features that make the Cricut Maker worth getting, the ability to cut fabric and patterns is by far my favorite.
I mean, you could technically cut fabrics before, but not without some kind of backing…and it just didn't ever seem to work out that great for me.
With the new rotary blade, it just makes the cuts that much more precise and clean.
Since I know the new sewing features are going to be attracting a lot of new Cricut users (and piquing the interest of old Cricut-ers), I thought that I should write a post about what you need to know about sewing and the Cricut Maker!
Want to know more about the Cricut Maker? Here a few posts:
Cricut Maker and Sewing
Rotary Blade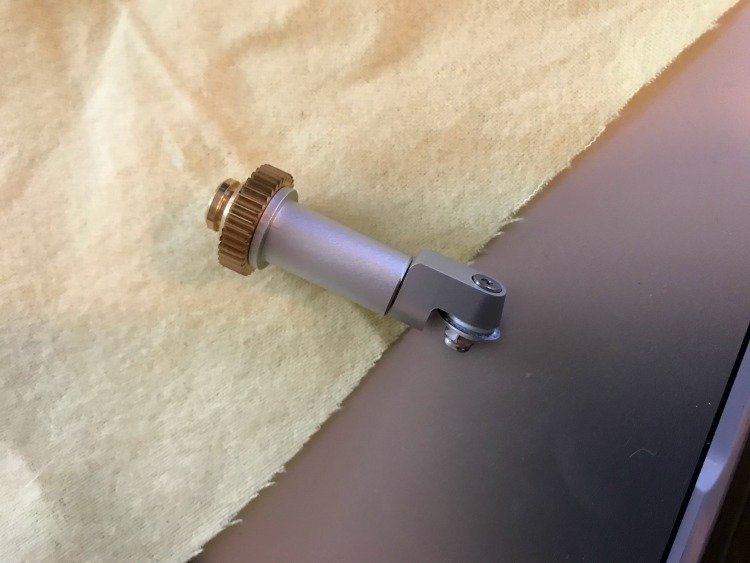 Get our FREE Cricut for Beginners Course + over 50 free project ideas!
The rotary blade is the latest and greatest from the Cricut offices – and it's amazing. It's what makes the fabric cutting capabilities possible. It is designed to cut soft and flexible materials without pulling and tearing.
It's pretty self-explanatory what it is – a mini rotary blade that you put into your Cricut machine. It can cut out tons of different fabrics and felts with precision – it really cuts like butter.
This blade is only compatible with the Cricut Maker – previous machines just don't have the capabilities for it to work. The Rotary Blade Kit is $14.99. One blade comes standard with the Cricut Maker.
Patterns
I'm sure I can't be the only one who loves to sew but has often been deterred from doing anything that requires using a pattern.
The cutting – the huge room for error (if you aren't the best at cutting and following instructions), and, most importantly, the time! Patterns take FOREVER to cut out.
With the Cricut Maker, it takes so much less time. A pattern that would normally take you 1.5 hours can take just around 10-15 minutes.
There are patterns that are available through Cricut Design Space – these cannot be adjusted to be different sizes at this time. You can also upload your own patterns to be cut, though I'm not entirely sure what the process is.
PDFS
With any project you make using a pattern from Cricut Design Space, you can print off the PDF instructions for it. This comes in handy so you don't have to keep referencing your computer or tablet!
Fabric pen
The Cricut Fabric Pen is only a few dollars, but it's definitely an essential! It is washable, fits perfectly into the pen holder, and it makes markings on your fabric just where you need them to make sewing that much easier.
Sewing kit
Cricut has come out with a great little sewing kit so you can making sewing even easier. It contains:
8″ Fabric Shears
Thread Snips
Seam Ripper
Pin Cushion and Pins
Measuring Tape
Leather Thimble
Pink Fabric mat
Along with the release of the Cricut Maker, Cricut released a new mat that is specifically for fabric and the rotary blade.
This cannot be cleaned like other mats – you don't want to be using soap and water on it. As of right now, Cricut recommends the following:
Use strong grip transfer tape to remove fuzz, dirt, etc.
Leave the long strings and strands on the mat. The rotary blade can cut through these, and if you remove them, it will make the mat less sticky.
You should avoid touching the sticky part of the mat as much as possible, as well as avoid using the scraper. Also, I would recommend making sure you only use the mat for fabric.
Here is a video about taking care of your mat:

Snap Mat
This is a feature you can use with any materials, but I'm especially excited about using it with the fabric cutting because I have SO many scraps.
If you aren't familiar with SnapMat, here is a great article that gives you all the nitty gritty on it. But basically, it's a feature you can use where you take a picture of a piece of material on your mat, and you can then see a virtual mat preview with the material on it so you can rearrange text and photos on top of it for perfect cuts.
What fabrics does the Cricut Maker cut?
You can cut pretty much any kind of fabric your heart desires. Here is a video demo of me cutting different fabrics.
I love getting fabric at Joann's Fabric, but I also really love Fabric.com. They have a HUGE variety, and their prices are almost unbeatable!
However, I am LOVING the new designer fabric line that you can get directly from Cricut.com
When putting the fabric onto your mat, I was told to kind of let it "float" on, rather than pressing it into place.
What patterns?
Cricut has partnered with Simplicity and Riley Blake to offer hundreds of amazing patterns. You do have to have Cricut Access for most of these, but they are worth subscribing for. They have everything – from clothing, to home decor, to holiday decorations…you definitely will find something you want. I know they are planning to add even more as the months go on, as well.
Sewing Machine Recommendations
Choosing a sewing machine is a big decision! If you are already a big sewer, you likely already know your preferences and what you like.
However, if you are just starting out, here are some great machines for beginners. They are all popular machines under $250. You can always pay more for something more robust and that has more features…but these all are great machines. All of them are linked to Sewing Machine's Plus because I think it's an awesome place to get a machine.
Learn More About Crafting with Cricut: