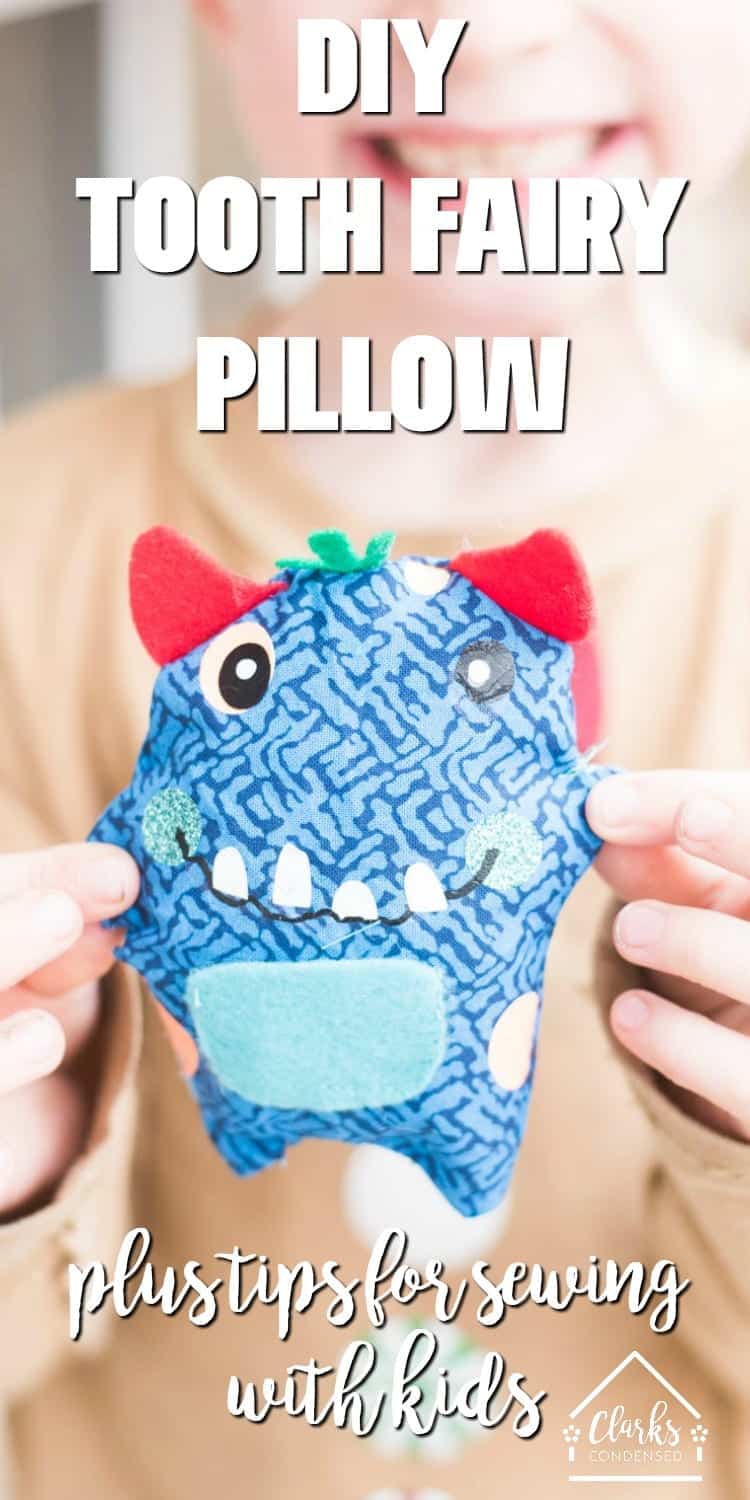 A Tooth Fairy Pillow is the perfect way to trade your child's tooth for coins! Here is an easy-to-follow tutorial to make this Tooth Fairy Monster Pillow!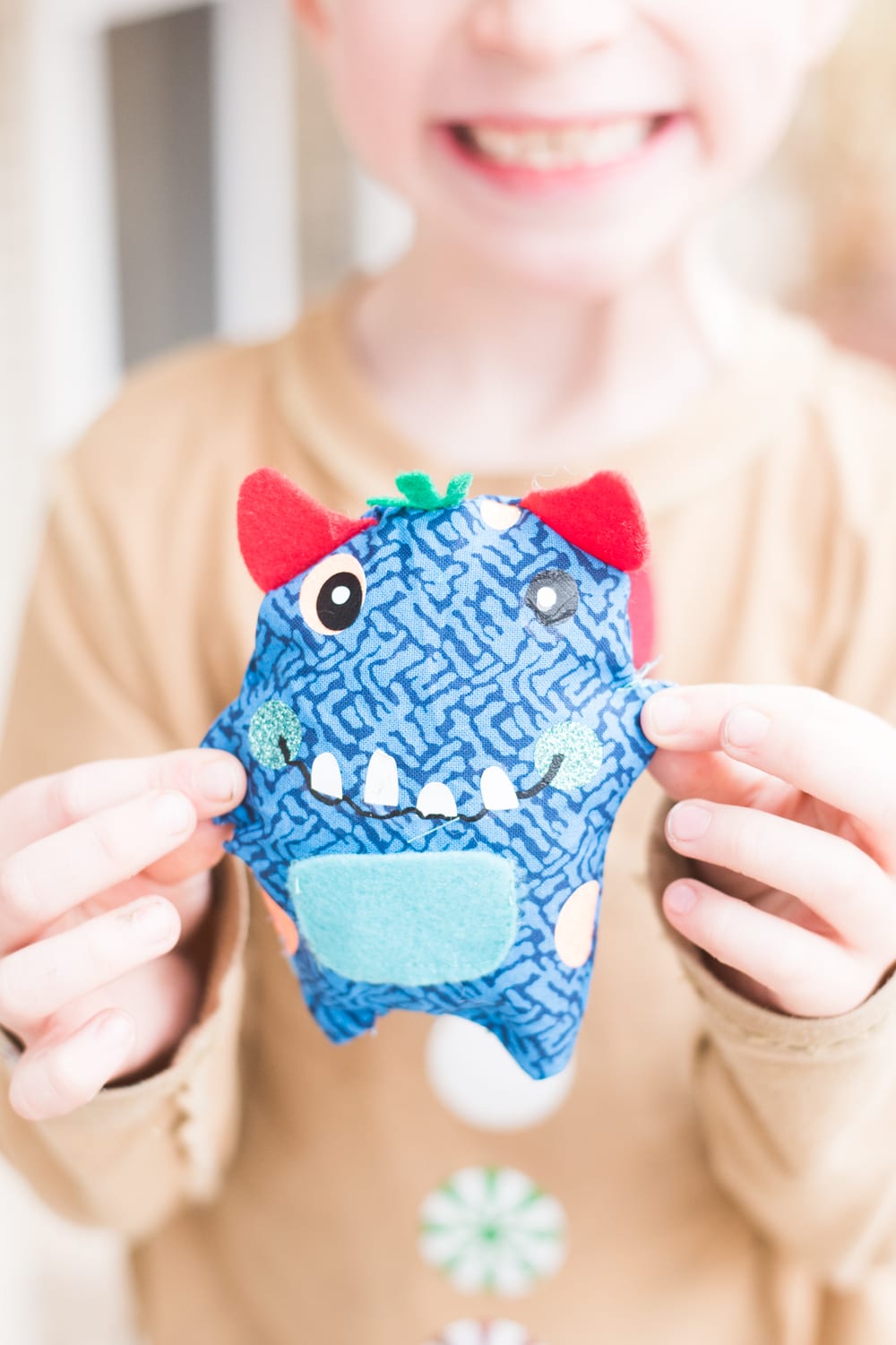 Tooth Fairy Pillows
This is a sponsored conversation written by me on behalf of Cricut. The opinions and text are all mine.
Jack started losing his teeth last year.
I'd be lying if I said I wasn't super emotional when he discovered his first loose teeth…and when he subsequentially lost that loose teeth.
Get our FREE Cricut for Beginners Course + over 50 free project ideas!
I remember thinking about how I distinctly remembered feeling that little tooth for the first time pushing through his gums…and yes, I cried then, too.
Why do kids have to grow up so fast?
Try as I may, there hasn't been anything I've done to make my kids getting so big, so throughout all these milestones, I have tried my best to embrace the excitement of the new stage.
Because let me tell you – Jack was SO excited to start losing his teeth. It's really such a big milestone, especially when they are at school. I volunteer in Jack's first-grade class, and at least one kid every time shows my a dangly tooth (which, I have to admit, makes me gag a little bit).
Of course, losing teeth comes the fun of the tooth fairy! But man, a tooth under a pillow is tricky for the tooth fairy to get.
I had seen people use Tooth Fairy pillows in the past, and I thought it was such a fun idea – the tooth stays nice and safe, and the Tooth Fairy can easily swap it for a couple of coins.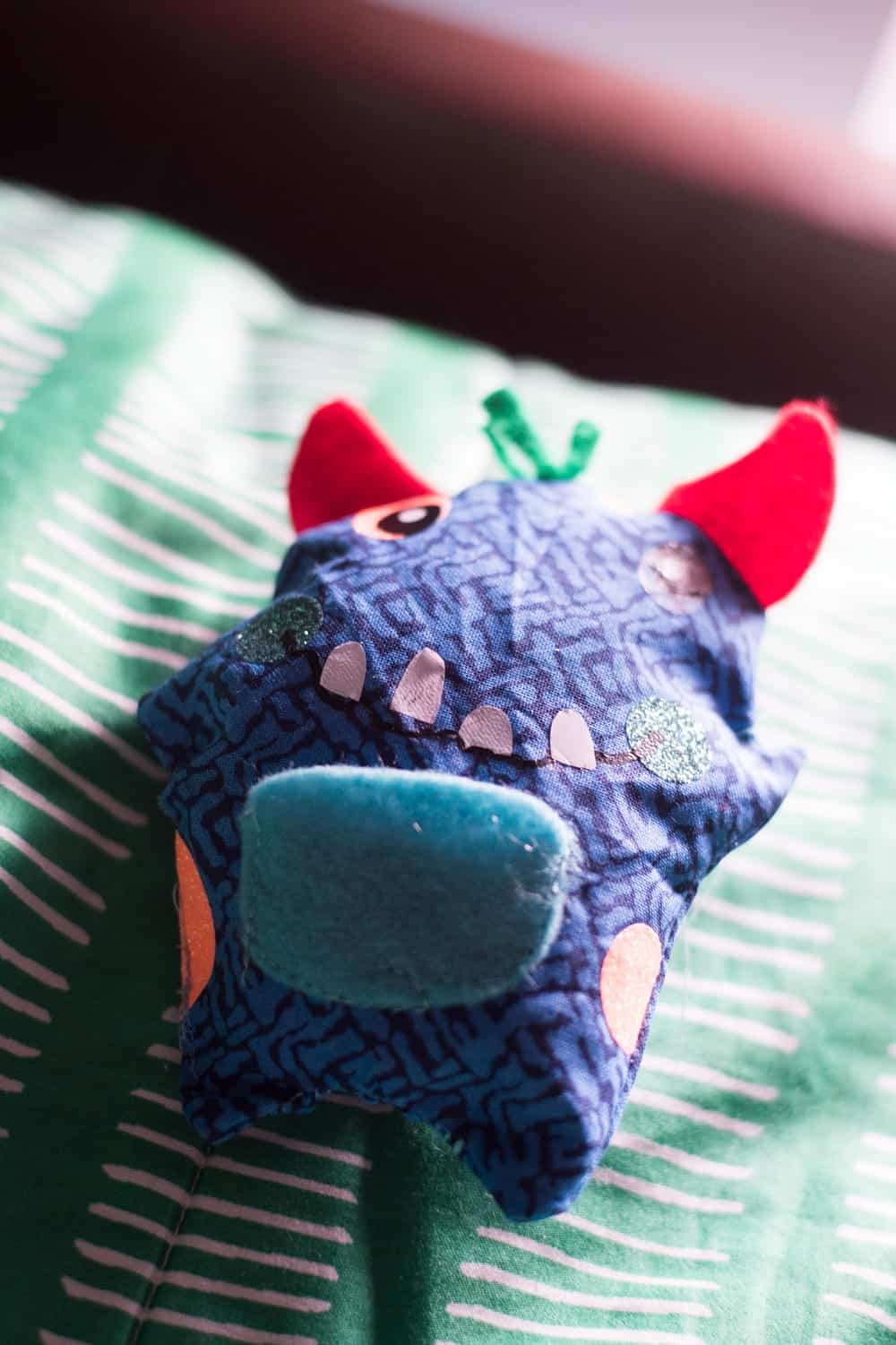 When Jack's first tooth was loose, we went and bought the materials to make this adorable monster tooth fairy pillow…but as most things in my life go, we didn't end up getting it made in time.
But when Cricut invited me to share a sewing project, I knew that was the time to do it.
Plus, he's only lost four teeth. Many more can be used with this tooth fairy pillow.
I also thought this would be a fun time to have Jack help me sew. He's expressed a desire to sew, which I think is AWESOME. I actually let him look through a bunch of projects, and this is the one he chose…which was perfect since we had all the materials.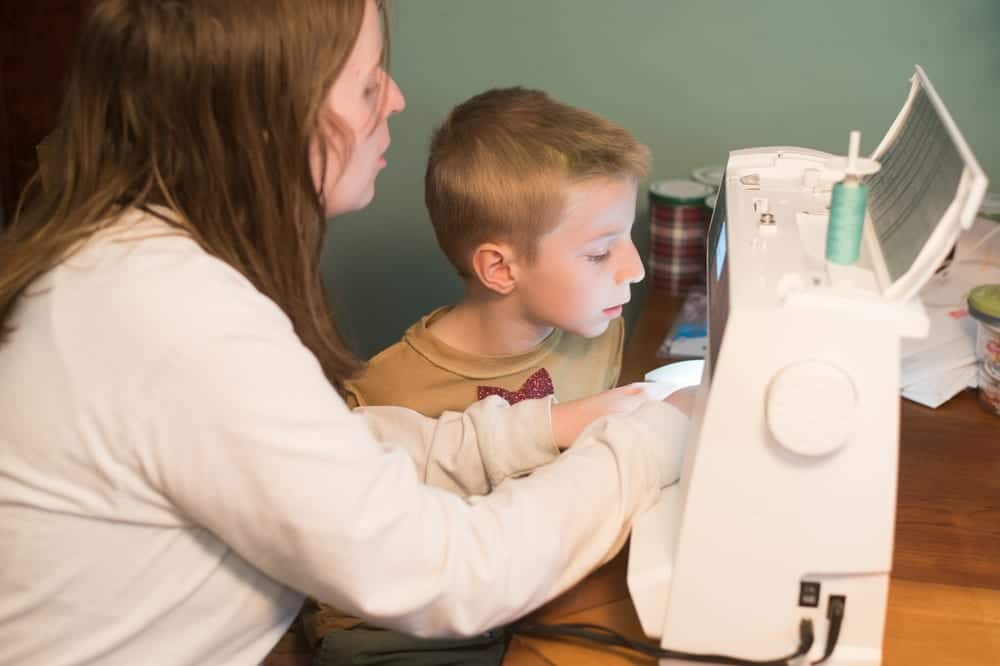 So in this post, I will share how I made this Monster Tooth Fairy Pillow, as well as some tips for teaching children how to sew.
DIY Tooth Fairy Pillow
This is such a fun and easy project – especially if you involve your child. I'm a huge fan of teaching children how to sew – even the basics can get you pretty far.
For this project, I used my Cricut Maker to cut out the pattern – so unfortunately, if you don't have a Cricut Maker, I don't have an exact pattern for you.
However! It's such a simple pattern, you can easily just draw the pattern out yourself on the fabric of your choice.
Tips for Success
Pick lighter material – I let Jack pick out whatever material he wanted, and he went with one that was super dark…which is fine. However, the fabric marking pen markings didn't show up on it. Fortunately, I know what 3/8″ is, but I do find the markings to be helpful to make sure you stay on track. If you want the markings, pick a lighter fabric.
Be careful with the iron on – If you look closely, you will see some of our iron on got a little wrinkled due to too much heat. We had a couple of different types of iron on (SportFlex, Glitter, and Every Day), and they all require different temps. Try and keep it the same type and iron them on together as much as possible.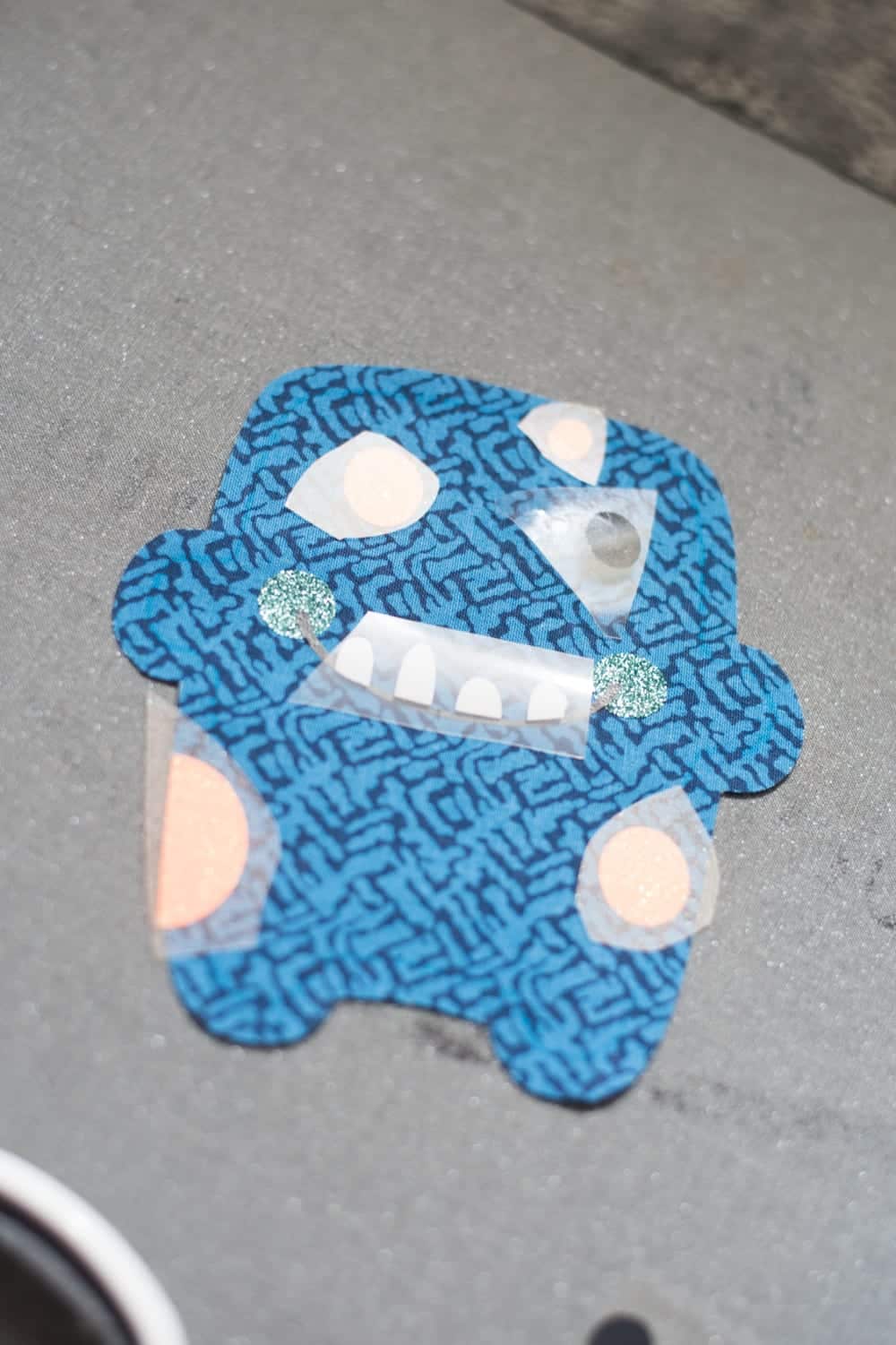 Print off the instructions – I always suggest this with every Cricut project, but I think it's especially important with sewing projects. It's nice to just have them right in front of you and not having to reference back to a computer or phone the whole time.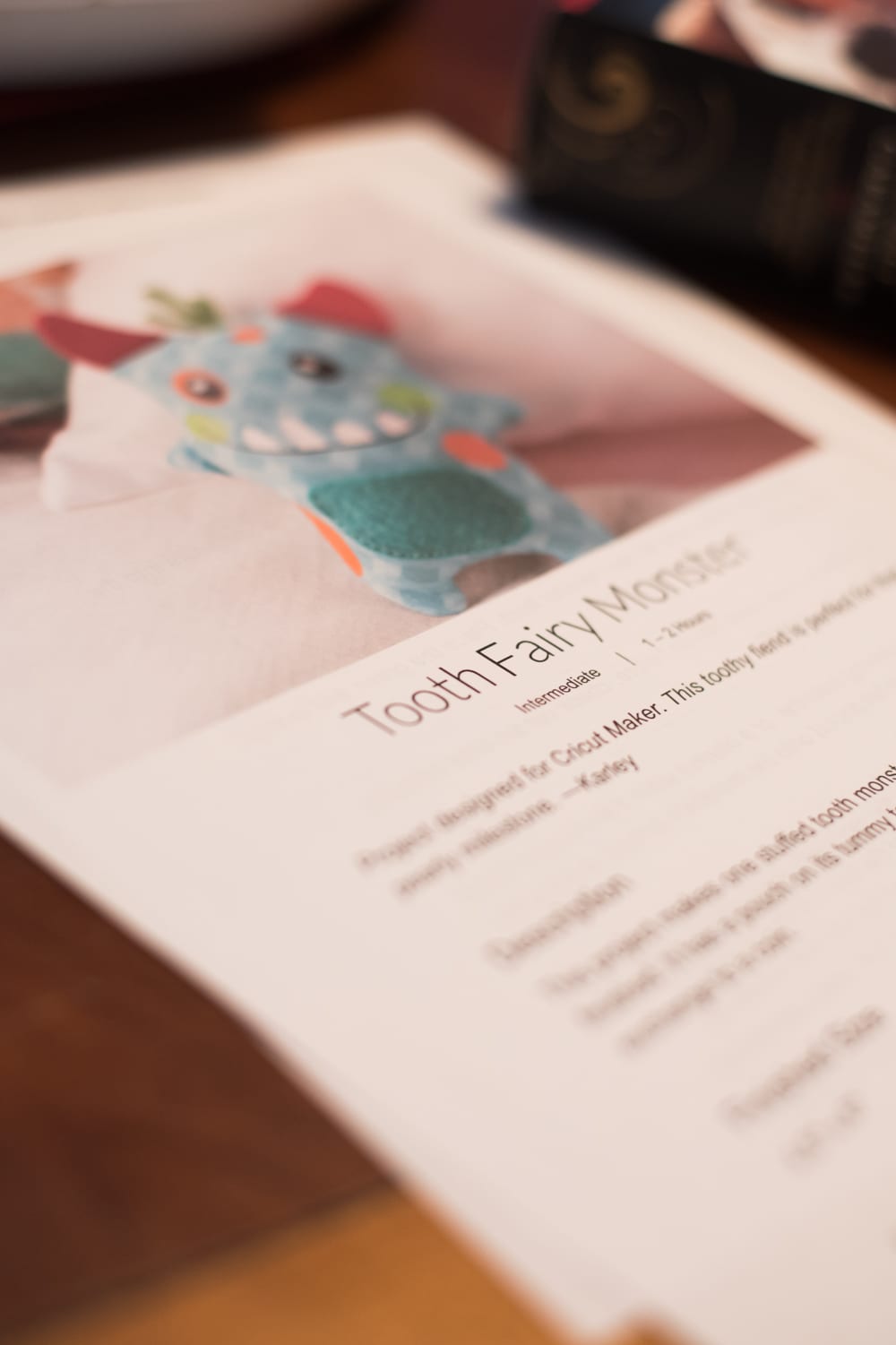 Materials: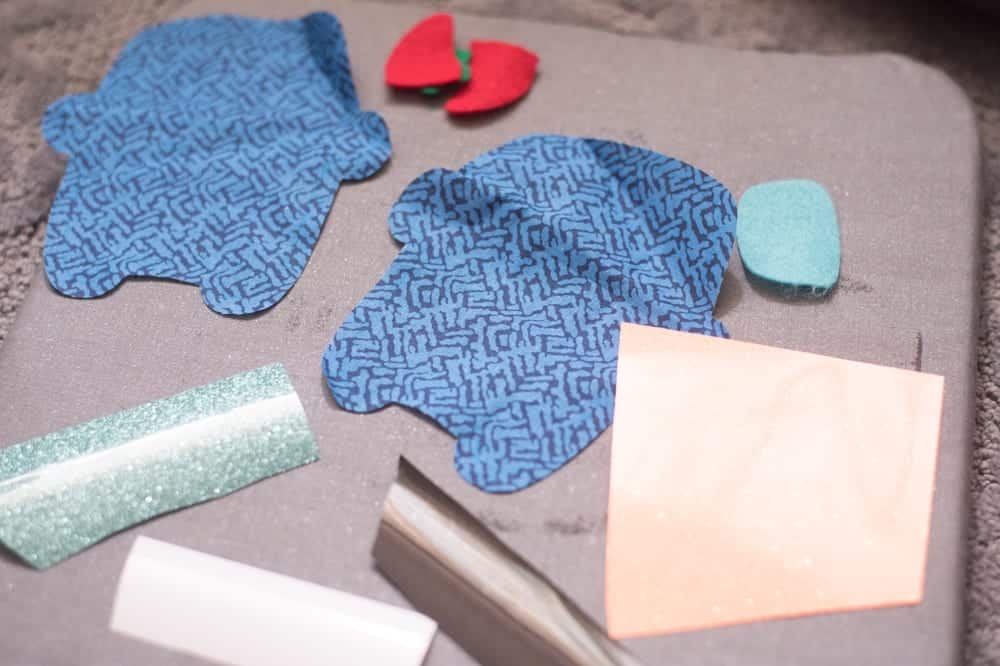 Cotton – Cricut has some really great fabric options
Felt – I just used some pieces from Joann's Fabric. However, I felt like they were a bit flimsy, and there was a little bit of trial and error figuring out exactly how to cut them. I really do love the Cricut brand of felt – it cuts perfectly every time (you can use the rotary blade or fine point blade)
Iron on vinyl in various colors – for this project, it suggests orange, white, black, and blue, but you can adjust these depending on what you want. I do think it's good to have black and white for sure.
Stuffing
Sewing machine (if you don't have one, Sewing Machines Plus is a great place to look)
Iron or EasyPress 2
Instructions:
Open up this project in Design Space. If that link doesn't work, just search for "Tooth Fairy Monster"
For all the iron-on pieces, make sure you press "mirror" before you cut
Select the correct settings according to what you are cutting. I started with all of the iron-on pieces and then moved onto the felt and cotton just so I didn't have to keep switching back and forth between the mats.
Cut everything out with your Cricut.
Weed out the excess material on the vinyl. If you need to, cut pieces apart so they are easier to put on your material.
Iron-on all of the pieces to the right side of one of your pieces of cotton.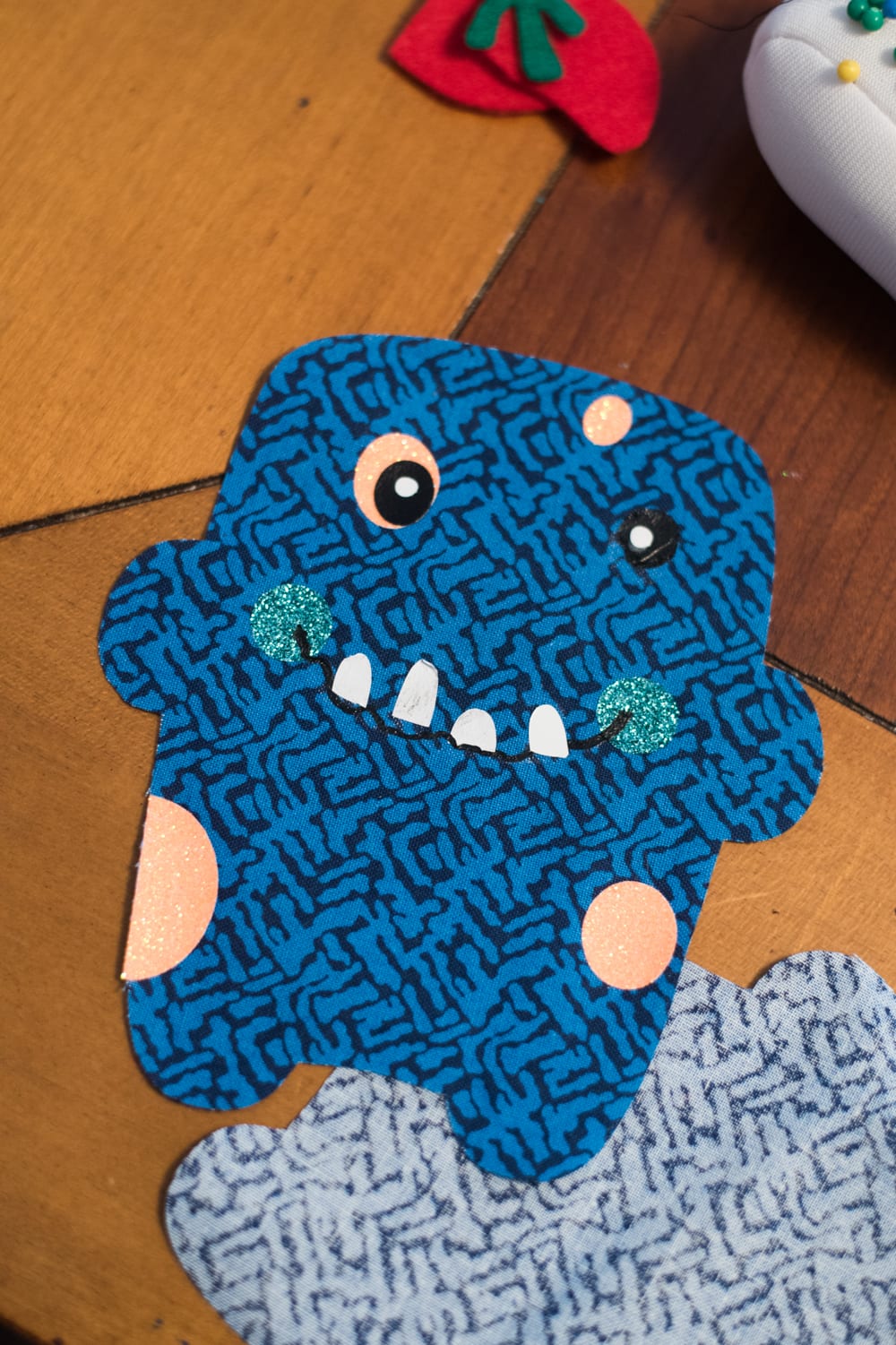 Either hand sew or machine sew the little pocket on the front. Honestly, I wish I would have done it by hand stitching. It's such a small piece of felt, and obviously, I messed up. haha!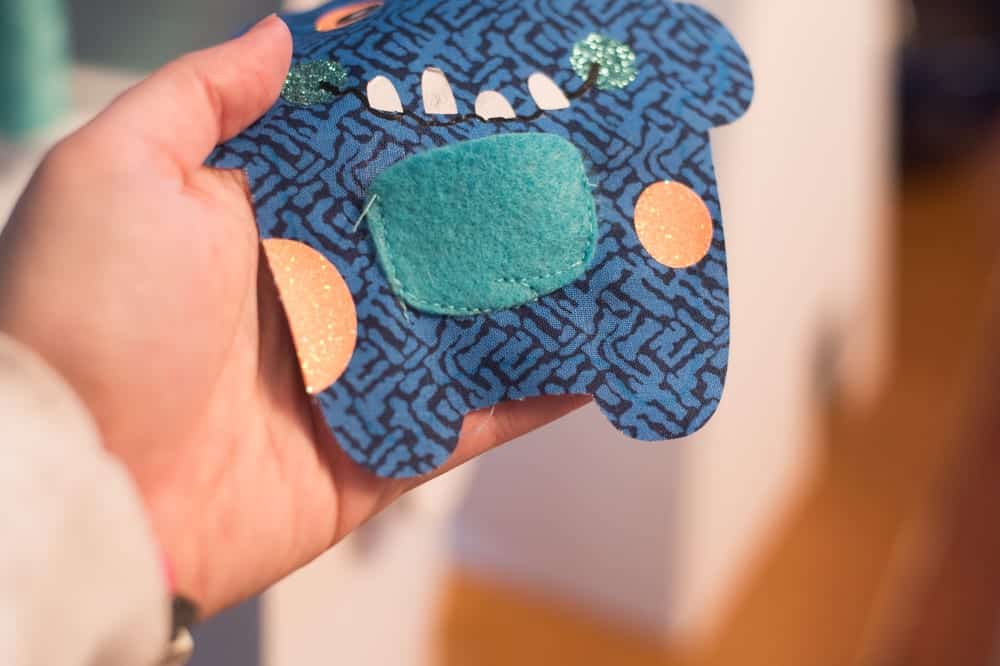 Pin or tack the horns and little hair tuft to the piece of cotton with the iron on. I used some basting spray just so I could avoid using pins.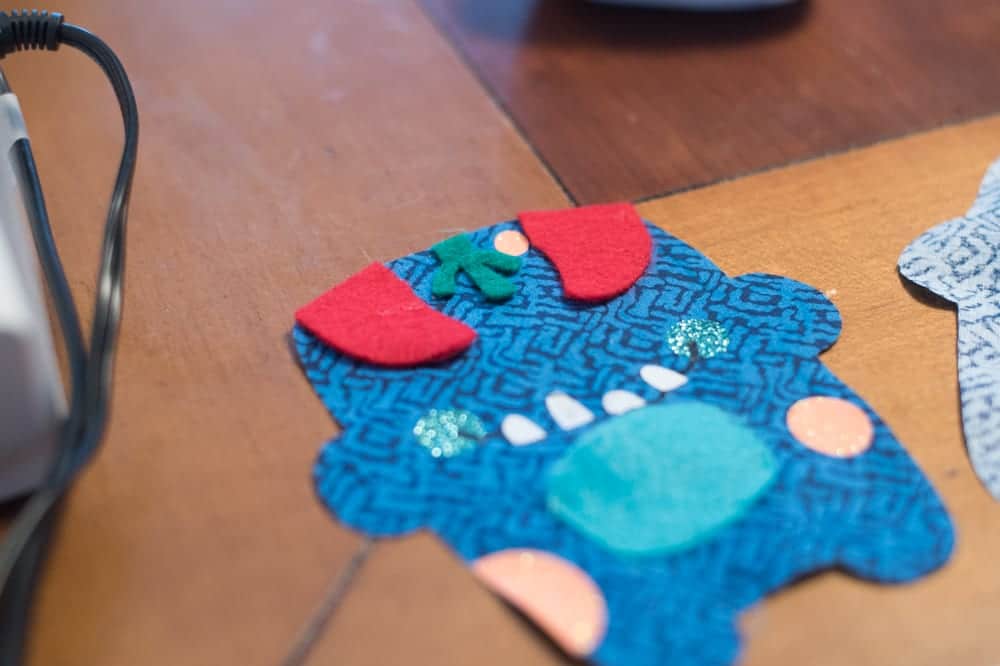 Place the pieces of cotton right sides together. You can pin them together if you want.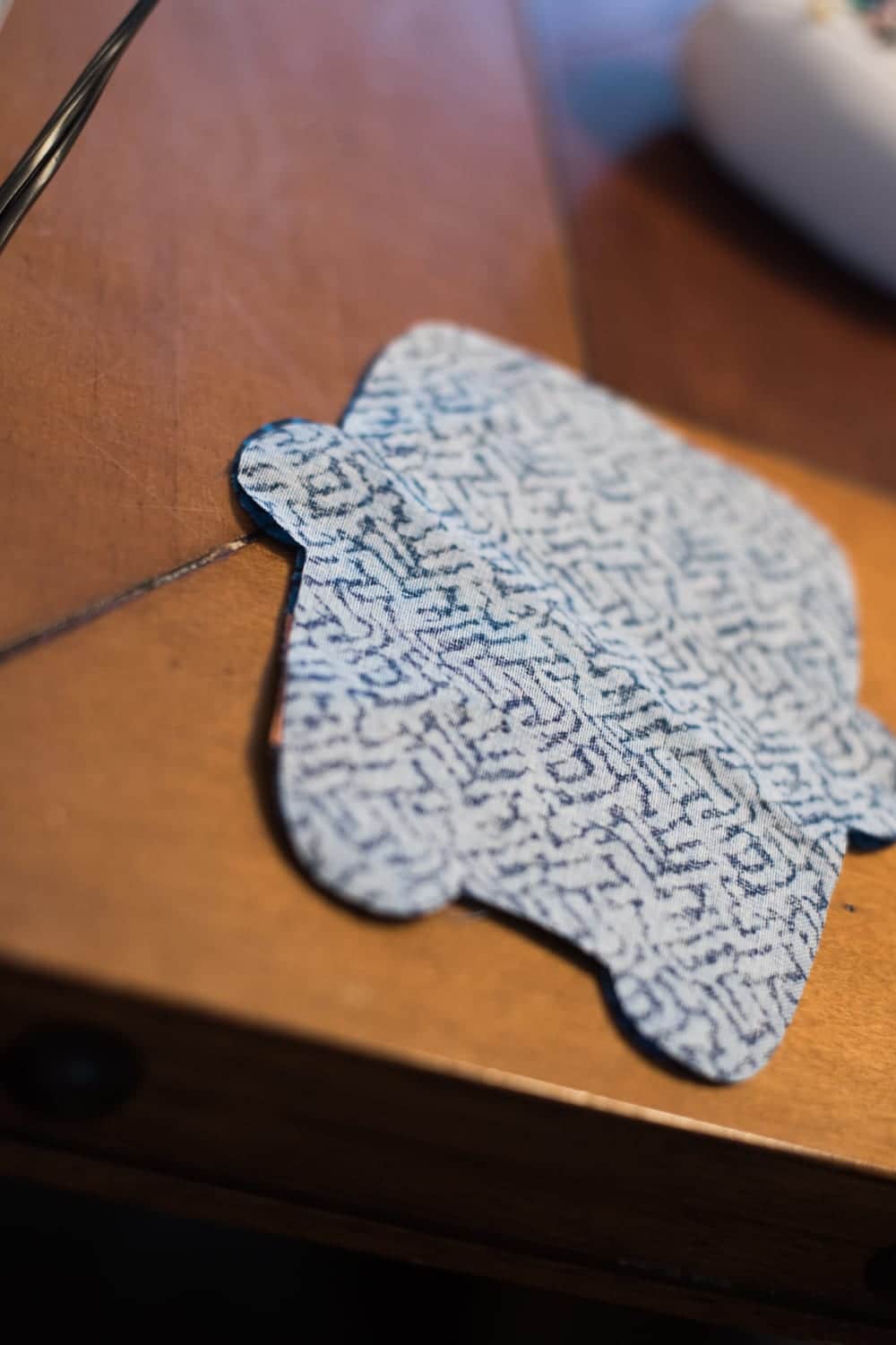 Sew around the edges using a 3/8″ stitch. I would start about two inches below one of the arm pits, because you will want to keep that area open to turn it right side out.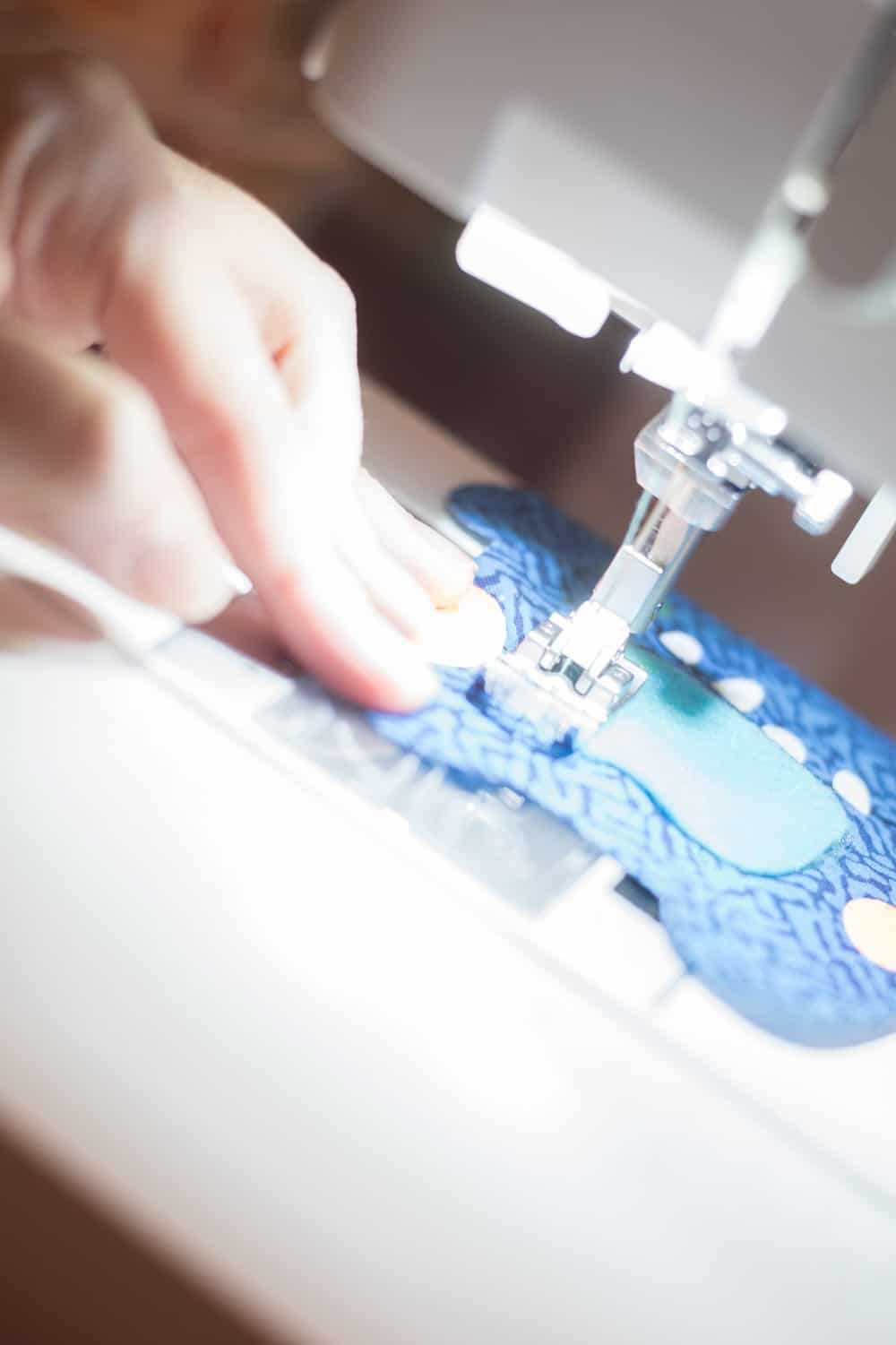 After sewing, clip the edges and turn right side out.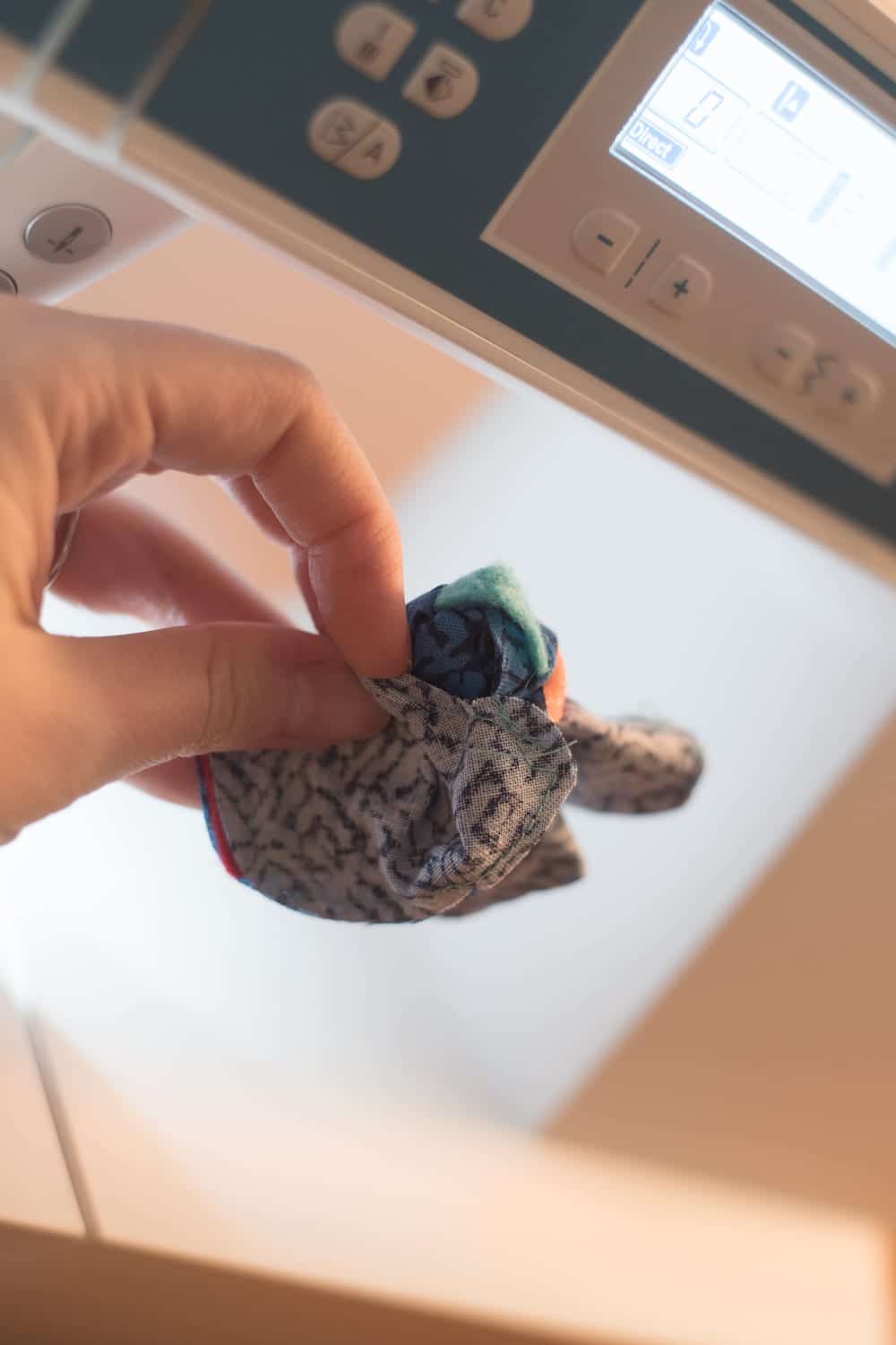 Stuff with stuffing.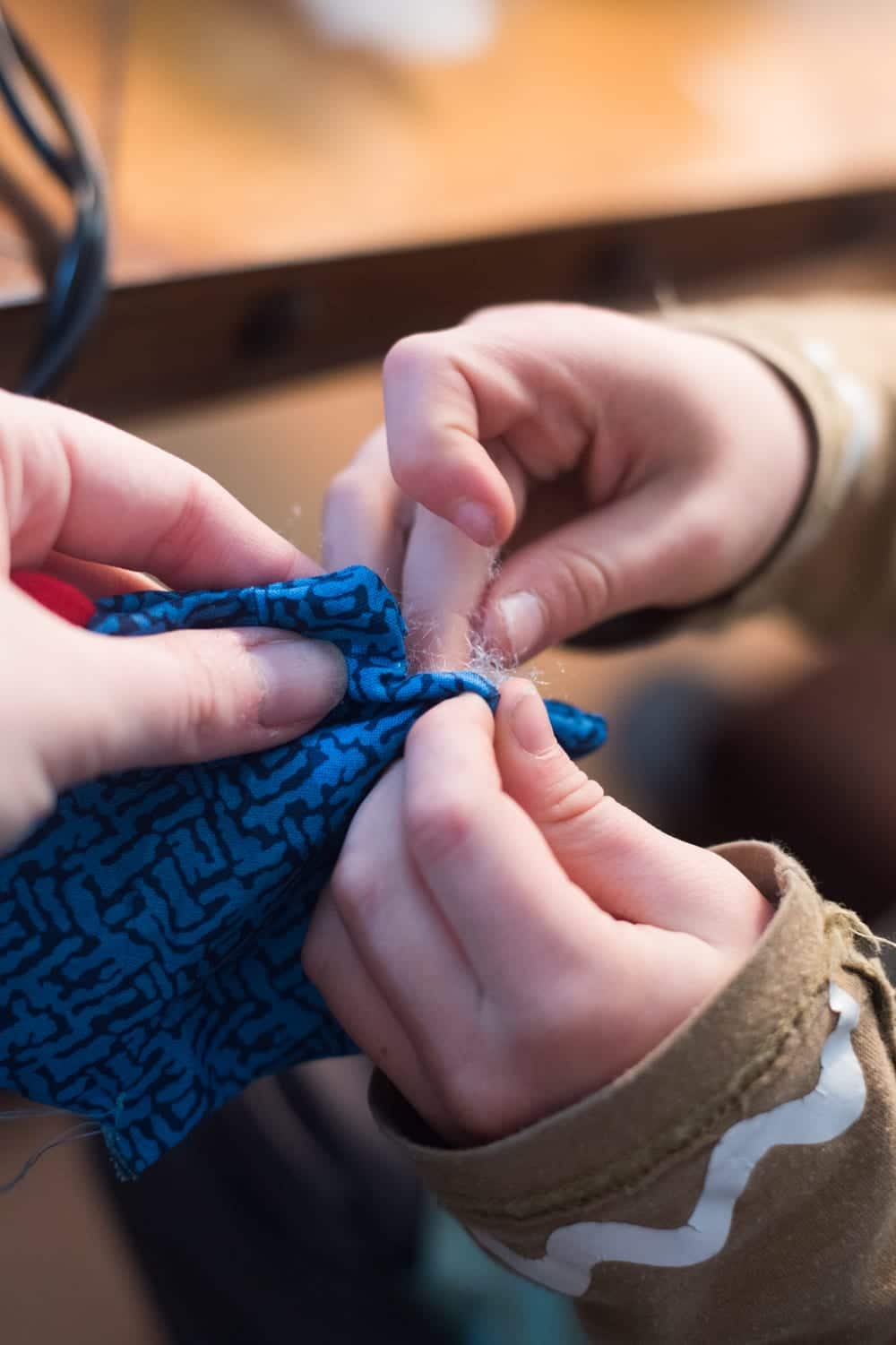 Stitch the open edge closed, and enjoy!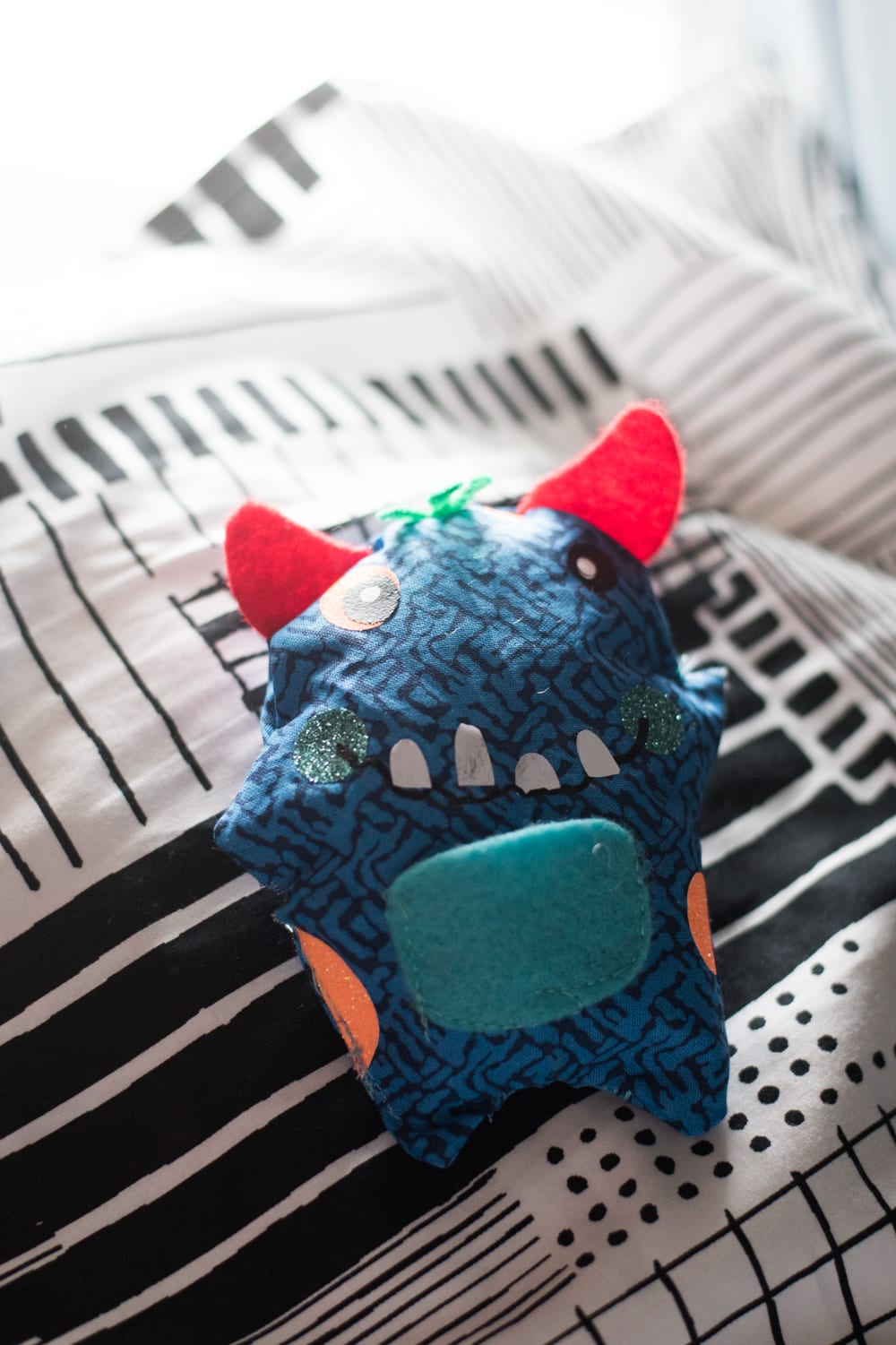 Tips for Teaching a Child to Sew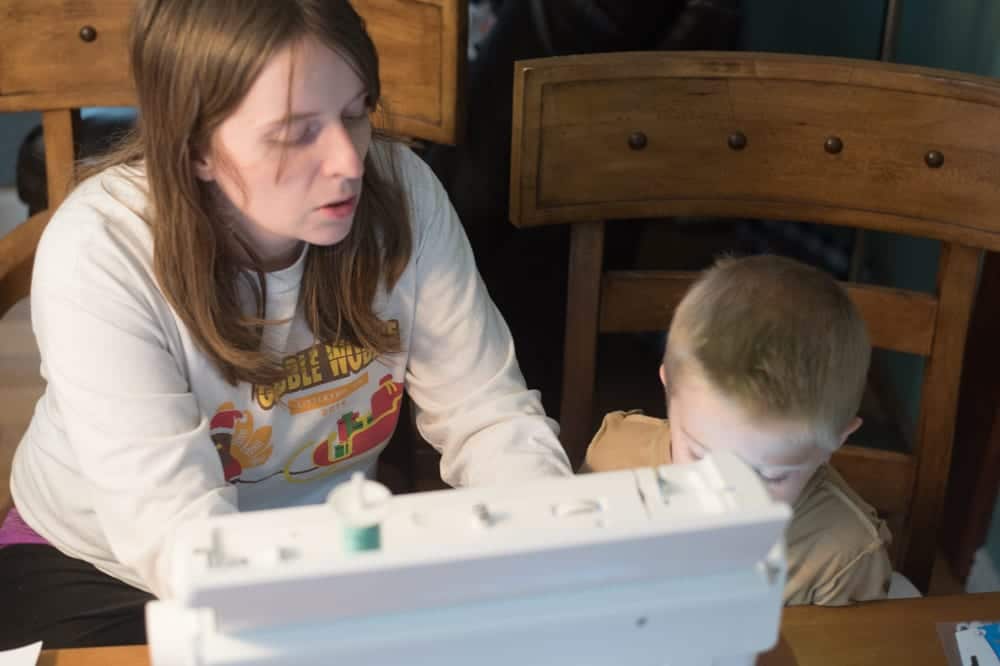 Be Patient
This is what I have the hardest time with when I teach anyone anything – especially when it's something that comes easily to me (not that I'm a master sewist. Because, I am not!).
However, it's so important to just be patient and realize the child is learning. They are going to sew perfect lines on the first try. They'll probably press the foot too fast. And the project probably won't turn out amazing.
But it's all a process – and you want them to want to try again. So as much as it might be temping to just take over – resist the urge. Learning can be a slow process, but the more practice they get, the more confidence they will get, and the better they will get.
Teach the Basics First
My main mistake when having Jack work on this project was picking a project that had so many curves. Curves are hard enough for me as an adult – for a child who is just learning, they can be near impossible.
I would suggest having your child start by using a scrap piece of fabric and trying to sew along a straight line. Have them keep practicing this until they get it down.
I actually had Jack start by just pressing the foot pedal so he could get an idea of the speed that is required!
Find a Project They Are Interested In
As I was preparing to do a Cricut and sewing post, I went through Design Space and favorited all of the projects that looked kid-friendly, and then I let Jack pick one that he thought looked fun.
If a child is interested in what they are making, they will likely be more excited about participating. Jack was so excited to finally be able to get this project done!
It was a little trickier than I anticipated because of all the curves – so perhaps encourage a project that primarily has long stretches of straight lines.
Let Them Pick Out the Fabric
This is always Jack's favorite part of any project I do that involves something for him. It's just a small something that can get them involved – even when they are little. I let Oliver pick out the material for this weighted blanket, and he loved that!
S-L-O-W
Go slowly – there's no need to rush, and it's important for safety reasons to make sure you aren't trying to push them too far.
Don't Expect Perfection
I don't even expect perfection with my own projects (as I'm sure you can tell – I'm notorious for having not straight lines).
And make sure your child knows THEY don't need to be perfect with their sewing. It can be hard and frustrating. I know that I sometimes want to throw my machine across the room, and I've been sewing for around 17 years! Just be as encouraging as possible.
Other Sewing Projects: