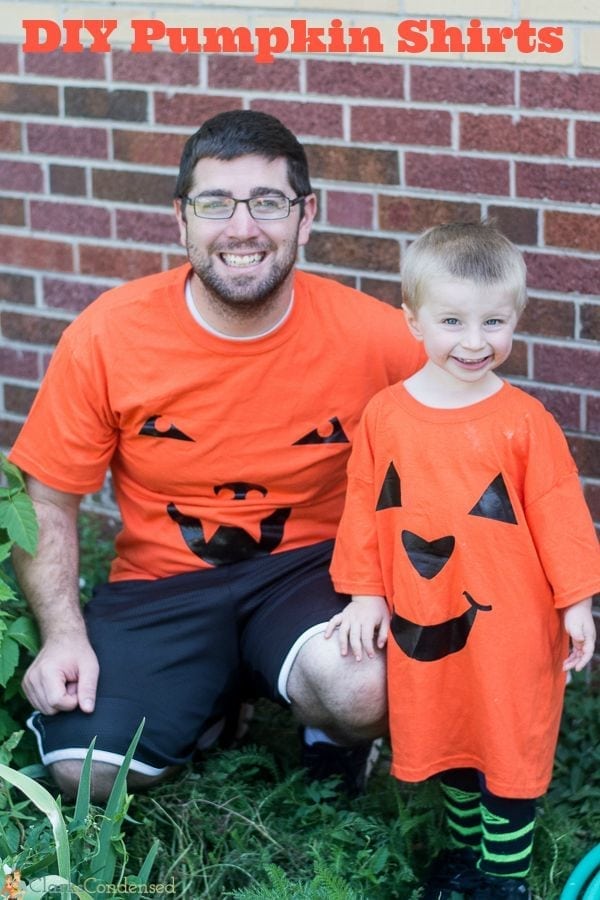 About six months ago, Jack started talking about Halloween and what he wanted our whole family to be. For some reason, he thought that we should all be pumpkins! Since then, he has held strong to this idea, and I've been trying to come up with some ideas on how to make some easy DIY pumpkin costumes.
Since our new baby will be born about a month before Halloween, I figured he could just wear the Halloween pajamas and hat that we got for Jack for his first Halloween. For the rest of us, I thought it would be pretty simple to make some fun jack-o-lantern shirts using my Silhouette and some plain t-shirts. Forrest and I will probably just wear the shirts, but with Jack, I want to make sure he looks a little more like a pumpkin, so we'll stuff the shirt with a little bit of filling and buy him some orange pants! If Jack's old pumpkin pajamas don't fit the new baby, I'll do the same with a little orange onesie!
I decided to order a few shirts from Gildan for this project. They are very affordable, and they were available in a variety of colors – Gildan actually offers the most comprehensive color palette for t-shirts in the industry. I ended up ordering two men's t-shirts in orange for Forrest and I (just in different sizes.) I also ordered an oversized orange t-shirt for Jack from the boy's department, so there was plenty of room for the stuffing to make him look like a nice, round pumpkin! Gildan is the World's largest supplier of t-shirts, so it's an awesome place to find affordable, durable, and comfortable shirts (as well as socks, underwear, and activewear) online.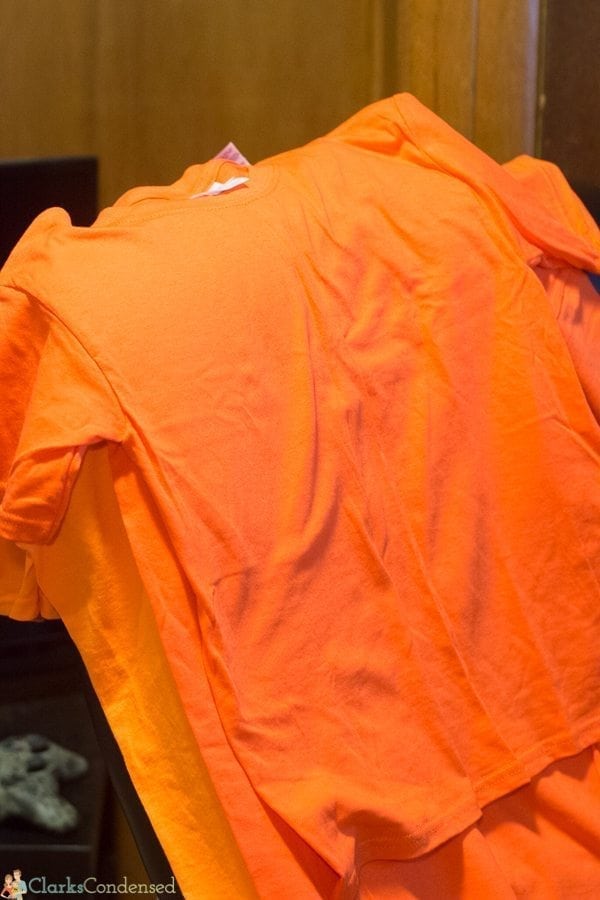 So for this project, you'll just need your Silhouette machine, a couple of orange t-shirts (make sure you pre-wash them), black heat transfer vinyl, and an iron. If you have never worked with Heat Transfer Vinyl, be sure to check out some of my tips in this gender reveal onesie post. You can make the shirts without a Silhouette machine, but you will need to cut out the patterns yourself.
Step One: 
First, you'll need to go into the Silhouette store and select a Jack-o-lantern face. They have a bunch of different ones available! If you type in jack-o-lantern and scroll down a bit, you can find an option for building your own jack-o-lantern, and different files that you can download. For easy access to all the options, you can click here and near the end of the page, you can see all the files in this family of files. I like that they have a bunch of different options so you can customize the look of the shirt for each family member.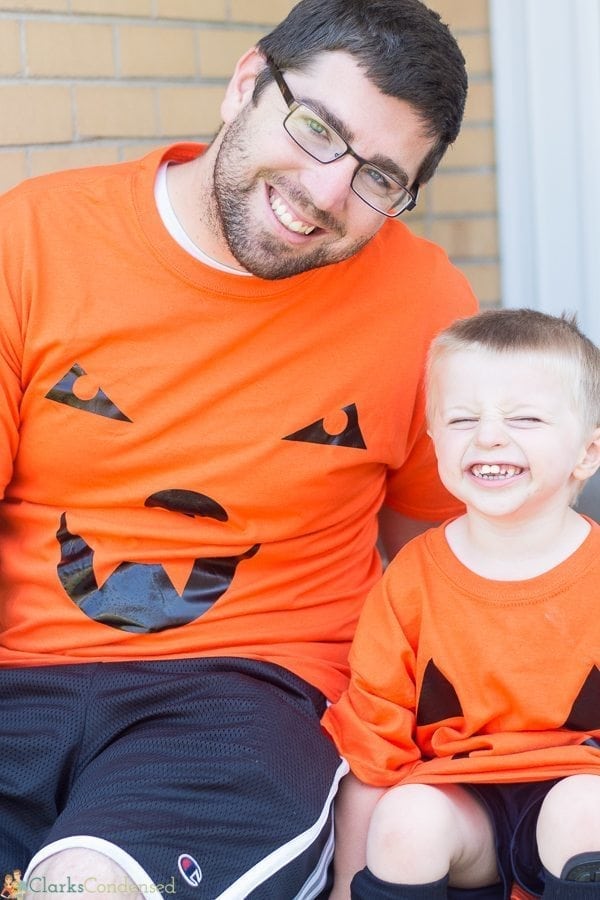 Step two: 
Download these files and open them up in your Silhouette studio. Each of the Jack-o-Lantern files we used had a few different options, so make sure you click on the image, go up to "Object" menu and select ungroup. I had to press ungroup twice before I was able to individually delete the files I didn't want!
If necessary, mirror the images in Silhouette Studio. I didn't find this step necessary because all of the faces we chose were symmetrical, but if this isn't the case, make sure you mirror!
Step Three: 
Send the files to cut – make sure that you have heat transfer vinyl in the machine and the settings for the blade are adjusted. We used Expressions Vinyl black HTV, and it worked great. Make sure the side with the plastic is facing down!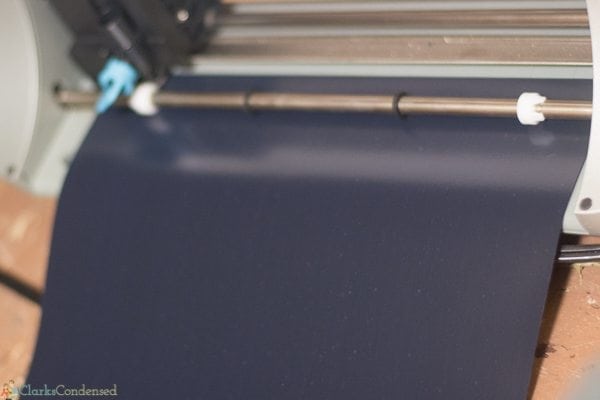 Step Four:
Weed out the excess vinyl, leaving just the faces on the plastic.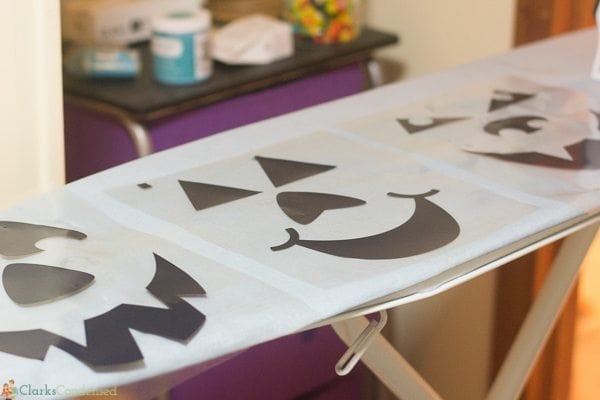 Step Five:
We cut out each piece of the face individually so we could place them further apart on the shirts.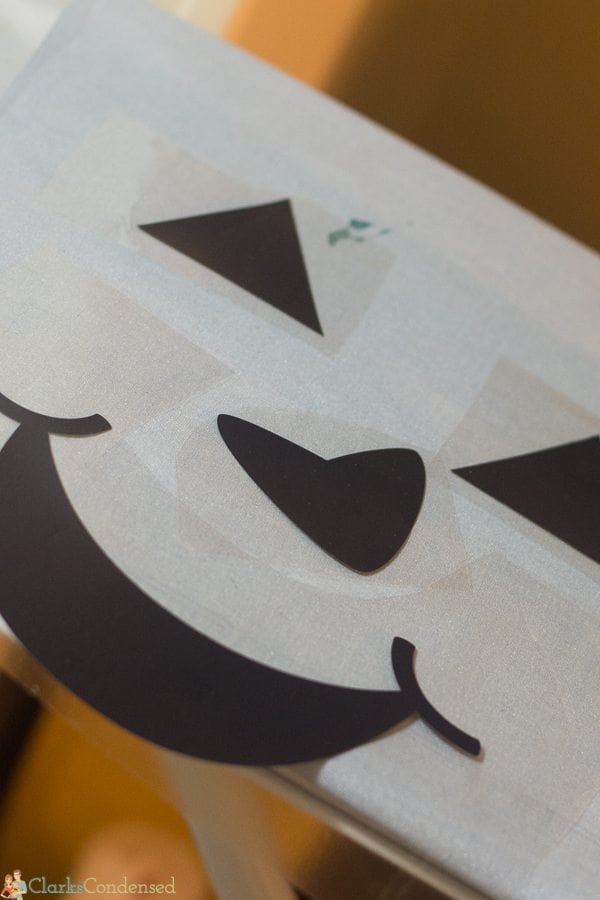 Step Six:
Iron on to the shirt – make sure you have a thin cloth between the HTV and the iron!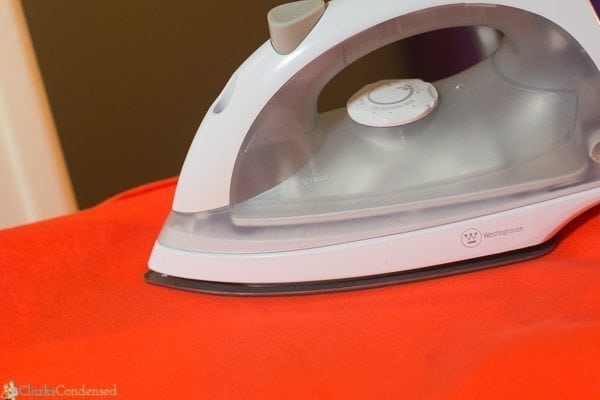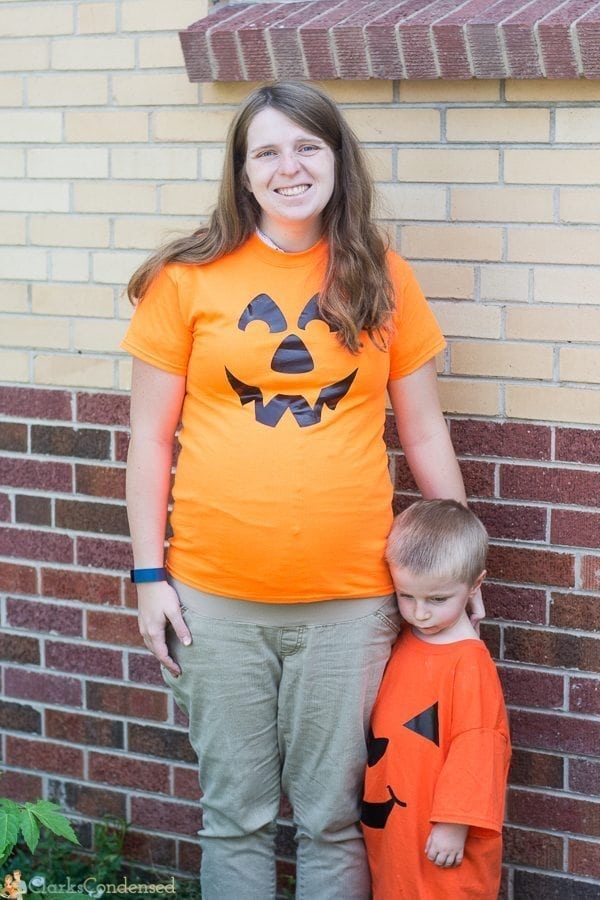 We plan to wear these t-shirts and enter the photo into the #GildanFavorites sweepstakes! All you have to do is follow @GildanOnline on Instagram or Twitter, take a picture of a favorite moment in your hometown or at a Triple-A baseball game, and then post it to Instagram or Twitter with the #GildanFavorites hashtag. One winner will get an all-expense paid trip for 2 to one of five fan-favorite cities!
Did you know that Gildan is the official sponsor of Triple-A Baseball? The Triple-A Baseball National Championship Game is September 22nd in El Paso, so it's another fun fall event to look forward to. I come from a big baseball family, so it will be fun a game to watch.
This is a sponsored conversation written by me on behalf of Gildan. The opinions and text are all mine.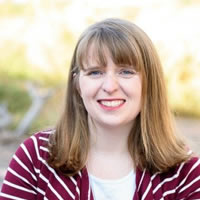 Katie is a Colorado-native, BYU graduated, and most importantly, wife to one and mother to three beautiful boys. She is passionate about sharing her experiences with others – especially about pregnancy, breastfeeding, cooking, and crafts. She is an International Board Certified Lactation Consultant. She loves spending time with her family and helping others find joy in family life.