As a mom of 3 kids and blogger at Practical Parenting, I feel like time gets away from me during the holidays with all the busyness of the season. That's why I love easy crafts like these DIY Bead Ornaments that will keep the kids busy and entertained! My kids enjoyed making them for over an hour.
Supplies:
Craft wire (I used 20 gauge)
Assorted beads 
Wire cutters
Instructions: 
Cut your wire to desired length, allowing extra space for the ends
Bend one end into a loop shape (larger loop for hanging on the tree or smaller loop if you plan to tie a ribbon on the end)
Give the kids beads and wire to string them onto
Secure the end of the wire once all the beads are on
Shape into a spiral Christmas tree or circle wreath (you could also try a candy cane or other shapes, but we couldn't get a star to work very well)
Add ribbon or other personal touch
Hang on the Christmas tree and you have a fun ornament!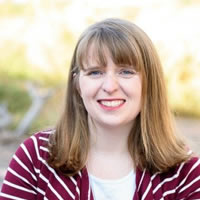 Katie is a Colorado-native, BYU graduated, and most importantly, wife to one and mother to three beautiful boys. She is passionate about sharing her experiences with others – especially about pregnancy, breastfeeding, cooking, and crafts. She is an International Board Certified Lactation Consultant. She loves spending time with her family and helping others find joy in family life.