Is Going Cable Free Really Cheaper? Dish Network Review and Comparison
Thank you to Dish for partnering with us on this post to help people decide which entertainment option is best for them! 
For a few years, we went without any type of cable or satellite.
But when we moved to our new home last year, we were presented with what seemed like an amazing cable TV option.
Unfortunately, looks can be deceiving, and it about drove us back to our cable-free lifestyle. However, after hearing about how Dish has been revamped in recent years, we figured it was worth a shot.
After reacquainting ourselves with Dish, we learned that today's Dish is not the Dish Network of our childhood. You no longer have to fight over who gets to record their show because of Prime Time Anytime.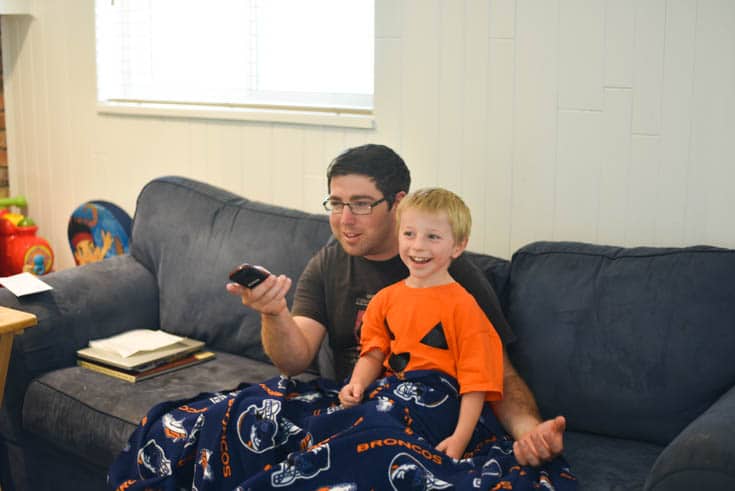 You don't have to search forever for a lost remote – your Hopper 3 box will find it for you. You can watch content from all sorts of devices whenever you want using Dish Anywhere.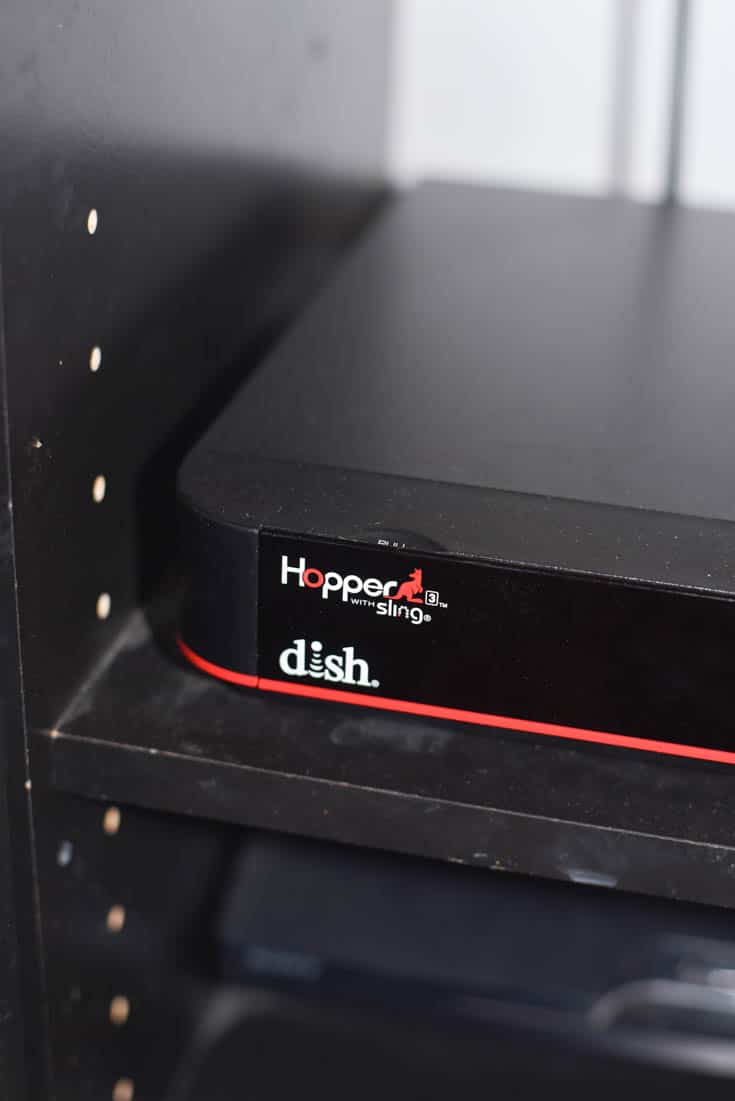 When considering the cost of something I frequently remind myself that time is money, which is especially true for someone like me who is self-employed. Paying a little more to simplify your life can save you money. You might even pay less with Dish if you're currently paying for several different streaming services that still force you to go buy overpriced food at a bar or restaurant to watch your live sports.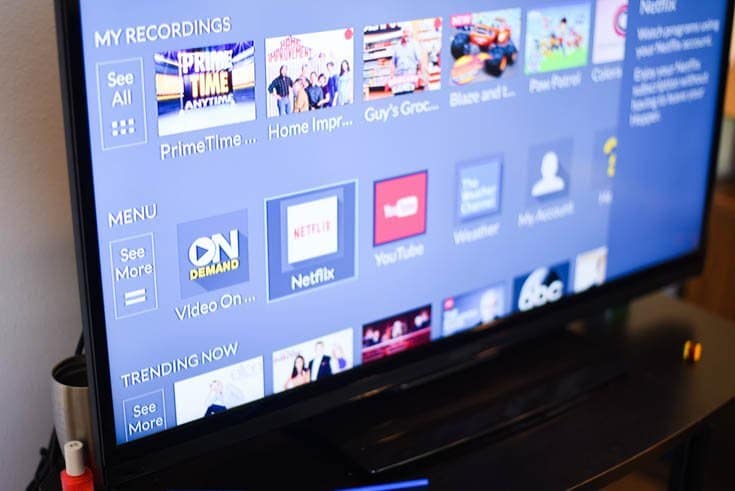 Since we've been happily using Dish for several months now, we thought we'd share some thoughts on why – if you like to watch a variety of television but are looking for the best option – you may want to consider Dish.
During our time with no satellite television, we discovered this:
Hulu only has content from certain channels.
Netflix is hit or miss, and a little more miss than hit for us a lot of times.
Netflix and Amazon are trying to create their own unique content, but they seem to include more swear words, graphic violence and nudity than regular television.
CBS All Access is literally content from one channel, a channel I really like. Even if you paid for all of those, you wouldn't get any live sports.
If you want to get a Dish like a channel selection (which many people seem to) without Dish you'll still end up paying a pretty penny – just divided up to about a half dozen different sources, making life a little more complicated. You also have to have streaming devices for every TV, as well.
The allure of having all the different sources is the lack of commitment. However, Dish Network now locks your price in for the duration of your contract, so you know your price will be the same the whole time. Streaming companies like Netflix and Hulu are constantly changing their prices!
DISH Cost Comparison:
The most popular package is $54.99, and it includes 190 channels, which includes America's Top 120 channels.
If you want DVR, there is an additional fee.
Here are all the details for different packages – you can find even more information here. They have varying features, but DISH Anywhere (which can be used with your Roku app), Free HD, over 3,500 of On Demand features, and more are included with them all.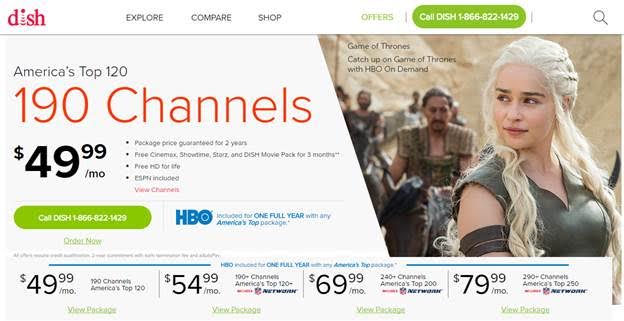 Now, to compare the alternative options: 
As we already mentioned, all of these different streaming options offer different things – so in order to even get close to what Dish offers, you'll have to get a variety of these options.
Netflix- $7.99-$11.99 a month
Hulu+ – $7.99-$11.99 a month – depending on if you want commercials or not (rumor has it that Hulu will be offering live TV for $39.99…and I'm sure it won't be nearly as feature rich as Dish!).
Amazon Prime – $99 a year or #10.99 a month
RedBox -average of four a month – $1.50-$2 (depending on blu-ray or not)
Sling – $20 to $40 a month
CBS All Access – $5.99 to $9.99 a month (depending on if you want commercials or not)
Cheapest – $58.96
With that said, I'm noticing more networks and TV shows opting out of being apart of things like Hulu. For instance, Jane the Virgin, which is on CW, is no longer available through Hulu – they insist that you watch it through the CW app, which makes you watch all the commercials.
I have a feeling television networks will go the way of CBS All Access and start charging for their network individually, which will only drive up your monthly cost altogether.
Obviously, if you aren't a big TV or movie watcher….you may not need to buy all of the options above. And if not? That's totally fine. However, if you are wanting to get a Dish-like experience by going Cable or Satellite free…the price difference isn't substantial, especially when you factor in the convenience.
Exclusive Current Dish Offers
Here are the most current exclusive DISH offers (these end July 30th, 2017). These are available for new customers only.
Free TV Mounting: This offers new customers professional TV mounting – mounting bracket included. This is a $200 value offer. You can signup for this offer here with the code MOUNT4753.
Polk Soundbar: Dish will install a wireless sound system to help enhance the viewing of your entertainment system. This is a $200 value offer. You can signup for this offer here with the code DISHSOUND967.
Free Bluetooth Headphones: Free noise reduction, Bluetooth headphones – $100 offer! You can signup for that offer here with the code BTOFFER852.
If you are trying to decide between Dish and a competitor, you can compare their prices and features here.
Benefits of Dish Network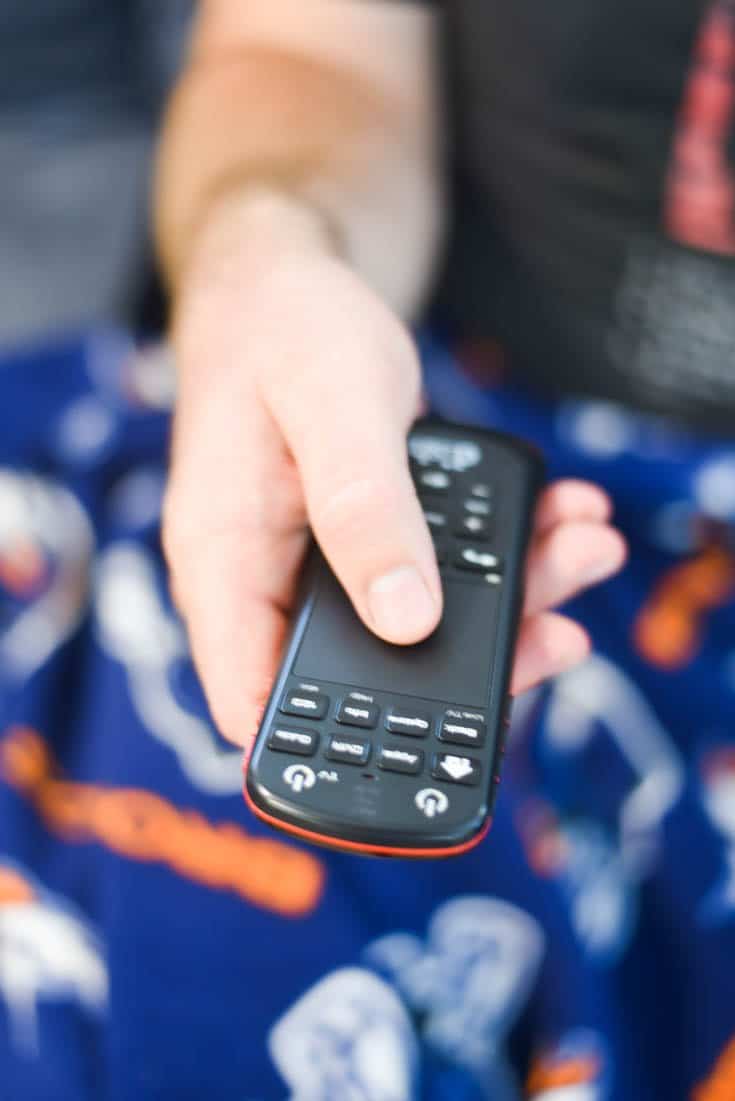 Now that I've done a bit of a price comparison, I wanted to share a few other benefits that we've been enjoying from Dish Network. They are features that we really enjoy, and that I feel can justify the cost.
Flexible – You don't have to just watch what is on right now.
DVR and OnDemand content is just as available on your schedule as internet streaming services.
Some channels and streaming services only let you watch the five most recent episodes. If you have your DVR set, then you could record much more.
Dish's Hopper has Primetime Anytime which records primetime content from a lot of channels for later viewing.
Dish's Hopper 3 makes Dish's new service completely different from what I remember Dish to be like when I was a kid. It has 2,000 hours of recording power, and record up to 16 shows at the same time.
You can rewind the show you are currently watching, and you can have that going on two different receivers at the same time.
Mobile – You don't just have to watch Dish at home.
With Dish Anywhere you can get live and recorded TV almost anywhere and on any device.
You can watch shows while commuting, waiting at the doctor's office, or sneak a peak of a game while at work.
Simple – Simple things save you time, which saves you money.
With Dish you can look to one source for all of your digital content. No need to sign up for four different streaming services to try to get a full range of content.
The Hopper 3's auto hopper is one of the greatest things to have ever been invented. For select shows it will automatically skip over commercials for you!
Streaming video from services like Netflix and Hulu can eat up your bandwidth and make doing other things online difficult. Streaming from a satellite dish frees up bandwidth.
The Hopper 3 has a button you can press that makes your remote beep. I'm not sure why someone didn't add this to set top boxes sooner!
You don't have to call in and haggle about pricing every month. You can have your price locked in for at least two years. Pricing issues doesn't just apply to cable and satellite providers. I've had a digital sports content provider charge me incorrectly for months, it was maddening!
Install is super simple, and easy to do. Professional installers came to our house, did a perfect job the first time, and didn't have to call afterward to have anything fixed!
You can rely on the quality of your videos. If your internet is like ours, sometimes your router decides it can only stream in SD instead of HD. Sometimes it decides it won't stream at all.
Access – Dish gives you authorized access to content in apps and on content provider sites.
I especially like this for logging into sports apps like WatchESPN, NBCSports, Fox Sports Go, etc.
There are channel-specific apps like the CW, Syfy Now, etc.
There are even kids apps like the Disney Channel and Nick Jr. apps.
You never know when a news story breaks, a certain show becomes popular, or your local team suddenly makes a run deep into the playoffs. If you already have the access, then you don't have to scramble to figure out how to watch the content you want.
Consolidation – Everything can be in one place.
The Hopper 3 even has Netflix installed on it. You don't have to get a separate streaming device so you can keep your Netflix.
Dish has a huge variety of channels. You don't have to sign up for CBS All Access, Hulu, Amazon, Netflix, NBA League Pass, and MLS Live.
I can almost always find something I want to watch with Dish. It isn't like cheap hotel cable, where there aren't a lot of channels and they all have lame content.
Everything is easy to find with a voice remote search. It will search your guide, DVR, Netflix, and OnDemand shows. It makes having a huge amount of content available easy to navigate.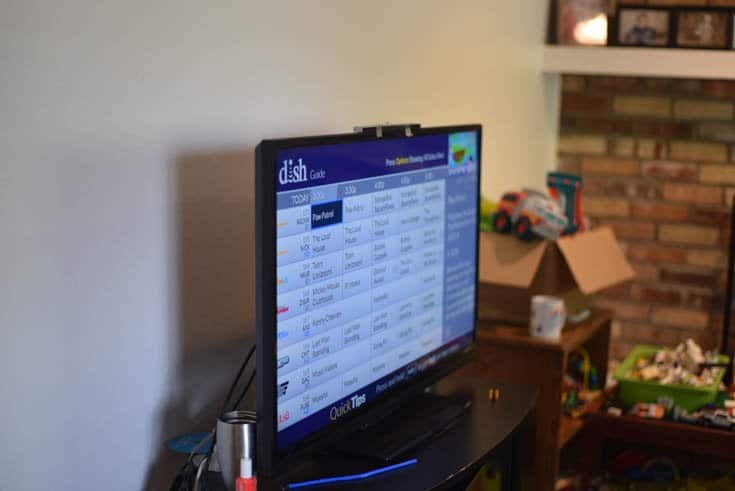 Do we believe that everyone needs to get Dish as opposed to other streaming services available? No. If you only watch one show, and it's available through your antenna or Hulu…then maybe Dish isn't right for you.
However, if you are looking for flexibility, shows from a variety of networks, and you want the ability to simplify and watch shows wherever and whenever you want, Dish may be the right answer for you – they are aware of the competition, and they are doing so much to make sure they offer top-notch offerings to everyone.
Not to mention their customer service is the best we've gotten in a long time from a networking company. We've been blown away – and that's saying something. I am very particular when it comes to customer service!
Forrest lives in Colorado with the wonderful Katie Clark and their two sons. Forrest was raised in North Carolina, graduated from BYU with a degree in political science, and loves to dabble in lots different things. Plus, he is a big MLS fan.