If you are looking for a classy dessert that doesn't require much work, you don't want to miss this dairy free panna cotta recipe. It's made with almond and coconut milks, and the raspberry gelee on the bottom is delicious. We made it a chocolate panna cotta by using chocolate almond milk. The perfect dinner party dessert!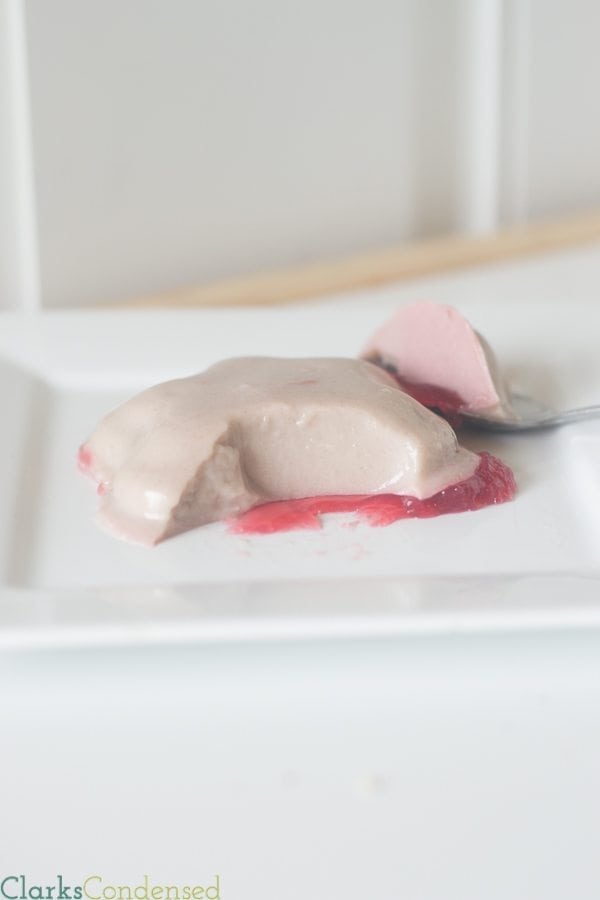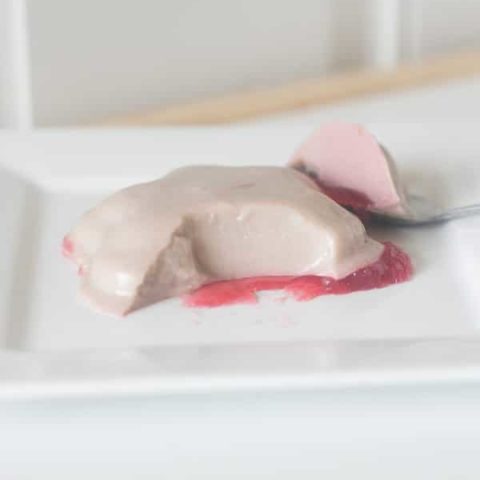 Dairy Free Panna Cotta with Raspbery Gelee Recipe
Ingredients
Panna Cotta
1/3 cup dark chocolate almond milk, or regular almond milk if you don't want it chocolate flavored
1.5 teaspoon unflavored gelatin
2 cups coconut milk cream, let a can of coconut milk settle in the refrigerator - I used two cans to get two cups
1/2 cup white sugar, 1/4 cup if you want it a little less sweet
1 1/2 teaspoon vanilla extract
1/4 teaspoon salt
Raspberry Gelee
6 ounces Driscoll's Raspberries
1 teaspoon unflavored gelatin
1/4 cup water
2 teaspoon lime juice
1/4 cup sugar
Instructions
Panna Cotta
Sprinkle gelatin over milk in a bowl and let settles for about 5-10 minutes.
Pour the mixture into a large sauce pan and heat over medium heat. Stir for about five minutes until the gelatin is dissolved and it starts to simmer. DO NOT LET BOIL.
Add coconut cream, sugar, salt, and vanilla. Stir for about another five minutes (make sure all the sugar is dissolved.)
Remove from heat and let the mixture cool to room temperature - about 20 minutes.
Pour into the dish of your choice (see end of post for recommendations). Leave enough for about an inch of the gelee.
Place in refrigerator and let set for at least four hours - preferably over night.
If you aren't using the gelee, you can eat as soon as they are set!
Raspberry Gelee
Place raspberries, lime juice, and sugar in a sauce pan and bring to medium heat.
Mash the raspberries a bit and bring the mixture to a simmer for about 5 minutes. DO NOT BOIL.
Add gelatin and water.
Stir until everything is dissolved and there are not large chunks of raspberries.
Remove from heat and use a strainer to separate the seeds from the raspberry sauce.
Bring to room temperature (about 15 minutes)
Pour on top of the already set panna cotta.
Place in refrigerator for 1-2 hours, or until set.
Do you ever have one of those ideas that you think sounds awesome, but you aren't sure how it will turn out? That's how this dairy free panna cotta recipe came to be. I'm participating in a fun Driscoll's Raspberry contest from the Culinary Content Network, and I was trying to come up with something a little creative, yet still delicious. A few weeks ago, we tried out the Oregano Italian Kitchen in Provo, and Forrest and I shared a delicious panna cotta for dessert that evening. I've been wanting to make it ever since, so I thought this competition was the perfect time
Panna Cotta is a lot less complicated than you might think. It's really just a few ingredients – the hardest part is waiting for it to all set up. Most panna cotta recipes I've found are vanilla and served with fresh berries, and they are full of dairy. Since dairy bothers me, I have been avoiding large quantities of it when I can. So I thought it would be fun to try and make a dairy free panna cotta recipe. There weren't a lot of recipes for it out there (and the ones I saw didn't look like they set up), but I figured it was worth a try. I also wanted to make chocolate panna cotta instead of vanilla!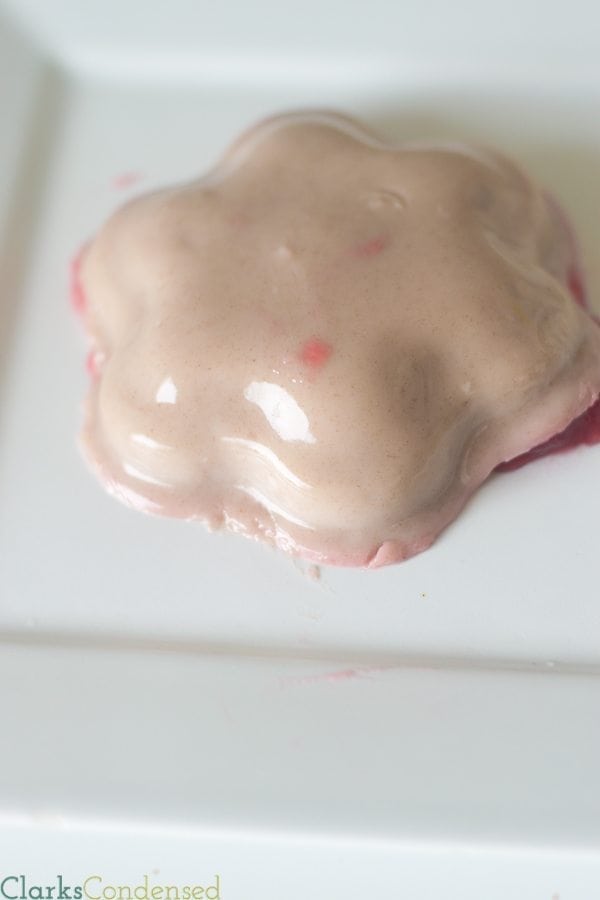 I also thought it would be fun to do something a little different with the raspberries that I wanted to put on it – instead of just making a sauce for the top, I decided to make another layer that would be part of the panna cotta – a raspberry gelee. It was super simple and turned out well. Something kind of humorous about making it though – I was doing it late at night, and I turned the wrong burner on. I got to the point of straining the seeds out of it, when Forrest mentioned that he didn't think the burner I was using was on. I went to touch the gelee, and lo and behold, it was cold! Good thing I have Forrest to set me straight!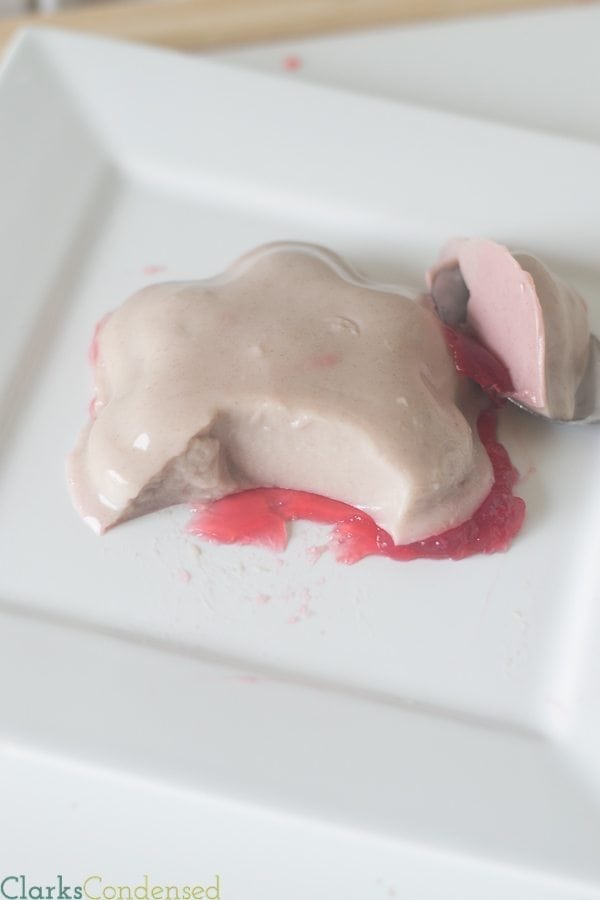 I was so excited to see all my dairy free substitutes (coconut milk cream for the heavy cream, and almond milk for the evaporated milk) worked out perfectly. I actually made this a chocolate panna cotta using chocolate almond milk, and it was divine. Unfortunately, I didn't make the best choice when it came to the mold I put it in. I used this mini cake cake pan that I got awhile back, which made it somewhat difficult to get out of the pan. I also didn't put any olive oil or cooking spray (which I found out afterwards is recommended) into the molds. I realized I should have chosen something else, so these didn't turn out as pretty as I would have hoped. However, they were delicious, and if you make it, just make a better decision when it comes to the dish you use to have it set in – here are some suggestions.
Recommended Dishes for Panna Cotta
Clear glasses (wine glasses work great)
Silicone mold
Simple ramekin – sprayed well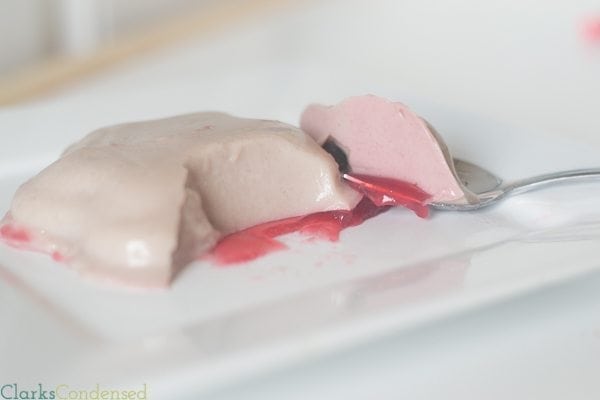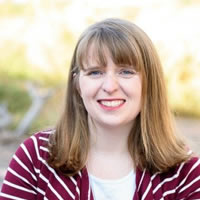 Katie is a Colorado-native, BYU graduated, and most importantly, wife to one and mother to three beautiful boys. She is passionate about sharing her experiences with others – especially about pregnancy, breastfeeding, cooking, and crafts. She is an International Board Certified Lactation Consultant. She loves spending time with her family and helping others find joy in family life.