Chilaquiles are perfect for breakfast or dinner and can be as spicy or mild as you want. It is a very simple meal, made with corn tortillas, shredded chicken, and salsa.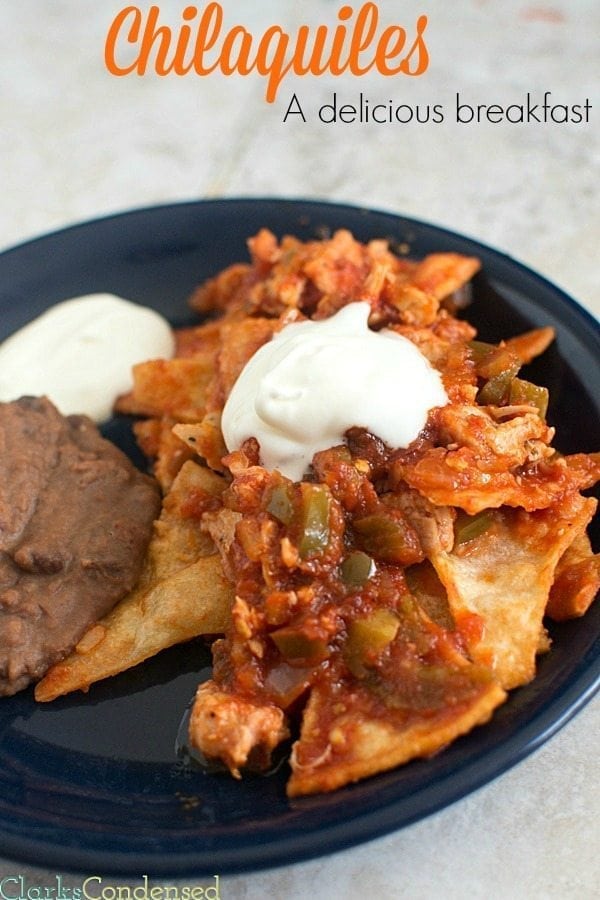 Back when I was a freshman ni college, my brother and I would have American Idol nights.
Basically, I would go over to his apartment, we would have a delicious dinner and watch American Idol. I always looked forward to it (especially for the yummy food.)
About halfway through the year, he started dating Charbel, his then-girlfriend (now wife.)
She was always giving him yummy recipes to try out and one of them that I loved the most was chilaquiles.
He made it several times, and it was definitely one of my favorites. It was so simple and easy but also full of flavor.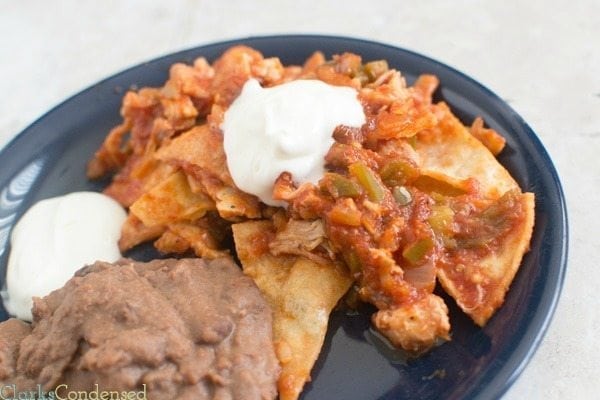 When we went down to Mexico for their wedding, I had chilaquiles for breakfast almost every morning at the hotel restaurant. I couldn't get enough.
However, since then, I haven't had them and really hadn't thought about them for some reason. I got really sick while we were in Mexico, and I think part of my just blocks out all the different food we had down there. Ha!
However, a few days ago, I really, really wanted chilaquiles for some reason. So, I decided to look around at some recipes.
A lot of them felt overcomplicated and had you make your own sauce…which is fine, if you aren't just wanting a quick meal like I was.
So after I took out the complicated salsas (and just used some store-bought salsa), and it was one of the simplest meals ever.
Chilaquiles are typically cooked more often for breakfast…but we made it twice for dinner in the last week. You can put eggs in them if you want, to make it seem more breakfast-like, but we just used shredded chicken.
To make it even simpler, we used some store-bought shredded chicken. It was delicious and there was hardly any prep time!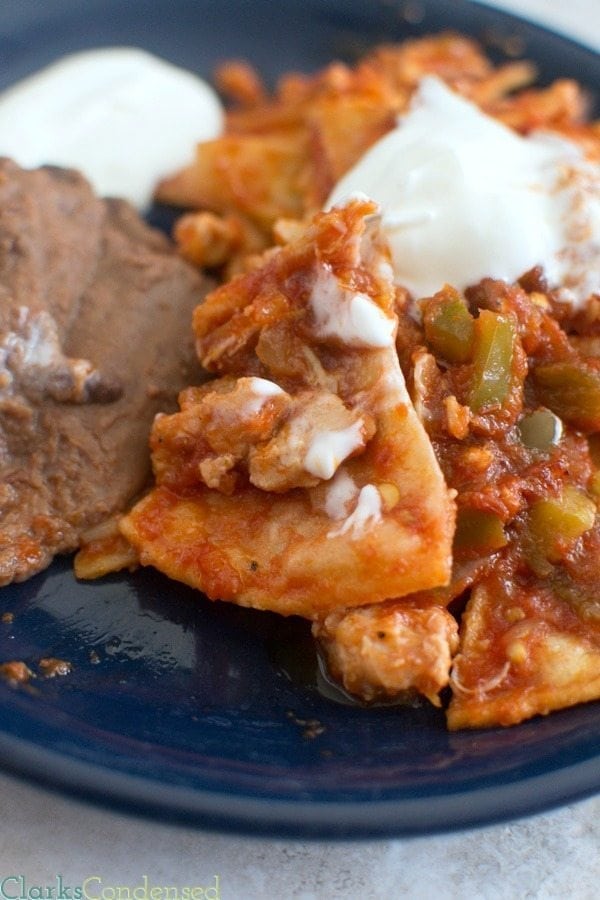 We served it with some refried black beans (that I mixed with about a tablespoon of crema) and then crema on top. It was a delicious and filling meal!
You can use red or green salsa. I like it best with green salsa, but when I made it for pictures, all I had was red.
It was still delicious! I also wanted to put cotija on top, but we were out when I took these pictures as well — but I put that in the ingredient list because I think it's a great finishing touch.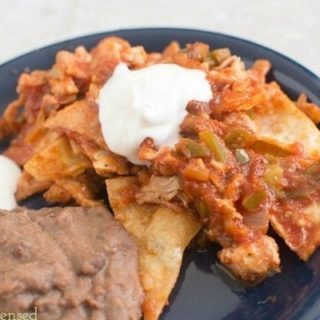 Chilaquiles
Ingredients
5 corn tortillas
olive oil
1 to 1 1/2 cups red or green salsa, if you don't have salsa, you can use enchilada sauce...just throw in some chopped onions to make it a little more chunky!
1 1/2 cups shredded chicken
Cotija
Crema
Instructions
Cut corn tortillas into small triangles.
Fry triangles in olive oil. Place on a paper towel.
Without removing the excess olive oil, place the salsa into the skillet. Cook over medium heat for a few minutes, stirring constantly so it doesn't stick to the bottom of the skillet.
Add in fried tortilla triangles and warmed shredded chicken. Cook until tortillas are a little bit softer, but not soggy.
Serve immediately. Top with cotija crumbles and with a dollop of crema.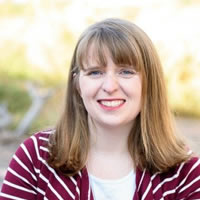 Katie is a Colorado-native, BYU graduated, and most importantly, wife to one and mother to three beautiful boys. She is passionate about sharing her experiences with others – especially about pregnancy, breastfeeding, cooking, and crafts. She is an International Board Certified Lactation Consultant. She loves spending time with her family and helping others find joy in family life.