Decadent, sweet, and very chocolate-y, this cherry chocolate pie recipe has all the elements of the perfect cherry pie. Cherry pie filling, tart cherries, and chocolate,  topped with a crispy, graham cracker crust, this is one recipe you'll want to make over and over again (be sure to make a copy of the recipe — people will be asking for it!)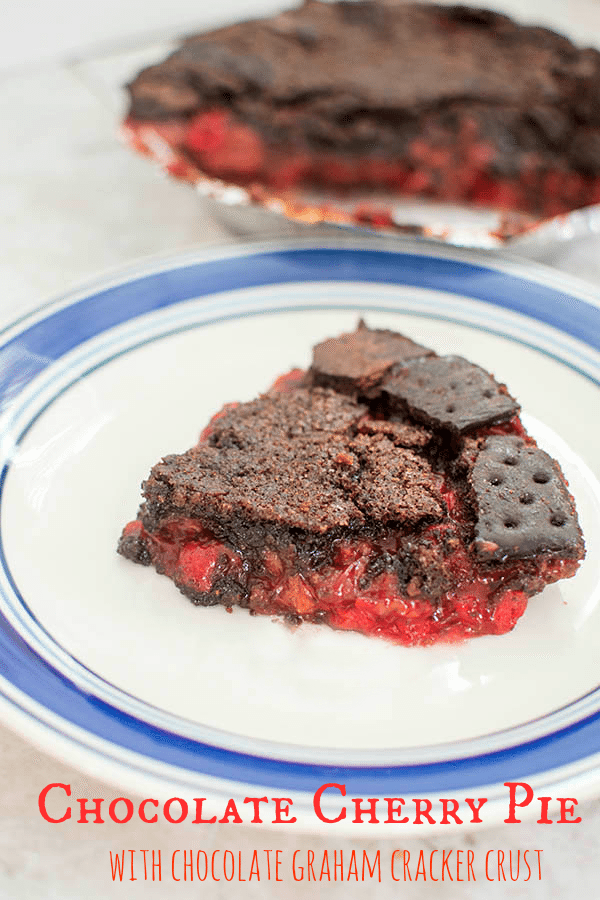 Happy Pi Day! Until this year, I've pretty much let this day pass by. Perhaps because I have a strong dislike for math…but mainly because I just don't think about it! But this year is a little different. You see, my friend Julie over at White Lights on Wednesday decided to host a pie party — she and her fiance are getting married next year on Pi Day, so she thought this was the perfect way to celebrate. And I agree — whoever said pies should just be served at Thanksgiving?!
Something you should know about how this blog works, is that, even though I write and photograph most of the posts, Forrest comes up with many of the ideas. Whenever I am supposed to come up with a specific type of recipe, Forrest is usually the one with the best suggestions. This cherry chocolate pie recipe is absolutely to die for! I mean, anything that combines chocolate with cherry has to be good, right?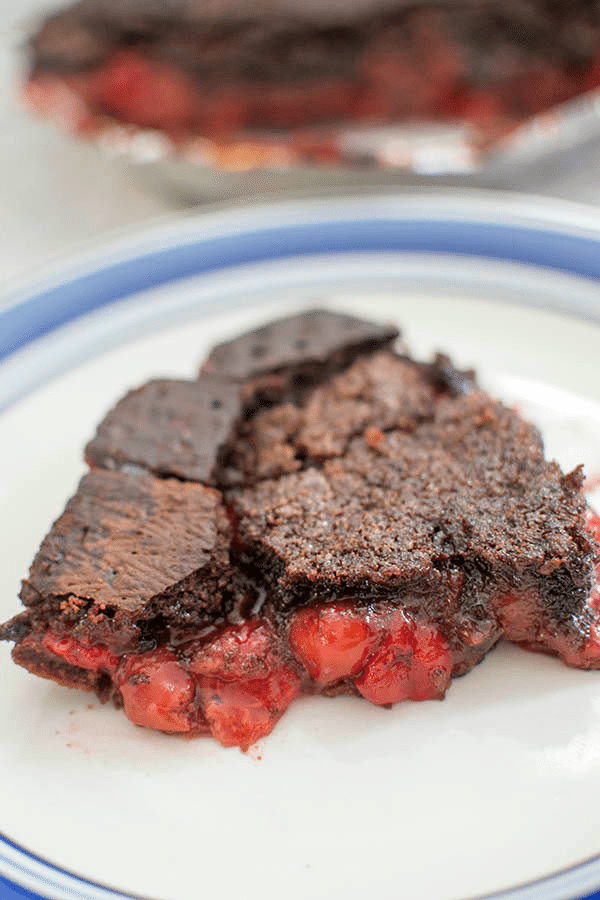 Now, when you look at this pie, you might think, "That doesn't look like a cherry pie!" And you'd be right. Because it doesn't! It doesn't have a traditional, lattice top, and it's probably a little more crumbly than other pies…However, don't let that deter you, because it's so good. You might just be requesting chocolate cherry pies from now on.
While it tasted amazing each time, it took a couple trials to get it right. However, what we ended up with…I promise it's good! It might just be the best darn chocolate cherry pie you ever will eat. Here is our first attempt. Yummy, but not as good as our final try! As you can tell, the top was a little more crumbly and granular. It didn't set up quite right and just kind of sunk in with the cherries. It turned into more cherry brownies, rather than a cherry chocolate pie.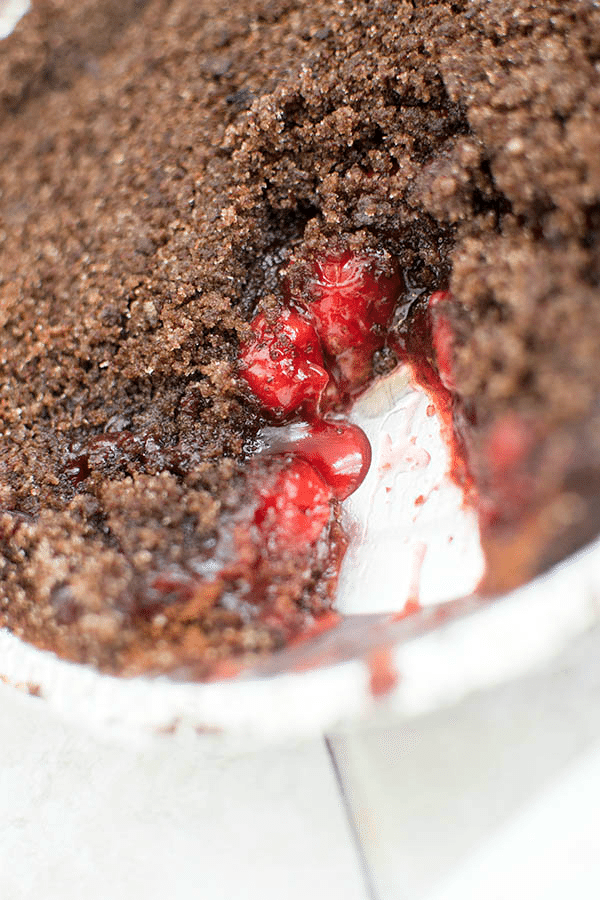 And while the cherries are obviously going to be the star of the pie…I have to say, I'm quite partial to the graham cracker crust we made for the top of the pie. It was so yummy, and really helped make this pie even more decadent. I might admit to eating that crust without the rest of the pie a little bit! We also put broken graham crackers around the edges just for fun — it turned out to be a tasty addition, as well.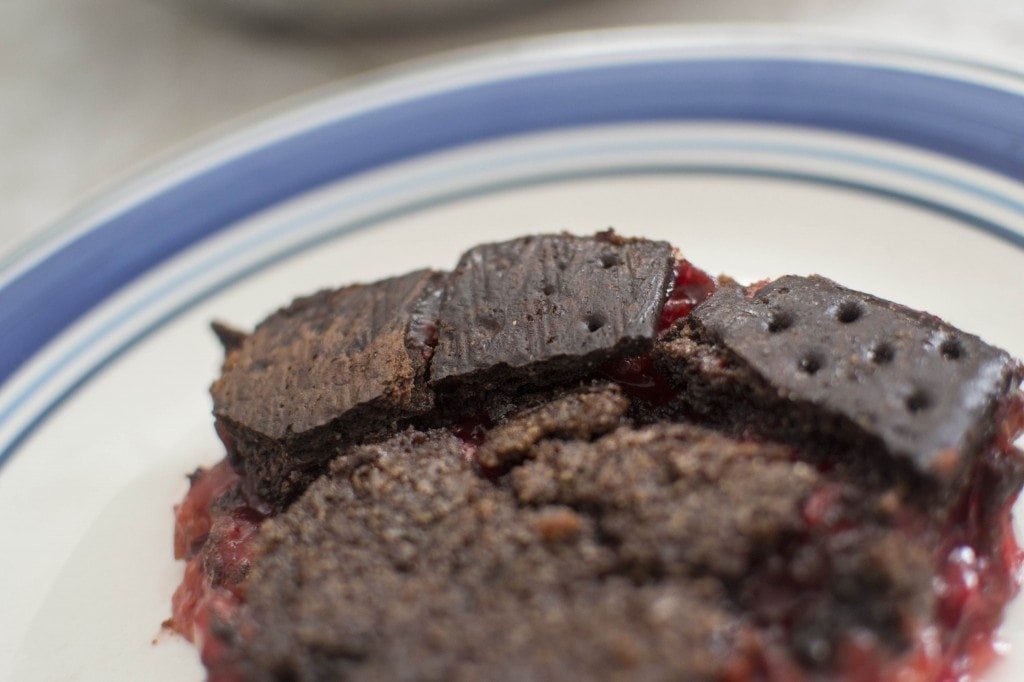 During the creation process, we discovered a few handy tips on how to a cherry pie (most specifically making a cherry pie with pie filling):
Tips for Making a Cherry Pie With Pie Filling
Don't just use a can of pie filling. Combine it with a can of tart pitted cherries. These can be found in the canned fruit aisle. Make sure to get the ones that are just cherries + water. I don't know why adding these makes a difference…but it does. It takes your pie from being yummy, to fantastically amazing!
Use tapioca flour to thicken the pie filling. We found a lot of people recommending using tapioca pearls and grinding them up…but that seemed hard and pointless, especially when we found Bob's Red Mill Tapioca Flour at our local grocery store (just a Kroger affiliate store!) Apparently tapioca = key in pie making.
Make sure the crust on top is sturdy and won't collapse when  you take it out of the oven. One tip I found was to just use another pie crust on top.
Letting it cool will help the filling thicken up even more
Brushing the crust with egg white will help prevent the crust from getting soggy. Soggy crusts = no bueno.
Have a sturdy pie server! This is much easier to use than an old, plastic spatula (or am I the only one who uses those?)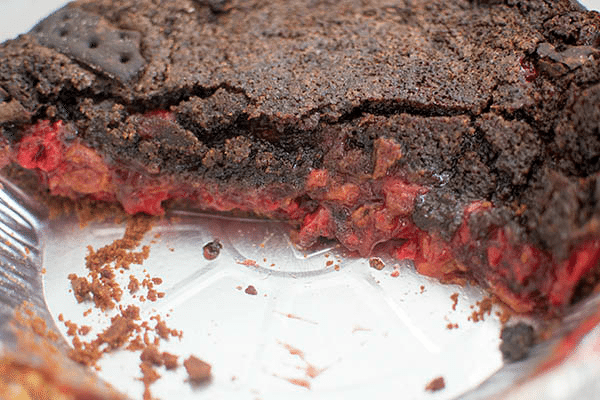 Now excuse me, while I go have one last bite as a midnight snack (don't tell anyone!)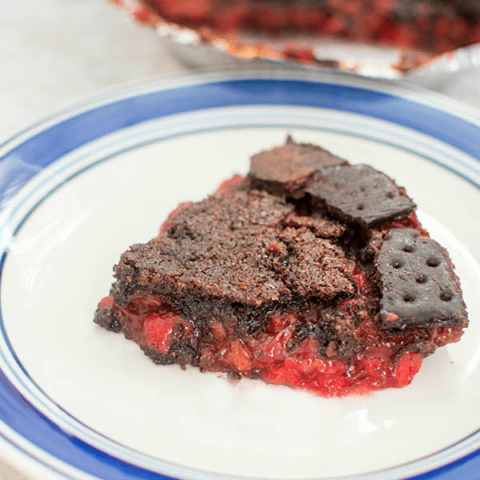 Cherry Chocolate Pie Recipe
Ingredients
1 21 ounce can of cherry pie filling
1 can, 14.5 ounce red tart pitted cherries, drained (use the kind that is just cherries and water)
1/2 cup Bob's Red Mill Tapioca Flour
1 6 ounce chocolate ready-to-eat pie crust
1 egg white + 2 teaspoons canola oil + 1 teaspoon cocoa powder
8 chocolate graham crackers, + 2 other ones
1/2 cup of sugar
2/3 cup of butter
1/2 cup Bob's Red Mill Tapioca Flour
Instructions
Preheat oven to 425 degrees F
Mix pie filling and tart cherries together in a bowl.
Add tapioca flour to the mixture. Stir.
Mix egg white, canola oil, and cocoa powder together in a small bowl.
Brush pie crust with mixture until evenly moistened.
Put in oven for 2-3 minutes to help crust firm up.
Crush 6 chocolate graham crackers. Place in an electric mixer.
Dice the butter and add to graham crackers.
Add sugar to mixture.
Mix until the mixture has crumbled together.
Add pie filling to crust.
Add graham cracker mixture on top. Add broken graham crackers around the edges (if desired)
Cover with tin foil and bake for 20 minutes. Remove tin foil and cook for 20 more minutes.
Can be served warm, but will be easier to cut if cooled!
You can see all the amazing pie recipes being shared today by clicking the images below.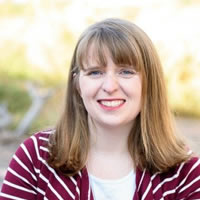 Katie is a Colorado-native, BYU graduated, and most importantly, wife to one and mother to three beautiful boys. She is passionate about sharing her experiences with others – especially about pregnancy, breastfeeding, cooking, and crafts. She is an International Board Certified Lactation Consultant. She loves spending time with her family and helping others find joy in family life.