A great basic truffle recipe that anyone can master!
Basic Truffle Recipe
Ingredients
1 1/2 C semi-sweet chocolate chips
1/2 C heavy cream
4 Tbsp butter
1 Tbsp cocoa or coffee powder
1 tsp vanilla extract
cocoa powder for dusting
chopped toasted hazelnuts for rolling the truffles in
Instructions
Add all ingredients except the vanilla to a double boiler or use a large heat proof bowl (such as Pyrex) placed over a small saucepan with 1/4-1/2 inches of water.
Heat and stir until the chocolate and butter are melted and smooth. Remove from heat and stir in the vanilla extract. Set aside until room temperature and refrigerate until cold.
Scoop the chocolate and roll into 1 1/2 inch balls. Roll truffles in desired toppings. Refrigerate truffles up to 2 weeks and serve at room temperature.
Decadent, rich chocolate truffles make an impressive homemade gift.
Hi guys, this is Sharon from What The Fork Food Blog! I'm so excited to share with you one of my favorite homemade Christmas gifts, Chocolate Truffles! Not only are these chocolate truffles decadent, super chocolaty and melt-in-your-mouth irresistible, they so easy to make! Really!
These chocolate truffles are a show-stopper holiday gift. They look so good they almost look store-bought. And that's a good thing because store-bought almost always means they look perfect, amiright?! Not to mention, the person on the receiving end of these chocolate truffles will be so impressed because lets face it, making your own truffles sounds so gourmet.
When I said these are really easy to make, I meant it. Would you believe this was my first time ever making my own chocolate truffles? You'd never guess by how they look! As I said, they're easy. The extent of making your own truffles involves heating chocolate, butter and cream together until all the ingredients are melted and combined. Then you refrigerate until chilled. Scoop, roll, and eat. Or give them away. Or both! See how easy it is? There isn't even any baking involved and easy homemade gifts are right up my alley since there are approximately 5200 people on my gift list.
5200 might be an exaggeration but I do make dozens upon dozens of cookies and fudge every year for family and friends. I love it, but it's very time-consuming. It truly is a labor of love. This year, these truffles will be at the top of my gift giving list. I have a bunch of chocoholics on my list so this is sure to be a winner. I rolled my truffles in the traditional toppings, chopped hazelnuts and cocoa powder. You can do the same or you could choose your toppings to suit the taste of whomever you're making them for. Chopped mints, coconut, almonds or pecans would be great toppings as well. Have fun with the flavor combos or make the more traditional variety. Also, be sure to check out some of my treats perfect for gift-giving below. Enjoy!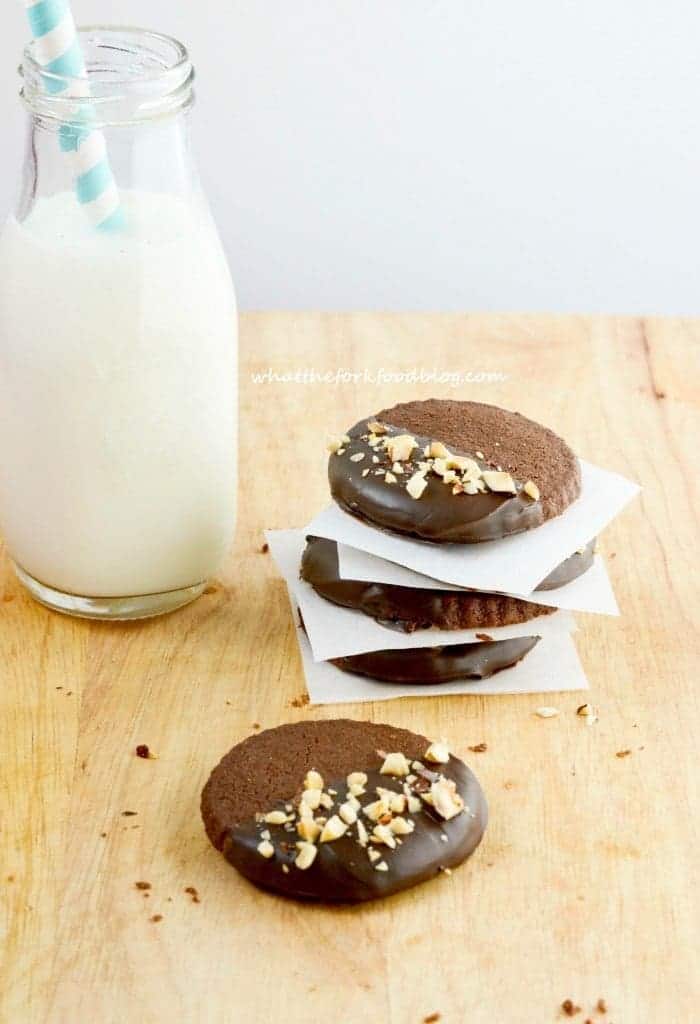 Chocolate Hazelnut Brownies from What The Fork Food Blog
Chocolate Chip Cookie Sticks from What The Fork Food Blog
Katie is a Colorado-native, BYU graduated, and most importantly, wife to one and mother to three beautiful boys. She is passionate about sharing her experiences with others – especially about pregnancy, breastfeeding, cooking, and crafts. She is an International Board Certified Lactation Consultant. She loves spending time with her family and helping others find joy in family life.