A Box of Sunshine is the PERFECT way to brighten someone's day. They can be simple or fancy – there are so many fun ideas for what you could put in them. Here are over 30 inexpensive ideas that anyone could enjoy. We are also including a free printable to make this even easier to do!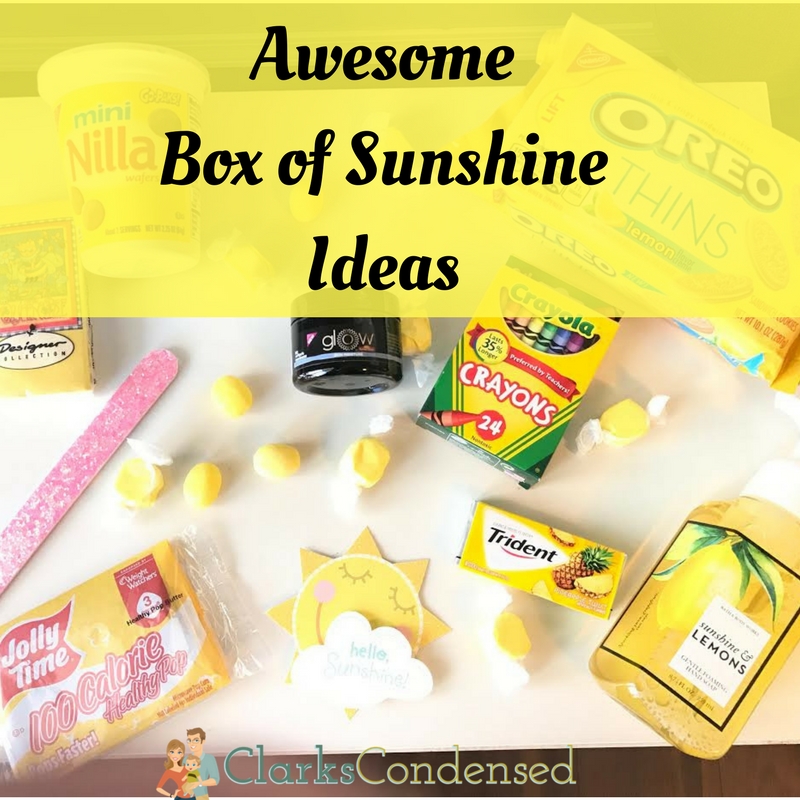 Yellow Sunshine Box
We all have really hard times in our life- including me- but one thing that has helped me through those times is the support and love I've received from my loved ones – including a box of a sunshine.
A call, a hug and even a text message from someone has meant the world to me during my saddest moments.
But have you ever received a "Box of Sunshine"?
I have and I can honestly say it meant so much to me and definitely lifted my gloomy spirits.
The idea behind a "Box of Sunshine" is to fill a box (or basket, tub, bag, etc.) with fun, bright and yellow goodies to help "brighten" someone's day– get it?
Once you start looking there are so many fun goodies out there that are yellow in color- or that go along with sunny, glowy theme.
I'd love to share a few fun ideas so that the next time someone you love is in need of a pick me up you won't have to waste time brainstorming ideas and you can refer back to this list and get that Box of Sunshine to whoever needs it!
Originally written in 2017. Updated in 2020.
Free Box of Sunshine Printable
While not necessary, it's fun to include a little sign on the box saying what it is! We have created a free printable that you can print off. Click the button below: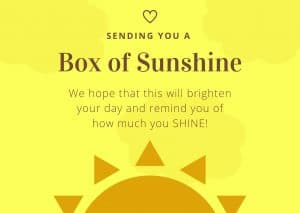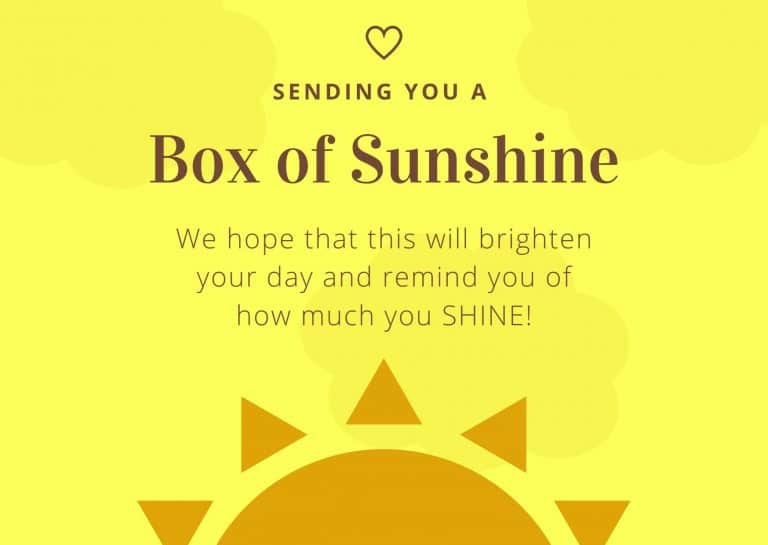 What to Put in a Box of Sunshine
Don't feel like everything has to be yellow. Anything bright and cheery will do if you can't find anything yellow!
I would suggest going to the Dollar Tree or Bullseye's Playground at Target to find different items. There are always fun things you can get there that are very budget-friendly.
Juicy fruit would be a great option – or you could just get some gumballs that are yellow.
Yellow Candy
Candy such as Dots, Lemon-heads, Salt Water Taffy, Peeps, M&M's, Butterfingers and Sugar Daddy's all boast colorful yellow wrappers and would be the perfect addition!
Candles
I love having candles in my home. If you have a little higher budget, you could even put in a candle warmer.
I suggest stocking up at Bath and Body Works whenever they have a candle sale (or just getting one of their smaller options if a sale isn't going on!)
Lotion
Hand lotion, body lotion, face lotion…whatever someone else might enjoy! Again – Bath and Body Works is a great place for lotion, especially when there is a sale.
Dish Towels
I love the selection that you can usually find at Target in Bullseye's Playground. They are always really cute and seasonally appropriate.
Cookies
Think Vanilla Wafers, Lemon Oreos, or Honey Graham Crackers- a quick walk down the cookie aisle and you are sure to find something yellow.
You could also make your own cookies if you are feeling up for the task!
Kool- Aid
Simply Lemonade
Lip Balm
Art Supplies
These would be a great option to stop by the Dollar Tree for.
Flowers
While you could definitely get a flower bouquet, that might get expensive (unless you can buy one of the clearance ones at the Grocery store – or you have a Trader Joes!)
Instead, you could get flower seeds with a little pot – or even plant it in a pot beforehand.
Popcorn
Chips
Funyuns, and Lays both sport yellow bags- grab a couple of those to add in.
Balloons
A single yellow balloon or a bouquet of balloons would be really fun. I love this yellow smiley face foil balloon from the Dollar Tree.
Tic Tacs
Blanket
I have received a blanket in the past during a hard time, and it was so comforting!
Chocolate covered fruit
Bath Bombs
Amazon has a nice selection – but you can grab some at the Dollar Tree as well.
Nail Polish
I found yellow nail polish for under $2 at my local store– such a great deal!
Tissues
Small tissue packs sometimes come in colorful packages- find one that is the most cheery and bright
Soap
I love lemon scented soap and you can find soap that fits that description anywhere. My favorite place to get soap is Bath and Body Works – their Kitchen Lemon scent is TO DIE for.
Laundry Detergent
Several brands have yellow bottles of laundry detergent, such as Tide Simply Clean and Fresh or Sun Oxi Liquid Laundry detergent. You could even make your own laundry detergent to give them
Socks
I especially love giving and receiving fuzzy socks! Another great Dollar Tree option.
Uplifting Quotes
A quick look online will yield several uplifting and positive quotes. You can print one out, freehand it or just simply include the quote on a yellow card. Some of my favorites are:
"Joy always comes after sorrow"– Henry B. Eyring
"What defines us is how well we raise after falling"– unknown
"Fall seven times, stand up eight."– Japanese Proverb
Note Cards
Fridge Magnets
Gloves
A new set of gloves during the winter would be really fun.
Sticky Notes
Beauty Products
Makeup, shampoo and conditioner, body wash…so many things you could get! Travel size bottles are often available, and they would be perfect for this.
Yellow Gift Box Ideas
Once you have compiled all your bright and fun gifts put them in a yellow gift bag or a box of some sort.
The Dollar Tree has also sorts of bags in every shape and size, so that might be a good place to start. They may have other types of containers that would be fun as well.
Other things you could put them in:
Laundry basket
Wooden Box
Wicker Basket
Plastic Container
You could wrap up each item individually and then put it in a container – this would make it really fun to open!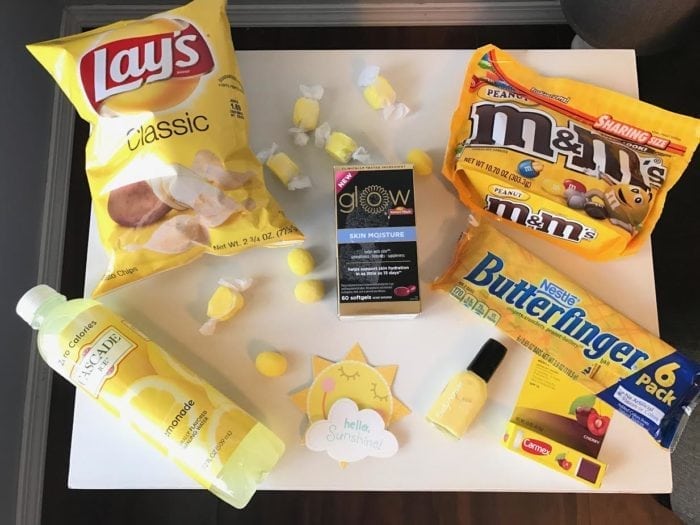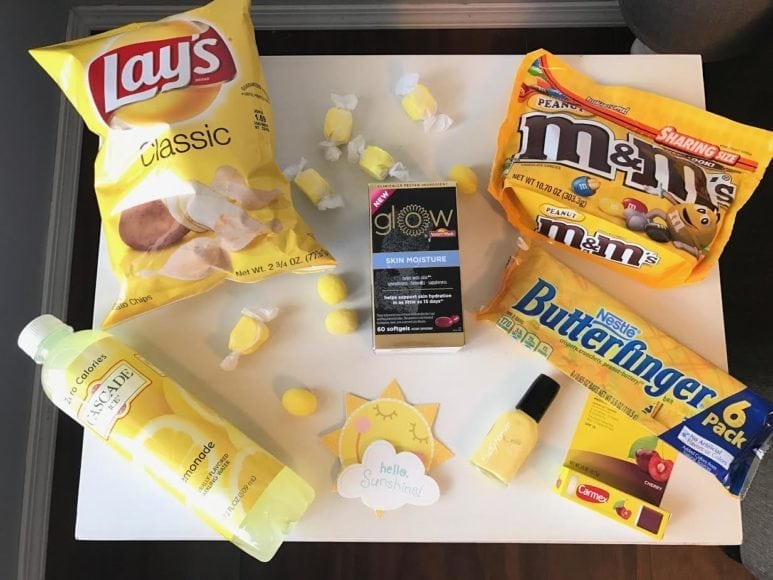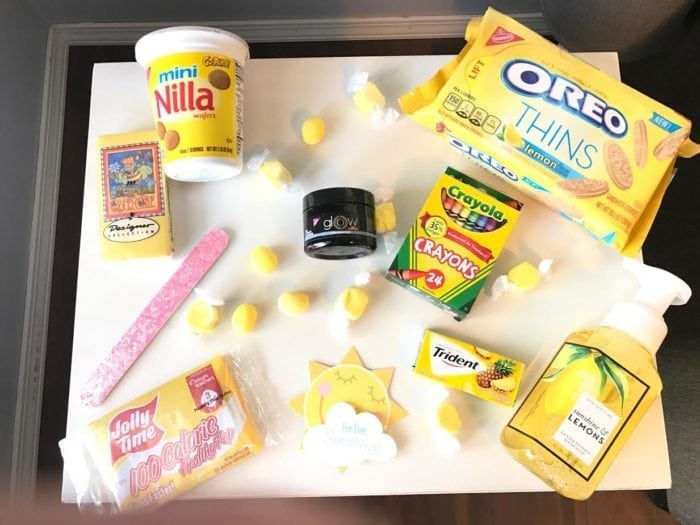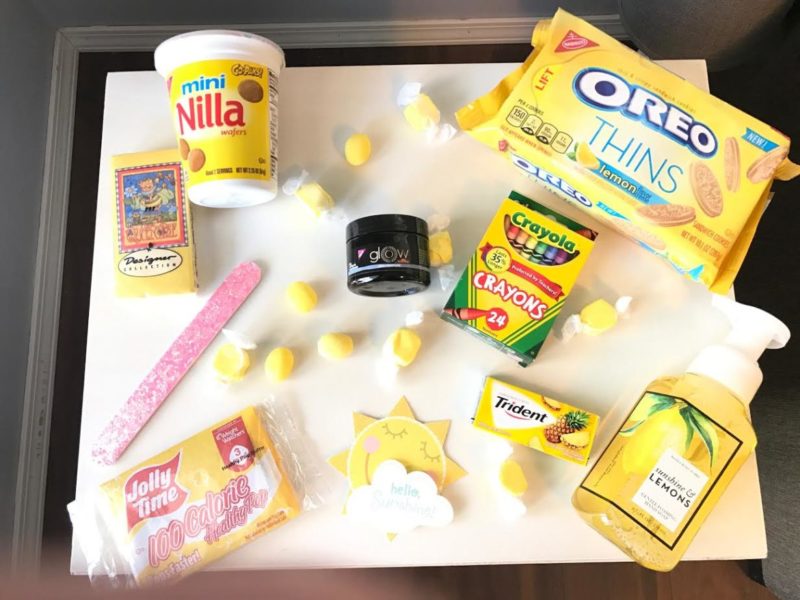 Add tissue paper, a sunny card and you are set. As someone who has received many boxes of sunshine, I can tell you how much they mean to the person receiving it.
Other Posts You May Enjoy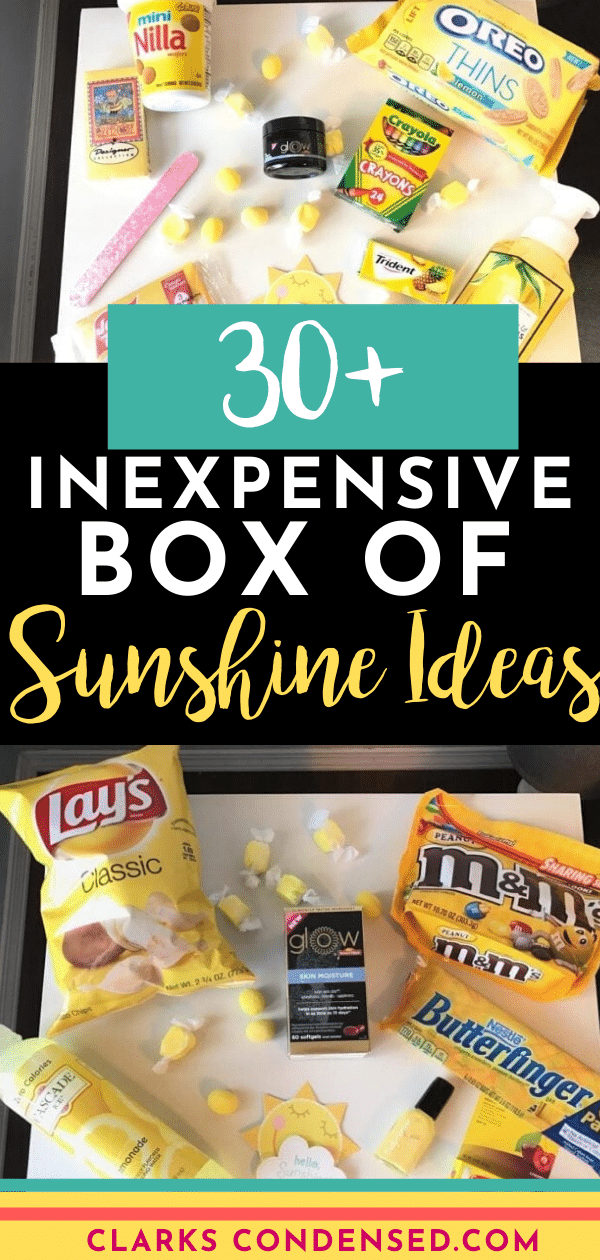 Cindy Maudsley lives in Utah with her husband and five children. Aside from writing, her passions include her family, faith, and spreading infertility awareness. She also loves a good book or podcast, true crime documentaries , Netflix binge, diet Coke and Target run