Make sure your family is prepared for disaster hits – here is a great 72 Hour Emergency Kit Checklist with a free printable!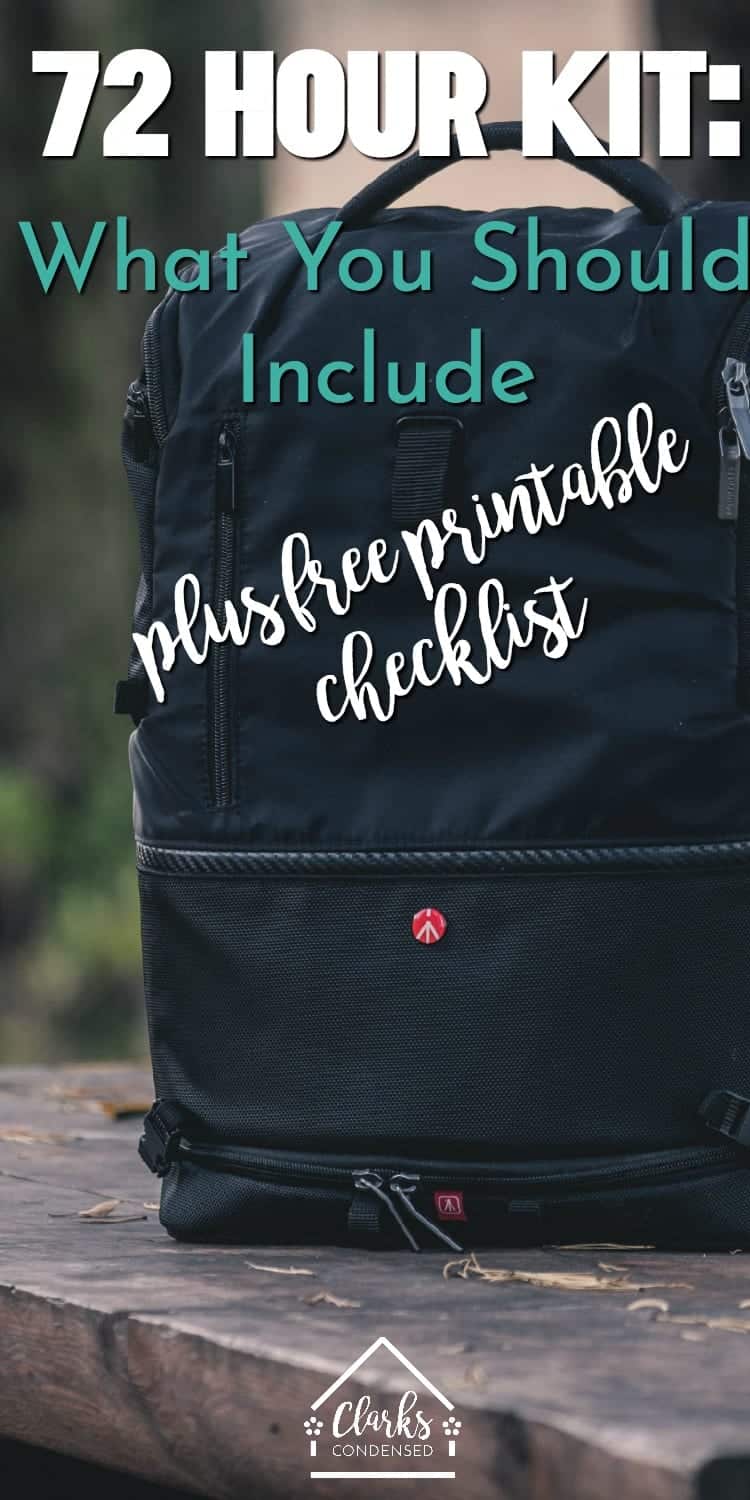 72 Hour Kit Checklist
With all of the disasters going on all across the world, preparedness has been on my mind.
Obviously, by the time disaster strikes, the time to prepare has ceased, so making sure your family is prepared for the worst is essential.
It's easy to sit by and watch as homes are destroyed by fire, water, wind, earthquakes, or even by terrorism and think that it won't happen to you.
But it can – and at some point in your life, you very well may encounter a time where you need to rely on emergency supplies.
My church focuses a lot on personal preparedness – especially for disasters – and recommend having at least three months of food supply on hand. It is also recommended to have a 72 hour kit for each person in your household.
Today, I am going to focus on the latter – 72-hour emergency kits.
While you could very well need more than 72 hours of supplies if something were to happen, often, help is deployed after that point. Having these kits can really give you peace of mind and help in a dire situation.
You can make your own kit or buy a premade one. I personally like the idea of making your own, as you can more easily customize it to your personal preferences.
However, if you don't want to go through the hassle, a premade one is a great idea. You can buy many of them on Amazon. Here are a few premade 72-hour kits to consider:
72 Hour Emergency Kit
So, here is my list of what you should have in your 72 hour emergency kit. You can build these up over time as you find things on sale. I would focus on the most important things first, such as food and water.
Keep in mind that you want to make sure these kits are easily transportable – if you have to evacuate, you will need to be able to access them easily – if they are really big, you may not be able to fit everyone's in your car in a hurry.
With some of these things, you can consider just having the item in one person's bag, rather than everyone's. I have included a list at the end of larger items that you definitely only need one of.
You can get a FREE printable version of this list by using the download button below:
First off, you will want a good, solid backpack or container to put your items in. Ideally, you'll fit everything you need into this backpack (though if you have some of the larger items listed at the end, you may need to store those separately).
We also have some great Dollar Tree 72 Hour Kit ideas if you are on a budget.
MORE PREPAREDNESS ARTICLES YOU MAY ENJOY:
FOOD AND WATER
Food – Three day supply. Focus on non-perishable goods that require little to no preparation such as:
Water – 3 gallons per person for drinking, 2 gallons for sanitation (bathing, bathroom, etc).
If you have children who take formula, make sure you have a can of formula in their kit
EQUIPMENT
Portable Cell Phone Charger – a solar powered one is even better.
PERSONAL AND MEDICAL ITEMS
Generic medications (Tylenol, Advil, dramamine, etc.)
Three day supply of prescription medications
Soap (bar of soap, hand soap)
Feminine Supplies (cloth pads are something to consider, as well as something like a menstrual cup).
If you have children in diapers, have a three day supply of diapers and wipes. You may want to consider having cloth diapers in your supply kit.
Wipes (Clorox wipes, baby wipes, etc.).
Grove Collaborative is a great place to buy discounted personal items like the ones mentioned above (as well as cleaning supplies, reusable products, etc.)
BEDDING AND CLOTHING
Clean clothes and underwear – change out depending on size and season. Three day preferred, one day minimum
FUEL/LIGHT
Flashlights (battery or crank operated)
Personal Documents
Insurance information
Copies of drivers licenses, passports, marriage license, etc.
Vaccine Records
Cash
Large ITEMS FOR FAMILY/
These are items that not everyone has to have in their kit, but they will be helpful to have.
Portable Toilet (one that flushes is even better!)
You can get a FREE printable version of this list by using the download button below: 
Originally written in 2017; updated in 2019.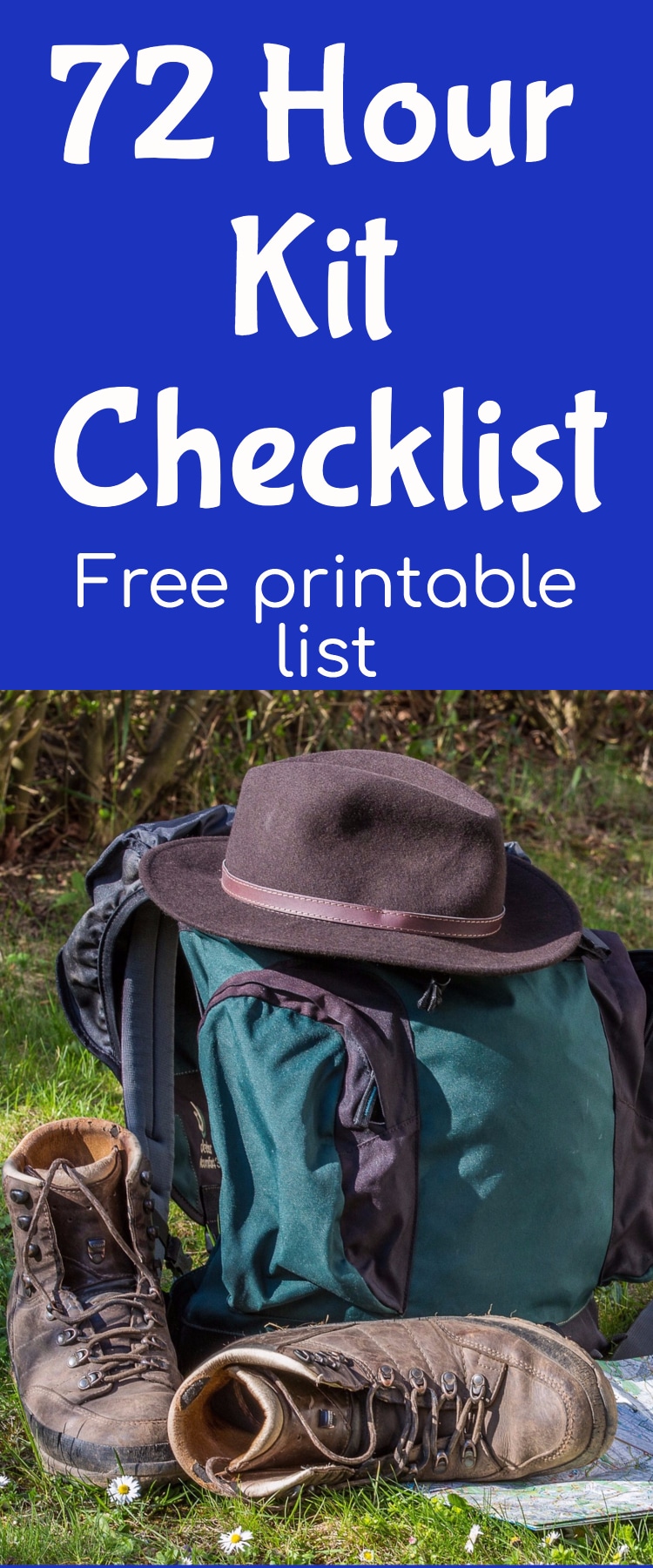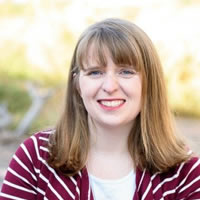 Katie is a Colorado-native, BYU graduated, and most importantly, wife to one and mother to three beautiful boys. She is passionate about sharing her experiences with others – especially about pregnancy, breastfeeding, cooking, and crafts. She is an International Board Certified Lactation Consultant. She loves spending time with her family and helping others find joy in family life.