I do not like spending money.
Especially on expensive purchases. Because of this, in the past, I have bought a cheaper product to save a couple bucks. Sometimes this pays off…but only when I'm 100% sure the cheaper product or service is good quality.
While it's good to be thrifty, sometimes it is worth it to pay a little bit extra for something. It might be because it will last longer, or maybe it will save you time in the end.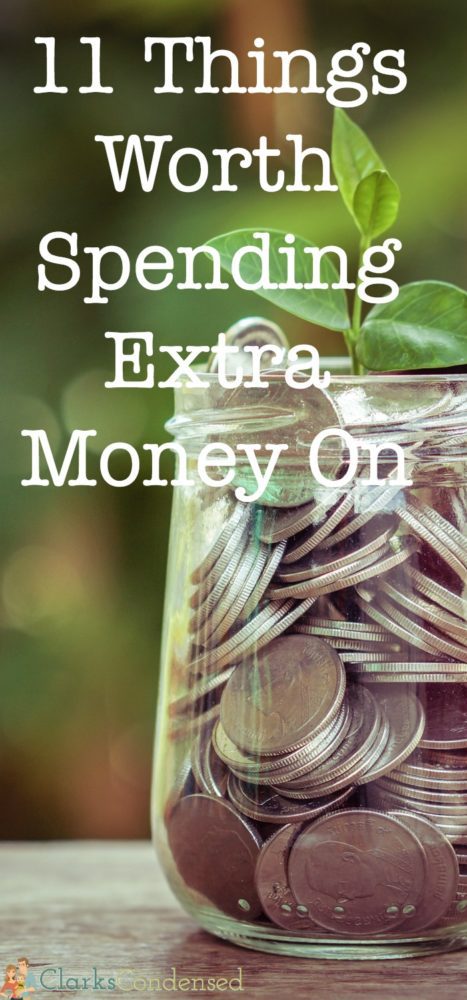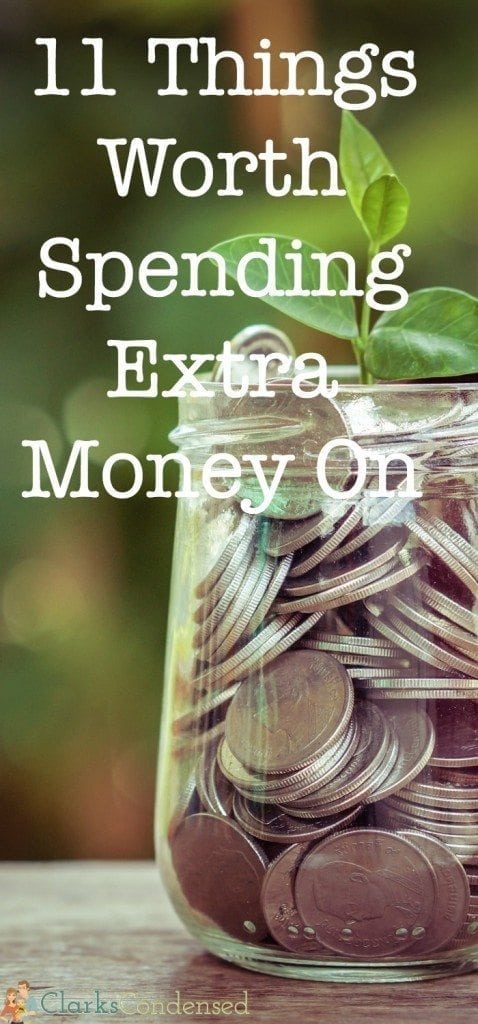 This is a sponsored post written by me on behalf of HP for IZEA. All opinions are 100% mine.
 Here are eleven things worth extra spending money on. You may not agree with me, but in my experience, these are things I'm almost always willing to spend money. You don't even have to spend massive amounts of money on these things – maybe just a little more!
(and, of course, I am absolutely not saying you should go into debt for any of these things.  Read the Total Money Makeover if you want my opinion on going into debt! As much as I think it's important to invest a little extra money into certain things, I believe even more that you shouldn't go into debt for unnecessary things. Search for the best deals. Read reviews on cheaper products to see if they are the same as more expensive ones. Be smart.)
Other Electronics
Okay, so this isn't just one item, but in my experience, if you are going to buy a new electronic…buy the better version. For instance, back in early 2013, Forrest and I bought a high-quality tablet. To this day, it still runs extremely well and has survived many drops, heavy use, and a toddler.
On the flip side, two Christmases ago, I bought a cheaper tablet on Black Friday. It lasted less than six months. If you can buy something for a little bit more money (and you know it will be good quality), but have it last 3x longer than the cheaper item, it is so worth it. I've gone through cheap phones, tablets, computers, etc., and when I spend the extra money, I rarely regret it.
Cleaning Supplies
Forrest always bought cleaning supplies at the dollar store while he was serving a mission in Southern California. While some of them worked okay, a lot of them were so cheap, and you ended up having to buy it more often because you had to use more to get something clean. I think buying the cleaning supplies that last longer, clean better, and are made with more natural ingredients is smart. I know some people think that ingredients in certain cleaning products can be harmful, so who knows – you might even be investing in your health!
I recently discovered ePantry – they have affordable cleaning and home products that are good for you and good for the environment. It's like Costco meets Amazon subscribe and save for cleaning and home products, but even better. Grab $10 off your first order and a free container of Meyer's hand soap using this link!
Family Vacations
You don't have to spend a ton of money to go on a family vacation, but I wholeheartedly believe they are worth spending money on. Some of my favorite memories from childhood are from family vacations – even the simple ones to Utah. When you have some extra money though and you are trying to decide what to do with it…consider spending it on your family. Money doesn't buy happiness, but when you have money to spend, I think it's always worth it to enjoy it with your family. Groupon Travel has some of the best deals I've ever seen on Travel, so maybe check that out! If you are planning a vacation to California, you can get $20 off your booking through GetAwayToday using the code Clarks2015!
Computers
Since I got my first laptop when I went to college back in 2008, I have been through many computers. I use my computers a lot, so it makes sense that I would want something that was going to last me longer. Unfortunately, I didn't do this until last year when I bought my first really nice laptop. All my other laptops have been "budget" laptops and just haven't lasted. I'm the type of person who has 30 tabs in my browser open at once…and currently, the laptop I have now is the only one that could handle that!
It is 100% worth it to invest in a laptop that is going to last. I cringed as I swiped my debit card for my current laptop, but I am so glad that I did. Had I realized this with other laptop purchases, I probably would have saved myself a lot of money. It's worth it to get a computer with the extra storage space, the better reviews, and the better processor.
Dishwasher
I have had one too many dishwashers that just don't clean the dishes. What good is a dishwasher if you have to completely clean all the dishes before you even put them in? In all the apartments we have lived in with a dishwasher, most of them supposedly had new ones.
However, they were cheap new ones that didn't work very well. I think if you are going to have something like a dishwasher, it should work well and make doing the dishes easier – not more frustrating!
Garbage Bags
Have you ever had everything burst out of the bottom of a garbage bag when you took it out of the trash can? If you haven't…consider yourself lucky! Save yourself a huge mess and buy garbage bags that are durable!
Mattress
We slept on cheap, second-hand mattresses for the first 4.5 years of our marriage – and let me tell you, it was not worth it. I believe both Forrest and I have back problems from those mattresses, and will probably never catch up on the sleep we lost from tossing and turning. I honestly woke up in pain almost every day. It is worth it to be a new mattress made with quality materials. If you can avoid it, don't buy one second-hand. On the flip side, shop around. Some of the chain mattress stores out there are just looking to rip you off. We spent a little bit more on the mattress we have now, but we both sleep so much better, and no longer wake up in pain every morning.
Certain Professional Services
I am someone who doesn't like to pay others to do things I can do myself. I mean, with our website, Forrest and I have done pretty much everything ourselves – the tech side, the design side, the photo side, the social media side, etc. That hasn't come without hours and hours of self-education, trial-and-error, and lots of headaches. Sometimes, it's just worth it to pay someone to do something right the first time.
Whether this is car repairs, home repairs, photography, etc., consider what it's worth to you. Forrest will sometimes do repairs on our car at home, but often, after he determines how long it would take for him to do it, he goes to a professional. I do think it's worth searching around for an affordable person – but it's good to know they will do a good job the first time. Angie's List and Amazon Home Services is a good place to find reputable and affordable professionals. I just noticed that you'll get a $30 Amazon gift card when you book your first service through them!
I went through several years of college buying the cheapest toilet paper possible. I'll spare the details, but it's not something I recommend. Yes, it may be 99 cents for a four-pack, but it's going to be thin, scratchy, and not worth buying. We buy a store brand toilet paper, so it's not the most expensive kind, but it's high quality, lasts a long time, and is nice and soft.
Shoes
I only buy shoes maybe once a year – and I wear them until they fall apart. I've bought cheaper shoes, and it's hardly ever worth it! Last year, I bought some pink shoes last minute for a wedding, and by the end of the day, the backs of my feet were bleeding. Since that happened, I vowed never to buy cheap shoes like that again. Three years ago I bought some high quality tennis shoes, and they still work and look great today. Forrest gets a new pair of shoes every year or so, and he has become rather picky about the quality of the ones he buys now. A few cheap pairs of shoes here and there are jus fine (I certainly have some), but if they are shoes that you are going to wear on a daily basis – invest in a slightly better pair.
Haircuts 
Because why would you want to pay for a bad haircut? There are cheaper places that do a good job (for instance, there was a beauty school in Provo that I absolutely loved). My mom has a certain hair dresser she loves at Great Clips. But unless you know the person at the cheaper place is going to do a good job, going to a reputable salon with good reviews is probably worth it!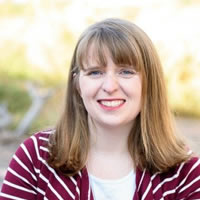 Katie is a Colorado-native, BYU graduated, and most importantly, wife to one and mother to three beautiful boys. She is passionate about sharing her experiences with others – especially about pregnancy, breastfeeding, cooking, and crafts. She is an International Board Certified Lactation Consultant. She loves spending time with her family and helping others find joy in family life.