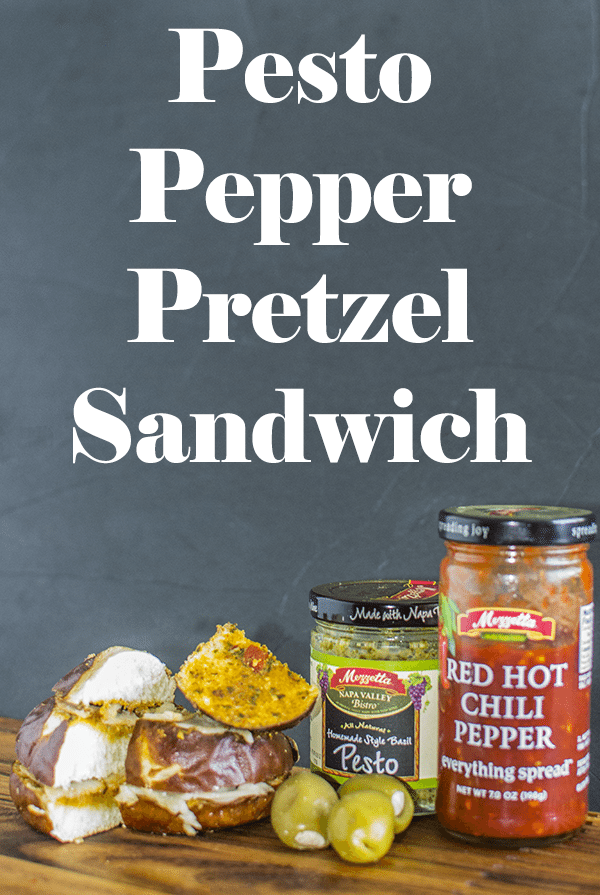 Pesto Pepper Pretzel Sandwich: A fun and unique sandwich to shake up your regular routine!
This sandwich recipe is inspired by several Mezzetta products that I recently tried. I think Mezzetta is an Italian word, and most of their products I tried I would categorize as Italian. Italian and Mediterranean cuisine is famous for being healthy. The Olive Garden versions of Italian dishes might not be super healthy, but those are very delicious in my experience. One of my favorite dishes at Olive Garden that I think is a little healthier and still delicious has a spicy sauce with sausage and shrimp. I think the dish name had an Italian word 'diavolo', which I can only assume translates to devil (for the spiciness). Italian food can work just fine with a little extra spiciness. That is why I thought that a spicy pesto sandwich would work. I've also learned that heating up peppers can really amplify the spiciness. So, this little recipe incorporates a little bit of all that. It is a little example of my inner Dagwood coming out. Dagwood is the famous comics character that likes to eat huge, tall sandwiches. This Sandwich has an extra layer to give it a little bit of that Dagwood touch, and to spread out the flavor.
One of my favorite sayings is that variety is the spice of life, so I like try a lot of new ingredients on my sandwiches. Here are the links to the little bit of variety that I used so you can get them yourself if you want: pesto, red pepper sauce, and stuffed olives. However, Mezzetta products are located in stores all over the country so there you don't have to buy them online. I enjoy coming up with new recipes, and sandwiches are an easy base.
If you like coming up with new sandwich recipes, and even if you don't, you should check out Mezzetta Specialty Foods sandwich making competition called Make That Sandwich. The winner win's $25,000, and two runner's up each win $1,000. Who knows? Making a fun new sandwich could make you a bunch of money, and Mezzetta makes it easy to make your best sandwich ever. They have lots of gourmet ingredients that you would only find in a nice sandwich shop.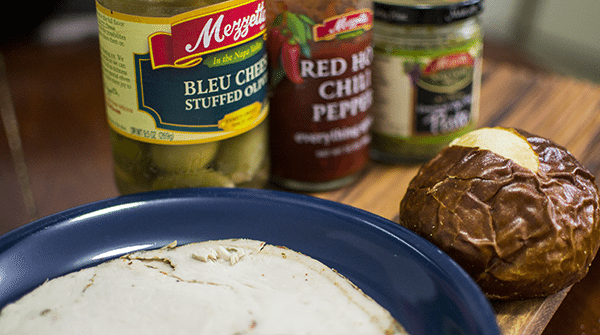 Here are some of the ingredients I used. To me, Pretzel rolls have a great look and they add an extra interesting flavor. For a sandwich meat I like a thick cut Turkey, but there are lots of other kinds that probably would work just fine. One thing that I liked about Mezzetta's Red Hot Chili Pepper everything spread is that it wasn't overly spicy. It has the good pepper flavor, without stopping you from actually enjoying the flavor with overbearing spiciness. The Mezzetta Pesto is high quality, and with most pesto a little goes a long way.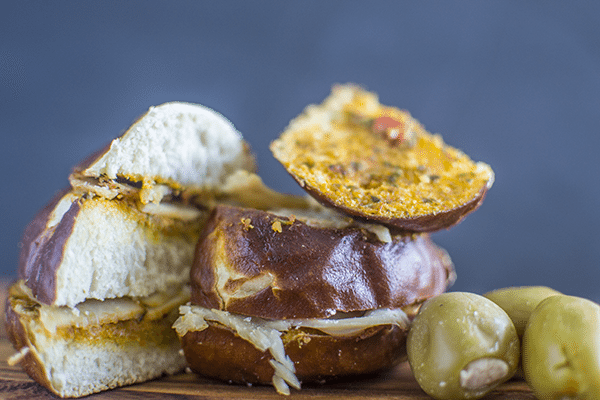 I toasted the roll slices in the oven with the mixed spreads, because I knew that the olive oil in the pesto would help the bread to toast a little. By the way, Katie doesn't really like olives, let alone blue cheese, but I had never had cheese stuffed olives before. I thought they were good, but for those of you who aren't that brave feel free to try some of Mezzeta's other products to through in a little extra flavor on the side.
This is a sponsored conversation written by me on behalf of Mezzetta. The opinions and text are all mine.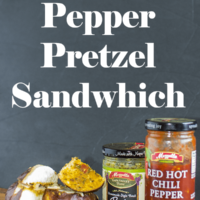 Pesto Pepper Pretzel Sandwich
Ingredients
1 Pretzel Bun
Thick Sliced Turkey
1 tablespoon of pesto
1 teaspoon of hot red pepper
blue cheese stuffed olives (optional)
Instructions
Mix pesto and hot red pepper sauce
Cut pretzel buns into thirds
Spread mixed sauce onto pretzel buns
Place pretzel buns with sauce onto a pan to broil for 3 1/2 minutes
Add sandwhich meat and enjoy.
Add stuffed olives on the side if you want
Nutrition Information:
Serving Size: 1
Amount Per Serving:
Calories: 59
Total Fat: 5g
Saturated Fat: 1g
Sodium: 181mg
Carbohydrates: 2g
Sugar: 1g
Protein: 1g