As promised, today I'm going to share the recipes for the ham and sausage sliders I made for Jack's birthday party. I had several requests for the recipes, so unless people are just trying really hard to be nice…I think they were a success.
The first time I had a ham slider was at my bridal shower a few years ago. Although I really don't like cheese at all, I loved these. I was skeptical when my mom told me about them, but I'm glad she decided to have them.
Since, in the Very Hungry Caterpillar, he eats sausage and swiss cheese, I decided to play off of that and make sausage sliders. Even though he didn't eat ham, I'm sure he would of, had it been available!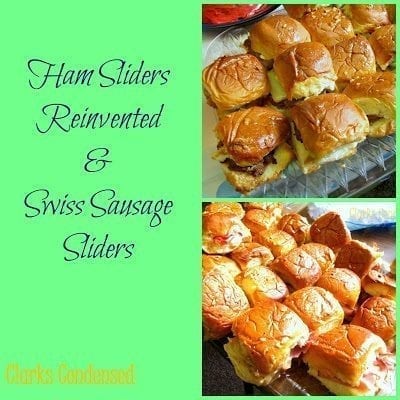 I had never actually had a sausage slider, so I did some quick googling and came up with this recipe for sausage and pepper sliders from Rachel Ray. It soon became the inspiration for these yummy little sandwiches.
And the ham sliders? Well, being the absentminded person I can be (and seriously…that seems to be happening more and more lately,) I looked at quite a few recipes, saw the word "poppyseed" and thought I could just substitute poppyseed dressing for the sauce. I honestly don't know why I didn't read the recipes all the way through and see that mustard was an essential ingredient. But I'm glad I didn't now, because I re-invented the ham slider, and it was oh-so-yummy.
Both of these are made on King's Hawaiian Sweet Rolls, which I highly recommend using. It gave them a little bit of sweetness that really completed the sandwich.
These would be perfect for any party, and I can almost guarantee people will be coming back for seconds.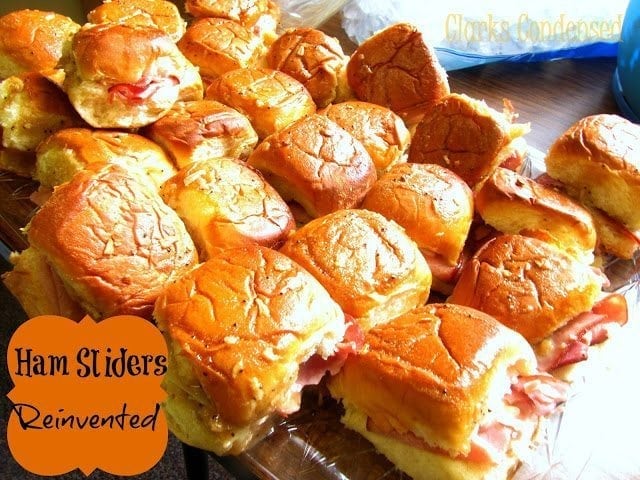 Ham Sliders Reinvented
Ingredients
24 King's Hawaiian Sweet Rolls
12 large slices of deli sliced ham (splurge and get the nice kind)
12 slices of swiss cheese
½ cup melted butter
2 tbsp poppyseed dressing
1 tbsp worchestire sauce
1 tbsp dried onions
Mayo (optional)*
Instructions
Cut rolls in half and place the bottoms in a 9x13 glass baking dish. Set tops aside. If desired, spread a thin layer of mayo on the bottom of each roll. Cut (or tear) each slice of ham and swiss in half, and place one half of each onto a bun. Cover with roll top.
After assembling the rolls, melt butter. Mix together the dressing, worchestire sauce, and dried onions. Pour evenly on tops of the rolls. Ideally, assemble at night and let the rolls sit in the refrigerator overnight so the butter hardens completely. If this isn't possible, let them sit for 15-20 minutes.
Before serving, bake at 350 degrees until cheese is melted (about 10-15 minutes)
Notes
*these probably would have been more moist, had I put the mayo on, but no one seemed to complain. I figure it saves on calories, but if you want it, by all means, add it!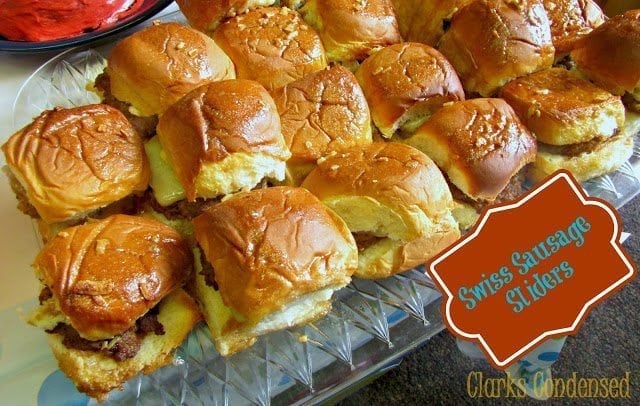 Yields 24 Sliders
Swiss Sausage Sliders
Ingredients
24 King's Hawaiian Sweet Rolls
12 slices of swiss cheese
1 pound Jimmy Dean Sausage
1 pound Turkey Sausage
1/2 yellow onion
1 small red pepper
1 tbsp BBQ sauce
2 tsp garlic powder
2 tsp Celestial Seasonings Spicy Southwest (or similar)
1/2 cup butter
2 tbsp brown sugar
1 tbsp Worcestershire sauce
1 tbsp dried onions
Instructions
In a large bowl, mix together both sausages, diced onion, diced red pepper, bbq sauce, garlic power, and spicy southwest seasoning. Mix until everything is combined together.
Spray a skillet with cooking spray. Form about 3-inch patties, and cook 3-4 at a time. Cook evenly on both sides, ensuring that the meat is cooked all the way through. Place on a paper-towel lined plate. Once all are made, pat away the excess grease.
Cut rolls in half, and place bottoms along the bottom of a 9x13 pan. Place one sausage, and a half piece of swiss, on each sandwich. Replace tops of lids.
Melt butter. Mix in brown sugar, Worcestershire sauce, and dried onions. Pour over the tops of the sandwiches. Let sit in fridge over night (if possible) or for 15-20 minutes. Bake at 350 degrees until cheese is melted.
7.7.0.1
23
https://www.clarkscondensed.com/recipe/ham-sliders/
This recipe was created on ClarksCondensed.com. Feel free to distribute as needed, but if you post it on your own site, please link to back to ClarksCondensed.com