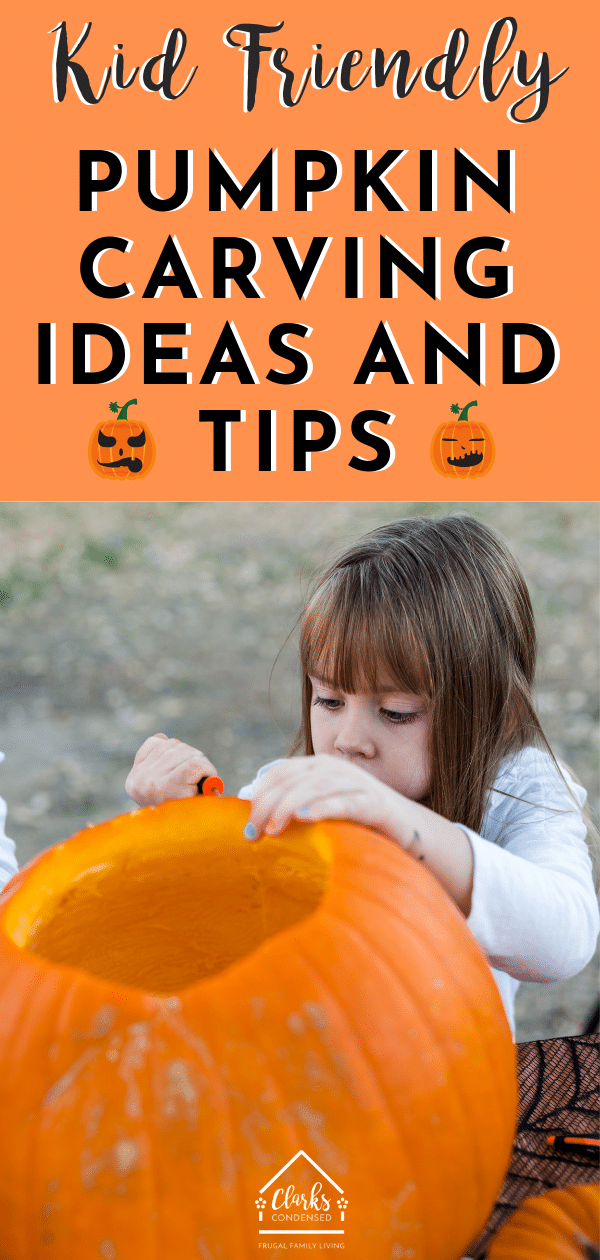 Kids love to carve pumpkins – but it can be a bit non-kid friendly at times. Here are some of the best ideas for pumpkin carving for kids and toddlers!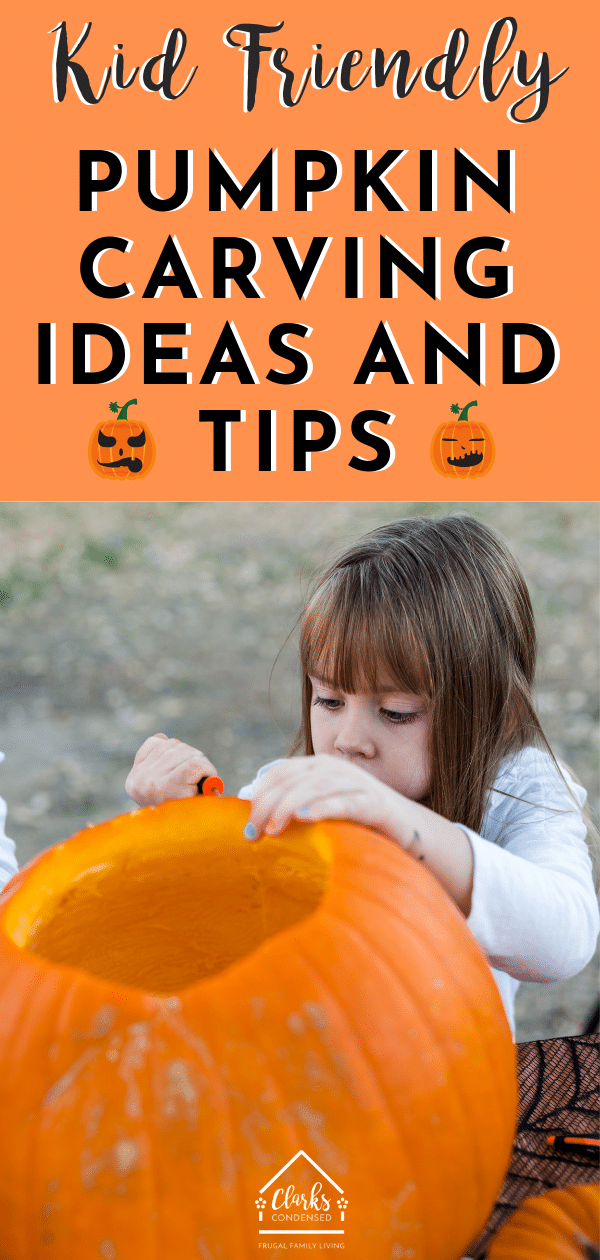 Kid Pumpkin Carving Ideas
One of my favorite parts of Halloween is picking out the perfect pumpkin and carving a fun design on it.
Growing up, I would bug my dad on a daily basis to take us to King Soopers to pick out a pumpkin.
He would usually make us wait until just a few days before Halloween. It was torturous!
Jack has loved pumpkins this year – as you may remember, he requested that our family all be pumpkins this year (you can check out the pumpkin shirts will be sporting here.)
Needless to say, he's been very excited to pick out a pumpkin. Last week, we saw that Target had some big ones on sale for 2.99, so we picked one of those up. However, on Saturday, we decided to check out a pumpkin patch with Jack's cousins.
Sadly, it was a rather disappointing experience. Both of the patches we went to were charging a ton for the pumpkins.
It made me miss some of the pumpkin patches in Utah! We ended up just buying one pumpkin, but Jack was over the moon about it.
Carving and decorating pumpkins can be a little cumbersome and even difficult – especially for children. You have to get out all the goopy insides and often times use sharp knives!
Since we wanted to make sure Jack was as involved as possible, I've been looking at pumpkin decorating ideas for children. Here are a few things I came up with!
Originally written in 2015; Updated in 2019.
Pumpkin Carving Ideas for Toddlers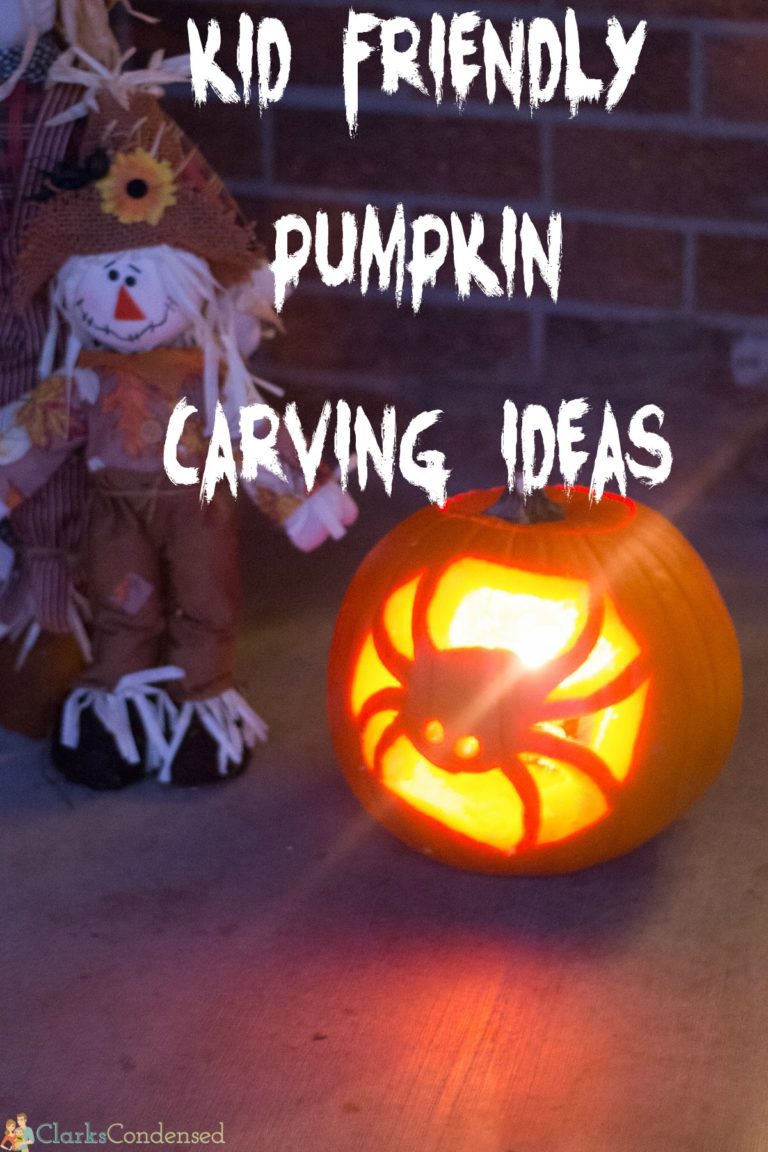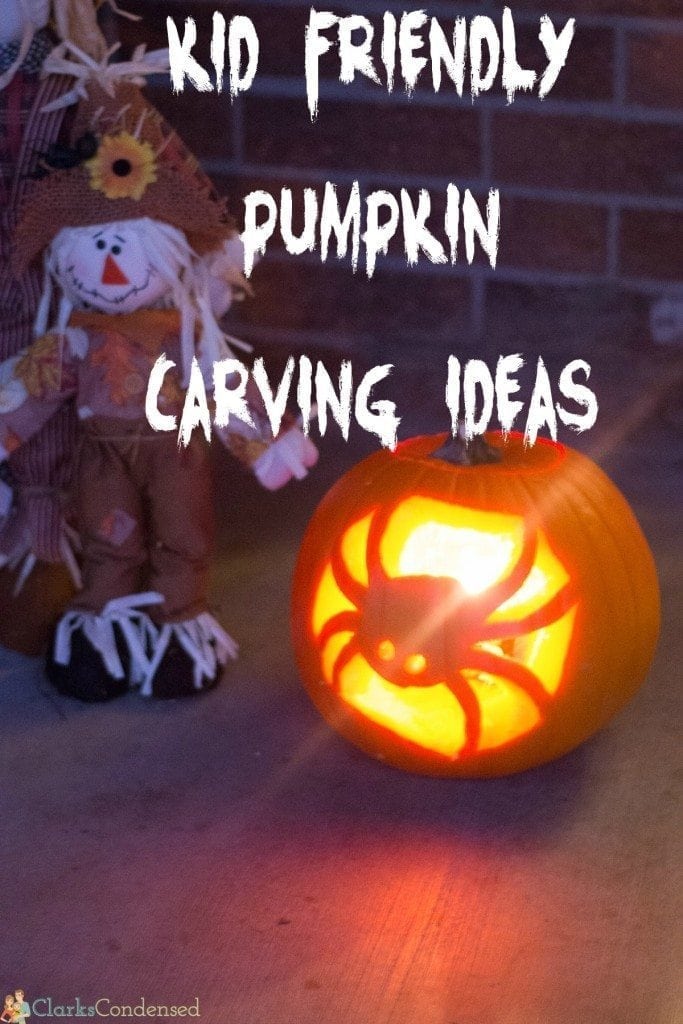 Kid's Pumpkin Decorating Kits
You may have heard of Pumpkin Masters before – it's a well-known company that has pretty much everything you need for pumpkin carving and decorating.
They have tons of different kits that come with safe-to-use tools (I was always surprised my dad didn't hurt himself with the big knives he used), as well as some creative templates to make carving easier. It was so easy to cut off the top with the carving tool.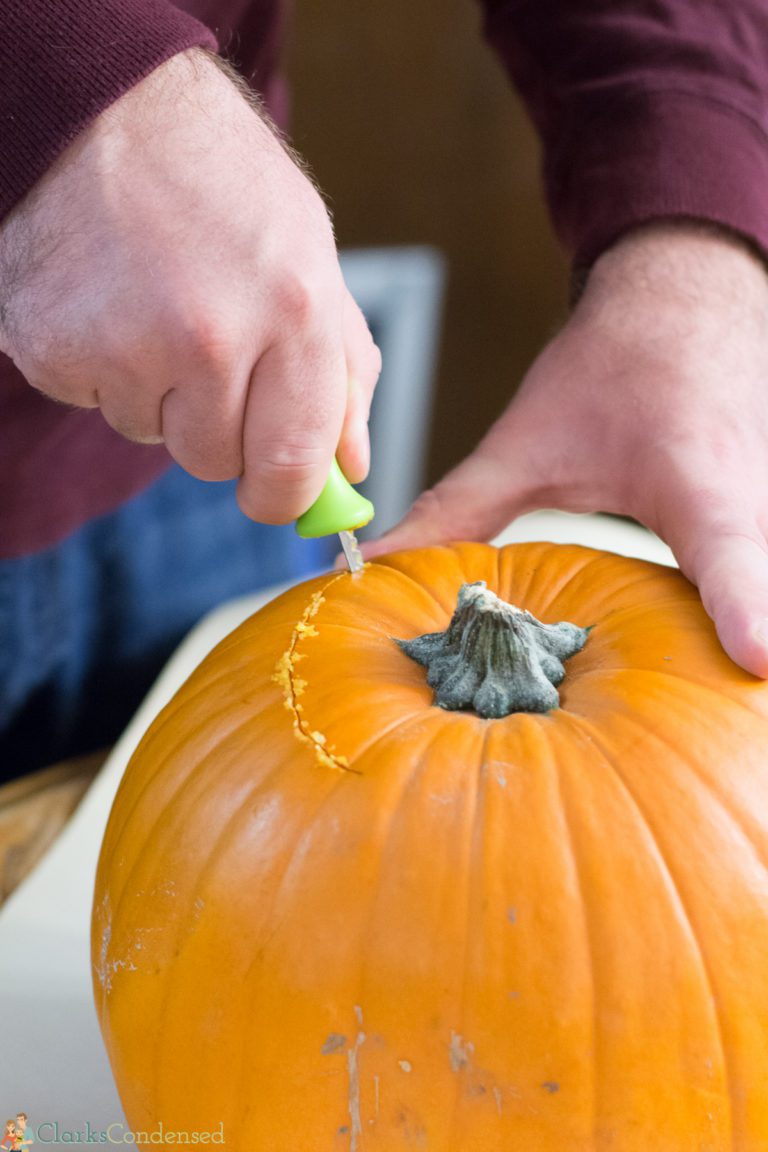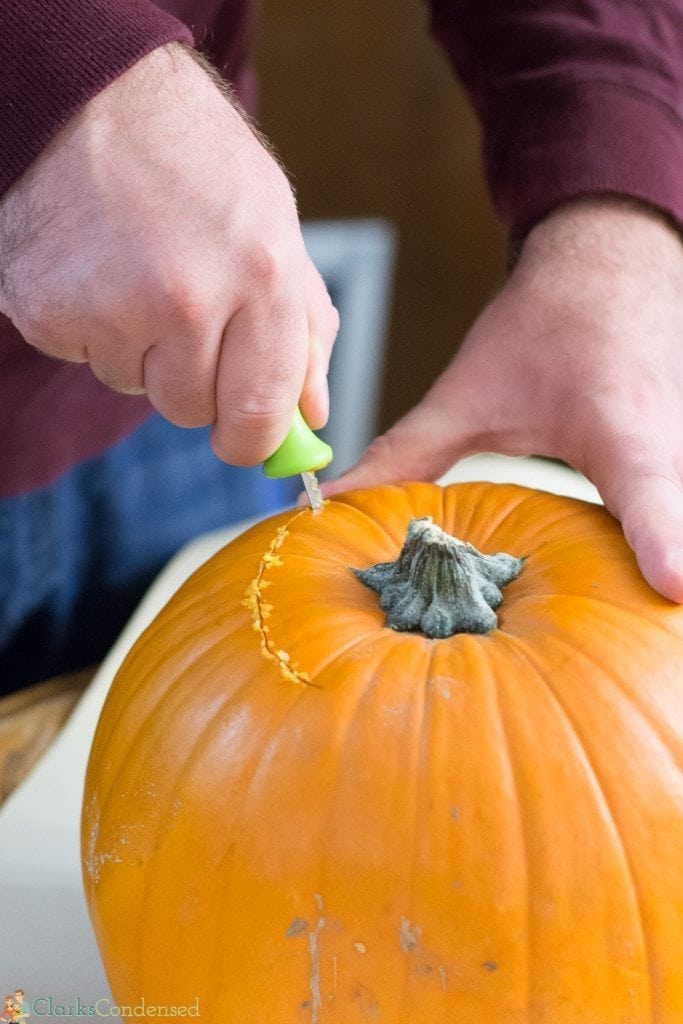 We were sent the Kid's Carving Set (you can see all their carving sets for kids here) and the Carving Party Kit, and they were really fun to use. Jack picked out the spider template for us to use on his pumpkin.
It was really easy to use – we just put the paper on the pumpkin: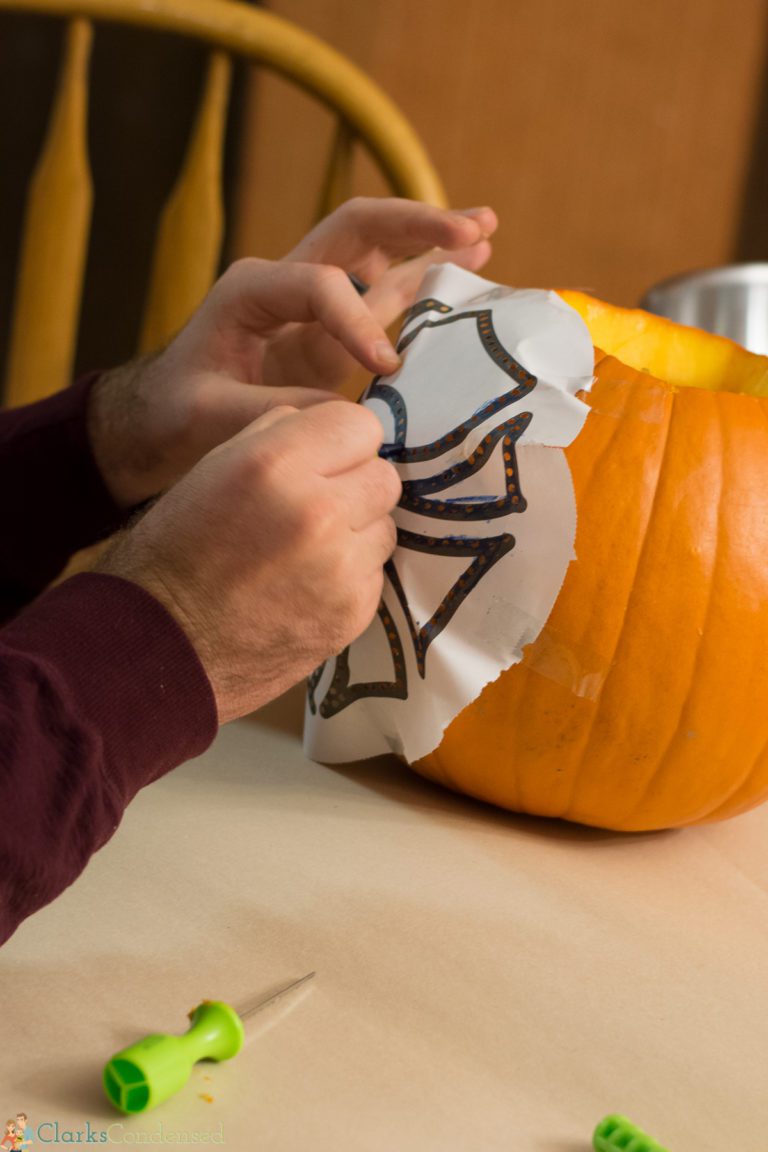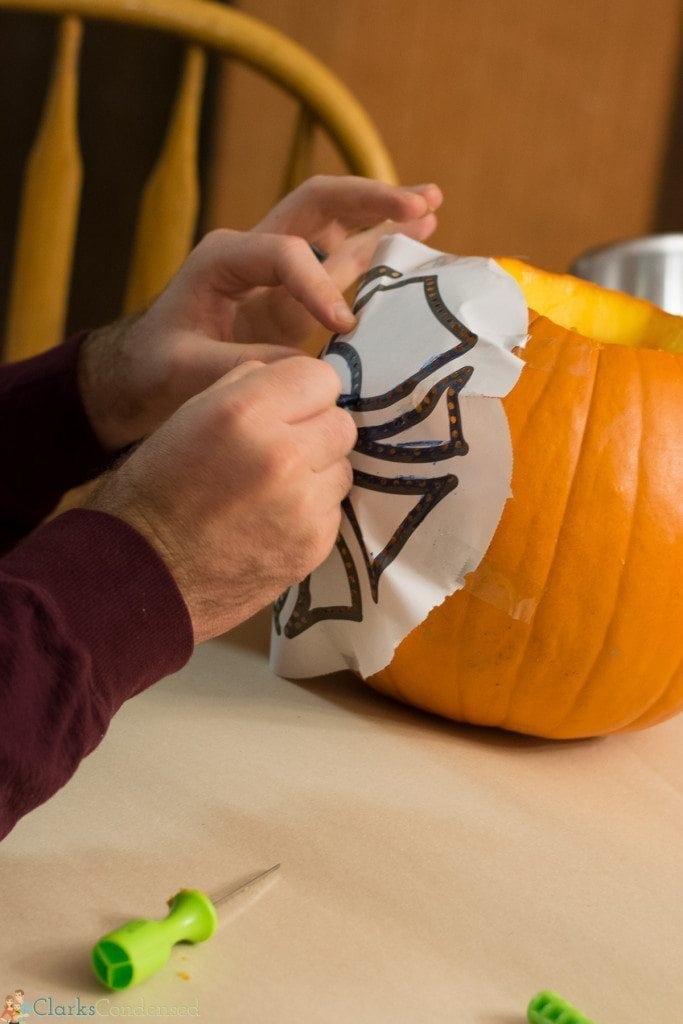 used a crayon to make dots . . .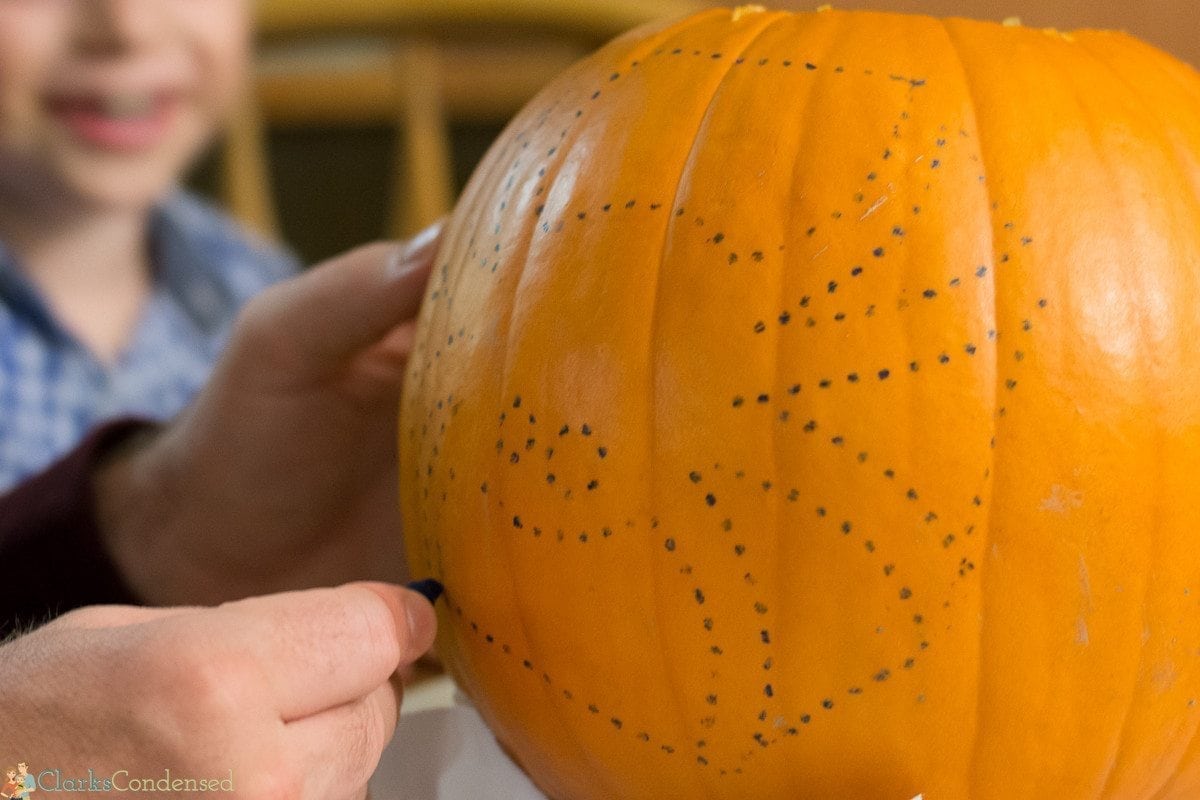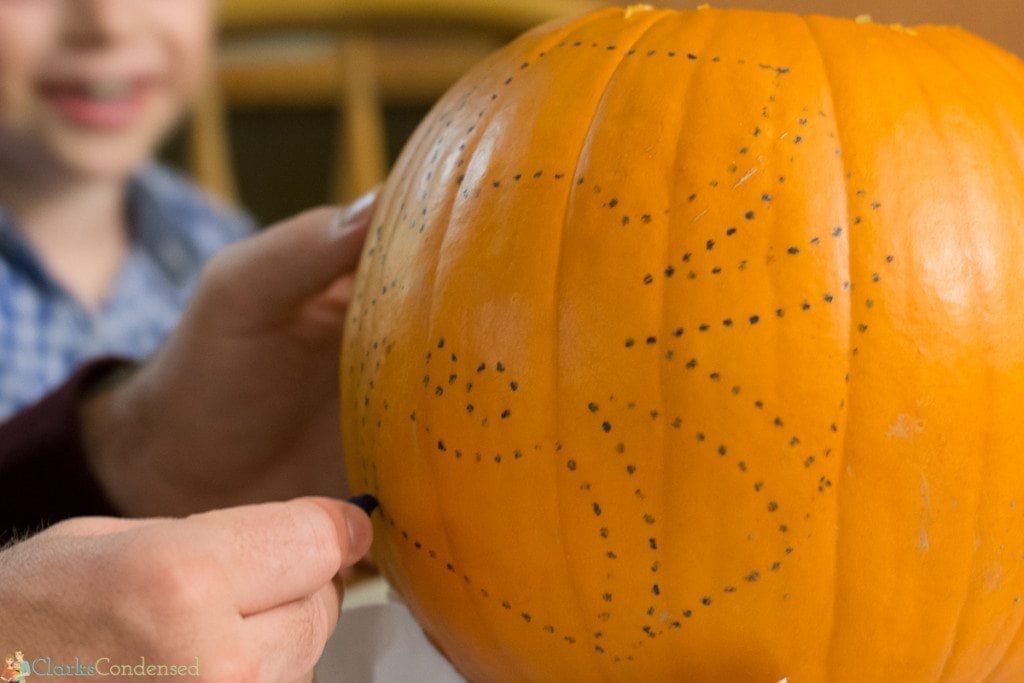 and then we used one of the carving tools to carve out pieces – kind of like a dot-to-dot.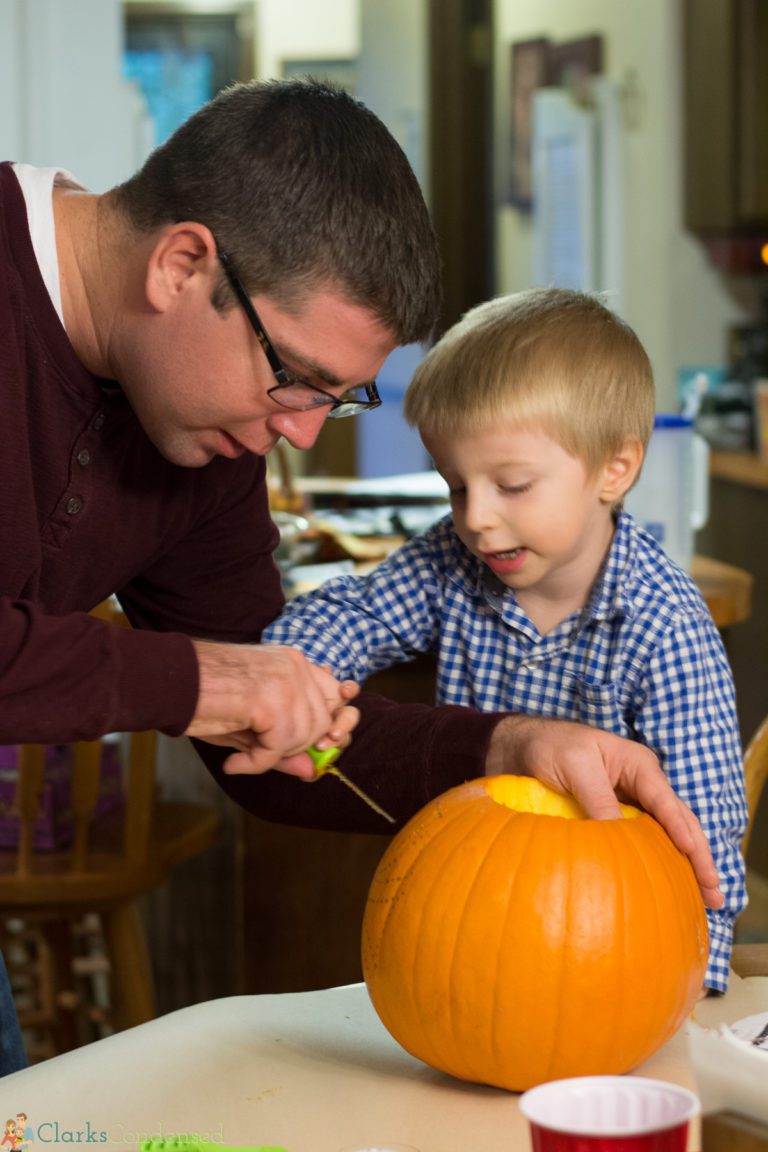 Both Forrest and I LOVED how easy the carving tools were to use.
Jack was a little young to use them himself, but I feel like the tools are safe enough for kids who are just a little bit older to use.
He loved helping Forrest, though, and he was thrilled with how it turned out. I love how much joy he finds in small things.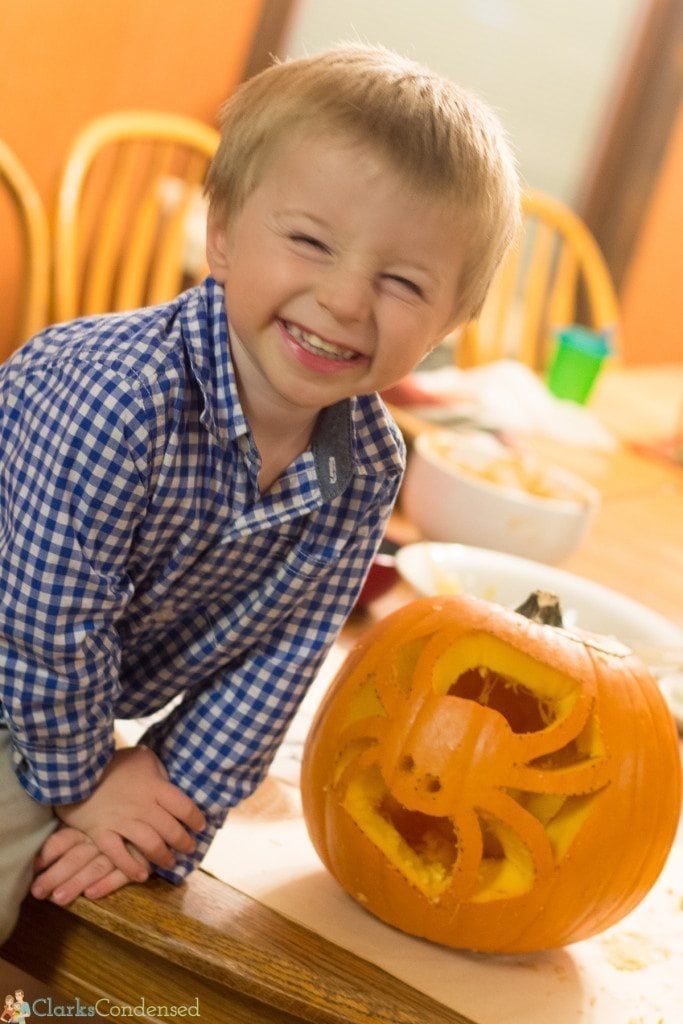 The seed scoopers were helpful, too. I was able to scoop out this little pumpkin in no time (and I can't wait to make some yummy baked pumpkin seeds.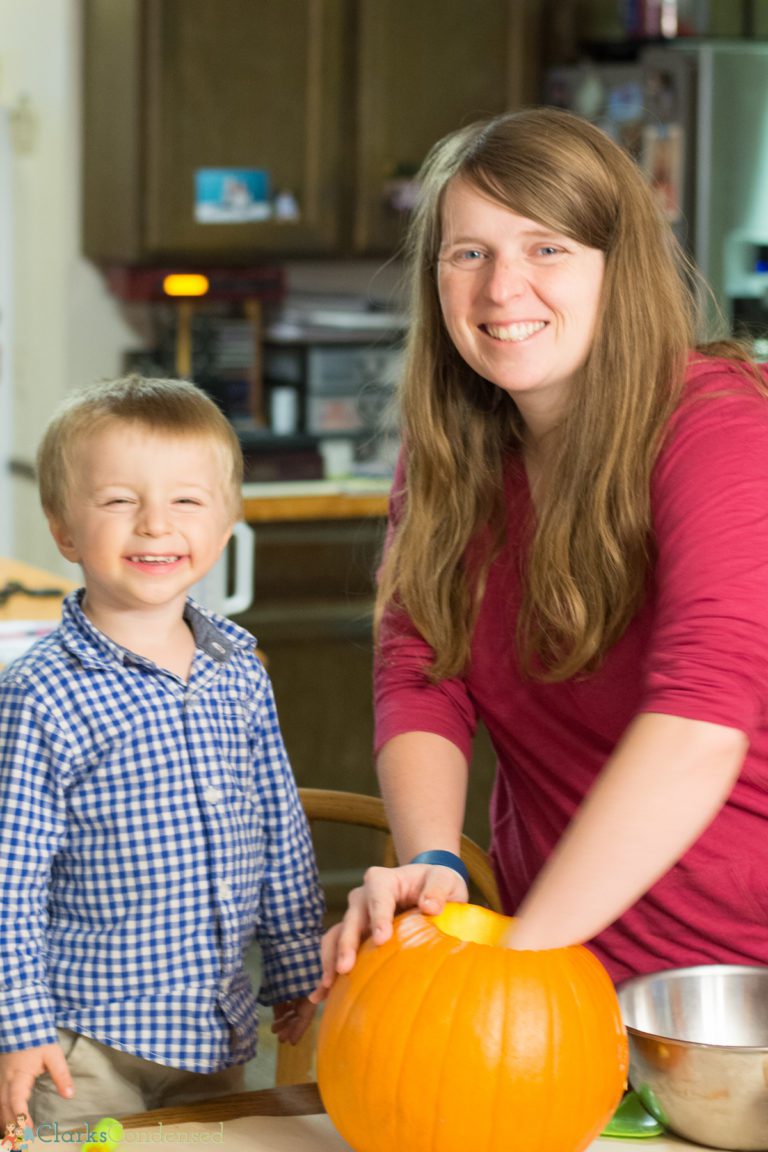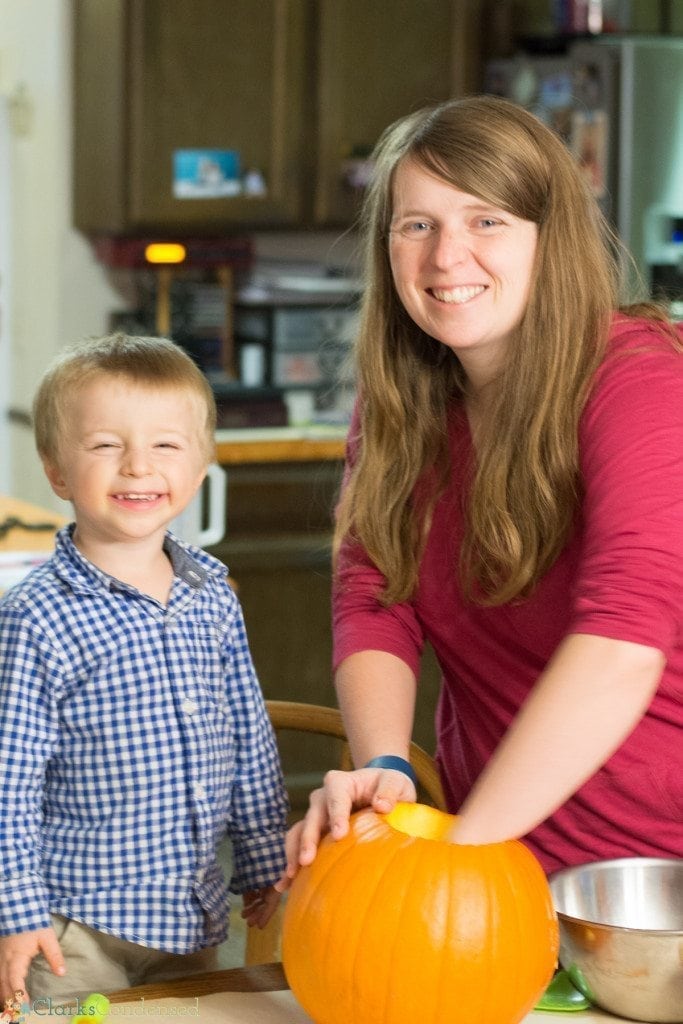 I also love the Pumpkin Masters Kid's Sticker kit, which I think would be perfect for toddlers and preschoolers.
Painting
This is one of the simplest pumpkin decorating ideas, and it's something that young and older children can enjoy.
Just get out some paint, some paintbrushes (or even encourage finger painting) and let your kids go to down. I recommend making sure you set out plenty of newspapers to prevent any big messes.
I also love these bibs from IKEA. They are great for protecting clothes from paint!
Mr. Potato Head Pieces
Forrest and I both thought this sounded like a fun idea – get out a bunch of Mr. Potato head pieces and let your kids stick them into the pumpkin.
This is a very safe way to decorate a pumpkin, and if you have a variety of pieces (there are so many different sets you can get on Amazon), the pumpkin could be rather creative!
Chalk pumpkins
I saw this idea on Pinterest, and I LOVED it!
Basically, you buy some chalkboard paint and cover a pumpkin in it. Then, give your child some chalk, and they can draw all over it. I think it's such a fun and non-messy idea.
Foam Sticker Pieces
I always see foam stickers on sale at Jo-Ann's or Michaels.
There are always a bunch of different kinds – they often have seasonal/holiday kinds.
Your kids can easily put these all over their pumpkins. This is another great idea for younger kids.
Safe lighting
Finally, it's important to make sure you keep things as safe as possible with your kids.
I already mentioned the carving tools that Pumpkin Masters have that are safer for adults and children.
However, safe lighting is important as well! Candles can be tricky to light and put into a pumpkin. I put one in our pumpkin tonight and just about burned my hand off (I don't work well with fire, though).
I love all the great lighting options from Pumpkin Masters. They have strobe lights and tea lights, which are all easy to use and safe. You don't have to worry about the candles being knocked over and setting something on fire or anyone accidentally burning themselves!
Dollar Tree LED tea lights are also a great idea. I've seen some pumpkin lights there as well.
More Halloween Ideas You May Enjoy: