Chewy and sweet, this caramel apple cookie brittle combines apple sauce, dried apples, and caramel to make a winning dessert.

This is a sponsored post written by me on behalf of Tree Top.
Have you ever had cookie brittle? I got some during the Christmas season, and was totally addicted. However, I'm convinced it was created by accident. Because I made cookie brittle the other day, and let me tell you, it was by accident.
A delicious accident, yes. But still an accident.
You see, I was attempting to make some cookies a little more nutritious by omitting some of the butter for Tree Top Cinnamon Apple Sauce, and apparently, these cookies didn't like that. Batch after batch, the cookies would flatten into a brittle-like texture. And at that point, I realized that these cookies were never meant to be soft, fluffy cookies…they were meant to be chewy, delicious, cookie brittle!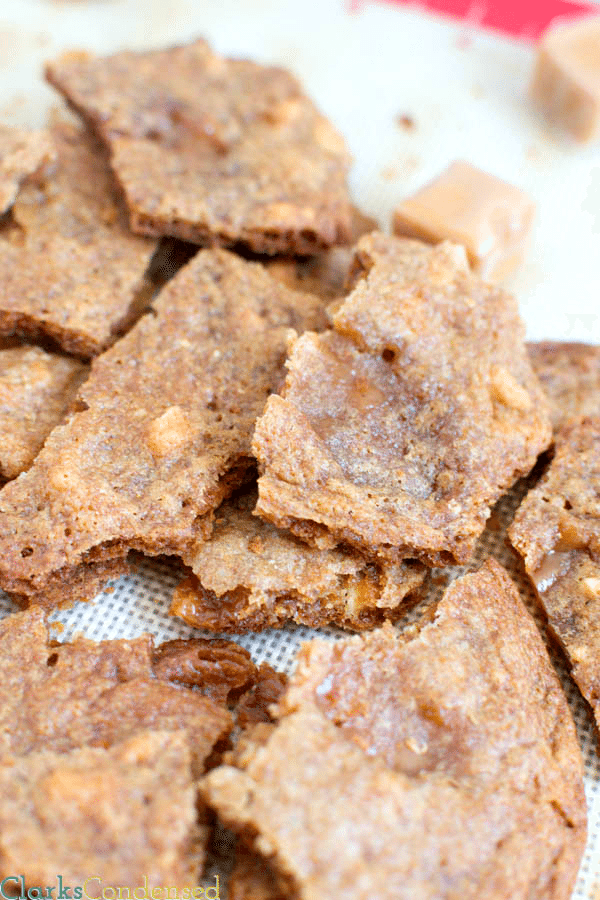 NEVER Miss Another Recipe!
Sign up for our food and recipe newsletter today
Free eRecipeBook upon signup
Free Meal Planning Bundle
Easy and Family Friendly Recipes EVERYONE Will Love!
I don't post recipes that turn out horribly and taste horribly, I promise. This cookie brittle was actually fantastic, and I almost made more of it when we were out. I used caramels, dried apples, and Tree Top cinnamon apple sauce, and it tasted like it was almost Halloween-time…which is why I felt this was the perfect time to post it. The Internet is flooded to caramel and apple recipes in the fall — so much, that most everyone is sick of it! However, right now when everyone is sick of red velvet, I thought caramel apple would be a welcome surprise!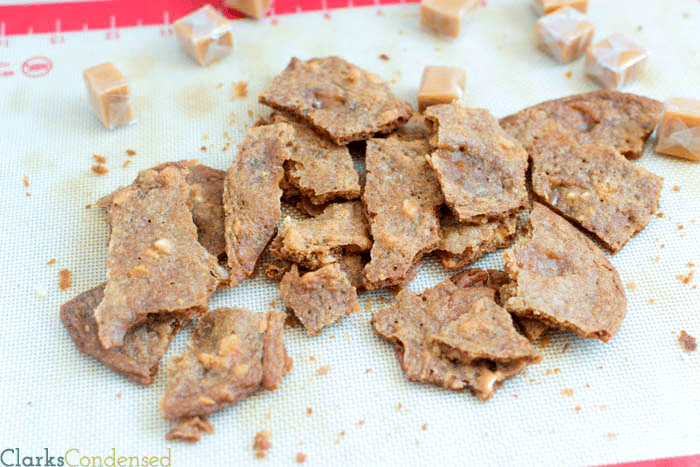 Regardless of my fail-turned-brilliant-success with using apple sauce instead of butter, I often use apple sauce as a substitute other ways, to make things more nutritious. I love using the Tree Top Apple Sauce pouches because they aren't messy, and are usually just the perfect amount for my substitutions. Tree Top Apple Sauce pouches are made from 100% USA grown apples, and taste fantastic.
Plus, Jack loves squeezable pouches, and they are an easy way to get veggies and the fruits he can eat into his diet! We've found that when he won't eat a fruit or veggie, if we give it to him in a pouch, he'll gobble it right up. We also always have them in the car, so when his hunger strikes (which is usually in the middle of a car ride) we can give him a pouch — his tummy is happy, and we don't have to worry about him making a mess.
So, make yourself a batch of this caramel apple cookie brittle, and enjoy life a little more because of it. And, just in case you don't have any Tree Top Apple Sauce pouches…I have a sweepstakes for you to enter to solve that little problem!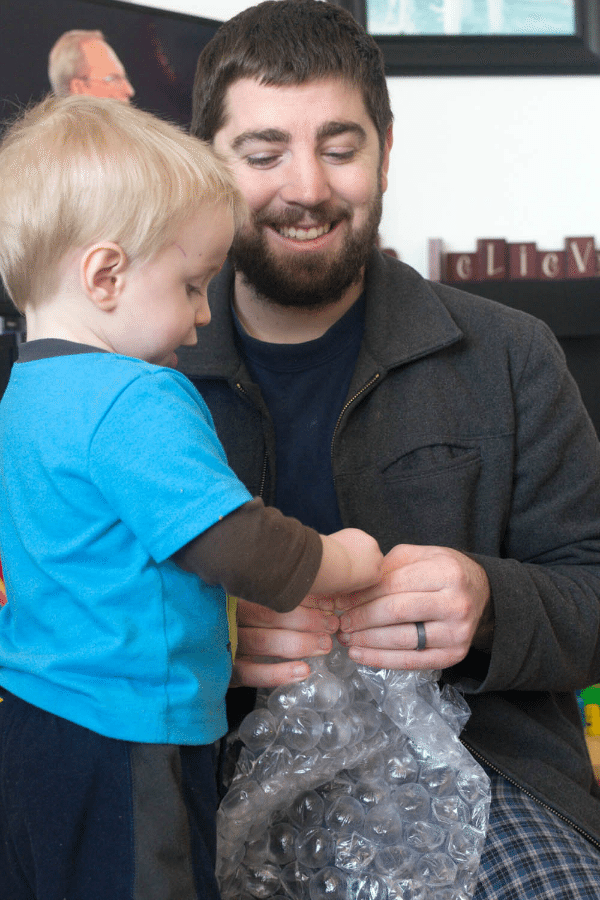 You see those two? They are my world, and are both my main "squeezes. And Tree Top wants to see yours!
To enter, show Tree Top who you love the most (aka your main squeeze), and you could win $500, plus a supply of Tree Top Apple Sauce Pouches! All you have to do is Instagram a photo of your main squeeze using the hashtag #TreeTopMainSqueeze…and be sure to tag @TreeTopInc. Terms and conditions for this sweepstakes can be found here.
Caramel Apple Cookie Brittle
Ingredients
1/2 cup butter
1/2 cup cinnamon apple sauce
1 egg
1 teaspoon vanilla
3/4 cup white sugar
3/4 cup brown sugar
3/4 teaspoon baking soda
1/2 teaspoon salt
2 1/2 cups white flour
1/2 cup dried apples, chopped
1/2 cup Kraft Caramels, chopped
1/2 teaspoon cinnamon
Instructions
Blend together butter, apple sauce, egg, and vanilla.
In a separate bowl, mix together sugars, salt, and flour.
Beat the dry ingredients into the beat. Mix in apples, cinnamon, and caramel.
Form into 1 inch balls and place on a jelly roll pan (so the cookies don't overflow)
Bake at 375 for 10 minutes. Cookies will appear flat. This is good! They will probably get flatter
Let cool completely and break into pieces.
7.8.1.2
1067
https://www.clarkscondensed.com/food/caramel-apple-cookie-brittle/
This recipe was created on ClarksCondensed.com. Feel free to distribute as needed, but if you post it on your own site, please link to back to ClarksCondensed.com
This is a sponsored post written by me on behalf of Tree Top.
COMMENT POLICY:
All we ask is that you be kind. We welcome differing opinions, but any comments containing personal attacks, sarcasm, etc. will be removed immediately. Keyboard warriors aren't welcome 🙂 All comments are moderated and may take time to be approved. Anything not pertaining specifically to the content of a post will be removed (including comments about ads).