25+ Easy and Delicious Single Serve Desserts that will satisfy your sweet tooth but won't ruin your waist line!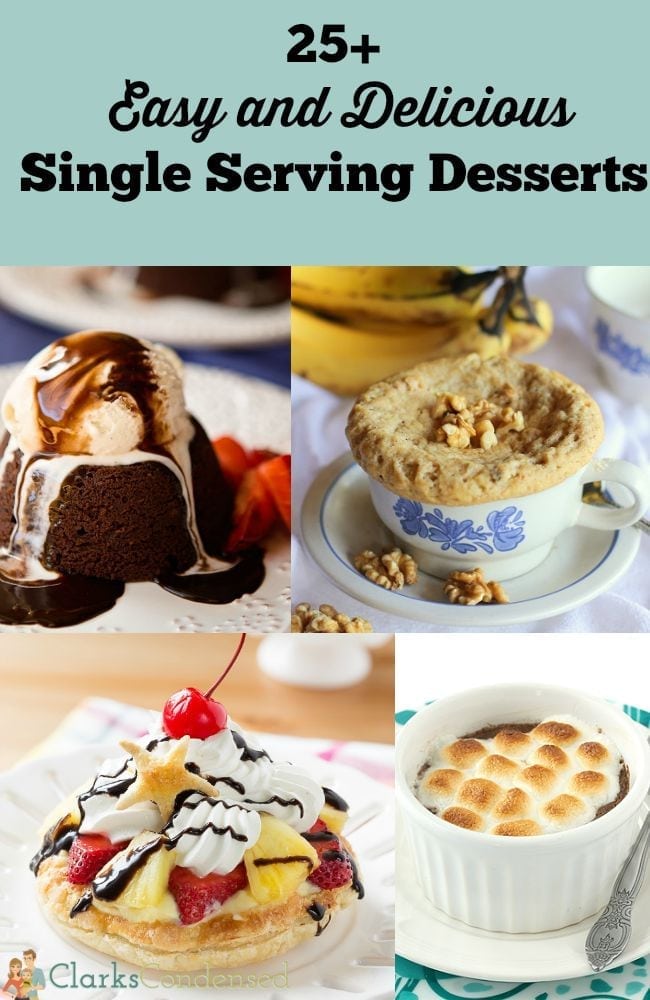 One of my biggest issues when it comes to cooking and baking is knowing how to cook for just one or two people. When I was learning to cook, all the recipes I used were for families, so I just never really scaled down. While it's not that difficult to scale a recipe down…I just never do!
The biggest issue with this is when I make desserts – we end up with way too many brownies, or banana bread, or cookies, and, since I apparently have no self-control, those treats disappear way too quickly. This happened in college a lot, too, though I fortunately usually had five other roommates who were more than willing to eat the desserts I would make.
Since sugar isn't that good for you, and eating ten cookies really isn't either, I decided to search out a bunch of delicious single serving desserts. Some of these are still rather indulgent…but they eliminate the temptation to eat more than you should. However, some of them are healthy and delicious – so hopefully there is a variety of options for you to choose from here!
These are perfect desserts for college students, people who live alone or with just one or two others, or for those nights when you just want to make yourself a yummy treat once the kids go to bed. Basically…they are perfect for anyone!
NEVER Miss Another Recipe!
Sign up for our food and recipe newsletter today
Free eRecipeBook upon signup
Free Meal Planning Bundle
Easy and Family Friendly Recipes EVERYONE Will Love!
');

COMMENT POLICY:
All we ask is that you be kind. We welcome differing opinions, but any comments containing personal attacks, sarcasm, etc. will be removed immediately. Keyboard warriors aren't welcome 🙂 All comments are moderated and may take time to be approved. Anything not pertaining specifically to the content of a post will be removed (including comments about ads).