Do you want to know what one of my favorite parts of campfires are? The s'mores, of course! But boy, are they messy, especially when children are involved. Or someone who, despite all their efforts, is a messy eater (Guilty, that's me.)
And do you want to know something else I love? Cupcakes. I know, everyone loves cupcakes. Which is probably why you see a cupcake shop on every corner — or maybe that's just in Provo. Regardless, I was thinking the other day how a s'more cupcake would be amazing. All the tasty-goodness of a s'more, but way less messy. As soon as I got the thought in my head, I couldn't get it out til I made it. And make it, I did.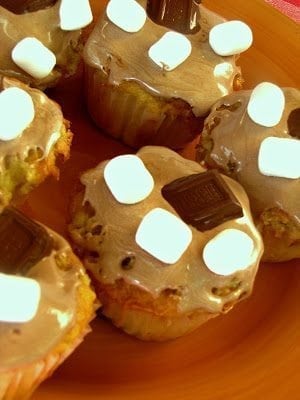 Of course, it was full of trial and error, because I just kind of threw things in a bowl and hoped it worked out. Luckily, I had these three cute little helpers that made it all the more fun: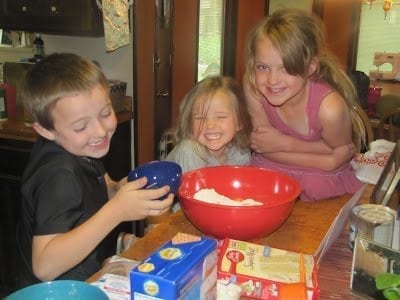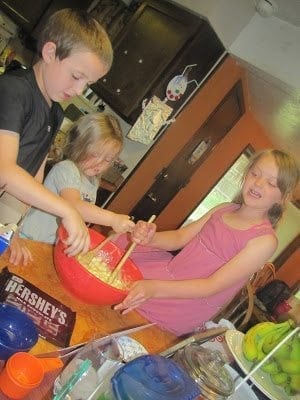 In fact, I pretty much just let them go to down, pouring ingredients in, and mixing them up. I told them what o do, took their suggestions, and we had a lot of fun doing it. I think kids make cooking even more fun, and I can't wait until Jack is old enough to help! The first batch of cupcakes…well…they tasted delicious. But because I didn't grease the pan very well, I had a really hard time getting them out. Just to keep things real, here's a picture of that first batch.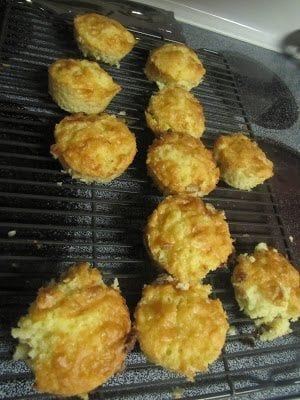 Fortunately, my sister found cupcakes holders in the basement, and we used those on the next batch. And luckily, they turned out much better! So with this recipe, I highly recommend using cupcake wrappers!
The cupcakes were still delicious — even if some of them were falling apart. A bunch of my family was over that night, and needless to say, the cupcakes did not last long! And they tasted just like a s'more. Exactly like I was hoping.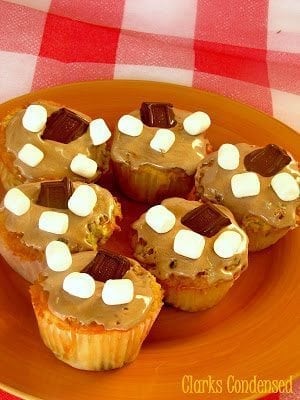 S'mores Cupcakes and Easy Chocolate Marshmallow Frosting
Yield: 24
Prep Time: 20 minutes
Cook Time: 20 minutes
Total Time: 40 minutes
Ingredients
Cupcakes
Vanilla Cake Mix
1 cup marshmallow cream
8 honey graham cracker squares, or 4 full sheets
4 Hershey's chocolate bars
1 cup water
1/2 cup oil
3 eggs
1 cup mini marshmallows
Frosting
1 cup marshmallow creme
1 Hershey's Chocolate bar, broken into pieces
Instructions
Cupcakes
Preheat oven to 325.
Place graham crackers in bag and crush until only small pieces and crumbs remain. Set aside. Alternatively, you could use 1 to 1 1/2 cups of pre-crushed graham cracker crumbs.
In a large bowl, mix together vanilla cake mix, 1/2 cup oil, and 3 eggs, stirring until smooth. Mix in marshmallow cream and graham crackers.
Line a muffin tin with cupcake wrappers. Fill each half way with the batter, and then add two pieces of the chocolate bar into each one. Add enough batter to cover the chocolate. Place in oven for 16-20 minutes, or until a toothpick comes out clean. Let cool.
To decorate, spread chocolate marshmallow frosting (see below) on top of cooled cupcake, and then stick one chocolate piece in the center and sprinkle as many marshmallows as desired on top.
Frosting
Put marshmallows and chocolate bar in a bowl. Place in microwave, and heat in 30-second microwaves, mixing in between until totally melted. Spread on cooled cupcakes.
Cupcakes not your favorite? Be sure to check out this S'mores Bread Pudding…one taste, and you won't want to put your spoon down!