Are you getting ready to travel with your baby? Here are 10 baby travel essentials you might want to have on hand!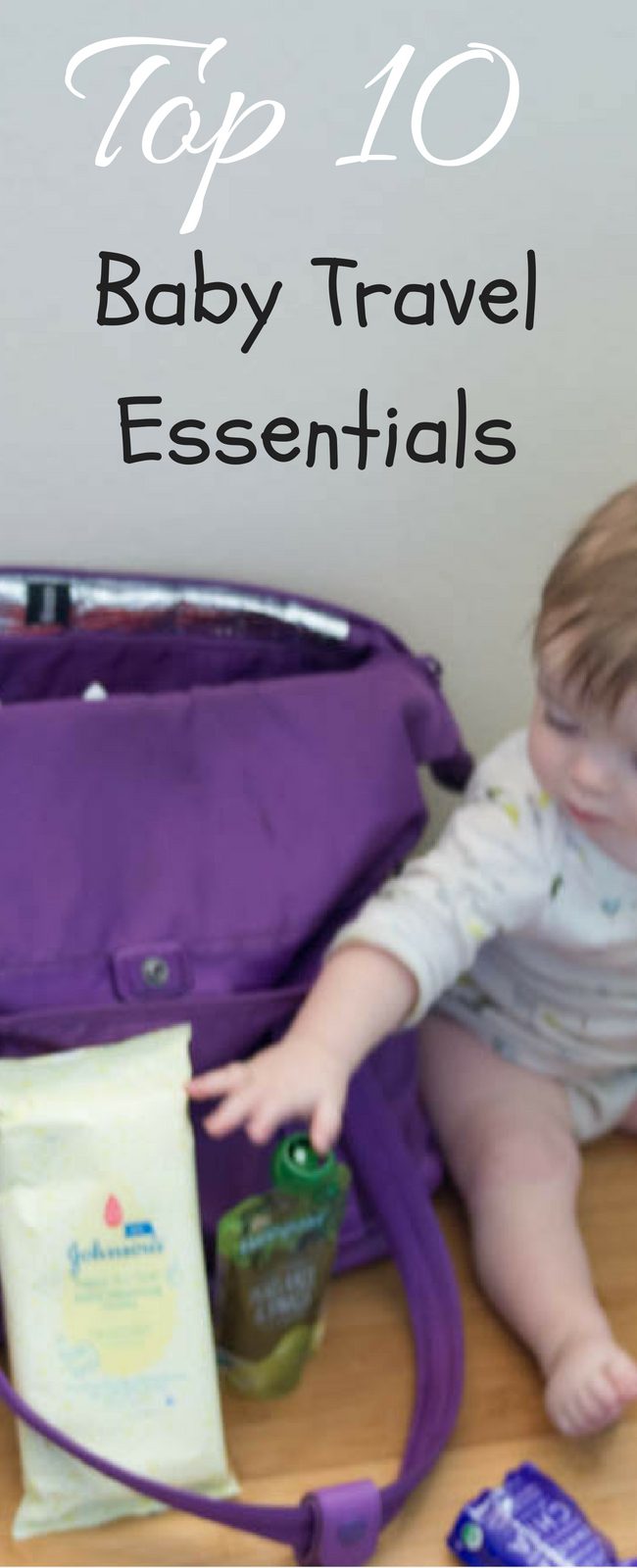 I've partnered with JOHNSON'S® on this sponsored post and all opinions stated are my own.
The other day on Facebook, I shared a post I wrote about tips for traveling with a baby.
I also posed the question, "Do you have any tips that I missed?"
I was a bit taken back when someone said, "Don't take them."
We've traveled with both of our children from a small age. Jack's first flight was when he was three months old, and we went one several road trips with Oliver before he was even four months old.
We love to travel together as a family, and even if our babies won't remember the earlier trips, it's important to us to take them with us! It just takes a little more planning and flexibility, but I love vacationing with a baby!
Since we just got back from another road trip, baby travel essentials are certainly on the mind – especially because I forgot a few this time around. If you are traveling with your baby for the first time, or with your sixth baby for the hundredth time, hopefully you'll find some helpful tips in this post!
First aid/Medicine Kit
Okay, I don't know what it is with our family, but we get sick EVERY time we leave town. As I'm thinking back on the past few years, I can't think of a time that we didn't get sick. I'm not sure if it's something in our car, something in the air in the places we travel, or what…but we always get sick.
So you'd think I'd be more on top of things at this point. Not so much. We were in the middle of nowhere Idaho when Oliver spiked a fever and couldn't stop coughing. I had nothing! Forrest went in the middle of the night to try and find some medicine, and since we were in the middle of nowhere, the only place that wasn't an hour away was a gas station. They, fortunately, had some infant Advil, but I was kicking myself for not being more prepared.
So take it from me – have all the medical supplies you could need! Here are a few things I will be making sure I have next time:
Infant Ibuprofen (Oliver is over six months, so he can have this now).
Infant cough suppressants (babies and children under 4 or 5 can't have regular cough medicine, but there are some brands that have cough syrups that infants can safely have).
Gripe Water
Thermometer (we love our wearable thermometer)
Bandaids
Nasal Aspirator and Saline
JOHNSON'S® HEAD-TO-TOE™ Cleansing Cloths
I remember when we took Jack to South Carolina as a baby, we tried to give him a bath in a teeny tiny sink. It didn't work out so well.
There are just times when you are on a vacation that giving your baby a full on bath just isn't going to happen. However, vacations often get people feeling dirty and grimy – including baby. I was so thrilled when I heard about JOHNSON'S® HEAD-TO-TOE™ Cleansing Cloths before we left on our most recent trip. They were a lifesaver for both of our boys.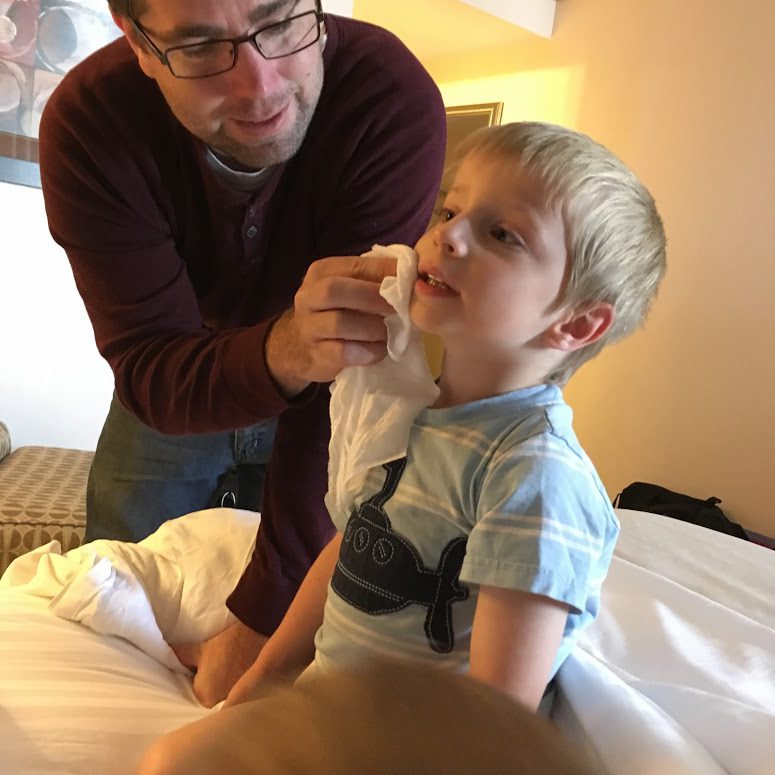 These soft cloths allow you to essentially give your baby a waterless bath. They are AWESOME for traveling – or really, for any time when your child just can't have a traditional bath. Our boys really like them because they are quick to use, super soft, and they work well.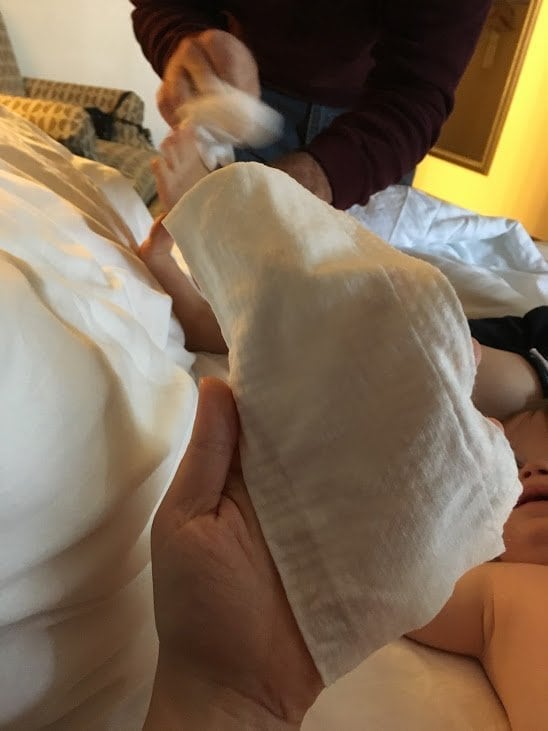 They are about twice the size of JOHNSON'S® hand and face wipes, and they are quite a bit thicker. You don't have to rinse after using them, and they leave no residue.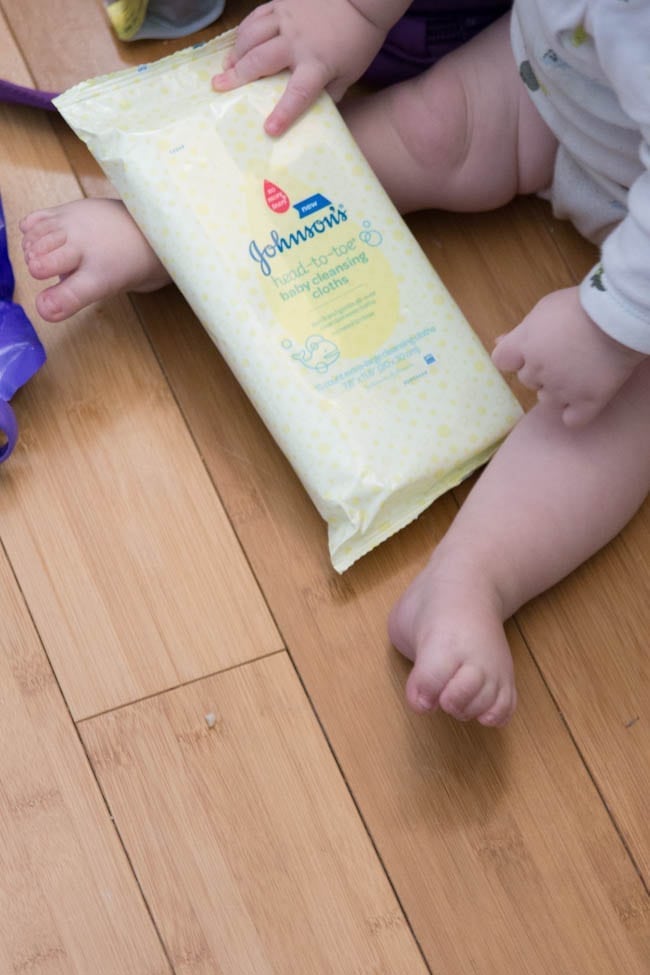 Super easy to throw in your diaper bag or suitcase. If you are going to the beach on your trip, these would be great for cleaning kids off once you get to your car (because we all know a trip to the beach means getting sand everywhere!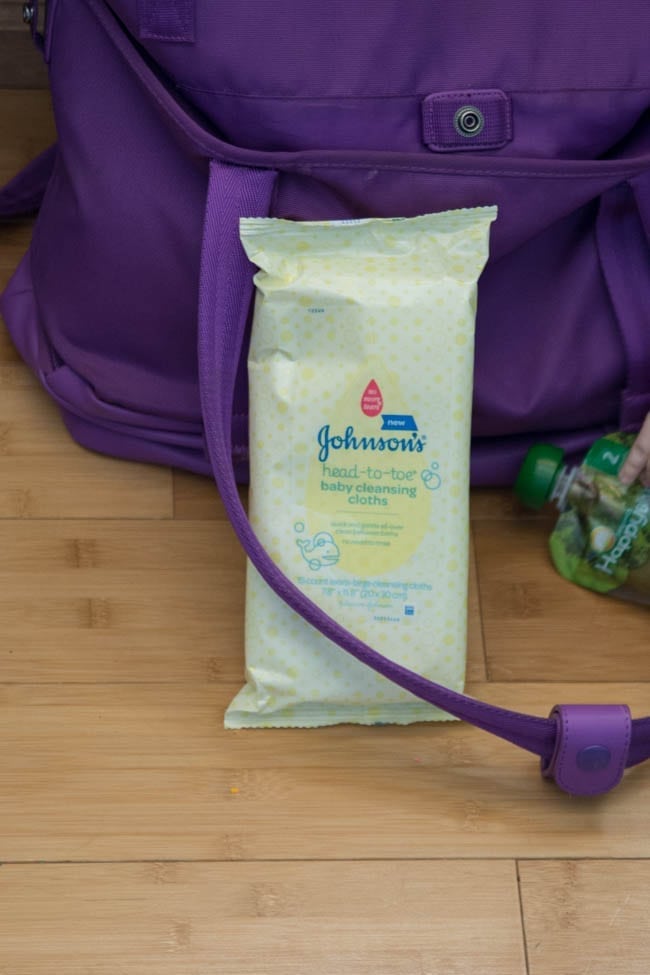 Sun Protection
Babies are so sensitive – especially to the sun and heat. While you should avoid taking them out in the heat of the day, if you are out in the sun at all, you want to be prepared. I recommend having a high-quality sunscreen (avoid sprays), hats with UPF protection, infant sunglasses, etc. Make sure to keep them hydrated, too!.
Travel Binder
If there's one thing I've learned, the key to a successful vacation is proper planning ahead of time. Do you need to plan every second of every day? Of course not! We like to play a lot of things by ears. However, you should have a general idea of what you want to do and what is available where you are going.
While this really doesn't have to do with a baby, I think having a travel binder can make your trip easier. You can put coupons for restaurants and activities where you are going, birth certificates for age verification on planes, hotel itineraries, dosages for medicines, etc. It's helpful to have all your important information and documents in one place so you don't have to search around everywhere!
Snacks (for everyone)
I think this goes without saying. Always. Have. Snacks.
We are a big fan of goldfish crackers, puffs, and bananas. However, we also really love food pouches. They are usually packed full of healthy ingredients, and both of our boys love them.
White Noise
I think one of the hardest parts of traveling with an infant is the change in sleep environment. Our boys are creatures of habit, and any change in their sleep environment can cause issues (including night terrors).
While there isn't a ton you can do, I think that having white noise can help soothe the environment – especially if they use it at home. We've had good luck with the Marpac Dohm, but the White Noise app (available on iOS and Android) is excellent as well.
Baby Monitor
At our family reunion, we were staying in a big house. There were a few times where I wished I had brought my baby monitor so I could go downstairs while Oliver napped. However, since it would have been difficult for me to hear him, I wouldn't know when he woke up, so I spent a lot of time in our room while he slept! Having a baby monitor can be helpful if you are in a similar environment!
Baby Carrier
I am the biggest fangirl of baby carriers. They just make life SO much easier, especially when traveling. When we travel by plane, I much prefer getting through the airport with my baby in a carrier. I think they are more convenient than strollers and definitely better than just toting baby around on the hip! One of the only ways I could get Oliver to sleep on trips is in my Ergobaby carrier.
I've used a lot of different carriers, but my favorites are definitely ErgoBaby and the Moby Wrap!
Large Diaper Bag
I'm a fan of having a big bag to pile all your "goodies" in for easy access. A diaper bag backpack is even better for vacations, especially if you are babywearing and not pushing around a stroller all day.
Travel Bed
Not everywhere you are going to stay will have cribs, pack and plays, etc. available for your use. I recommend bringing one if you have room. When Oliver was younger, we used his little co-sleeper bed. Now we have our pack and play. There are a lot of great options out there!
Portable Changing Pad
Okay, this really makes this post have 11 essentials, but someone suggested this after I already published. Haha! Anyways, I think this is one of the best suggestions. On our recent trip, I was appalled at how many bathrooms had no changing table in sight. Oliver was sick, so I felt even worse changing him on the ground. They are fairly inexpensive, y ou can put diapers and wipes in them for easy storage, and they will make you feel a lot better when you change your baby (I recommend putting one down on a changing table either way – those are probably not very clean!)