The Best Tips for Staying Healthy While Traveling
I love traveling with my family, and it's something we are able to do regularly throughout the year.
We have our final summer vacation coming up, and while I can't wait to spend time with my little family (especially with Jack starting Kindergarten soon), there is one thing I'm dreading.
The seemingly inevitable weight gain that comes with vacations. I have been working really hard lately to get healthier and lose weight, and I've been quite successful. However, in my past experience, it only takes a one week vacation to ruin a lot of progress.
Since I'm determined to not let this happen – but at the same time, not ruin our vacation by constantly counting calories – I've been reading different tips for not sabotaging your diet while on vacation.
Thank you to Albertsons and Safeway for partnering with us on this post.
Before I share some of my favorite tips on keeping calories down during your summer adventures, I want to share one tip on fueling UP before you take off – taking advantage of Albertsons and Safeway's Anniversary Sale and sweepstakes!
During the Anniversary Sale, shoppers have the opportunity to enter to win a $500 grocery gift card. All you have to do is show your local Albertsons Companies family store how participating PepsiCo products (see below) and the 4X Gas Reward Points you earn when purchasing these products help #FuelURAdventure. Entry is easy as 1-2-3:
Take a photo of your favorite participating products (listed below)
Share your photos on Instagram, Twitter or the contest entry page by 8/17 showing how you celebrate summer with these featured products clearly visible
Use #FuelURAdventure and don't forget to tag your local storeShopping at Safeway and Albertsons helps me fuel my summer by offering 4x the gas rewards points when I purchase select PepsiCo products through August 17th Safeway and Albertsons' Anniversary Sale!

I've been stocking up on Aquafina bottled water and Veggie Harvest Tomotato Basil and Cheese-flavored SunChips, but you can also stock up on any of the below products:

Quaker Cap'n Crunch (14 oz.)
Gatorade G2 Lemon Lime (32 oz.)
Lay's Classic Potato Chips (family size 10.75 oz.)
Tostitos Scoops (10 oz.)
Quaker Life Cereal (13 oz.)
Aquafina bottled water (24pk 16.9 oz. bottles)
Gatorade (32 oz.)
XL SuncChips Veggie Harvest Tomato Basil and Cheese (7 oz.)

I can find all these great products at my local Safeway and /Albertsons stores—be sure to check out these great products at your local Albertsons Companies family of stores, including ACME Markets, Jewel-Osco, Vons, Pavilions, Randalls, Tom Thumb, Shaw's, Star Market, United Supermarkets and Market Street.
Fruits and Vegetables
Load up your car or hotel refrigerator with fruits and vegetables. These are far better for you than many vacation snacks, and because they are full of fiber, they can help prevent overeating and road trip bloat!
You can also bring dips like hummus, low fat fruit dips, etc.
Portion snacks
I think one of the biggest tips for success is just portioning things out so you are consciously aware of what you are putting in your body. I know that when I open a bag of chips, I can eat a 1/2 bag without even realizing it while we are driving.
You can buy some plastic baggies and put a portion size of your chips, nuts, etc., into each bag. You can even write how many calories, fat, etc., are in each bag so you can remember that when you go to grab one. You might be surprised at how much a serving is!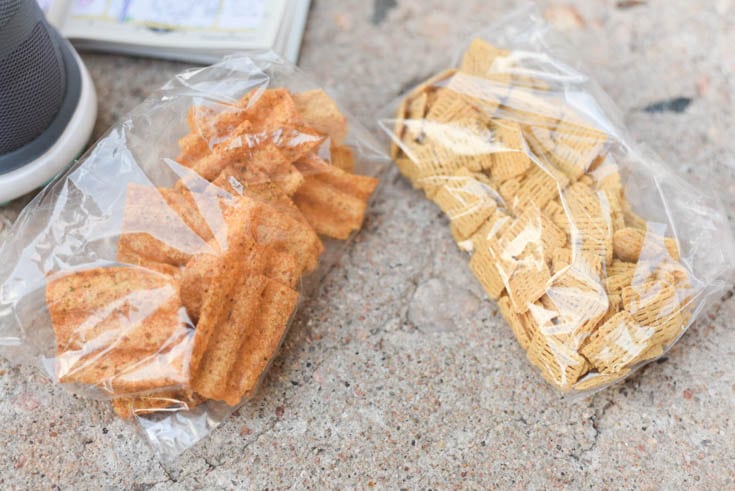 We love bringing snacks like Life cereal, because our boys love it, and it's not loaded with sugar like other cereals.
Water
Drink as much water as you can! It can help satisfy hunger (as thirst often presents itself as hunger!), it keeps you hydrated and prevents bloating, and it's better for you than sugary drinks that are oft popular while traveling.
Whether you are going on a road trip or flying somewhere and staying in a hotel, make sure you pick up a big package of water bottles. We love Aquafina, and it's my water bottle of choice. It's important to have these for emergencies, and they are zero calorie, zero sugar, zero everything…so they aren't going to make you gain weight. In fact, they can help combat water weight!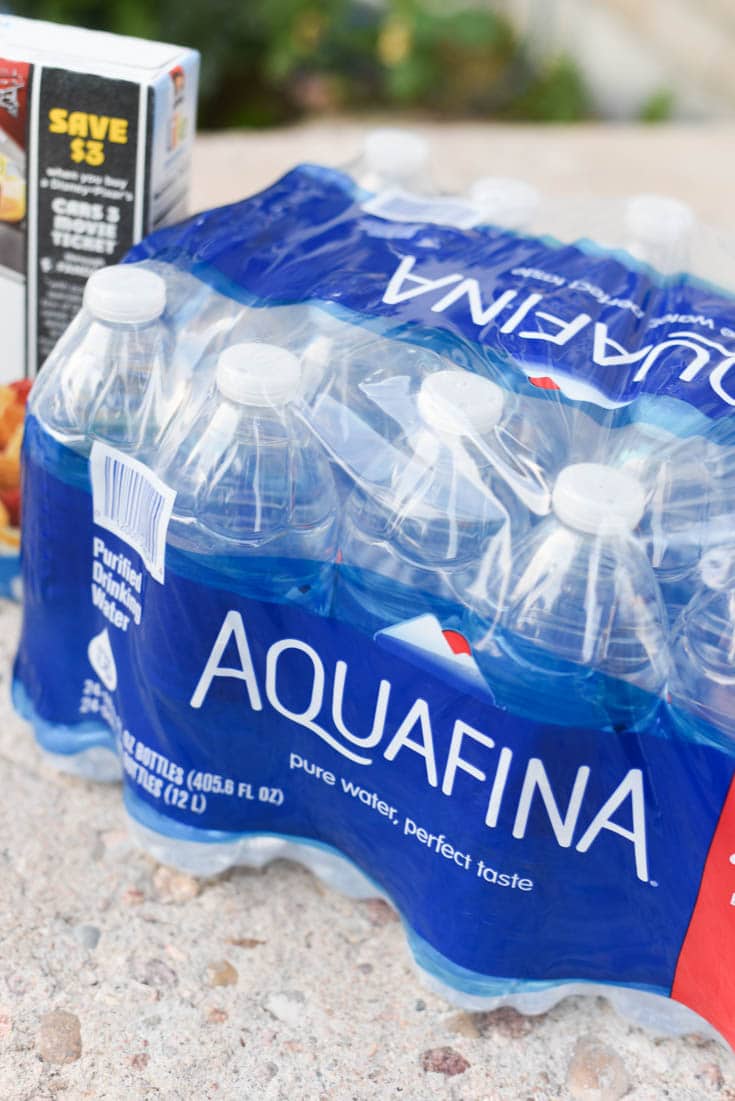 Allow yourself Treats
I'm all about moderation in all things. Let yourself have some treats on your trip! For instance, I LOVE salty things and chocolate on trips, but those can easily be overeaten. However, if you portion them out like I mentioned above, you can safely eat them.
When you go out to eat, share a dessert rather than getting one yourself. Bring some chocolate in the car, but make sure you don't have too much!
If you like chips like we do, you can pick an option that has less fat and calories for others. For instance, we love SunChips, and they often have less calories than other salty treats…and they usually taste better. We love the Veggie Harvest Sun Chips especially. They are so good!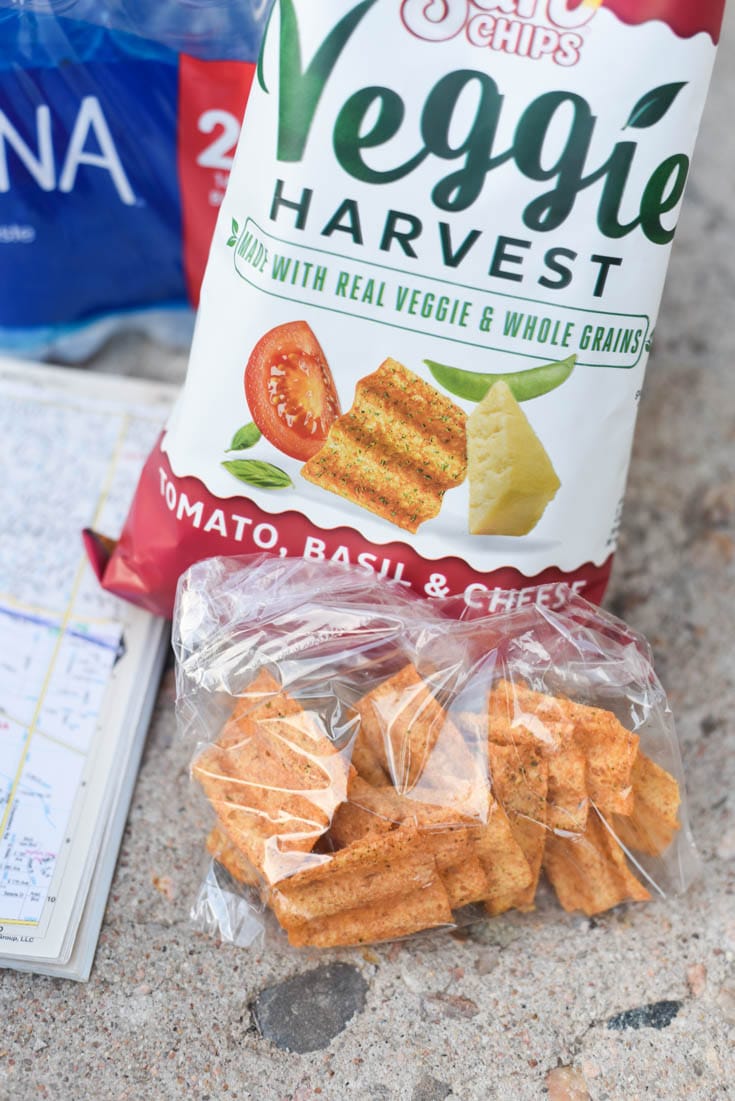 Choose Healthier Options
Be smart about all the snacks you bring. As I've already mentioned, I'm a big fan of having a few treats here and there, but as a whole, I recommend bringing snacks that are high in protein, fiber, and/or whole grains! Here are a few great options:
Nuts/seeds
Low sugar cereals
Grapes
Clementines
Bananas
Apples
Peanut or almond butter
Popcorn
Rice cakes
Certain granola bars
Mini Carrots
Celery with peanut butter
Walk When You Can
Find all the opportunities you can to walk, especially if you will be in the car. Make it a point to stop every few hours at a rest stop to stretch your legs and walk around.
If the weather is nice and your destinations aren't too far from where you are staying – walk there. And even if you don't want to do that, you can almost always find a nice place to walk around 🙂
MyFitnessPal
I love MyFitnessPal – it's definitely been the key to some of my success in recent months. It's a great way to keep track of what you are eating, especially while on vacation. I love being able to kind of plan my meals ahead of time – especially before we go out to eat. It has a great restaurant database so you can check out the nutrition at most chain restaurants.
Exercise Apps
Download some apps before you go that have easy workouts you can do without little equipment or room.
Make a Plan
Just be smart about your plans throughout the day. Plan when you are going to eat, make sure you bring plenty of water and healthy snacks with you, and just make time to be active!
Stay Somewhere with a Kitchen
Eating out is usually the easiest option, but it can also be the culprit of vacation weight gain because of the high sodium and calorie options.
While you can find better-for-you options while eating out just about anywhere, sometimes it's nice to be able to make your own food – where you know what the ingredients are. We love staying in hotels that have a mini kitchen where we can prepare meals and store fresh food in a refrigerator.
Navigating the Buffet
A buffet can be your best friend or your worst enemy. In general, when you are at a buffet (whether it be a hotel breakfast, on a cruise, etc.), it's always best to gravitate toward fruits and vegetables and stay away from anything that has a lot of carbs (like breads, pastas, potatoes, etc.). Creamy sauces are usually a no-go too.
For breakfast, I would recommend getting some meat, eggs, and lots of fruit!
Make sure to stop by your local Safeway to help fuel your summer adventures! They have everything you need to keep your summer and goals on track.
They are also offering shoppers a chance to win a $500 grocery gift card. From August 2nd through 17th, all you have to do is share a photo on social media with one of the participating products on social media with the hashtag #FuelURAdventure!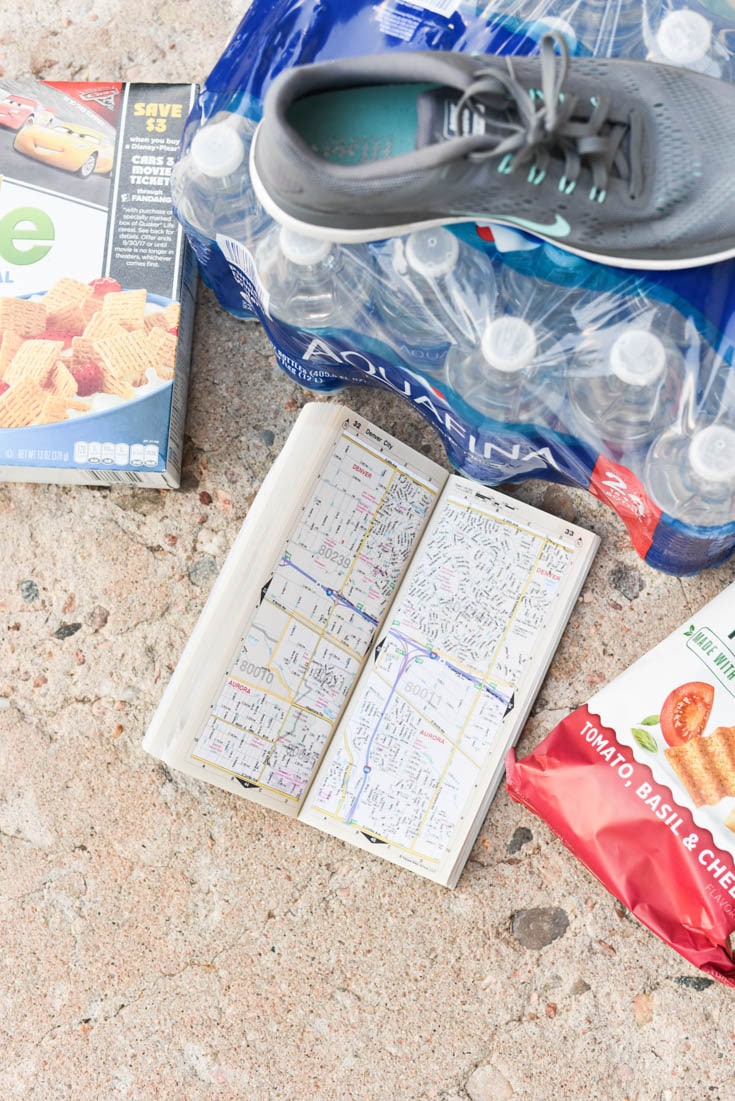 In addition, anyone who stocks up on the following items can earn 4x Gas Reward Points!
Quaker Cap'n Crunch (14 oz.) (UPC: 3000006531)
Gatorade G2 Lemon Lime (32 oz.) (UPC: 5200032251)
Lay's Classic Potato Chips (family size 10.75 oz.) (UPC: 2840059812)
Tostitos Scoops (10 oz.) (UPC: 2840006408)
Quaker Life Cereal (13 oz.) (UPC: 3000006354)
Aquafina bottled water (24pk 16.9 oz. bottles) (UPC: 1200050404)
Gatorade (32 oz.) (UPC: 5200033877)
XL Sunchips Veggie Harvest Tomato Basil and Cheese (7 oz.) (UPC: 2840058624)
This is a sponsored conversation written by me on behalf of Albertsons and Safeway. The opinions and text are all mine.