During a recent blogger conference that Katie attended in Utah, SNAP, we were able to stay at the Red Lion Hotel. We've stayed a few hotels nearby before – mostly the cheapest hotels we could find. Unfortunately, our experience at those were not the most pleasant. We had some cigarette smoke smell in our supposedly non-smoking room and lots of late night noise at one hotel. The police patrols in the parking lot were both somewhat comforting and disconcerting at the same time.
However, our experience at the Red Lion was much better. It is at a great location – I-15 and I-80 are very close and it is very close to downtown. It is only a little over a block away from the Trax which will take you the next couple of blocks to the center of downtown and other places. The hotel itself was very comfortable and enjoyable. Plus, we were up on about the eleventh floor, so we had a great view. It was a little windy, but the noise was minimal.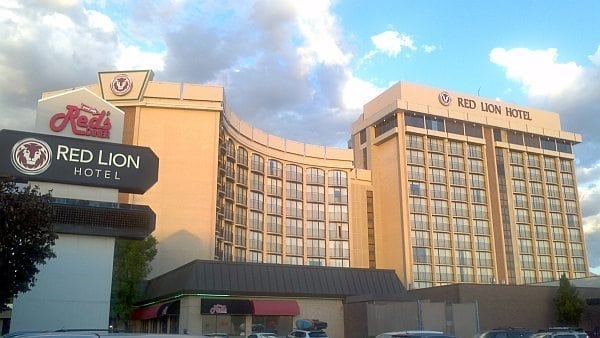 The room we stayed in wasn't especially large, but it didn't really need to be. The space was used very well. The Red Lion recently updated some of its rooms, and the room we stayed in was one of those. There was a mini-fridge and microwave tucked into the front dresser. The television was a nice size, and they had a larger selection of channels than most hotels we've stayed at. Most importantly to me, they had good Internet speed that could actually let you stream something like Netflix. Another thing that I really liked is that they had lots of outlets that you could plug your laptop or phone charger into, several of which were right next to the bed. I think it is really weird when some of the hotel rooms have so few outlets that you have unplug a lamp out of a power strip to plug in your phone.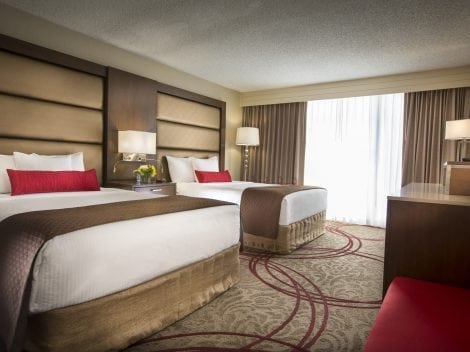 We had two queen beds, which works well for us. Jack got his own giant bed! Another little thing that is an example of space well used is a little table with wheels that you can pull out a little bit to get a little extra table room. There was even a little bench that I could only imagine is good for putting your shoes on. I felt a little like Mr. Rogers using it.
We were in the hotel for a few days, so we ended up making a few little meals in our room. With the room's amenities and our little-insulated picnic bag and set, we had about everything we needed for breakfast and lunch. There is a little diner in the hotel, but we're usually super cheap so we ate in our room. One of the receptionists even gave Jack a few different kinds of granola bars that had a little bit of chocolate in them. Jack was in heaven. I felt that the staff was generally friendlier than the staff at most hotels. Another example, the lady at the desk's handwriting was a little tough to read, and one of the cleaning guys was very helpful in figuring out which room I was supposed to be in. I really didn't want to go back downstairs with Jack and all of our bags.
Overall, the things I liked best were the location, outlets, and good use of space. You can often find a great deal for this hotel on Priceline.