Is Mickey's Halloween Party at Disneyland worth the price? Here are the pros and cons to help you decide if this not-so-scary adventure is right for you!  
What could be better than Disneyland??… HALLOWEEN at Disneyland!  '
Select nights September through October, Disney opens its gates for a special spooktacular celebration, Mickey's Halloween Party. The party is considered one of the theme parks "special events" and requires a separate ticket to attend.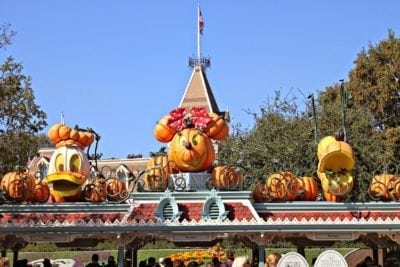 If you're like me, this will cause a long and hard deliberation: Is the ticket to the party worth it when it could be applied to a full day's admission? (Tickets range from $72-$99) This really comes down to how many days you will be visiting the park, and what experiences you'd like from your trip. 
Aside from being a die-hard Disney fan, I am a die-hard Halloween fan. So for me it was definitely on my bucket list. But if you're still on the fence, here's a list of pros and cons to help you make the call.
PROS of Mickey's Not-So-Scary Halloween Party
Early Entrance
Though Mickey's Halloween Party is from 6-11 on weeknights and 7-Midnight on weekends, you get access into the park 3 hours before the party begins. This means you can actually enter at 3 or 4 pm, and have a few hours to knock out some rides before all the festivities begin. Knowing you get a solid eight hours for your money makes the price much easier to swallow. 
Costumes
Even if you have multiple other excuses to dress up during October, planning your family's outfits for the big day gives the Disney experience that much MORE magic.
I spent weeks building the perfect family Toy Story outfits, and all the effort just added to my excitement. It is also so fun walking around the park admiring the creativity of other guests.
Disney fans are SERIOUS! The level of commitment is inspiring 🙂 Two of my favorites were a hitchhiking ghost from the Haunted Mansion (complete with a vintage suit and suitcase) and Madame Leota, the floating head in the crystal ball.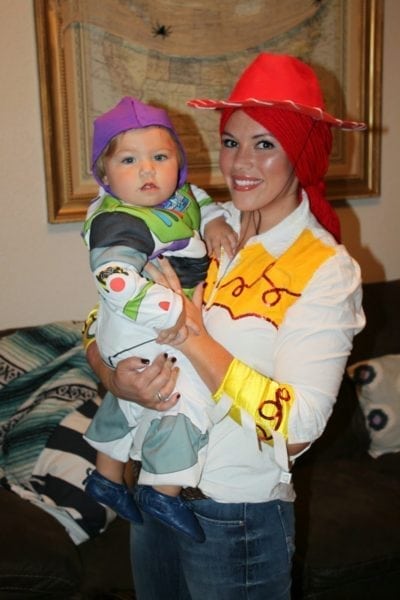 Exclusive Parade and Fireworks Show
Disney's entertainment never fails to awe, but the "Halloween Screams" fireworks show BLEW. ME. AWAY. From the second Zero flew in to kick the show-off, to the pyrotechnic finale- I was in a giddy trance.  
The eerie colors, the fog, the perfectly coordinated soundtrack all worked together to create a mesmerizing display. The parade changes year to year.
The year I attended was the Costume Cavalcade, which featured all your favorite characters decked out in their Halloween costumes. This year is the Frightfully Fun Parade, full of Disney's spooky characters and villains. Both the Parade and Fireworks are ONLY shown during the Halloween party.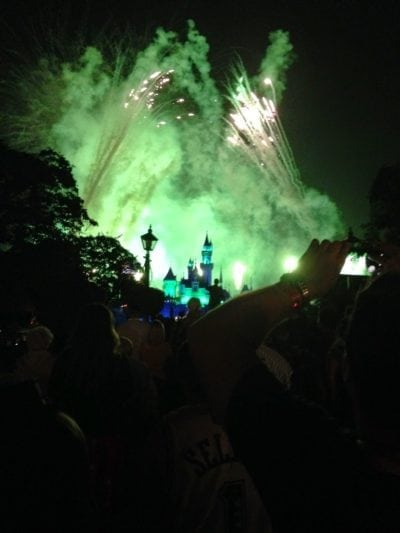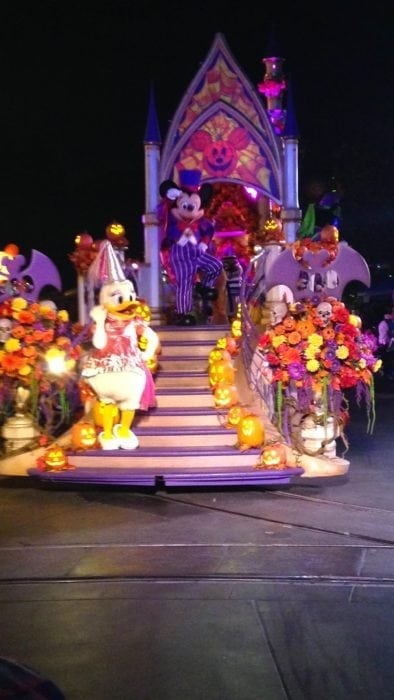 Trick or Treat Trails
Amidst the spooky festivities, Trick or Treat trails are placed throughout the park where kids have the choice between typical Halloween candy or healthy snacks. You are given little plastic bags at the gate for the purpose of trick-of-treating, but I found it helpful to buy my kids little drawstring backpacks.
They were light, easy to open and close, and stayed on their backs instead of my hands. The "trail" feature makes it easy to stock up on goodies quickly.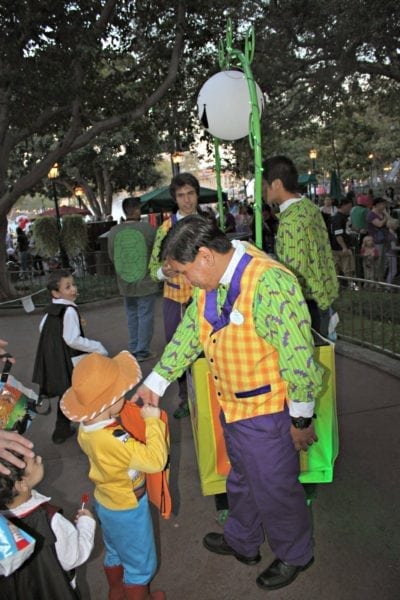 Extras
Meet and greets with characters in costume, or rare disney villains is another exclusive to the party. As is specific entertainment like Cadaver Dans barbershop quartet.
CONS of Mickey's Not-So-Scary Halloween
Overcrowding
Between the hours of 3-6pm, during your early access to the party, the park is PACKED. The normal daytime guests are still in the park in addition to the new throng of party-goers.
You will likely have to cut your to-do list short, because lines are long and moving around the park in general is difficult. When 6:00 hits those without a wristband are ushered out of the park, but the process takes a little while.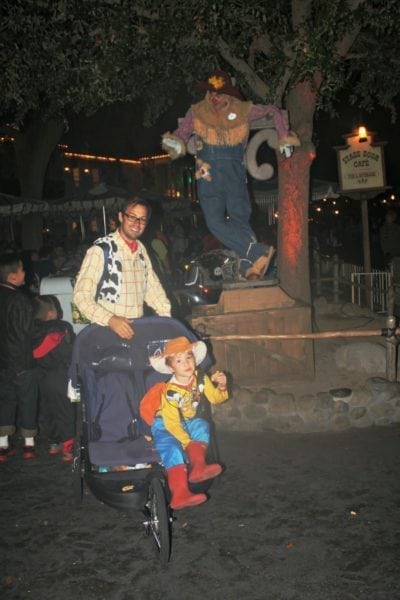 Ride Closures
I left a few favorite rides on my schedule to ride to the day of the party and was disappointed to discover that many were closed. It seemed to me that most of the rides shut down to utilize cast members for Halloween festivities. If your plan is to use the party day in place of a typical day in the park, it won't work out well.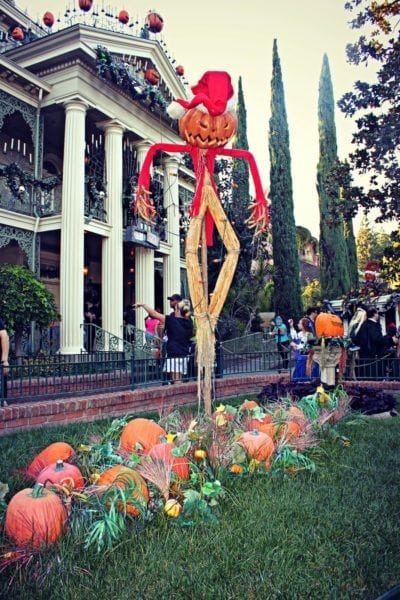 Decor and Ride Overlays Can be Seen Anytime 
Many want to visit Disneyland during Halloween time to see the decorations and special overlays done on the rides. However, these things can be seen at any time without a special ticket to the Halloween Party.
 The Haunted Mansion has been converted into Haunted Mansion Holiday (starring the Nightmare before Christmas) and Space Mountain has been turned into Ghost Galaxy (which, fair warning, scary for children… and maybe even adults!!)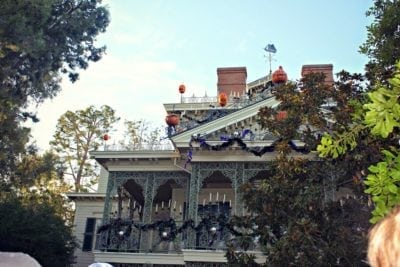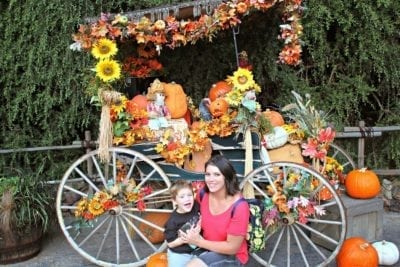 The Verdict?
Mickey's Halloween Party can be a magical, memorable night your family will never forget. But weigh your decision with how many days you'll spend at the park, and if you'll have enough time to see all the attractions you want.
If you're a frequent Disney go-er and want a novel experience, then the party is a no-brainer! After our visit, I was glad I chose to go to the party. It was a new, unique experience that I will always cherish. That being said, the next trip I plan will be at a less crowded time.
Whatever your decision, have a blast soaking up the most magical place on earth and eat a pumpkin beignet (or two or three!) for me.  
Is Mickey's Halloween Party at Disneyland worth the price? Here are the pros and cons to help you decide if this not-so-scary adventure is right for you!