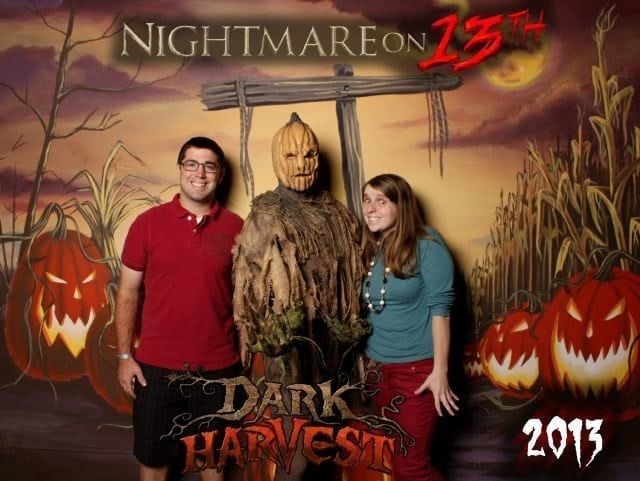 I'll be posting some fun fall ideas in Utah over the next few weeks. If you have something you'd like us to review, that is between Spanish Fork and Bountiful, email me at katie (at) clarkscondensed (dot) com. We'd love to add it to this guide!
With as much as I love Halloween, you'd think that I would have gone to a haunted house or two in my life time. Sadly, until last week, I hadn't. I always wanted to, but I just couldn't justify the cost (or find people to go with, who wanted to pay.) So when Carrie Smith over at Craft Night Owls arranged a "Spooky Blogger's Night Out" at Nightmare on the 13th in downtown Salt Lake, where I would get two free tickets, I couldn't pass it up.
Forrest and I really looked forward to going. For one, it was one of the first times we've gone on a date, just the two of us, since Jack was born. Secondly, Forrest had never been to a haunted house, either, so we both were curious what all the hype was about. Apparently, we picked a good one to go to for our first time — afterwards, I read that they've been ranked in the top 10 Haunted Houses in America twice, and have been featured on the Travel Channel.
We arrived a little after 7:30, and I felt like I was in high school again. I could count the number of adults on my hand — I guess haunted houses are definitely more a high school scene! There were some really annoying kids both in front of us, and behind us, that kept bumping into us. But that's okay. It was kind of fun to stand in line, because some of the creatures from the haunted house came out to try and scare us. And, yes, they did scare me. When they noticed they I was totally creeped out, they would not leave me alone!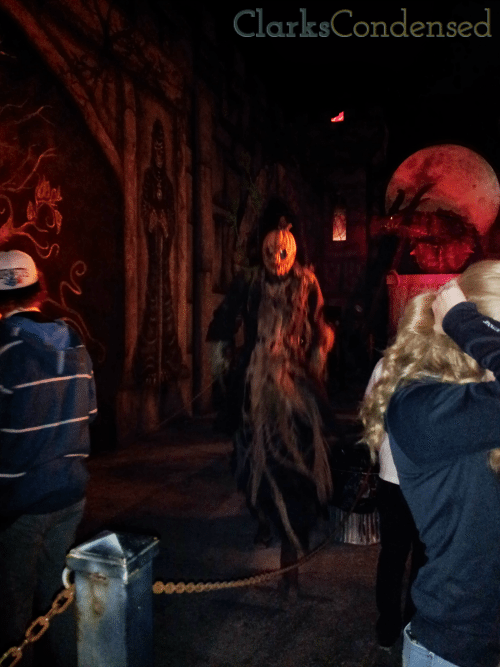 We didn't have VIP passes, so we had to stand in line, which took about 20 minutes. It wasn't too bad though, especially because we were entertained by this amazing animatronic dragon outside. It was super impressive.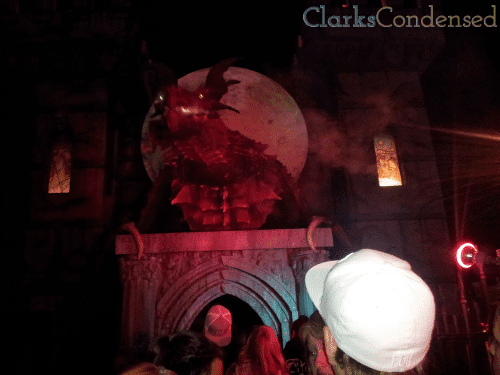 So we finally got in, took a picture with one of the creatures (picture at the beginning of this post) and were escorted into another waiting area. This one was slightly more entertaining though, because they had a video playing, introducing the haunted house. There were a few spooky surprises in there, too (like being sprayed with water, and random things falling from the ceiling.)
One of the cool things about this haunted house is that it has three sections, or nightmares as they call them. Apparently, they change every year, which is cool, if you frequent it…because you never know what you'll expect. Here's a little overview of all of them (spoilers ahead…just in case you want to be totally surprised when you go.)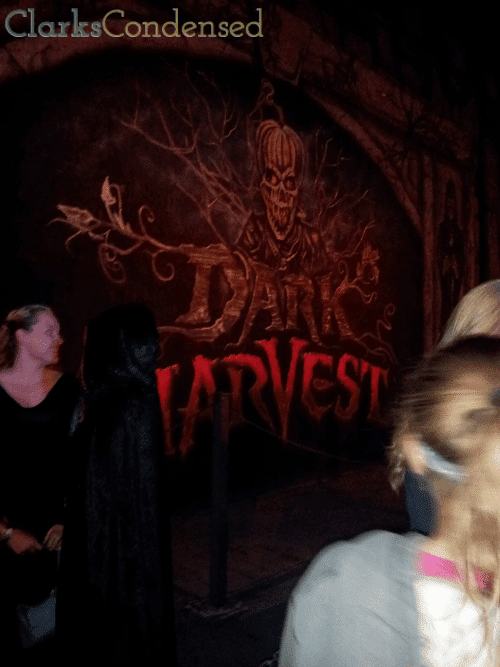 First, there was Dark Harvest. This was probably my least favorite of the nightmares, but it was still well-done. There were lots of people that popped out of nowhere, and at one point, we had to walk through a completely dark hallway, on a squishy ground. We had no idea where we were going, and it was kind of trippy.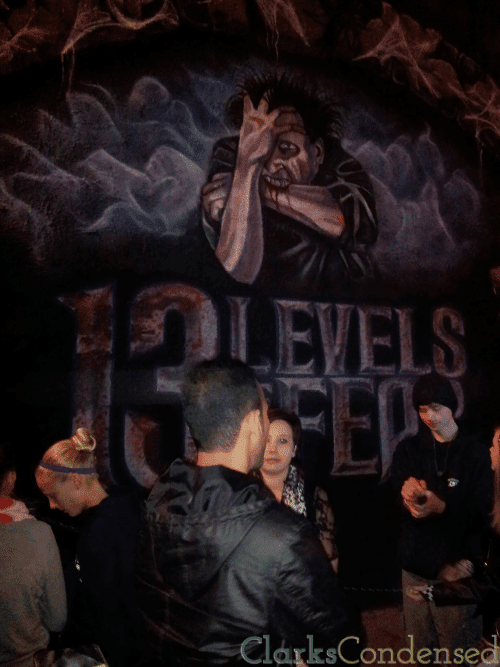 The second nightmare was 13 Levels of Fear. This was, by far, my favorite part. I don't really get scared by the supernatural, or by things I know can't really happen (like a mutant pumpkin scarecrow man), but more by things that are potentially real. This section really played off of actual fears people may have — like heights, dolls, tight spaces, and even dentists!
Before you entered a certain fear, there was a sign indicating what you would be experiencing, which I thought was interesting. The first one was a fear of heights or falling…and it was SO realistic. You walk into this room, and you literally feel like you are walking on the edge of a building. I'm sure it was made with mirrors, but even if you put your foot over the edge, you couldn't feel anything (I'm guessing the mirror was a foot down.) I found myself clinging to the wall, especially when the ledge shook at the end.
There were a few other trippy areas, like a spinning room. The part I hated the most was the claustrophobia fear! You had to push your way through these giant, blown up things that were pressed against each other, and I honestly didn't think I was going to get through, and I felt like I couldn't breathe. Forrest really liked the mirror room — we always see that on TV, and it was fun to experience it for ourselves.
We loved this whole section, though, and I thought it was extremely well-done.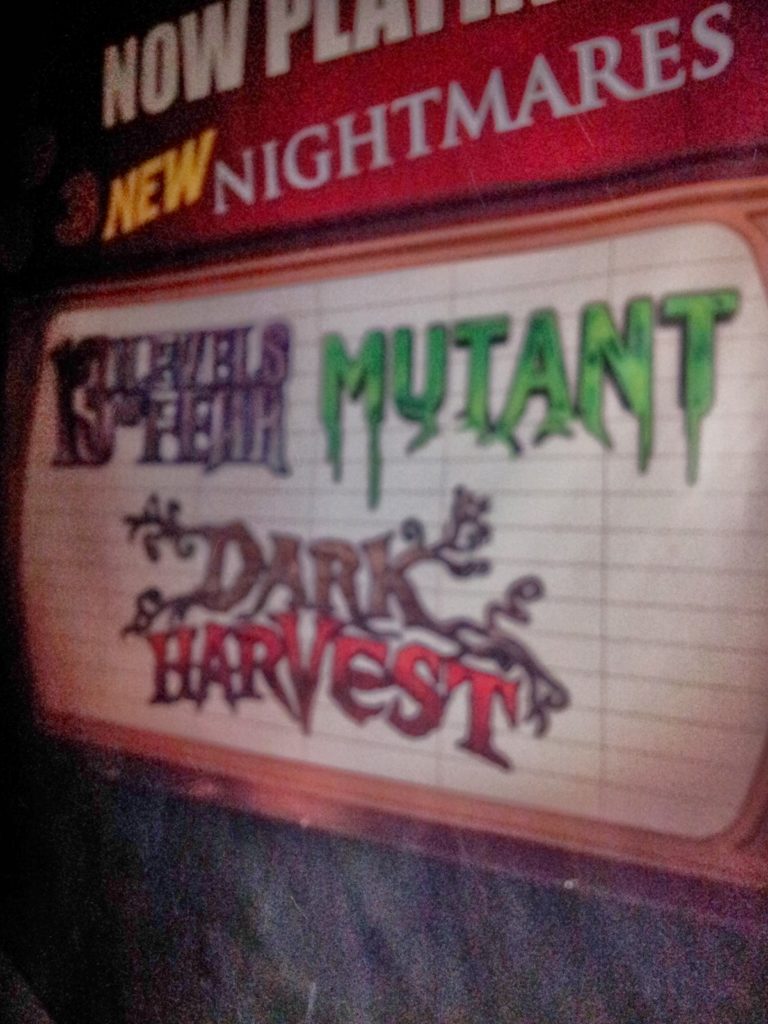 The last section was "Mutant." This one was interesting. At one part, we had to walk through a sewer-like area, and there was all these things hanging from the ceiling that were dripping and wet. Kind of gross. There were tons of people that jumped out and scared us. One of the parts I really didn't like was in this section though. I'm terrified of guns, and one whole section is basically devoted to guns. You walk underneath this little tower, and this guy points a machine gun at you and "shoots" it. It was seriously so freaky…I just about had a panic attack. Needless to say, I got out of that section was quickly as possible. Otherwise, it was pretty neat, and definitely scary.
Overall, it was a great haunted house and we had a lot of fun. We'd love to go again, and would definitely recommend it. I felt like the people who created it really put their heart and soul into making it a truly exciting experience, and all the decorations, costumes, and scares were meticulously created and planned. Our only complaint was that we felt the groups were too close together — we kept missing out on some of the scares, because the people in front of us got them first, and the scarer either didn't have time to get back in place, or we saw what happened so we didn't get scared. The people behind us were practically on our tails, which was annoying. We kept trying to put space between us, but it was pretty much impossible. I liked that it was scary, but not nasty or gory, or absolutely horrifying and disturbing. They claim it is family friendly, but I still wouldn't bring small children to it. It is $20 for access to all three scares, or for $15 more, you can get the VIP pass. There is often coupons online though, all Maverick stations should have discount coupons, and I see them doing giveaways on their Facebook page.
And now…for a giveaway! One to Nightmare on 13th — good luck!