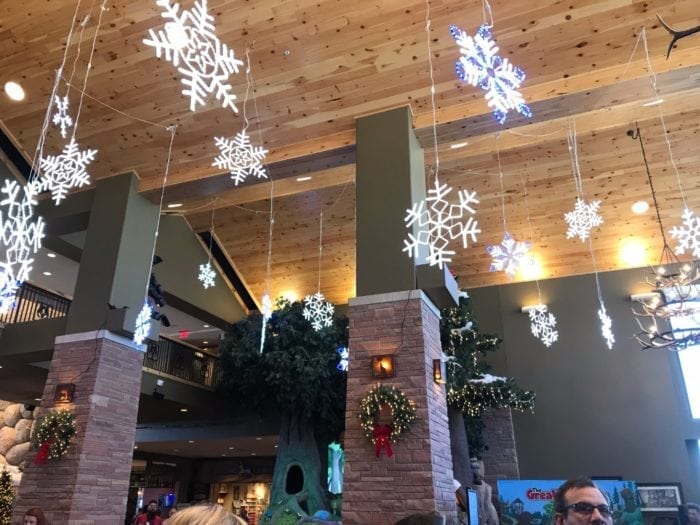 This weekend, we were invited to attend a media event at the Great Wolf Lodge in Colorado Springs.
We visited the Great Wolf Lodge for the first time back in August, so we were really excited to have this opportunity to attend again to preview their "Snowland". This is an annual feature at all Great Wolf Lodge locations, but it is the first year the Colorado location has been open to share it.
It really turns the Lodge into a spectacular and magical place just in time to celebrate the holidays.
So, I thought I'd share a little bit about our experience at the 2017 Snowland at the Great Wolf Lodge in Colorado Springs so you can decide if it's something you want to attend.
Keep in mind that even though the water park is only for guests of the Great Wolf Lodge, anyone can come to the lobby for some of these events, Adventureland, etc.
As media, we were treated to some special behind-the-scenes events, as well as some delicious meals. We had so much fun!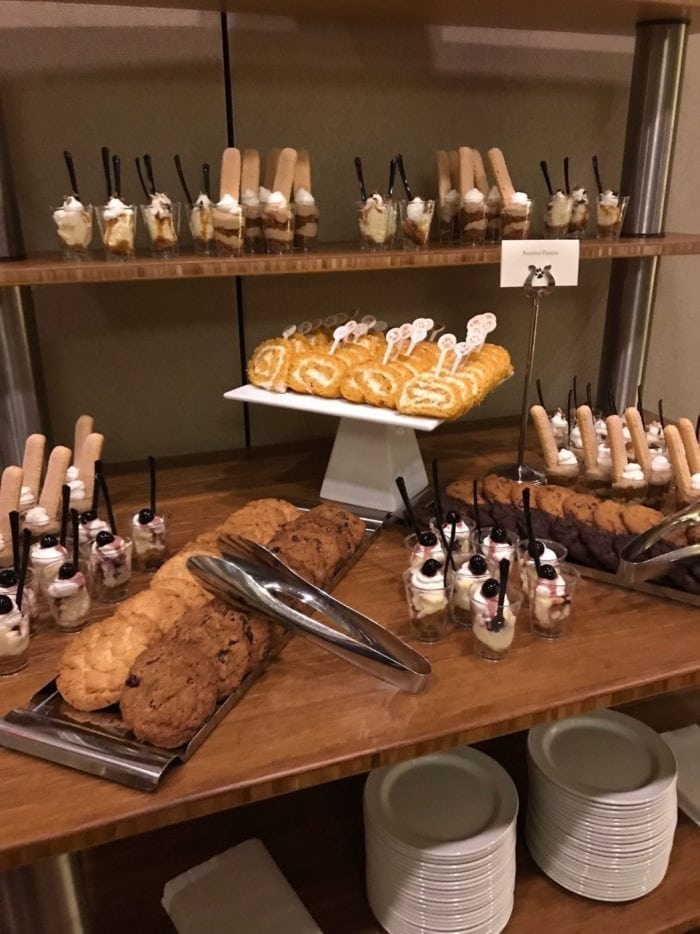 Decorations
Ah, it is SO magical. From the moment you walk in, you really feel like you are in a winter wonderland.
There are beautiful Christmas trees adorned with decorations; other Christmas decorations are strewn throughout the hotel.
The very best decoration is the AMAZING Gingerbread house. This is made from real gingerbread, as well as rice krispies, candy, and lots of frosting. It's really a sight to be seen. Over 600 pounds of gingerbread dough was, 1,300 pounds of sugar, and hundreds of candies. Amazing!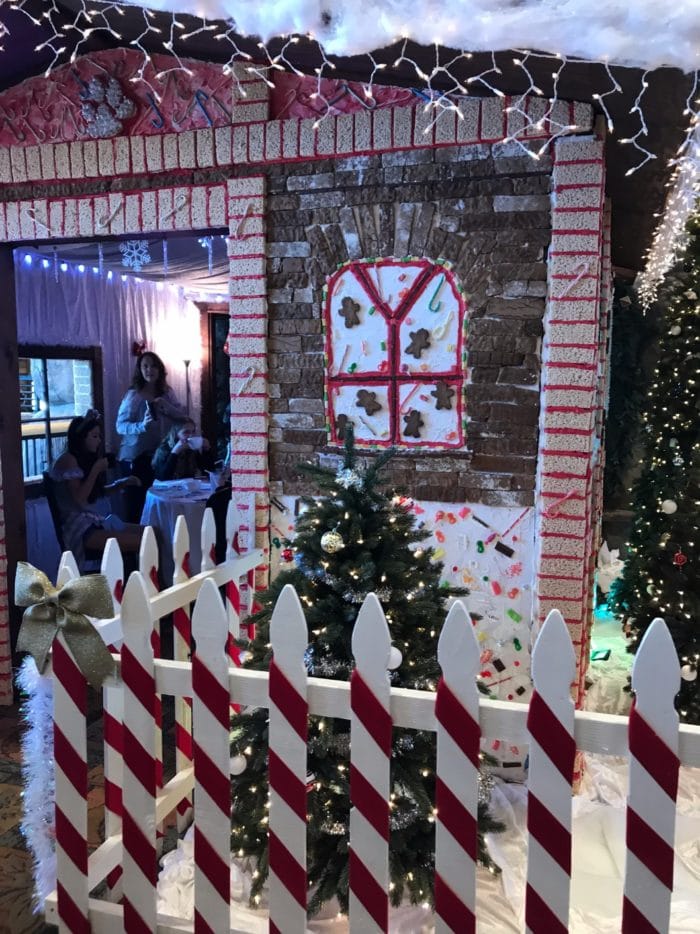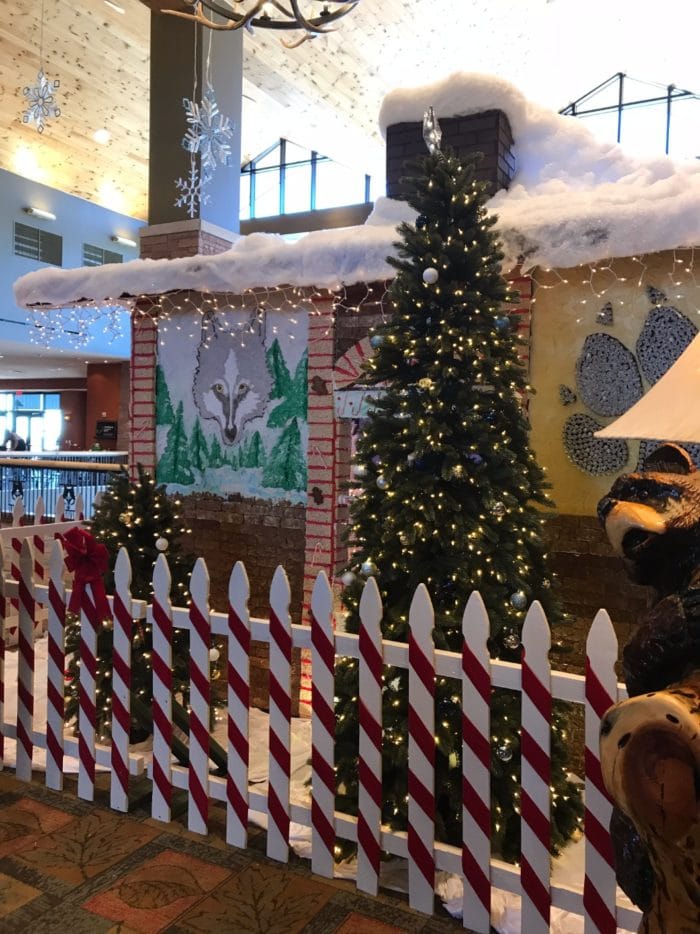 600 pounds of gingerbread dough, 1,300 pounds of sugar and hundreds of candies.
Beyond that, everywhere you went was just full of Christmas cheer. I loved how the hallway leading to Adventureland was filled with Christmas trees that were decorated by each department. It was fun to see all of their individual style.
Events
There are a couple of different special events you can see and attend from November 25th to January 1st. We were able to attend the opening of the event, which started with some talented carolers singing Christmas songs, and then Santa and Mrs. Claus arriving. Here is a video from that:
Daily snow showers in the Grand Lobby: We were able to participate in this on the opening night, and it was really fun. They have a couple different snow machines that shoot out snow throughout the lobby and over the Gingerbread house. Our boys LOVED it.

Visits from Santa – in Adventureland, a little area is setup with Santa's chair. The Santa that was there was one of the best ones I've seen, and Mrs. Claus was just as charming.
Eat a meal in the Gingerbread house – for $20, your family can actually eat in the Gingerbread house. You do need to make reservations for this beforehand, but I think it is SO fun. When I took a peek inside, it looked like they put up stockings for every family that dined with their names on it. Everyone looked like they were having a ball. The $20 goes to the Ronald McDonald House charity, and you will have to pay for your food on top of that. You can make a reservation here.
Cookies with Mrs. Clause – you can decorate cookies in the Gingerbread House with Mrs. Claus. Totally free!
Free hot cocoa in the afternoon. I am not kidding when I say the hot cocoa we had at the Great Wolf Lodge was the BEST hot cocoa I have ever drank – and that was unanimous with our family. They have lots of fun toppings!
Snow 'n' Glow Dance party – dance with glow sticks and snowflakes in the lobby
North Pole University – this is an interactive opportunity for children where they get different assignments they can complete in the resort to earn a "Snowploma"
The Polar Wolf Walk – a lobby tour that has lessons about polar bears and pneguines.
All of the year-round activities (Story Time, Yoga Tails, Interaction Reaction, and Pows on Project) get a holiday twist as well.
On top of all of this, as a guest to the hotel, you can enjoy the 84 degree indoor water. It was snowing while we were there, and it was fun to be inside the nice, warm pool as we saw snowflakes outside.
We really love the Great Wolf Lodge, and we can hardly wait to attend again. We had such a great time while we were there, and I wish we could have stayed longer. My boys had an absolute ball, and I just loved all of the Christmas and winter touches that were added throughout the entire resort.
Just as an overview, here are the different room options, and their occupancies. Remember, admission to the water park IS included with your stay, as well as all of the Snowland festivities. Adventureland and Magiquest is a separate cost (though I'll talk more about that in my Great Wolf Lodge post soon!)