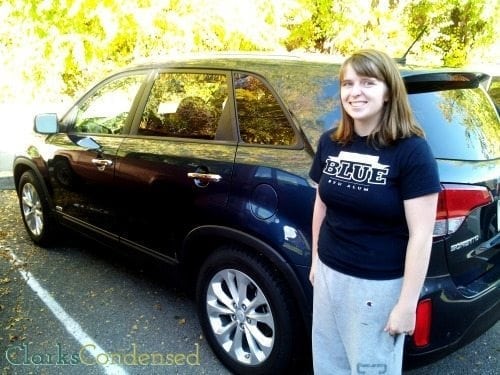 Forrest and I have recently been given a fun opportunity to test drive different vehicles for a week at a time by a company based in Denver. They reached out to us a few months ago, and a few weeks ago, we got our first car! This is a little different from some of the posts we've done, but I hope you'll enjoy it. We sure are enjoying driving some new cars. We were not compensated in any way, beyond being able to drive the car for a week. The opinions expressed are entirely my own!
The first car we were given to review was the 2014 Kia Sorento. I honestly had no idea what to expect — I'd never driven a Kia! Forrest said that at one point, they were not the greatest cars, but in recent years they have really stepped up their game. After driving this car for a week, I can say, I think they have (even though I obviously have nothing to compare it to.) We're reviewing our third car this week, but this Kia has been my favorite.
The 2014 Kia Sorento has a ton of neat features. If we could afford it, I would go buy one right now! It's a smaller SUV, which means it gets better gas mileage than a typical SUV. I loved the size of it — it wasn't too bulky, but we were comfortable in it. We took it on a road trip to Colorado a few weekends back, and it drove wonderfully through the mountains. When we usually drive through Colorado, we're lucky if we can get our car to get above 40 MPH in certain parts (around Vail) but we had no trouble climbing those steep slopes with the Kia.
I'll go over more of the technical details at the end, but here are a few of my favorite features.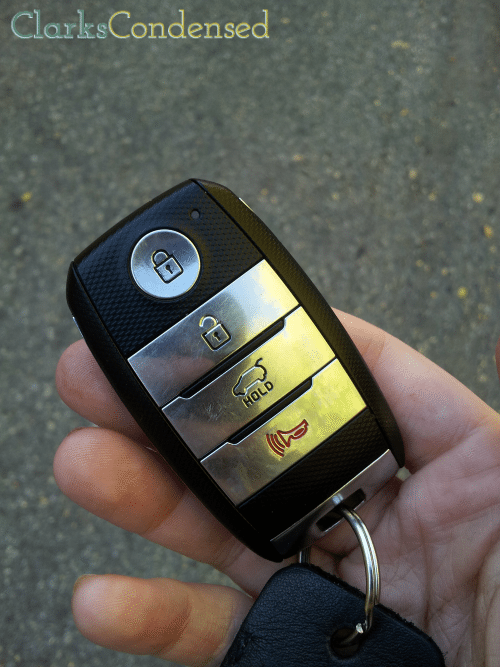 We are driving a '96 Toyota Altima, which obviously was before most cars came equipped with keyless entry. Even though this is a typical feature on newer vehicles, I loved it. What I loved more that the car has a keyless startup! Which, was awesome. A problem I often had with a few of my cars was the key not turning in the ignition. With the keyless startup, you don't have to worry about that. You do have to have the key with you to start it up (obviously — otherwise it would be way too easy to steal) but that's not really a big deal!
The key fob actually works from a very far distance — for instance, we were at the mall, and Forrest had to run back and get the keys from someone in my family who was still at the mall. I was left at the car, with a semi-emotional little boy, who I just wanted to get in the car. Imagine my surprise when I heard the car open, and the trunk open for me to put the stroller in! Forrest was at least 100 yards away still, but I was able to get us all ready to go, rather than stand out in the cold!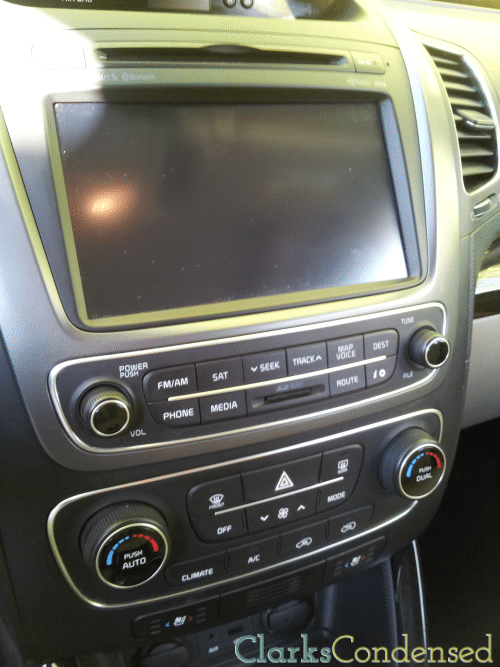 One of the features we used the most was the built-in GPS/Sirius Radio/Media display. The screen was large, and came jam-packed with things. The GPS was amazing. It was very accurate, told you what the current speed limit was (which is great, for those long stretches of road that don't show the speed limit!), and it was easy to find things. I also loved being able to try out Sirius Radio — I had heard about this before, but never used it…and it was great, especially during those times on the road trip that we weren't able to get FM/AM radio signal. There was a huge variety — from oldies, to country and pop, to rap, to comedy and news stations…there's definitely something for everyone!
You can also see in this picture that the front passengers can control their temperature settings, and, even better, you can control the temperature of your seat. At one point, I didn't realize I had turned it on, and I was wondering why my seat was SO hot! So it definitely works. You can easily cool it down as well.
Also, one of the features we loved the most, that was controlled by the panel in the picture above, was the media feature! You can hook up your phone or mp3 player via bluetooth, and listen to audio books, music, etc. that way. The stereo system was amazing, and we loved being able to listen to Divergent on our way back. It also lets you hook up your phone, so you can answer your phone, hands free.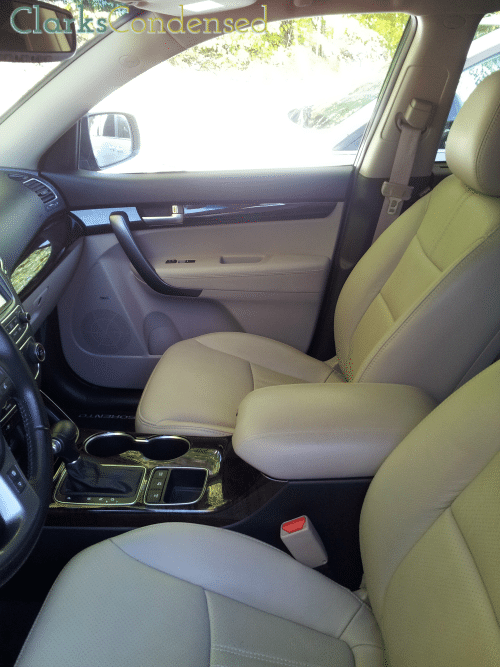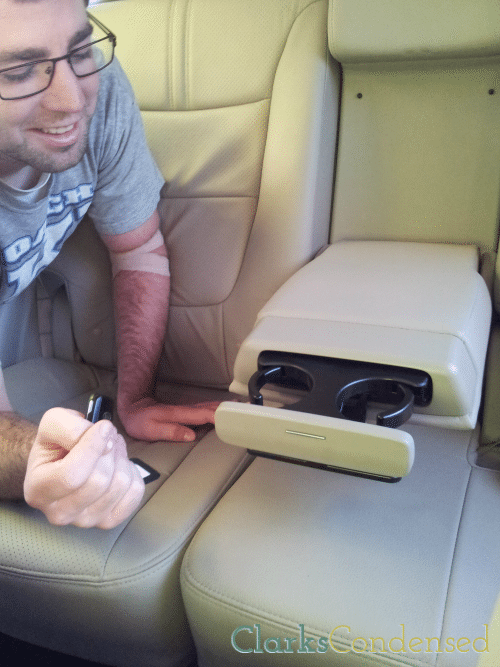 The interior was really nice — there were leather seats, plenty of cup holders, and the seats were very comfortable. To be honest, they were some of the most comfortable seats I had ever sat in!
One of my very favorite interior features of the Kia Sorento was that there was USB ports and outlet plugs. My phone doesn't last for more than a few hours, so it was great being able to just plug it in. I was able to do some work on my laptop without worrying about it dying (and I even connected to the Internet, thanks to my mobile hot spot that I discovered on this trip!)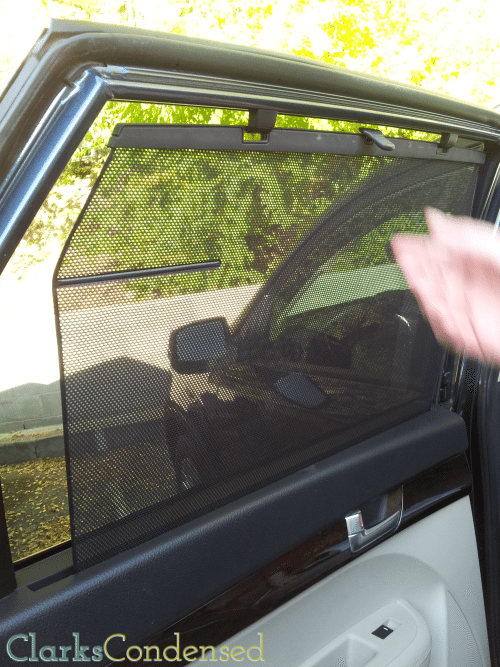 Growing up, I always remember trying to cover up the window in our car on road trips when the sun was so bright. So, I was pleasantly surprised to see this in the Sorento — built in sun shades! There was one on each window in the back seat!
I didn't take a picture/video of this, but I'd say my favorite feature was that the trunk opened by automatically! I remember seeing cars start doing this a few years ago, and it's always been something I wanted my car to have! All you do is press a button, and the trunk opens. No more fumbling to open it with Jack in one arm, and groceries in the other!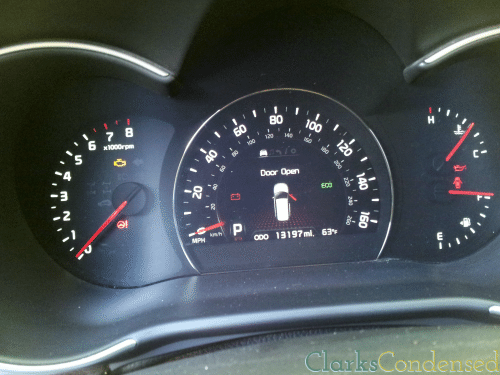 Forrest really loved the dashboard of the car — it had so much information on it; from letting you know if a door was ajar, to the average MPG, to the temperature outside — and it was all digital! It also told you how many miles you had until you ran out of gas — and for people like us, who always wait to fill up until the last minute possible, we loved this. Whenever you got close to running out of gas, a display would pop up on the screen and ask if you need help finding a gas station!
Oh, and the panoramic sun roof! I can't do this car justice without mentioning that. When you opened the sun roof, it opened over the entire car, not just the front seat. We opened it when we were driving early in the morning and the stars were still out. That was a neat experience! It's definitely not a "must have" feature, but it definitely falls into the "nice to have." Jack loved it!
So, basically, I loved this car, and I was SO sad to see it go! It's the perfect size for us, and I loved the color. Now that I've gushed about my favorite features, here's an overview of some of the
Driving – 4/5
So, admittedly, I only drove it a couple of times. I really don't enjoy driving, so Forrest takes the wheel most of the time. When I drove it, I didn't like that it felt like I really had to push on the gas to get it to go. However, Forrest told me that is because I had the eco-boost on. This is a nice feature if you want the car to be as fuel efficient as possible — but, it does take a little bit of the "oomph" out of the car.
The side mirrors were large, and they had a blind spot detector. This was a big deal to me, because changing lanes is my least favorite thing because I always second guess myself! With the blind spot detector, it beeps if someone is in your blind spot.
Another thing I hate doing is backing up! And luckily, this car came fully equipped with a back-up camera! I'm always so afraid of hitting someone (mainly a small child), and this totally eliminates the chance of that. It makes backing up, and even parallel parking, a breeze.
Features 5/5
There was very little that this car didn't have — if I had to add anything, I would just add DVD players in the back seat! I feel like it is jam packed with awesome features — some necessary, others not so much, but they all made for a very comfortable drive.
Something we did notice was how BRIGHT the lights were. Whilewe were driving at night, several people flashed their lights as us because they thought our brights were on. I don't know if it's totally necessary for the lights to be as bright as they were.
The trunk was rather large, and we were able to fit a few big suitcases, a stroller, and a few other items in it. The seats fold down, so if you need to move something larger, you can easily do that.
Interior 5/5
I loved the inside of this car! I won't go over it too much, since I've already mentioned a few things earlier on, but it was very sleek. It was all leather (including the steering wheel!) and nothing about this car felt cheap.
Forrest didn't really like that it had black carpet — black is notorious for getting dirty and showing up dirty easily. However, this might motivate you to clean/vacuum more, which, in the end, will help the interior stay nice for longer.
Fuel Efficiency 4/5
We were pleasantly surprised with how fuel efficient it was! When we were driving in the mountains, it averaged around 30 miles to the gallon, and even around town, we were able to get 25 miles per gallon. I mentioned earlier that if you drive with eco boost on, you will get even better fuel efficiency.
Safety 5/5
Forrest puts it best — the features of the car make you much safer, and change the way you drive. I was in two car accidents as a teenager, and that has really effected me and my driving abilities. However, with all the safety features (back-up camera, blind spot detector, side air bags, etc.) I felt so much safer than I usually do in a car.
Overall, this is a great vehicle — it's perfect for families, commuters, or long distance drivers. We drove through the mountains, in rush hour traffic, and just around town, and had no real complaints. I could definitely see myself driving our family around in this car. It's not huge, but not small. If you can afford it, I would definitely consider looking into the 2014 Kia Sorento!  If you have any questions that I haven't addressed, feel free to leave them in the comments and I'd be happy to discuss them with you!
Next Cars Up:
Mitsubishi Outlander
Kia Cadenza