Who loves their cell phone? Everyone? That's what I thought.
Now, who loves paying that cell phone's bill? No one? Once again, just like I thought.
Having a cell phone seems to be a necessary evil in today's world, and it seems like there are always strings attached. Some companies claim to get rid of contracts, but then you have to pay the full price for a phone. Others use bait-and-switch methods. It can be frustrating finding the best wireless plan, that is affordable AND is an unlimited plan as well. Especially when you have other more important expenses that take up a large portion of your budget — like diapers, clothes, and shelter. You know, the bare necessities.
We are currently with T-mobile, and they have been my cell phone provider for years. For the most part, we've been pretty satisfied with them, though I wish we could take advantage of their non-contract plans! Unfortunately, that would cost over $500 to switch to right now, so alas, we still are on one of their more expensive plans, which doesn't include unlimited anything (besides text.) But, that doesn't stop me from researching other plans and companies, just so we're ready when our plan finally runs up.
My sister, Kristalyn, told me how she and her husband had recently gotten a cheap wireless plan with Walmart that gave her unlimited talk, text, and data. I thought it sounded like a great deal, so I was excited when I was given the opportunity to try out four months of this cheap wireless plan.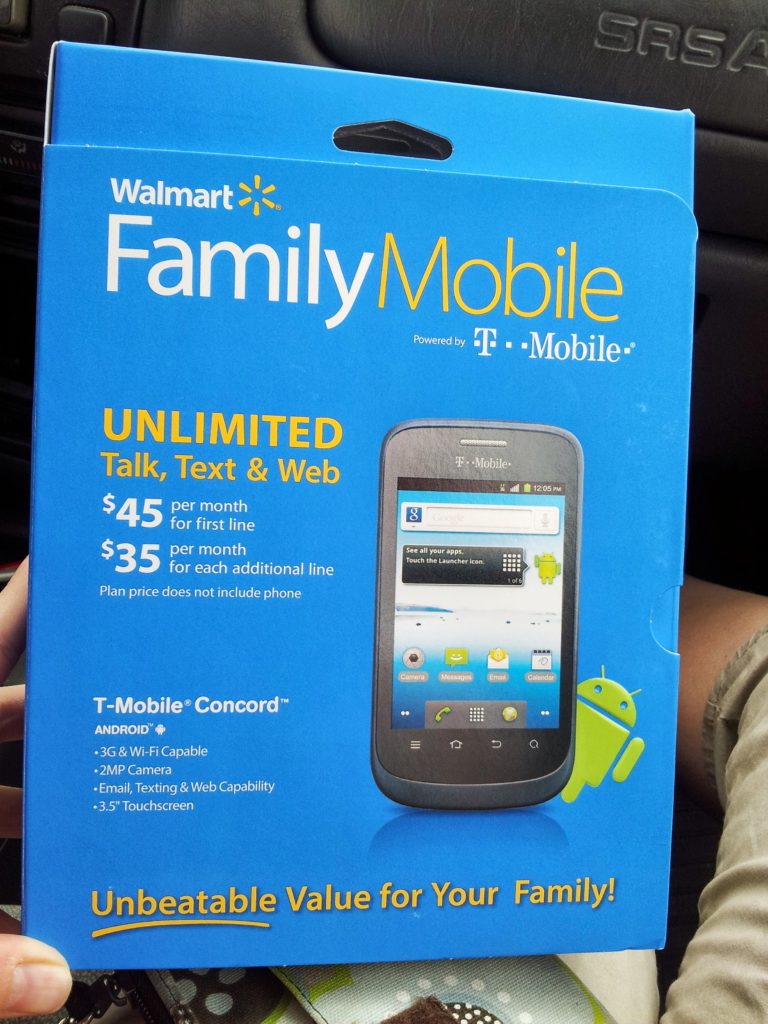 For only $39.88, you can get unlimited talk, text and web, and for $29.88, you can get unlimited talk and text! And, if you add additional lines, it's even less for those lines. If you compare this to some of the leading carriers for mobile service, who offer the same things, it's pretty amazing.
One of the greatest things is that you can use any phone that is compatible with T-Mobile (who power the program.) All you have to do is pay a one time $25 fee to activate the phone on the network. And if you don't have a phone to use, they offer a couple of different affordable choices. You can get the Concord for only $79.88 (which has been rolled back from $99.88) or a MyTouch device for $129.88 (instead of $149.88.) These are both basic smart phones, but they get the job done! And let's be honest — my first cell phone? It was tiny, black and white, and all I could do was text, call people, or play snake. Basic is so not basic anymore!
Jack loved holding the phone as we walked through Walmart. I can only imagine how much he had hoped this phone was for him! Unfortunately, he wasn't that lucky.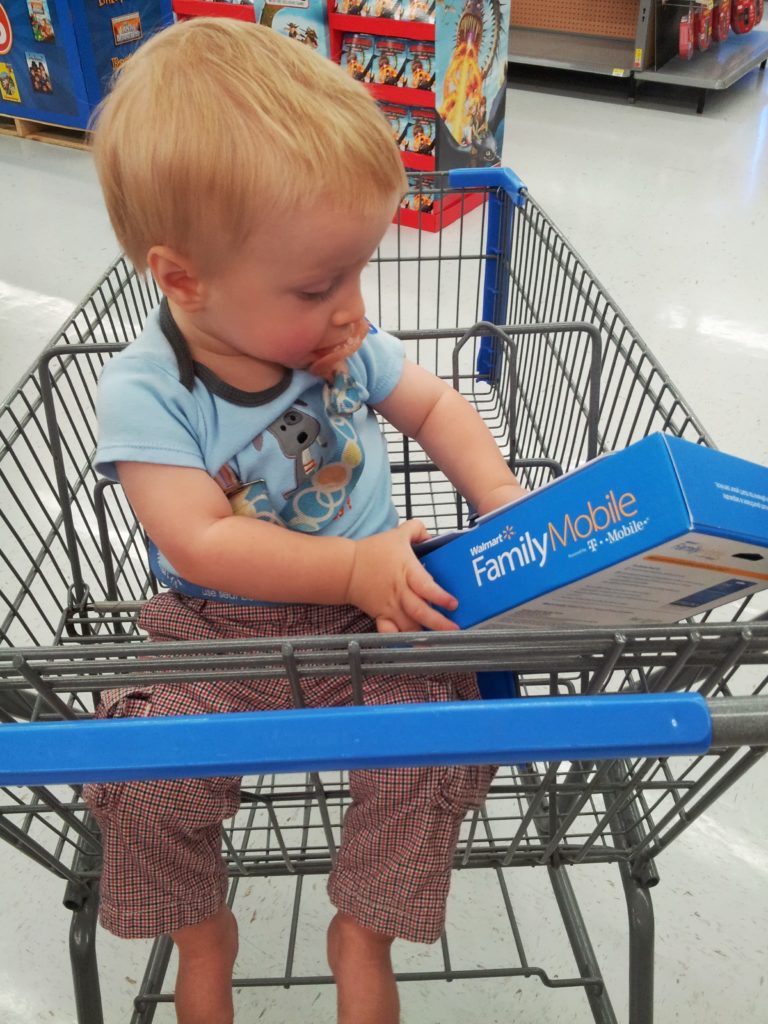 His Uncle Michael was the lucky one, though! Michael is on our current cell phone, and his phone has about bit the dust. However, he isn't due for an upgrade until next year. So we decided to let him use this phone (since we are living in the same house for a little while) and the plan. He got a new phone, and I've been able to see how the plan works! And yes, I know he doesn't look very excited. But he so totally was. He's just a grumpy teenager (just kidding — he's really very pleasant!)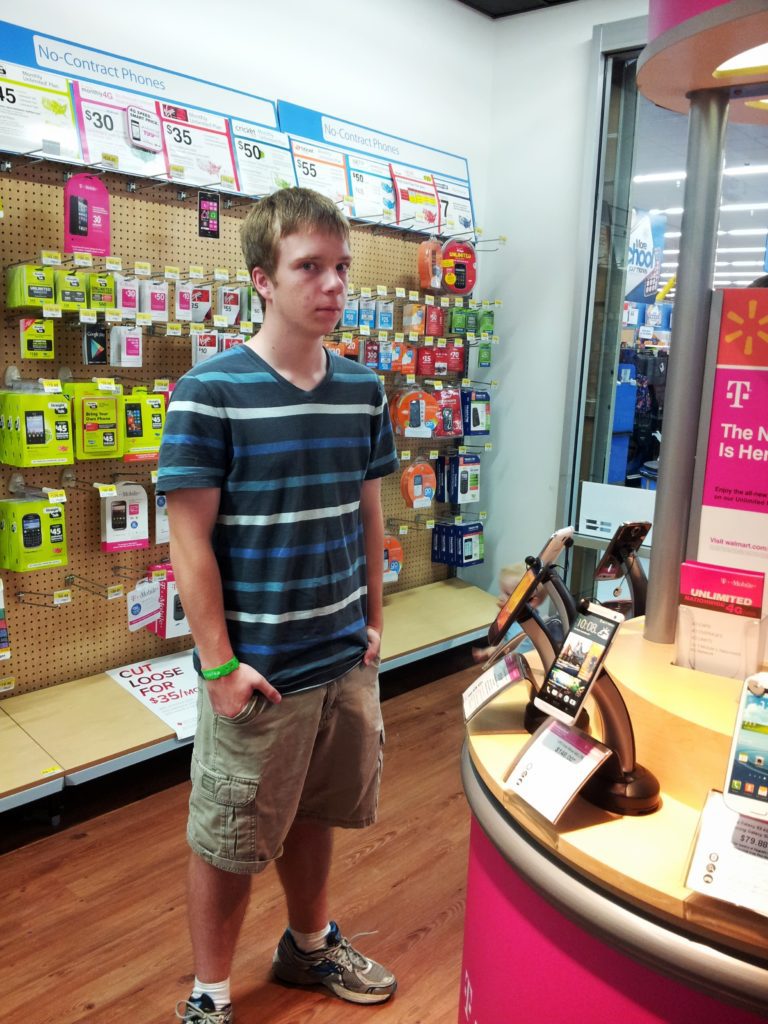 Really, I think that for anyone that wants to have some of the bells and whistles of an unlimited plan, but doesn't want to be tied into a contract or have to pay the fees that some carriers have for unlimited plan, Walmart Family Mobile is the way to go. It's nice, because if you suddenly can't afford to pay your sell phone bill, you can easily cancel for a month (or two, or three) with no penalty. And even though we are tied into a contract for about another year, you better believe I'll be looking into this next year.
Who do you have a cell phone with? Would you consider switching to Walmart Family Mobile?
#FamilyMobileSaves #cBias