You know, I'm grateful that printers are readily available to have in our homes.
They are relatively affordable, and it makes life easier when you don't have to run to a print shop for everything! I mean, you can even print your own photos at home nowadays – and they are pretty good quality.
But man, the ink. It can be so expensive!
I feel like we are constantly replacing our ink cartridges, and it can get pricey.
And don't get me started on the times where I accidentally print 10 pages in color…that's enough to knock out half the cartridge.
More often than not, we go a few weeks (er…months) without replacing our cartridges, which results in lots of pages printed in faded black and magenta and yellow.
However, I've recently discovered a few
Okay, this is something I am totally fan girling about lately. It's something I wish I had when I was in college and printing TONS for all my classes – HP Instant Ink.
And now, it's something that will save me a lot of money as well. You do have to have an eligible HP printer (though there are lots of them – and HP printers are generally very affordable). But it's one of the best ideas I've heard as of late.
So, what is it? This video explains it pretty well:
The only downside is that it's only available for certain HP printers. HOWEVER, in my experience, HP printers are usually the best. We have one from the HP Envy line, and it's been a powerhouse.
You can upgrade or downgrade your subscription every month, and you can also cancel at any time. I also love that your pages can roll over if you have any that haven't been used.
Best of all – the cost is the same for color and black and white. All that matters is the number of pages! Here are the different subscriptions available: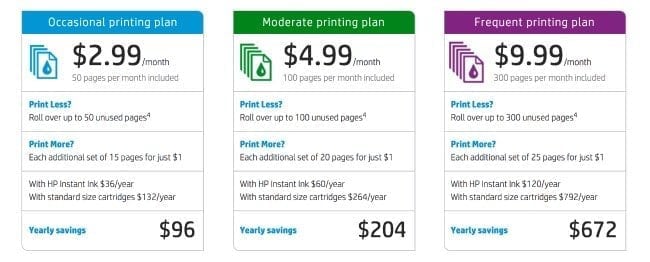 You can get your first month free of HP Instant Ink by going through this link.
This is not a sponsored post for HP – I am just an affiliate super excited about this service. I hope to do a follow up post on my experience with it, soon.
Refill your Own Ink Cartridges
This is something that my father-in-law mentioned to me awhile back. You can purchase your own ink for pretty inexpensive and refill it yourself!
All you need is:
Printer Ink Refills
1 ml disposable syringe
Your ink cartridges
The Instructables does a pretty good job of explaining how to do this, so I won't go into too far detail, but it's a pretty great idea!
You do need to keep in mind that you may void your printer's warranty by doing something like this. It can also get messy if you aren't careful! However, if those two things don't bother you, it's definitely something you want to consider.
The printer ink refills should last a while!
We recently inherited a laser printer from my dad, and I am loving it! It just prints in black and white, but we can print so many more things from just one cartridge – and the cartridge lasts a long time.
You can get a monochrome or color laser printer – the monochrome are typically less expensive. They aren't ideal for printing photos, but they can be great for other documents.
These do tend to cost more than an ink jet printer, but in the long run, it can pay off for saving money on ink!