I participated in an Ambassador Program on behalf of Mom Central Consulting for Brother P-touch. I received a product samples to facilitate my review and promotional item as a thank you for participating.
The holidays can be a busy and stressful time of year. One of the best way to make holiday preparations a little easier next year is start right now. Storage rooms are rarely the most organized places in someones house. When I look for one thing I am usually in too much of a hurry to worry to much about how disorganized I am making everything else. By the time a year has passed what I am looking for ends up in the back or at the bottom of the pile, and I can't remember what is where. Fortunately, this year I was able to fit most of my Christmas lights and decorations in one box. Well, there are two boxes, but one happens to fit into the other with most of the rest our Christmas decorations. This way I won't have the Thanksgiving, Halloween, and Christmas decorations mixed together in one larger box.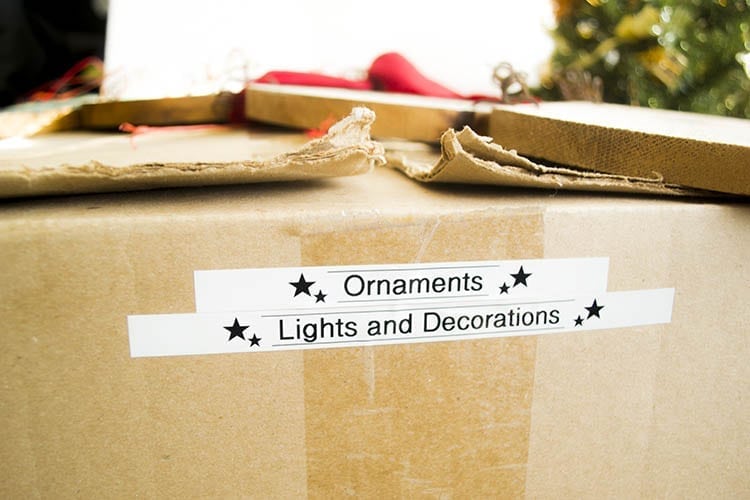 Since, Katie and I are probably going to be moving in the near future it is going to be important for us to know what each boxes contain. It will help us know what we will need right away, and what we can unpack later. Also, labeling our boxes will help us know if a box has fragile items, such as Christmas decorations. Moving is one of the most stressful things you can do. You don't realize how easy it is to accumulate lots of different things until you move. Also, moving reminds me of all the things I would use if they were only more accessible. Storage space can be expensive, so it is helpful to use the space you have efficiently.
When Katie and I were leaving her parents house after the holiday's, her luggage was piled with clothes to about three times the height of the bag. Katie was a little too busy to put very much time into organizing the clothes to fit. It took a little bit of time, but with some patience I was able to fold and compact everything so it all fit. It feels good to get things organized and packed well. Labeling helps to fit your valuable possessions into your house in a clear and more orderly way. In my experience, the order can help you feel as if you have a bigger apartment or storage space than you really do have.
You can be sure that I'm going to be using my Brother P-Touch Label Maker more often in the coming months. If you want one of your own there are some extra sales going on a few different stores to celebrate the 25th anniversary of Brother P-Touch. For more information visit the Brother P-Touch website.
PS – The label I used to date some homemade bbq sauce actually did stay on just fine through the dishwasher. I think that the labels would work just great labeling cups during the holiday season that you still wanted to wash.