Have you noticed the tab on our menu bar that says "Recipe Box", or perhaps the "Save Recipe" and "Print" button on our recipes? Well, there are a few features we've added here at Clarks Condensed to make saving our recipes a little bit easier.
When I was trying to decide how I wanted to display our recipes for all of you, I went through several different formats. In the end, I decided on ZipList. I liked how it was simple, clean, and it made it so easy to print and save the recipes we share. However, I imagine most of you have no idea what these features are, so I thought I'd introduce you all to them. I hope you'll be able to use and enjoy ZipList as much as I do.
Save and Print Recipes:
On all of our recipes, you'll always see two buttons in the top right corner — save recipe, and print. When you click save recipe, it saves it to your ZipList account (which is super easy to set up, and free), where you can access it at any time and be able to use some pretty neat features (more on that later, though.) When you click print, it does just that! It makes the recipe printer friendly, and you'll be able to get a nice, clean copy of the recipe to keep in your own personal records. I don't know about you, but I've had my fair share of experiences where I've printed off a recipe, and the formatting gets all messed up. You don't have to worry about that with ZipList!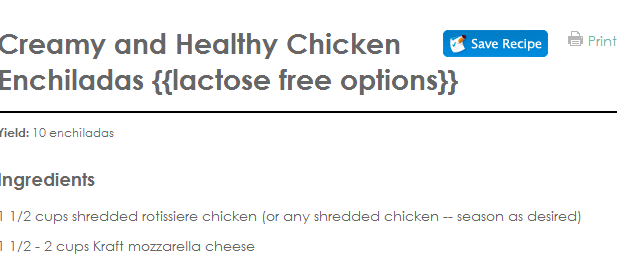 Recipe Box:
Now, on our menu box, you may have seen a link for Recipe Box. When you hover over it, you'll see a few different options — shopping list, meal planner, and grocery deals.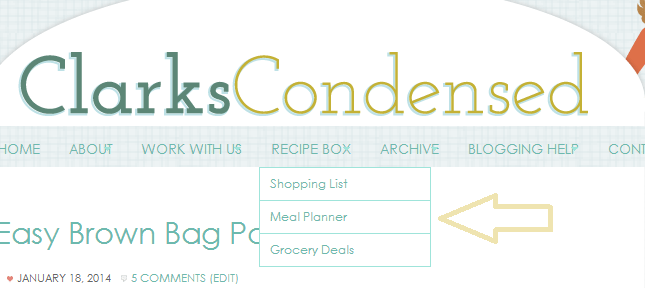 This is one of my favorite parts. Under shopping lists, you can create different lists for what you need to get at the grocery store (and you can access it on your mobile device, or by printing it off.) However, the coolest part of this is, when you head on over to Meal Planner, you'll see all your recipes… and just by hovering over a recipe, it automatically adds it to your shopping list. Awesome, right?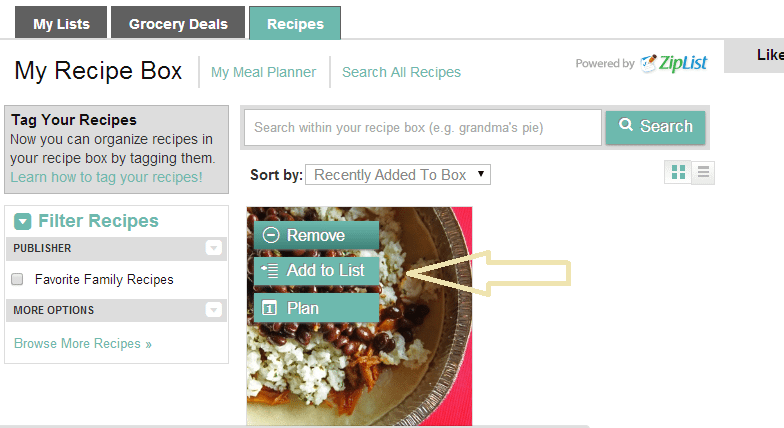 The Meal Planner section also has a neat little calendar to help you plan out your meals. I know that I have a much easier time making dinner (and not opting for going out) if I've planned out exactly what we are going to make. And ZipList makes that easy. You can also add everything from the week to your shopping list at once.
Finally, under Grocery Deals, it tells you about deals in stores near your area. You can modify the results by store, or even by searching for a specific deal. It's seriously awesome.
I hope that you'll be able to use ZipList a little bit more now that I've explained it. If you are an avid blog follower, you'll probably see a lot of ZipList recipes around, and you can add them all to your account. Let me know if you have any questions!
First, please announce the news of your ZipList partnership to your readers. They may already be ZipList users and will love knowing they can now use our tools to capture your recipes. But if they aren't ZipList users, a little tutorial will be really helpful. Here are a few announcement examples:
https://www.recipegirl.com/2011/08/29/announcements-and-some-new-features-of-recipegirl-com/
https://www.simplyrecipes.com/recipes/introducing_recipe_box_and_shopping_lists/
https://skinnyms.com/saving-printing-recipes-on-skinny-ms-with-ziplist/

https://www.lovefromtheoven.com/2012/08/23/saving-printing-recipes-on-love-from-the-oven-with-ziplist/
Second, please send us a link to your promotional post. Once you do that, we'll announce our partnership to our 4+ million users via a weekly email. We'll mention your name, plus link to one of your best recipes.
And lastly, you know best your yummiest recipes! Could you please send me links to your top 5 recipes of all time? We'll use this list as a guide for promoting you via email, Facebook, Twitter, etc. throughout our partnership. Do note – if the final photo of any of these recipes includes your logo atop the photo, please send us a replacement photo without that logo. We can't feature watermarked photos in our newsletter, unfortunately.
To help improve our marketing efforts, could you tell me the city and state where you're located?
Also, you will start to receive automated metrics reports on a monthly basis. These reports will provide insight into the overall user activity on your recipe box and shopping list, as well as information on which of your recipes tend to be the most popular
Please let me know if you have any questions! Thanks, in advance, for the post.